Articles Listed By Date
List By Popularity
(4 comments)
Tuesday, May 14, 2019
Tulsi Gabbard Speaks Out For Embassy Protectors and For "Hands Off Venezuela."
Tulsi Gabbard is the first Presidential candidate to speak out for the Venezuelan Embassy Protectors. She went further and called for "Hands off Venezuela." Tulsi has also spoken out for Julian Assange and is the only 2020 Presidential candidate who went to Standing Rock to support the water protectors in 2016. Tulsi overfills venues with strong supporters and crowds outside hoping to catch a glimpse of The Peace Candidate.
(25 comments)
Saturday, April 13, 2019
Tulsi Gabbard: The Only Democratic Presidential Candidate to Speak Out for Freedom of the Press
Tulsi Gabbard spoke to a full house again. She is standing up against war, standing up against the arrest of Julian Assange, standing up against nuclear power and environmental racism and standing up to demand the government to invest in the American people. Why are the other Democratic candidates silent on Assange's arrest and these other issues?
(13 comments)
Sunday, March 31, 2019
Surprise! Surprise! Los Angeles Really Really Goes for Tulsi
Tulsi's popularity surprised even the organizers of an event for her on March 30th. The location had to be moved to support a larger crowd and the crowd was still too large for the venue. Jimmy Dore was the m.c. and Niko House endorsed Tulsi.
(1 comments)
Monday, March 25, 2019
Giant Crowds Prove Bernie's the Frontrunner
15,000 to 20,000 Los Angeles residents came downtown on a Saturday to see Bernie, establishing he is the clear frontrunner for the 2020 nomination.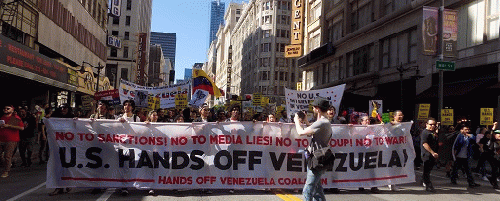 (2 comments)
Monday, February 25, 2019
Americans Take to the Streets in Support of Maduro
Across America, U.S. Citizens came out to support the Maduro Government and oppose the Trump coup over the weekend of February 22 through 24. Trump, not only cannot gain the support of Venezuelans. He can't gain the support of U.S. ctizens in his Venezuela coup.
(2 comments)
Tuesday, May 23, 2017
Is the Party Over for California Democrats?
The California Democratic was full of protests and dissent. It was anything but united. Some said it was the most divisive convention California has seen.
Tuesday, May 2, 2017
Los Angeles Stands with Immigrants
On May Day 2017 more than 50,000 Angelinos marched in downtown L.A. in support of immigrants and immigrants rights.