Articles Listed By Date List By Popularity

Page 1 of 7 First Back Next 2 3 4 5 6 7 View All

Wednesday, July 19, 2017 (1 comments)

The Resilience of JoJo Should people be prosecuted for cutting off the ears of an innocent puppy? Sadly, too many people get away with this type of cruelty to animals. Happily for this dog, he would find love and happiness after much needless, cruel suffering by some humans.

Friday, June 23, 2017 (3 comments)

Animal Laws Does your compassion extend to animals? I hope so and this post may even help you move up a notch in this direction. We are all God's creatures and animals should not be excluded from this circle of care.

Wednesday, May 31, 2017 (5 comments)

Vivisection Cruelty Persists In this day and age you would think that we would have progressed to the extent of not having to use animals in cruel vivisection research. You would be sadly wrong.

Friday, May 19, 2017 (1 comments)

EDF and Trump I am glad that there are dedicated lawyers who worry about and do all they can to protect our environment. They belong to a group called The Environmental Defense Fund (EDF). Their recent concern is Trump's desire to do away with the EPA.

Saturday, April 29, 2017 (2 comments)

Puppies Need Justice Too There was a time not too long ago when if you hurt an animal nothing much was done. I believe we have since made progress in this department. Animals too deserve justice when they are mistreated.

Thursday, April 27, 2017 (3 comments)

Eight Years of Suffering for Joey I can't understand why states in the U.S. allow people to run puppy mills. Something so evidently cruel has no reason to exist anywhere in our country or, for that matter, in any country as well.

Wednesday, April 5, 2017 (2 comments)

Animal Lives Matter I have been reading about animal cruelty now for over 40 years. Will it ever stop? Sadly, probably not, because there will always be people who don't believe in the sacredness of all life. Hopefully though, incidences of cruelty may lesson because of the good work and education of animal-rights groups.

Wednesday, January 4, 2017 (4 comments)

Picking Up the Pieces in N.Carolina I think most of us who care about dogs are well aware of the horrors of puppy mills. But then again, we need to be reminded of them from time to time - hopefully to try to do something to abolish them. If you live in a state like N. Carolina, your work is cut out for you.

Wednesday, November 2, 2016

A Bachelor Party Like No Other If you are like me, you need a diversion from all the political posturing and news, though I've been getting some relief from watching the World Series. And then I found this post on Care 2, which made me smile broadly. I hope it will do the same for you.

Tuesday, October 25, 2016 (4 comments)

Chesty, Pit Bull Ambassador I live in a city that bans pit bulls. I think it is very unfair to engage in this unneeded and misguided profiling, and I believe that any responsible dog organization will agree.

Friday, October 21, 2016 (1 comments)

Derivative Contraband Ruling Saves Luke For a long time animals were not protected by law, but, thanks to organizations like In Defense of Animals, animals are now getting their just due. But for them and a compassionate assistant prosecutor, Luke, an abused puppy, would have been returned to an abuser.
Tuesday, September 27, 2016 (5 comments)

A New Market for Wildlife Pain As long as there are greedy and uncaring people, there will be a market for wildlife pain. Zimbabwe and China are today exploiting baby elephants for their own selfish purposes. Hopefully, a compassionate resolution from CITES will stop this cruelty once and for all.

Friday, September 16, 2016 (3 comments)

The Dairy Price-Fixing Episode I was shocked to learn about the price-fixing episode of the Dairy Industry some years ago. Really, I should not have been since I feel that our cows and calves suffer greatly to provide milk and meat for the people who demand it.

Tuesday, September 13, 2016 (12 comments)

The BLM Has No Heart If you care about the wild horses of the West, this news will devastate you as it has us who look upon them as a national treasure. Why are they not being protected by an Act of Congress?

Thursday, September 1, 2016 (2 comments)

Missing Cleveland Amory and Michael I have always had a deep appreciation for Cleveland Armory whose concern for suffering animals was evident in what he did for them during his lifetime. Michael was a dear nephew whom I also recall with gratitude.

Monday, August 29, 2016 (4 comments)

Pixie, Kiri, and Me Companion animal ownership is as most of us have learned is a responsibility and a blessing. And, of course, it is always sad when they too must die as does man. This account may provoke memories if you too were blessed with their companionship.

Sunday, August 21, 2016 (2 comments)

Degrees of Cruelty and Yoda I know one thing, I could never give this account of a Bulgarian kitten's suffering to my sister to read because she would dissolve into tears. However, Yoda's story needs telling as does the reminder of what happened to Puppy Doe in our own country.

Tuesday, August 16, 2016

Failing in Compassion This account of "Libre" a rescued puppy mill puppy reveals how sadly different we are when it comes to compassion or the lack there of. Thank God, Libre was lucky to find and experience the kindness of caring people in his darkest moments and survive the cruel treatment he had experienced.
Monday, August 8, 2016 (1 comments)

Gestation Crate Cruelty I am sure most of you have heard about pig gestation crate cruelty. Even so, I think it was great that two Chicago reporters wrote about one of the big pork producers in their state. This is good. It is not just Mercy for Animals or another animal rights group writing about this subject. Hopefully, it will mean more for these suffering pigs.
Tuesday, July 26, 2016 (1 comments)

Mohan- Free at Last Thank God for compassionate organizations like Wildlife SOS. They were instrumental in freeing an elephant in India from 55 years of abuse. I only hope that he will have some years left to enjoy.
Sunday, July 10, 2016 (7 comments)

Meat Climate Change: The 2nd Leading Cause of Global Warming (Book Review) If we truly care about a healthy environment, than it behooves each one of us to look at our lifestyle to see if we are helping or hurting it. Obviously, a primarily meat eating diet is not conducive to a healthy environment.
Tuesday, July 5, 2016 (2 comments)

Male Calf Cruelty We make choices every day. We have to admit that not all of them are wise. We have to admit that regarding animals- not all of our decisions are compassionate. If you don't eat veal, then you have made at least one wise and compassionate decision.

Sunday, July 3, 2016 (7 comments)

Meat and the Environment This is a topic which sadly most people would rather not address since for so many- meat is important to their dining lifestyles. Hopefully, some will at least realize that for a healthy environment we should at least try to curb eating meat as much as possible.

Friday, June 17, 2016 (12 comments)

Do You Still Drink Milk? I hope that people who become aware of cow suffering will try to become dairy free. After all, there are many alternatives today that should satisfy even the most discriminating palate.
Sunday, June 12, 2016 (3 comments)

Why Does Farm Animal Cruelty Persist? As often as I read these exposes of cruelty to farm animals, I still read them with incredulity. Why aren't humane changes being made? I'm afraid that it must be a general lack of concern from most of us.

Monday, May 30, 2016 (2 comments)

Right to Farm or Right to Harm? I believe any thinking person will be astounded at the degree which some animal farm corporations will go to insure that they are not policed. To me it says something about their lack of humane compassion for their farm animals.

Monday, May 9, 2016

An Inspirational Romanian Grandmother Sadly, Gandhi was so right about judging a nation by the way it treats its animals. Unfortunately Romania isn't the only country that could learn to be more compassionate to animals. However, the grandmother in this post could well teach her fellow Romanians and us a thing or two about compassion.
Tuesday, May 3, 2016 (6 comments)

Puppy Mill Mothers Mother's Day should be celebrated for ALL mothers including the animal ones. Why not? Are only human mothers endowed with motherly instincts?

Tuesday, April 26, 2016 (1 comments)

Thank You Nicholas Kristof I know that Nicholas Kristof is a well-known writer. My hope is that I may have included something new and interesting about him.

Thursday, April 21, 2016 (10 comments)

Angel, a Coyote in Need If you like accounts with happy endings, this one will suit you. Julia Di Sieno and her helpers made a big difference for a coyote whose sufferings were acute, but with their help she overcame all her adversities.

Tuesday, April 19, 2016 (2 comments)

The Power of Love Life is often hard and taxing. What sometimes gets us through difficult times is not only the love and support of family and friends, but the love of companion animals.

Friday, March 25, 2016 (2 comments)

Russell Simmons, A Happy Vegan and Others In the Mercy for Animals magazine Compassionate Living, I found wonderful examples of why some have become vegan. For Russell Simmons it was a karmic experience. For others it was an answer to weight and health problems. And for many of us -it is the only diet lifestyle which is compassionate.

Thursday, March 24, 2016 (3 comments)

USDA's Short Supply of Empathy When information requires us to tap into our empathy -do we rise to the occasion and process it or do we retreat into our comfort zone? Kate Medlock on Care2 asked us to examine ourselves in this regard. Self-knowledge is a good thing. Let's be honest.
Tuesday, March 8, 2016 (3 comments)

BLM Complicity in sale of 1,794 Wild Horses Many of us love the wild horses of the West. They seem to embody the American spirit -free to run at will and unimpeded by constraints. Well, not so any more. The BLM is rounding them up with helicopters which force these beautiful animals to run for their lives and some will lose them in these cruel roundups and in future cruel sales.

Sunday, February 28, 2016 (1 comments)

Greyhound Holocaust Greyhound dog racing is certainly not a great sport for the poor greyhounds who are forced to compete. They are also used in Spain for hunting. Are they treated well there? Sadly, not at all and probably worse.
Wednesday, February 24, 2016 (1 comments)

America-We Can Do Better Thank God that there are people like Will Potter. He found out that even distributing animal right leaflets can bring the FBI to your doors- especially if you are a well known reporter.

Thursday, February 18, 2016 (3 comments)

One Brave Chicken Farmer Will there ever be a time when the nation as a whole will say as did chicken farmer Craig Watts - enough is enough? Will we ever as a people rise up and speak for the farm animals we brutalize and say enough is enough? Sadly, at my age I don't feel at all optimistic that this will ever happen.

Saturday, January 30, 2016 (7 comments)

Horse Drawn Carriages in New York City is Animal Cruelty Should New York City keep their horse drawn carriages? Mayor Bill de Blasio thinks that it should not. I do not and people of compassion to the suffering of the horses do not. Yes, there are many viewpoints, but somehow I hope it will work out- not only for the long-suffering horses, but for their owners as well.
Tuesday, January 12, 2016 (1 comments)

News that Brings Smiles and Tears to this Animal Lover There is something to be said for living in simpler times when there were no TV's nor computers. At least for me this is true. I lived when radio and newspapers were the chief dispensers of news. We survived.
Thursday, December 31, 2015 (2 comments)

The Pear - An Act of Kindness Are you glad 2015 has finally come to an end? I hope it hasn't been all that bad, and if you try really hard, you may find some redeeming aspects to it. I had to do the same. Lucky you if it was all great. I hope the new year will be great too for all of us.
Saturday, December 26, 2015 (1 comments)

Gifts of Inestimable Value, A Christmas Story I think we sometimes lose site of what Christmas is all about. I think it would be nice if we gave gifts to the Christ Child instead of each other. However, it is still not too late to incorporate that mindset this Christmas even though we have already exchanged gifts. This post may give you some ideas in this regard.

Thursday, December 24, 2015 (2 comments)

A Beautiful Soul I am always enamored by reading the lives of some special people who thankfully become aware of injustices - whether to animals or to people and try to rectify them. Elizabeth Fink would turn her gifts to trying to address what she perceived as an injustice to the Atticus prisoners after the revolt of 1971.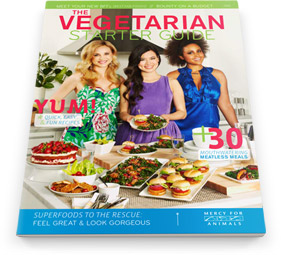 Saturday, December 12, 2015 (6 comments)

Farm Animals and Climate Change Will the Global Warming talks in Paris produce fruit? Yes, if they realize that fruit, veggies, and grain are more important to curb global warming, to ensure better health for us, and not least of all- to hopefully open the doors of the cruel factory farms and let the animals out to live and breathe as we do.
Wednesday, November 25, 2015 (2 comments)

My Thanksgiving Reflections I don't often write reflections re Thanksgiving but somehow this Thanksgiving I've found quite a few reasons to be grateful. Even trees have become a source of gratitude for me,thanks to something the Rainforest Alliance sent and which I have shared here.
Thursday, November 19, 2015 (30 comments)

USDA - Wrong About Dairy How much stock do you put in the USDA's Food Guidelines? I hope very little- if anything at all. Why would they promote dairy when people like Dr. Willet of Harvard warned about the dangers associated with it?
Wednesday, November 11, 2015 (3 comments)

Cruel Cultural "Prerogatives" Fortunate the countries whose culture is not linked with cruelty to either humans or animals. Sadly, there are some countries with ties to animal cruelty. We are reminded of them in this blog.
Thursday, October 29, 2015 (6 comments)

Death of a Dairy Cow If more people would recognize the horrors experienced by those poor cows who find themselves in the never ending milk lines of Cafo dairies and decide to give up dairy, hopefully one day those Cafos from hell will be dismantled. and the cows would be freed from suffering bondage.
Monday, October 12, 2015 (1 comments)

A Walk Down Memory Lane Where were you on August 15, 1996? It probably doesn't ring a bell or mean anything to you -simply because it's not a date which had particular significance to you. However, this date was important to me as it was my retirement day.

Sunday, October 4, 2015 (2 comments)

Worthy of Praise We all have heroes I am sure, and not surprisingly, the kind of heroes we have will reveal much about our character. While mine leaves much to desire, my concern for lessoning animal suffering is my saving grace. I hope it is yours too.
Friday, September 25, 2015 (7 comments)

In Memory of Jack, my Rabbit Hunting by its very name is frightening. Who of us wants to be hunted? Of course -none of us. So the question arises - why do some people find pleasure in hunting defenseless animals? And, of course, worse yet -why do they find pleasure in killing them?
Thursday, September 17, 2015 (7 comments)

No More Pity Parties for Me As we go through life, we will meet an assortment of people. Some will inspire. Some will disgust you. I think I have captured some of them in this post, and not surprisingly, the ones who inspire do not waste time indulging in pity parties.
Monday, September 7, 2015 (2 comments)

Remembering Some Special Dogs on Labor Day I think animals need to celebrate a Labor Day too. Its too bad that we don't let them out of their cages, crates, and factory farms. But sadly, it's always about us. This post is about dogs who I find to be so loving and loyal. Could we but learn from them, this world would be a better place.
Monday, August 31, 2015 (5 comments)

A Bald Eagle and a Ground Hog Two different species - an eagle and a ground hog. Both ended up in precarious positions, but only one would survive though each had people who cared about them.
Friday, August 21, 2015 (1 comments)

Animal Stories With A Wide Range of Emotions Who of us as a child didn't wish that they could have either a pony or horse? This 8 year old wanted a horse and she tried her level best to convince the Doris Day Horse Rescue and Adoption Center that she deserved one.
Wednesday, August 19, 2015 (3 comments)

The Torture of Patagonia's Lambs I think all animals are special in their own way, but there is just something very beautiful about a lamb. No wonder Jesus called Himself the Lamb of God. Sadly, these dear innocent creatures are being violated in the most cruel way for their wool. I can't understand how we can treat them so horribly.
Monday, August 17, 2015 (6 comments)

Subsidizing Big Pork No matter where you are on the spectrum of animal welfare, I think you will agree that the National Pork Producers Council (NPPC) acted selfishly and irresponsibly in using funds supposed to promote the sale of farm products generally.
Friday, August 14, 2015 (5 comments)

Beautiful People If you are into animal welfare, you will be often deluged with accounts of animal cruelty. So, whenever you find an account of love and goodness for animals, it brings one great joy. This story did that for me.

Wednesday, August 5, 2015 (4 comments)

A Judge of Compassion I shall never forget the name - Judge B. Lynn Winmill - for I find him to be a man of compassion. Seven states passed Ag-gag laws and none had a judge of the stature of Judge Winmill, who was brave enough to say the ag-gag law in Idaho was unconstitutional.
Sunday, August 2, 2015 (3 comments)

Need New Olympic Committee I was crestfallen when I heard that the Olympic Committee had chosen Beijing again for the Winter Olympics in 2022. In my opinion, they don't do their homework, unless of course choosing a country with a poor record of humane treatment of animals is not important to them.
Wednesday, July 29, 2015 (4 comments)

In Praise of the HSUS Recently, in a post re animals, some people decided to find fault with the HSUS -one of my favorite animal right organizations. I found this incredible. Did they bother to do any research on the HSUS? If they had, I doubt they would have been so negative.