Articles Listed By Date List By Popularity
Page 1 of 8 First Back Next 2 3 4 5 6 7 8 View All
Monday, April 30, 2018 (6 comments)

Trump Did NOT Convince Kim to Ditch His Nukes. China Did Donald Trump thinks his "maximum pressure" campaign persuaded North Korea to abandon its nuclear weapons program. But it's a bunch of baloney. The reason Kim Jong-un is planning to denuclearize is because China adamantly opposes nuclear weapons on the peninsula. That's the whole deal in a nutshell.
Tuesday, March 13, 2018 (7 comments)

Washington's Century-Long War on Russia Washington's war on Russia has ebbed and flowed depending on the political situation in Moscow -- it has never completely ended. The US has always treated Russia with suspicion, contempt and brutality. During the Cold War, when Russia's global activities put a damper on Washington's depredations around the world, relations remained stretched to the breaking point.
Saturday, February 17, 2018 (20 comments)

The Obnoxious Pence Shows Why Korea Must End US Occupation Pence flaunted his contempt for the Korean people by humiliating their leaders, shrugging off their hospitality, and scoffing at their joint efforts for peace. He acted like an arrogant proconsul who only deigns to visit his subjects in order to treat them with condescension and scorn.
Tuesday, February 6, 2018 (11 comments)

If There's a War in Korea, Blame Trump The United States has never lifted its sanctions on North Korea, never treated their leaders with anything except contempt and brutality, and never made any sincere attempt to end the hostilities. Washington will not even sit down with a delegation from the DPRK to air their differences or discuss a path forward.
Thursday, February 1, 2018 (2 comments)

Turkish Invasion Pits Neocons Against Traditional Imperialists The present disaster that is unfolding in the Afrin canton in Syria's northwest corner could have been avoided had the Trump administration abstained from announcing that it planned a permanent military presence in east Syria, which implied its tacit support for an independent Kurdish state. This, in fact, was the trigger for the current crisis, the provocation that set the dominoes in motion.
Monday, January 29, 2018 (2 comments)

Washington Widens the War in Syria by Provoking Turkey On January 18, US Secretary of State Rex Tillerson announced the creation of a 30,000-man Border Security Force (BSF) to occupy East Syria. Tillerson's announcement may have prompted some unexpected apologies and back-tracking, but the policy remains the same. Washington will persist in its effort to divide the country and remove Assad until an opposing force prevents it from doing so.
Friday, January 19, 2018 (3 comments)

Trump's Plan B for Syria: Occupation and Intimidation The Russian president is gradually replacing Washington as the guarantor of regional security. This is a tectonic development and one that US power brokers will definitely regret in the future. A "changing of the guard" is underway in the energy-rich Middle East, and Washington is the odd-man-out.
Friday, January 12, 2018 (24 comments)

Oprah for President, Really? The fact that Oprah really has no understanding of how to negotiate with congress, staff an administration, or appoint judges to the bench, makes one think that Democratic honchos are merely using her as a stalking horse to shoehorn themselves back into power so they can -- once again -- enjoy the spoils of war.
Friday, January 5, 2018 (1 comments)

Will Trump Use "Human Rights" to Kill the Iran Nukes Deal? If the president does in fact reimpose sanctions, (sometime after January 13) the United States will be in "material noncompliance" with the terms of the nuclear agreement and all bets will be off.
Thursday, December 28, 2017 (34 comments)

Jill Stein in the Crosshairs: the Russia Investigation Shifts to Clinton's Political Rivals The Russia-gate investigation has zeroed-in on Green Party candidate Jill Stein, proving that the probe is not an attempt to determine whether Russia meddled in the 2016 elections, but a crude weapon to bully the political rivals of Hillary Clinton, her dissolute allies in the bureaucracy.
Saturday, December 2, 2017 (23 comments)

Why the Democrats Will Run Michele Obama in 2020 Michelle already knows the drill, that's what makes her the perfect candidate. She knows the president is a meaningless figurehead. She knows the whole thing is a charade. She knows that the rich will get richer while working people get stomped on. She's been there, she's done that.
Tuesday, November 28, 2017 (5 comments)

Tom Friedman's Paean to a Saudi Tyrant Ignites NYT Comments-Storm Is Friedman a supporter of the power-hungry Crown Prince? Does he think that rounding up one's political rivals, hanging them upside down and beating them with rubber hoses is an acceptable way to conduct an anti-corruption campaign? Did Friedman know that the object of his man-crush is a reprobate despot who, in the last year alone, oversaw the beheadings of over 150 people?
Friday, November 24, 2017 (6 comments)

ISIS Last Stand: End Times for the Caliphate The western media has entirely ignored the defeat of ISIS at Abu Kamal mainly because it was the Russian-led coalition that delivered the final blow. In the current climate in the US, any facts that fail to support the anti-Russia hysteria that has swept the country, are scrubbed from publication.

Saturday, November 18, 2017

Brennan and Clapper: Elder Statesmen or Serial Fabricators? After an arduous 12 month-long investigation involving both Houses of Congress, a Special Counsel, and a small army of high-paid Washington attorneys, the only straw Brennan has found to hold on to, is a few innocuous advertisements posted on Facebook and Twitter that had no noticeable impact on the election at all.
Thursday, November 9, 2017 (9 comments)

Is Hillary Just the "Fall Guy" for the Intel Agencies and their Moneybag Bosses? The media no longer tries to support their narrative with evidence or eyewitnesses. The major media now simply tells people what they want them to think and leave it at that. Even so, it doesn't require much critical thinking to see the holes in the Russia hacking story. One merely needs to suspend judgment long enough to see that main claims all emerge from (Democratic) sources who have every reason to mislead the public.
Friday, October 27, 2017 (5 comments)

"Anthem Protesters" Should Stop Mucking Around and Make Their Demands The owners are going to do whatever they're told to do (within reason, of course) if they want this protest nightmare to go away. And they do want it to go away. The anthem protests could very well produce results that no one could have ever imagined. It's worth a shot at least.
Friday, October 20, 2017 (1 comments)

John Brennan's Police State USA Brennan's psyops have been successful -- amazingly successful. According to a recent CBS Poll, a majority of Americans (57%) now believe that "Russia tried to interfere in the 2016 presidential election." In contrast, only 34 percent of Americans don't believe there was any Russian interference in the 2016 elections.
Friday, October 13, 2017 (6 comments)

Cowboy's Boss Draws a Line in Sand: "Stand for Anthem or Else" But if bosses can require their employees stand for the anthem, then what's to stop them from making them say a prayer too? It's the same thing, isn't it? In both cases, employees are being compelled to conform to behavior that may or may not be consistent with their own beliefs. How does that square with the First amendment or is that rule no longer applicable?
Saturday, September 23, 2017 (6 comments)

Uncle Sam vs. Russia in Eastern Syria: the Nightmare Scenario Putin is a cautious and reasonable man, but he's not going to hand over Syria's oil fields without a fight. Putin doesn't want a slugfest with Uncle Sam, but he's not going to abandon an ally either. So there's going to be a confrontation because neither party is willing to give up what they feel they need to achieve success.
Tuesday, September 19, 2017 (3 comments)

Rohrabacher vs. The Machine The media is trying to divert attention from the real story that Russia did not hack Democratic emails and give them to WikiLeaks during the 2016 presidential campaign until they get their bearings and figure out a way to dispose of Rohrabacher. As soon as they settle on an approach, they'll be off to the races. Rohrabacher should be applauded for trying to reveal the truth, but he's probably bitten off more than he can chew.
Monday, September 18, 2017 (4 comments)

Starve Them to Death: Wall Street Journal's Solution to North Korea The editors at the Wall Street Journal have settled on a plan for ending the crisis in North Korea. Starve them to death. There's not even the remotest chance that the plan will work at all. None. But it will help to punish the Korean people for the behavior of their government. It will do that. And it will generate more suffering, unhappiness and misery. That much is certain.
Thursday, September 14, 2017 (5 comments)

The Russian Hacking Story Continues to Unravel The only rational explanation for the FBI's behavior, is that they've been told to "stand down" so they don't unwittingly expose the truth about what's really going on, that the whole Russia hacking fiction is a complete and utter fraud, and that the DNC, the CIA and the media are all having a good laugh at the expense of the clueless American people.
Saturday, September 9, 2017 (7 comments)

Why Trump Won't Start a War With North Korea Washington won't sign a treaty with the North because it despises their form of government, and is just waiting for the opportunity to force them from power. Trump is no different from most of his predecessors in this regard. He hates the leadership in Pyongyang and makes no bones about it.
Monday, September 4, 2017 (27 comments)

What the Media isn't Telling You About North Korea's Missile Tests The North wants negotiations. They want to end the war. They want to put this whole nightmare behind them and get on with their lives. But Washington won't let them because Washington likes the status quo. Washington wants to be a permanent feature in South Korea so it can encircle Russia and China with lethal missile systems and expand its geopolitical grip bringing the world closer to nuclear Armageddon.
Saturday, August 26, 2017 (7 comments)

Why Can't Wheeler-Dealer Trump Cut a Deal with North Korea? North Korea may be a seriously-flawed and, perhaps, even tyrannical regime, but it has not pummeled entire nations into dust sending millions fleeing across continents to seek refuge. It has not bombed wedding parties, hospitals, mosques etc., wreaking havoc while plunging the world deeper into chaos and despair. North Korea is far from perfect, but compared to the United States, it's looks like a paragon of virtue.
Tuesday, August 1, 2017 (4 comments)

Did Hillary Scapegoat Russia to Save Her Campaign? Facts don't matter in the Russia hacking case. They never have. The whole approach from Day 1 has been to drown the public with innuendo and baseless accusations, while the MSM Carnie barkers pretend that "Russia meddling" is already settled science and that only "Putin puppets" would ever doubt the veracity of the media's loony claims. Got that?
Friday, June 23, 2017 (17 comments)

Putin Tries to Avoid a Wider War With the US Putin does not want to prolong or expand the war, he wants to end it. It's going to take enormous restraint to tip-toe through the Syrian minefield without triggering a Third World War. We'll have to see if Putin is up to the task or not.
Monday, June 19, 2017 (9 comments)

The Syrian Nightmare: No End in Sight The fight against ISIS could be over in a matter of months, but that doesn't mean the hostilities will end. No one really knows whether the Turks, the Kurds or the US-backed militias will agree to withdraw from the territories they've captured during the war, but the general consensus seems to be that they won't.
Saturday, June 3, 2017 (3 comments)

Trump, Brennan and the Intel Community's Iron Wall of Secrecy Russia has become the single greatest obstacle to Uncle Sam's imperial ambitions; it is the emergent threat of which Paul Wolfowitz warned during the Bush years. This is why Russia is relentlessly demonized by the media, penalized with harsh economic sanctions, and disparaged among the allies. And this is why Brennan launched Russiagate.
Thursday, May 25, 2017 (3 comments)

Rosenstein and Mueller: the Regime Change Tag-Team Rod Rosenstein is a skunk, there's no two-ways about it. [Mueller] did not live up to his oath of office to protect and defend the Constitution against foreign and domestic threats. So, he clearly has a selective view of how you apply the Constitution,"
Monday, April 17, 2017 (18 comments)

The Problem is Washington, Not North Korea Washington has never made any effort to conceal its contempt for North Korea. In the 64 years since the war ended, the US has done everything in its power to punish, humiliate and inflict pain on the Communist country. Washington has subjected the DPRK to starvation, prevented its government from accessing foreign capital and markets, strangled its economy with crippling economic sanctions...
Tuesday, March 28, 2017 (2 comments)

Ending Syria's Nightmare will Take Pressure From Below Washington is using the fight against ISIS as a pretext for capturing and holding territory in a critical, energy-rich area of the world. The plan to seize parts of East Syria for military bases and pipeline corridors fits neatly within this same basic strategy. But it also throws a wrench in Moscow's plan to restore the country's borders and put an end to the six year-long conflict.
Thursday, March 23, 2017 (8 comments)

Will Washington Risk WW3 to Block an Emerging EU-Russia Superstate A new global empire is gradually emerging in Central Asia, and while the transformative impact of economic integration has not yet been realized, US efforts to block the embryonic alliance are getting weaker and more desperate all the time. The hyperbolic propaganda about the alleged "Russia hacking" of the presidential election is just one example of this, while the arming of Nazi militants in Kiev is another.
Friday, March 17, 2017

Yellen's Effed up Attack on Working People, Sad The idea that the Fed is an impartial referee that serves the public by setting interest rates and regulating the financial system, is the nuttiest of all the conspiracy theories. The Fed is not only a creature of the banks, it is also the most destructive institution in the country today. Isn't it true that Donald Trump wouldn't be president today if it wasn't for the Fed? Think about it.

Wednesday, March 15, 2017 (4 comments)

Trump's Infrastructure Boondoggle The objective is to allow wealthy corporations to buy public assets at fire-sale prices so they can turn them into profit-generating enterprises. Trump is signaling to his pirate friends in Corporate America that he'll use his power as executive to find new outlets for profitable investment so they have some place to stick their mountain of money.
Saturday, March 11, 2017 (1 comments)

Stronger Economic Growth? Over My Dead Body, Says Janet Yellen The Fed would rather prick the massive asset-price bubble it has created and risk sending the financial system into a headlong plunge off a cliff, than allow perennially-strapped workers to garner even a farthing more for their daily drudgery. Class hatred remains the animating force that fuels all Central Bank policy decisions.
Wednesday, March 8, 2017 (4 comments)

The Trump Investigation: Essential Criminal Probe or Politically-Motivated Witch Hunt? If Trump is found guilty of illegal behavior in his connections with Russia, then he should be prosecuted to the full extent of the law. But if Obama or the DOJ abused their authority by using the Intelligence agencies and the media to conduct a politically-motivated witch hunt aimed at crushing a political rival and reversing the results of the election, then they should be held accountable.
Friday, March 3, 2017 (14 comments)

Trump Flip-Flops on Bubblemaking when Trump was running for office, stocks were headed for another thundering crash. But now that he's president, Happy Days Are Here Again. The question is: Which Trump do we believe? Are stocks in a bubble or not? Stocks aren't just in a bubble, they've completely detached from reality.
Friday, February 24, 2017 (3 comments)

McMaster Takes Charge: Trump Relinquishes Control of Foreign Policy Why has Trump put a Moscow-hating hawk like H.R. McMaster in a position where he'll be able to intensify the pressure on Russia, increase the provocations and, very likely, trigger a conflagration between the two nuclear-armed superpowers? Trump is signaling to his adversaries that he will cooperate in carrying out their strategic agenda provided they allow him to finish his term.
Wednesday, February 22, 2017 (38 comments)

Liberals Beware: Lie Down With Dogs, Get Up With Fleas Leftists should avoid the temptation of aligning themselves with groups and agencies that might help them achieve their short-term goal of removing Trump, but ultimately move them closer to a de facto 1984 lock-down police state. Misplaced support for the deep state Russophobes will only strengthen the national security state's stranglehold on power. That's not a path to victory, it's a path to annihilation.
Friday, February 17, 2017 (81 comments)

Blood in the Water: the Trump Revolution Ends in a Whimper The inexperienced Trump -- who naively believed that the president sets his own foreign policy -- has now learned that that's not the case. The Flynn slap-down, followed by blistering attacks in the media and threats of impeachment, have left Trump shaken to the core.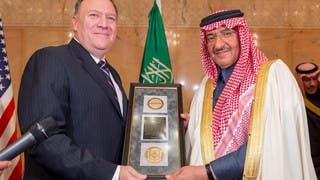 Tuesday, February 14, 2017 (3 comments)

Worst Joke Ever? U.S. Spy Chief Gives Saudi Prince Highest Award for "Fighting Terrorism" The evidence against Saudi Arabia is overwhelming and damning, and that's what makes Pompeo's performance in Riyadh so confusing. Why is the head of the CIA bestowing an award on a man who could undoubtedly identify some of the world's biggest terrorist donors, unless, of course, the CIA derives some benefit from the arrangement?
Saturday, February 11, 2017 (5 comments)

Trump's Deregulation Boondoggle; "One Shitty Deal" According to Trump, the benefits of ditching the rules far exceed the risks which, of course, will be shouldered exclusively by the blue collar working stiffs who naively supported Trump's bid for president thinking he had their best interests at heart. Hopefully, these people will realize that President Silverspoon has allied himself with the same thieving scoundrels who precipitated the 2008 financial crash.
Wednesday, February 8, 2017

Trump Plays Cat and Mouse with Iran Washington abhors any country that conducts its own independent foreign policy or resists US attempts to install its own puppet government. With Iran, the problems run even deeper since Iran sits on a vast ocean of oil and natural gas to which the western oil giants feel they are entitled.
Saturday, February 4, 2017 (7 comments)

The Berkeley Incident The masked rioters actually did Trump a favor. They created a justification for presidential intervention backed by the prospect of direct involvement. One can only wonder how many similar experiments will transpire before Trump puts his foot down and bans demonstrations altogether? Of course, that may very well be the objective.

Thursday, February 2, 2017 (19 comments)

How We the People Were Screwed by Obama's Bogus "Recovery" Neither Yellen nor McConnell can allow Trump to kick-start the economy, because stronger growth puts upward pressure on wages which lifts inflation and pushes up interest rates. Higher rates are the death knell for cheap money which is the secret ingredient that keeps the nation's wealth flowing upwards to the glorious 1 percent.
Saturday, January 28, 2017 (57 comments)

Game Over for Democrats? Ever since the election, the Dems have made no effort at course correction, no effort to reconnect with the millions of working people in the red states who used to vote Democrat but switched because they wanted change. No. The Democratic party doesn't have to be a place where progressive ideas go to die. But they'd better get it together fast or it's going to be Game over.
Thursday, January 26, 2017 (20 comments)

Double Standards: Where Were the Liberal Protesters During Obama's Wars? The United States has been at war for eight straight years under Obama, and during that time, there hasn't been one sizable antiwar march, demonstration or protest. Nothing. No one seems to care when an articulate bi-racial mandarin kills mostly people of color, but when a brash and outspoken real estate magnate takes over the reigns of power, then "watch out" because here come the protesters, all three million of them!
Thursday, January 19, 2017 (18 comments)

The Trump Speech That No One Heard Washington's plan for Russia is no different than its plan for Syria. Both countries will be chopped up into smaller bite-size enclaves eliminating the possibility of a strong nationalist government rising up and resisting Washington's relentless exploitation and repression. It's divide and conquer writ large.
Wednesday, January 18, 2017 (1 comments)

Chelsea Manning sentence commuted after seven years of brutal imprisonment The language of the commutation appears to rule out any future legal proceeding against Manning in either civilian or military courts, since it covers all 20 charges for which she was convicted and sentenced. Neither incoming President Donald Trump nor the Republican-controlled Congress has the legal power to overturn the commutation.
Tuesday, January 10, 2017 (3 comments)

US Intel Agencies Try to Strong-Arm Trump into War With Russia The big shots who run the country are trying to strong-arm "the Donald" into carrying their water so the depredations can continue and Central Asia can be transformed into a gigantic Washington-dominated corporate free-trade zone where the Big Money calls the shots and Capital reigns supreme.
Saturday, January 7, 2017 (1 comments)

The Trump Bubble Trump knows his so called "tax holiday" scam is a bunch of baloney. Why would companies expand their operations, hire more workers, and generate more product when consumer demand is still in the crapper seven years after the Great Recession? They're not going to do that. Trump knows his so called "tax holiday" scam is a bunch of baloney.
Thursday, December 29, 2016 (5 comments)

The Reason the Fed is Raising Rates, and Why It Won't Work The Fed created the incentives for this destructive behavior and they are the primary regulator of the entire financial system. They could stop this nonsense with just one appearance before Congress, but they choose not to. They'd rather keep the real economy in a permanent coma and blow up the financial system than lift a finger to stop Wall Street's reckless and relentless looting spree.
Thursday, December 22, 2016 (13 comments)

Trump's Economic Plan is a Betrayal of the People Who Voted for Him That's why Trump's supporters should be so disappointed, because they stood by him through the most vicious campaign in history and helped to shoehorn his sorry posterior into office. And now he has sold them down the river. Thanks a lot, Don.

Saturday, December 17, 2016 (8 comments)

Ah, So Putin Didn't Hack Those Emails After All The 'hacking story' has nothing to do with hacking and nothing to do with Russia. It's just another attempt by establishment elites to distort the facts in order to subvert the democratic process and overturn the election results. Isn't that what this is really all about, regime change in the USA?
Wednesday, December 14, 2016 (2 comments)

Former Texas governor who called for abolition of Energy Department to be Trump's energy secretary Perry is on record as a supporter of the complete elimination of the Department of Energy. It was the third of three federal departments he called for abolishing during a Republican presidential debate in 2011, the one whose name he forgot, leading to the widely ridiculed "Oops" moment that helped torpedo his campaign for the 2012 nomination.
Tuesday, December 13, 2016

The Corporate Media's Assault on Free Speech: an Interview with Jeffrey St. Clair Trump embraced almost every third rail in American politics and not only survived but thrived on it, like some super-villain in a Dark Horse comic. It's quite remarkable really. The MSM media has been dying for years and Trump's campaign emphasized just how feeble and politically impotent the Times and the Post, as well as the network and cable news outlets have become, at least for an outlier candidate like Trump.
Monday, December 12, 2016 (13 comments)

The Democrats "Russia Hacking" Campaign is Political Suicide People are afraid because things are getting worse not better. Their standards of living are slipping, they're worried about their retirement, their jobs, their health care, and the pile of debt their kids have accumulated to go to college. They've lost confidence in the media, the congress, the courts and the president who promised change but never lifted a finger for working people his entire time in office.
Thursday, December 8, 2016 (4 comments)

Rolling Back the Empire: Washington's Proxy-Army Faces Decisive Defeat in Aleppo This is the end of the line for the US-backed terrorists that have laid to waste much of the battered country and killed more than 400,000 people. And while Aleppo may not be the decisive turning point in the ongoing conflict, it does put all of the main population centers and industrial hubs back under regime control.
Sunday, November 27, 2016 (1 comments)

Trump's Economic Plan: This Isn't Going to Work Had Obama made any attempt to address wage stagnation, shrinking incomes, student debt, or widespread economic insecurity, Hillary Clinton would probably be president today. As it happens, the victory went to the anti-establishment outsider who promised a fundamental change in direction, Donald Trump.