Articles Listed By Date List By Popularity
Page 1 of 5 First Back Next 2 3 4 5 View All
Friday, January 11, 2019 (1 comments)

The American destiny Individual artists (and a few philosophers) became aware that: imagination gives birth to ideas that in turn shape personal reality. America's love affair with the idea of individuals reinventing themselves was about more than immigrants "becoming American." It was about imagination as the core of transforming self and future.
Tuesday, January 1, 2019 (1 comments)

The government "can't find" $20 trillion, while pension funds are tanking Look around you. Money is everywhere. Titanic piles of it are flowing. The question is, to whom is it flowing, and how, and why? Within the current system, there are designated winners and losers. This has to do with criminal controllers posing as benefactors. They steer the money ship. They dump shipments of money at certain favored ports and keep shipments from reaching many other ports.
Tuesday, December 25, 2018 (4 comments)

Independent Education: the crisis and the crossroad The independence engendered by the disciplined study of logic is no longer a desired quality in students. The classroom, at best, has taken on the appearance of a fact-memorization factory; and we should express grave doubts about the relevance and truth of many of those facts. A society filled with people who float in the drift of non-logic is a society that declines.
Wednesday, December 19, 2018

The Individual, his freedom and victory The free individual certainly helps others, but he is against a culture that is so preoccupied with "raising up the lowest" that it nurtures a hatred of liberty. And this is a crux, because growing millions of people are all too eager to shed the last fragments of Self to join in a fantasy of "everybody gets everything."
Thursday, December 13, 2018 (1 comments)

Exposed: the Nazi roots of the European Union The pharmaceutical empire was and is one of the major forces behind the European Union (EU). It is no accident that these drug corporations wield such power. They aren't only involved in controlling the medical cartel; they are political planners.
Tuesday, December 11, 2018 (1 comments)

Who's destroying England and Western Europe? The chaos and destruction that result from open borders are simply an "adjustment period," after which things will settle down. A new and better England and Europe will emerge. Diversity will triumph. How? Don't worry about that, be happy.
Saturday, December 8, 2018 (2 comments)

The Matrix Revealed: The collective experiment on planet Earth When all obsessive group-consciousness on Earth is finished, exhausted, when it admits defeat, then a different era will emerge. But for now, we are in the middle of the collective experiment. How long until the collective age is over? A hundred years? A thousand years? The answer is, as long as it takes for every human to realize that the experiment has failed, and why.
Monday, November 19, 2018 (2 comments)

To science bloggers living with mommy Conventional science bloggers, take notice. You're working in a field where studies supporting the general consensus are tainted and stained. Conventional science bloggers, take notice. You're working in a field where studies supporting the general consensus are tainted and stained.
Thursday, November 15, 2018 (5 comments)

Death doesn't equal someone's opinion about death People who see other people die often assume they know why it happened. Certainly, when it comes to viruses, they don't have a clue. They're sure they know. That doesn't make them right.
Tuesday, November 6, 2018 (7 comments)

Propaganda is the art of overwhelming logic The easiest way to defeat logic is through deficient education. Never teach logic. Ignore it. Instead, teach specific values. Teach anything except logic. Don't teach children how to spot contradictions. Propaganda is the art of overwhelming logic. It works, when the mind is unprepared.
Sunday, August 12, 2018 (2 comments)

The individual and the reality machine Life on Earth has been distorted through many lenses, and the latest of these lenses involves the promotion of technology to impart the idea that humans can "evolve to a higher stage" by merging their brains with computers. This is a sham. Computers can offer us many things; but deeper perception of the truth by automatic reflex, and increased creative power via stimulus-response, are not on the list.
Wednesday, August 1, 2018 (1 comments)

Remember the pandemic that was going to wipe out humanity? We're still here. The CDC, which is tasked with overseeing vaccine safety and efficacy, buys and sells $4 billion worth of vaccines a year. This is BUSINESS we're talking about, and in order to promote business, PR people cook up all sorts of schemes. Pandemics, even if they don't pan out, are clever propaganda.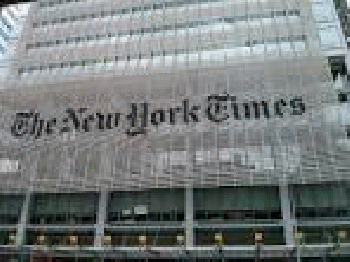 Monday, July 30, 2018

Trump, the NY Times, and fake news Trump and Sulzberger, the NY Times publisher, meet, talk, and then launch charges at each other. Sulzberger claims Trump's attacks on MSM could result in violence against journalists. Like him or hate him, Trump is threatening the media monopoly as no other modern president has. Social media are shadow-banning and censoring voices perceived as pro-Trump.
Thursday, July 26, 2018 (2 comments)

Washington Post-CIA connections: back to basics I could go on and on about the Post and its historic CIA ties. But now, right now, the owner of the Post is Jeff Bezos, who also owns Amazon. And Amazon has a $600 million contract to provide the CIA cloud computing services. Boom.
Thursday, July 19, 2018 (1 comments)

Engineering perception for "the new world" All political correctness is based on a crooked notion of greatest good, AKA least harm, to the greatest number of people. It's an effort to convince people to limit their own actions and words, based on what effect they might have on others. These others are nudged and engineered into being on the premise that they will be victims, who are disturbed by a potentially infinite number of actions and words.
Friday, July 13, 2018 (11 comments)

What Globalists say; what they really mean Corporations are empowered to set up factories in Third World hellholes, where they employ workers at starvation wages, with no environmental concerns or controls. That's step one. Step two is exporting the goods made in those far-off places back to First World countries without paying tariff-penalties.
Wednesday, July 4, 2018 (8 comments)

Independence Day of the Soul Beyond all political objectives, there is a simple fact: those group-mind addicts who have given up their souls will rage against the faintest appearance of one who tries to keep his. And in this rage, the soulless ones will try to pull the other down to where they live.
Monday, June 25, 2018

Designing the mind Sam and Sally designing the minds of people to sculpt their THOUGHTS into simple shapes, making their thoughts mimic the symmetry and the geometry and the balance. Keeping them in a trance..."MKULTRA."
Tuesday, June 19, 2018 (12 comments)

Socialism exposed: thick lipstick on a global pig The Carnegies and Rockefellers of today are saying: "Bring on the new world, the better world, the more just world, the happier world -- whatever you want to call it -- so we can run it from the top and show you what we really think of you. Make every conceivable lever of power ours, and then we'll reveal what we really have planned for you."
Wednesday, June 13, 2018

It's Showtime in North Korea North Korea may eventually look like a hundred versions of Dubai. War and sanctions are the threats; business is the solution. Trump has that viewpoint. Jobs will come, projects will climb upwards and sideways. Does it feel like a new era of capitalism or crazy gloss and shine? Depends on who you are. Kim understands the whole game, because he has China as a model.