Articles Listed By Date List By Popularity
Sunday, March 19, 2017 (7 comments)

Wake Up, Liberals -- Either We Hang Together or We Fall Apart There's one thing people on the left need to get deadly serious about under the Trump administration, either we hang together or we hang apart. Donald Trump and his supporters are deadly serious about harassing, intimidating, villifying and removing all those they consider subversive. And their immigration program is just a start.
Saturday, May 14, 2016

Who Needs Panama When You Have the Home State of Joe Biden? Never discount the deference in our media for those with money and influence, or the disdain they have for reporting that's done mostly elsewhere. But the most important part of the answer is: Americans don't need Fonseca. Plenty of US law firms manage offshore assets right here. They don't need to go to Panama because they can find those firms in the US.
Sunday, May 1, 2016 (1 comments)

Lucy Parsons: The Anarchist and Intersectional Feminist Who Inspired May Day Lucy Parsons was the only woman of color, and one of only two women delegates -- the other being Mother Jones -- among the 200 men at the founding convention of the IWW, the Militant Industrial Workers of the World. There, she was the only woman to give a speech. She called women the "slaves of slaves" and urged the IWW to fight for equality and charge underpaid women a lower rate for union fees.
Friday, April 8, 2016

The Primaries Are Over: Don't Give In To Panic And Mute a successful candidate is one like Ellison, the guy who rallies people to believe that the future is about more than fear -- and change is possible, in their lives, in their families, in their country. And they can be a part of it. Bernie Sanders has rallied a lot people -- just that way -- most especially young voters. He's received 80-plus percent of the youth vote in several states.
Thursday, March 17, 2016

A Great National Sick-Out -- It's Past Time After months of attempting to grab legislators' attention, the teachers called in sick, en masse earlier this year, causing almost all city schools to close, and while they withdrew their labor, they flooded the social media with images of just what they were so sick of: Broken toilet seats in the student's bathrooms, mushrooms on their classroom walls, leaking ceilings, moldy food.
Friday, March 4, 2016

Dark Money: What Might the Money Media Cover If They Weren't Covering Trump? Is today's election auction normal or inevitable? Neither. A handful of Supreme Court decisions, decided by a single vote unloosed the cash-flow. It's happened mostly over the last 10 years. As the Brennan Center reported this January, just one justice shifting opinion could speedily restore common sense limits on big spending.
Thursday, January 28, 2016 (4 comments)

Who Cares if Hillary is Warm? I Care About Her Wars When it comes to Clinton, it's not the warmth, it's the wars I'm worried about. I don't think she's ever seen a bombing mission she didn't approve, going back to the 1990s, when the whole insidious "humanitarian" war idea took root with NATO's bombing of Yugoslavia. It was the wars on Yugoslavia that prepared the political ground for intervention in Iraq, Libya, Syria, and every one of those has led to a bloodbath.
Thursday, January 7, 2016 (5 comments)

Laissez Faire Capitalism -- That Is Anything But "Laissez faire" capitalists love to argue that the market itself is magic. You don't need government or regulation to rein in bad companies -- consumers will do it. The principle involved is called "reputation." It's amazing how vigorously, then, some governments will get involved to defend bad companies from shame.
Thursday, November 12, 2015

Money Media Cover Change-Makers Most When They're Dead When media cover community organizing at all, profit-driven media tend to focus only on the troublemakers -- the sit-ins, shutdowns and picket lines. But while activism is often used to extract concessions from government, organizers like Grace Lee Boggs don't just make trouble -- they make change.
Sunday, November 10, 2013

Bill de Blasio: A Mayor for the New Economy The most significant aspect of de Blasio's win may be the route he took to power. Taking office with him this January will be a public advocate who generally shares his views and a dozen new progressive city council members -- all beneficiaries of a long-term strategy by local advocates of economic justice to reduce local legislators' dependence on establishment-party patronage and big corporate donors.
Friday, October 4, 2013 (1 comments)

Welcome to Commonomics: How to Build Local Economies Strong Enough for Everyone In our new series, YES! Magazine investigates what it will take to strengthen our local economies for the benefit of all.

Saturday, March 10, 2012

The Strange Sticking Power of Rick Santorum A big part of how Obama gained support in states like these was his pledge to renegotiate the North American Free Trade Agreement. (Although in office, he quickly jettisoned all that talk and signed more, similar pacts.) Rick Santorum, for all his sins, has the advantage of actually having voted against NAFTA.

Friday, March 2, 2012 (2 comments)

Drone Strikes? What's To Feel Bad About? Between 282 and 535 civilians, including 60 minors, have been credibly reported as killed as a result of drone strikes since US President Barack Obama took office. Most damning, the Bureau reported that at least 50 civilians have been killed in follow-up strikes after they rushed to help the wounded. More than 20 other civilians were killed in strikes on funerals.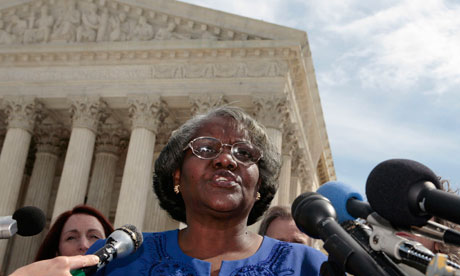 Tuesday, June 21, 2011

The supreme court's free pass on sexism for Walmart The world's biggest boss, supported by companies as diverse as Altria, Bank of America, Microsoft and General Electric and backed up by the godfather of big business (the US Chamber of Commerce) has persuaded the US supreme court that thousands of women workers can't possibly share enough of an interest to constitute a class?

Sunday, February 27, 2011

Crushing Workers in Wisconsin Has National Effects Inside the dark Victorian mansion of the Bradley Foundation in benighted Milwaukee, there must be smiles all around. The same ideologically-driven outfit that paid for the task force that devised Thompson's welfare plan is now backing Walker's drive to criminalize collective bargaining.

Friday, June 4, 2010 (3 comments)

Poor Americans Are Drowning: Where Are the Lifeboats? For all the talk of Wall Street reform, and new consumer protections, and talk of alternative energy policy, the fact remains that for most people, America is a sinking ship. And minority communities are the first to be thrown over the side.

Thursday, April 22, 2010

The F Word: Coal Company Shopping Spree Massey Energy killed 29 miners, Standard & Poor upgraded their stock from "hold" to "buy," so Shrub got it right, the answer to anything bad is "go shopping."