Articles Listed By Date List By Popularity
Tuesday, February 21, 2017 (1 comments)

American Coup Furious over Donald Trump's statements that he would like to establish better relations with Russia, people in the intelligence community are waging a determined campaign to undermine Trump and block any detente. The recent slew of leaks alleging possible collusion between the Trump campaign and Russian officials are part of this effort.
Tuesday, January 10, 2017 (3 comments)

Free Leonard Peltier The article describes why Native American activist Leonard Peltier deserves to be granted clemency. Peltier, 72, has been held in federal prison for over 40 years, following a controversial conviction for murdering two FBI agents in a shootout between law enforcement officers and Lakota tribal members. There were numerous problems with the arrest and prosecution of Peltier, justifying clemency.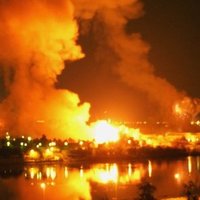 Monday, August 22, 2016 (3 comments)

U.S. Foreign Policy: Relentless War The article describes how wars of intervention have dominated U.S. foreign policy in recent years. The wars have carried an immense toll both for the countries attacked and for the American people.

Thursday, December 3, 2015 (8 comments)

John F. Kennedy --- A Martyr for Peace? Article describes the key themes in James. W. Douglass's book, "JFK and the Unspeakable." Douglass contends that John Kennedy's assassination was not the work of one disturbed individual, Lee Harvey Oswald, but rather the product of a conspiracy by military and intelligence officials in the U.S. government. Those people saw Kennedy as a threat, because he was seeking more peaceful relations with the Soviet Union and Cuba.

Saturday, October 31, 2015 (1 comments)

Journalism and Government Corruption Article describes the critical importance of having strong reporting by newspapers and other media to prevent municipal corruption.
Wednesday, September 2, 2015 (1 comments)

Putting the heat on Blumenthal Grassroots activists around the country are pushing Democrats in Congress still undecided on the Iran nuclear deal to get off the fence and back the agreement. People rallied outside the offices of Sen. Richard Blumenthal, D-Conn, last week to urge the senator to support the deal.
Friday, August 7, 2015 (11 comments)

Last Chance on Climate? World leaders need to act very soon to avoid climate disaster. A top UN official believes that action has to take place at the Paris climate talks in December, otherwise we are "playing with fire."

Sunday, May 3, 2015 (4 comments)

Urgently Needed: A Public Jobs Program Article talks about the urgent need for a publicly-funded jobs program,to put unemployed people to work and give them real hope. Cities like Bridgeport, CT and others in the Northeast, with little private sector job growth, have high poverty and crime rates. The government must start funding job creation, to get people to work and stabilize our urban environments.
Sunday, March 29, 2015 (2 comments)

A Travesty of Reporting The article describes how the nation's "paper of record" --- The New York Times --- is doing a poor job in its reporting on Ukraine. The paper has failed to report critically on the Ukraine civil war and appears to be following closely the version of events put out by the U.S. State Department.
Wednesday, December 3, 2014 (25 comments)

Demanding Justice for Michael Brown As people express outrage over the grand jury decision not to indict officer Darren Wilson in the Michael Brown case, facts are emerging showing the inconsistencies in Wilson's version of what happenend in the fatal shooting incident.

Sunday, October 12, 2014 (3 comments)

U.S. breaks the law? Who cares? The article goes into the double standard about how U.S. leaders like President Obama view the word "aggression." While the bloodless takeover of Crimea by the Russians following an independence vote is condemned as "aggression," our violent air strikes in Syria, a sovereign nation which has not attacked us, is deemed as appropriate. Major media like 60 Minutes also ignore the hypocrisy.
Thursday, May 29, 2014 (1 comments)

Drifting Towards War? Article describes the gravity of the Ukraine crisis. The Obama administration is pursuing a hawkish, neo-con plan for regime change in Russia which could touch off catastrophe.

Monday, May 5, 2014 (10 comments)

Media on Ukraine: What Happened to Journalism? Article describes the bias that's been going on with the mainstream press in its coverage of the Ukraine situation. Reporters and editors who should know better are injecting a "Russia Bad, America Good" theme in all the stories. It's reminiscent of the coverage of Iraq prior to the U.S. invasion of that country.

Wednesday, April 9, 2014 (2 comments)

Dismantling the Corporate State Article is a report on a recent talk by Chris Hedges, the Pulitzer Prize-winning former reporter for The New York Times, and his views on the decline of civil liberties in America and what it will take to get them back.

Monday, March 10, 2014 (1 comments)

Those Lying Russians Article comments on American criticism of RT TV, and how the U.S. press is being hypocritical about bias in reporting.

Friday, November 22, 2013 (1 comments)

Nov. 22, 1963: A Turning Point for America This piece describes how the country seemed to be better off during the Kennedy years, and how the nation has struggled since then. It also speculates on what might have been, if Kennedy had lived.

Tuesday, November 19, 2013 (5 comments)

Demanding Action on Fukushima Article talks about the efforts by many activists to sound the alarm about the dangers posed by the crippled Fukushima Daiichi nuclear power plant, and why there's a need for world leaders to get involved in this latest nuclear power crisis.
Thursday, November 7, 2013 (4 comments)

Fukushima --- A Global Threat Article describes the dire situation at the earthquake-damaged Fukushima Daiichi nuclear plant, and efforts by anti-nuclear activists to have the UN intervene in the clean-up of the plant, where there is the prospect of dangerous releases of radiation, if clean-up efforts by the plant's owner are not done correctly.

Friday, September 6, 2013 (4 comments)

The Case for Impeaching Obama Article discusses reasons for impeaching Obama. He's part of an out-of-control executive branch which is taking the nation into illegal wars abroad and crushing civil liberties at home.

Thursday, August 22, 2013 (1 comments)

Keeping WBAI Alive Article discusses the plight of WBAI, the most important progressive radio station in the country, and what the owners are doing to turn the station around.

Saturday, July 27, 2013 (4 comments)

WBAI in Crisis Article talks about the problems at WBAI in New York, one of the oldest listener supported radio stations in the country. Layoffs loom at the progressive station, which is in a severe financial crisis.

Friday, June 21, 2013 (2 comments)

Intervention in Syria: Iraq Redux? This article proposes questions that should be asked by Congress and the press as the U.S. begins to send military aid to the Syrian rebels.

Monday, May 13, 2013 (1 comments)

Syria in the Gunsights Analysis of American policy towards Syria, and the claims by the U.S. about Syria's use of chemical weapons.

Tuesday, March 19, 2013 (1 comments)

Downgrading Ed Schultz Analysis of why MSNBC moved to shift commentator Ed Schultz to a less favorable time slot