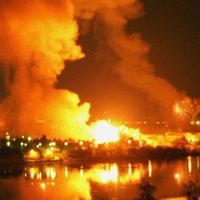 Visiting the Pentagon shortly after the Sept. 11th terror attacks in 2001, retired 4-star General Wesley Clark was shocked to learn from a former colleague that plans were being drawn up to invade Iraq.
"We're going to war with Iraq? Why?" Clark asked.
"I don't know," said his friend, another general. "I guess they don't know what else to do," Clark recounted, in an interview on Democracy Now.
The general then told Clark that even though the U.S. had no information linking Iraqi leader Saddam Hussein to the 9-11 attacks, top officials were still bent on making war.
"I guess it's like we don't know what to do about terrorists, but we've got a good military and we can take down governments," he said, adding, "I guess if the only tool you have is a hammer, every problem has to look like a nail."
Clark came back to see the same officer in November, and by that time the U.S. had already started bombing Afghanistan, the home base of the al-Qaeda terrorists who allegedly carried out the 9-11 attacks.
"Are we still going to war with Iraq?" Clark asked.
"Oh, it's worse than that," the general replied. Pulling up a piece of paper, he said, "I just got this down from upstairs --- the Secretary of Defense's office --- today. This is a memo that describes how we're going to take out seven countries in five years, starting with Iraq, and then Syria, Lebanon, Libya, Somalia, Sudan and, finishing off, Iran."
The document, of course, was classified. A year later when Clark saw the same individual, he reminded him of the memo. The man replied, "Sir, I didn't show you that memo! I didn't show it to you!"
**************************************************
In the 15 years since former General Clark heard the sweeping plan for regime-change abroad, the scenario has in large part become reality.
Iraq's government was removed by force by an American invasion and a brutal eight-year war. Libya's government was also changed at the point of a gun in 2011 after American and NATO forces bombed the country and gave support to a group of insurgents. Long-time leader Muammar Ghaddafi was murdered and a new government formed.
(Note: You can view every article as one long page if you sign up as an Advocate Member, or higher).