Articles Listed By Date List By Popularity
Sunday, January 7, 2018 (2 comments)

How "Russiagate" Helped Secure a Dangerous Arms Deal In November, just weeks before caving in to the pressure to send the Javelins to Kiev, Trump was widely ridiculed when he warned that "people will die" because of Russiagate. But in Donbas, where a war-weary population lives on the brink of another bloodbath, the president could prove his critics wrong in a way they never imagined.
Wednesday, December 20, 2017 (6 comments)

Jill Stein on the Senate Intelligence Committee's Investigation of Her Russian Collusion: "There Is No There There" Despite the storm of accusations, Stein remains confident that her name will eventually be cleared. "Real people are not buying this effort to demonize us and [the investigation has] lost the thread. There is simply no there there," she stated. "But there will be a lot of damage done before it comes out on the other end."
Wednesday, December 6, 2017

Michael Flynn's Indictment Exposes Trump Team's Collusion With Israel, Not Russia There is too much at stake for too many to allow any disruption in the preset narrative. From the journalist pack that followed the trail of Russiagate down a conspiracy infested rabbit hole, to the Clintonites seeking excuses for their mind-boggling campaign failures, to the Cold Warriors exploiting the panic over Russian meddling to drive an unprecedented arms build-up, the narrative must go on regardless of the facts.
Sunday, November 26, 2017 (2 comments)

Exposing the Shocking and Continuing Alliance Between Zionism and Anti-Semitism Along with his vitriolic anti-Muslim politics, Gorka's full-throated support for Israeli settler colonialism has earned him the abiding friendship of Israeli Prime Minister Benjamin Netanyahu's political network. For them, the rest -- especially his membership in an organization that assisted in the extermination of Jews -- is commentary.
Friday, November 10, 2017 (2 comments)

Meet Clint Watts, a Dubious Russia Meddling "Expert" Lobbying the U.S. Government to "Quell Information Rebellions" Though Watts is best known for his punditry on Russian interference, it's fair to say he is as much an expert on Russian affairs as Harvey Weinstein is a trusted voice on feminism. Indeed, Watts appears to speak no Russian, has no record of reporting or scholarship from inside Russia, and has produced little to no work of any discernible academic value on Russian affairs.
Wednesday, December 21, 2016 (1 comments)

Did Erdogan's Police Purge Help Set the Stage for Ghastly Syria-Related Assassination? Asked what the U.S. might do to compel Turkey to adopt effective counter-terror practices, Ahmet Yayla, a former high-ranking Turkish law enforcement official, recommendation was simple: "The U.S. could pressure Erdogan to stop helping the Al-Nusra and ISIS. If there is no logistical support from Turkey, they cannot survive."
Monday, October 3, 2016 (4 comments)

Inside the Shadowy PR Firm That's Lobbying for Regime Change in Syria A careful look at the origins and operation of The Syria Campaign raises doubts about the outfit's image as an authentic voice for Syrian civilians, and should invite serious questions about the agenda of its partner organizations as well.
Wednesday, August 3, 2016 (3 comments)

Disturbing New Documents Reveal Orlando Shooter Omar Mateen's Allegations of Racial Harrassment by Police Co-Workers The ongoing intrigue surrounding Omar Mateen and his massacre of 47 patrons of the Pulse Nightclub in Orlando, Florida was drowned out by the political circus of two party conventions this month. The personal details about Mateen, from his vicious abuse of his first wife to credible accounts of a secret gay life to the reports of his mental instability, have been forgotten or apparently suppressed by the FBI.
Thursday, July 7, 2016 (1 comments)

It Is Important to Have Perspective on Elie Wiesel's Legacy With Elie Wiesel gone, his most zealous defenders have set out to destroy those who embraced the message he espoused in his Nobel Prize acceptance speech, but which he ultimately failed to uphold: "Silence encourages the tormentor, never the tormented.
Monday, June 20, 2016 (4 comments)

Before Omar Mateen Committed Mass Murder, The FBI Tried To "Lure" Him Into A Terror Plot The revelations of FBI manipulation have cast Mateen's case in a uniquely troubling light. Though he refused to "bite" when an FBI asset attempted to push him into a manufactured plot, he wound up carrying out a real act of spectacular brutality years later and, allegedly swore loyalty to ISIS in the midst of it.
Sunday, June 19, 2016 (1 comments)

How Trump and His Hipster Right-Wing Allies Are Trying to Use Gay People as a Weapon Against Muslims Trump's gay outreach strategy makes the support of gay people contingent on their fear and loathing of Muslims. Within a community that won its rights through solidarity with other targets of discrimination, Trump's appeals to bigotry stand little chance of finding traction. The wider electorate has rejected his anti-Muslim messaging as well, driving his unfavorability ratings to new heights.
Saturday, May 7, 2016 (1 comments)

How Opponents of U.K. Labour Leader Corbyn Advanced a Political Coup With Antisemitism Smears Corbyn's foes have signaled their intentions. They are determined to bury him in the same way the fictional villain Sir Percy Brown attempted to with PM Harry Perkins. "In South America they'd call this a coup d'etat," Perkins protested when Brown presented him with scandalous documents forged by his security services.
Thursday, April 28, 2016

Two Human Rights Defenders From Occupied Palestine Navigate the Politics of Capitol Hill Jabarin filed his submission at the Hague -- the home of the ICC -- on November 23, 2015. Trapped in Gaza, where travel is rendered nearly impossible by the ongoing Israeli siege, Sourani held a simultaneous press conference in the rubble of homes destroyed by the Israeli army.
Sunday, April 10, 2016

Sanders Gets it Mostly Right on Gaza, but Cheerleaders for Israeli Brutality Attack Him Anyway In an interview with the New York Daily News, a tabloid owned by ultra-Zionist multi-billionaire Mort Zuckerman, Sen. Bernie Sanders held forth on Israel's 2014 assault on the Gaza Strip. "My understanding is that a whole lot of apartment houses were leveled. Hospitals, I think, were bombed. So yeah, I do believe and I don't think I'm alone in believing that Israel's force was more indiscriminate than it should have been."
Thursday, March 31, 2016 (5 comments)

Watch: Israeli Gov't Calls for "Civil Elimination" of Left-Wing Activists and Roseanne Barr Goes on a Rampage The Stop BDS conference featured Roseanne Barr as its keynote speaker. As Richard Silverstein recently reported for AlterNet, Barr has equated followers of Islam with Nazis, called for dropping a nuclear bomb on the University of California-Davis to retaliate for its students' support for BDS, and has referred to supporters of Palestinian human rights as "Nazis' helpers."
Tuesday, March 29, 2016 (2 comments)

The Israel Lobby's Totalitarian Agenda: Smash Free Speech and Criminalize Resistance No target is too small. With guidance from Jerusalem, where the most right-wing government in Israeli history is mounting an all-out assault on internal dissent, the lobby has embraced a totalitarian agenda that aims for nothing less than the criminalization of all political opposition.

Friday, March 25, 2016 (3 comments)

Gideon Levy: Americans "Are Supporting the First Signs of Fascism in Israel" American liberals should know that they are supporting the first signs of fascism in Israel. And America is behind it. And America is supporting it. And America keeps one blind eye to it. And America keeps financing it. This should be known and should be recognized by any American, mainly the liberals, who care where their taxpayer money goes, and so much of it.
Tuesday, November 17, 2015 (13 comments)

How Western Militarists Are Playing Into the Hands of ISIS Billions of dollars have been spent and hundreds of thousands of lives lost in the global war on terror. At every step of the way, Western governments played directly into the hands of Islamic extremists, falling for their ploys and fueling their ambitions.
Friday, November 6, 2015

"I Would Like to See Gaza Drown in the Sea": Remembering the True Yitzhak Rabin, 20 Years After His Assassination Rabin's aim, and that of his successors, was not co-existence with the Palestinians, but rather a form of hard separation that guarded Israel's exclusively Jewish character. It was Rabin's campaign vow in 1992 to "keep Gaza out of Tel Aviv" -- to essentially wall off the Gaza Strip -- that helped him secure the premiership. Months later, Rabin declared, "I would like to see Gaza drown in the sea."
Thursday, October 22, 2015

Painting Palestinians as Nazis, Netanyahu Incites a Wave of Vigilante Violence Netanyahu sent the message that Palestinians lurking behind concrete walls and under siege in ghettos were not an occupied, dispossessed people, but a new breed of Nazis hell-bent on Jewish extermination. Netanyahu's comments about the Mufti were much more than a hysterical lie; they were an invitation to act out a blood-soaked fantasy of righteous revenge.
Monday, October 12, 2015 (3 comments)

How Pro-Israel Fanatics Have Teamed up with Right-Wing Operatives to Crush Free Speech on Campus The inauguration of the Campus Maccabees offers a massive cash infusion to the expansion of the movement of which Canary Mission appears to be a pilot project. With unprecedented resources, these hardline elements are expanding their campaign beyond fighting BDS in order to castigate liberal pro-Israel groups that supported Obama's Iran deal such as J Street.
Wednesday, October 7, 2015

Why Are Dianne Feinstein and Janet Napolitano Backing a McCarthyite Push Against Palestine Activists? With a majority of schools in the University of California (UC) system and the UC Student Association voting to divest from companies profiting from Israel's occupation, the pro-Israel lobby is pushing for a clamp-down on Palestine solidarity activity at UC schools.
Thursday, August 13, 2015

10 Places AIPAC Would Never Show Members of Congress on Their Upcoming Propaganda Trip Due to the US-backed Israeli-Egyptian siege of Gaza, members of Congress will not be able to meet any of the 1.8 million people living in the ruins of this stateless coastal enclave, where Israel killed over 2,200 people in 51 days last year, including 550 children. Nor will they see the Jews-only settlements and Palestinian ghettoes that make up the Occupied Territories.
Wednesday, July 8, 2015 (24 comments)

Why Scrapping the Confederate Flag Is a Threat to a Huge Swath of the Right-Wing Movement Following Roof's massacre at the Emanuel AME Church in Charleston, South Carolina, leading Republican politicians are capitulating to widespread pressure to condemn the display of the Confederate flag in state capitols across the Deep South. Yet neo-Confederacy maintains wide appeal across the South and deep influence within the broader conservative movement.
Thursday, June 4, 2015 (2 comments)

Could the Possible Sale of Huffington Post to Right-Wing Company Affect Its Editorial Line? Though the Huffington Post would not offer a comment on its possible sale to Springer, several editors were previously unaware of the German media conglomerate's hard-right editorial line. The question now is whether they will publicly oppose a deal that threatens to reverse the progressive direction of one of America's most popular online news outlets.
Tuesday, April 28, 2015 (13 comments)

You Will Be Surprised Who the Outside Agitators Really Are in Baltimore Even after the National Guard vacates the streets of Baltimore and the state of emergency is lifted, vast swaths of the city will remain under occupation. Rather than return to a deadly status quo, the city could start answering the crisis by enacting residential requirements that force police officers to live in the neighborhoods they patrol.
Saturday, April 25, 2015 (2 comments)

What's Behind Michael Dyson's Over the Top Take Down of Cornel West? In the twilight of the Obama era, Dyson has become a political prisoner trapped within the stultifying confines set by the president, his party, and network executives with little patience for dissent. He has linked his reputation to Obama's legacy to an inextricable degree, prompting him to defend them both against their most relentless critic.
Sunday, March 29, 2015

Exposing Anti-Islam Author Ayaan Hirsi Ali's Latest Deception Hirsi Ali's power to persuade lies in her dramatic personal story and the public persona she has constructed. She has marketed herself as an expert native informant who has emerged out of the dark heart of radical Islam and into the light of Western civilization. Her tale is an uplifting, comforting one that tells many Westerners what they want to hear about themselves and their perceived enemies.
Sunday, March 22, 2015

Paranoid Benjamin Netanyahu Prepares For His Last Stand Netanyahu once described former Obama advisers Rahm Emanuel and David Axelrod as "self-hating Jews." In the final days of his re-election campaign, he howled against an international conspiracy to overthrow him, with Barack Hussein Obama as its puppet-master. (A robo-call to voters in Israel warned them to vote for Netanyahu against "Hussein Obama.")
Tuesday, December 30, 2014 (9 comments)

Emails and Racist Chats Show How Cops and GOP Are Teaming Up to Undermine de Blasio The anger coursing through the ranks of the NYPD is driving union bosses to ratchet up their rhetoric against the mayor. Republican operatives see a chance to do fatal damage to a rising Democratic star and close Clinton ally by resurrecting the kind of racial backlash politics that won them urban white votes during the Nixon era.
Monday, December 8, 2014 (6 comments)

Inside the Twisted Police Department That Kills Unarmed Citizens at the Highest Rate in the Country Within the Albuquerque police department, a little-known elite unit serves as a de facto clubhouse for some of its most violent members. It is a hyper-militarized anti-gang force known as the Repeat Offender Project, or ROP. For the past two decades, the team has chosen a hangman's noose as its symbol.
Tuesday, December 2, 2014 (1 comments)

How the German Left Learned to Love Israel and Hate Anti-Zionist Jews Under the Hessen citizenship tests adopted in 2006, immigrants are expected to affirm support for Israel's "right to exist." The country's past chancellor, Gerhard Schroeder of the Green Party, openly pondered imposing loyalty oaths on immigrants, while the current leader, Merkel, declared that multiculturalism "has utterly failed."
Wednesday, November 19, 2014 (9 comments)

How the Israel Lobby Protected Ukrainian Neo-Nazis Staffers from the ADL's Washington office and the Simon Wiesenthal Center rejected the Conyers amendment on the grounds that right-wing Ukrainian parties like Svoboda with documented records of racist extremism had "moderated their rhetoric." The Wiesenthal Center pointed to meetings between far-right political leaders in Ukraine and the Israeli embassy as evidence that groups like Svoboda had shed their extremism.
Tuesday, October 28, 2014 (4 comments)

Samantha Power, Obama's Atrocity Enabler Power has yet to reckon with the consequences of her role in enabling some of the worst atrocities ever committed against one of the world's longest-suffering populations. It is as if the more than 500 children killed in Gaza this summer never existed; as though they were ghosts.
Friday, October 17, 2014 (1 comments)

Int'l Community Promises to Rebuild Gaza ... with Sweat Shops to Exploit Palestinian Workers Even as he conceded that aid to Gaza was a "band-aid fix," Kerry offered no political remedies beyond the framework plan for two states that the Israeli government resoundingly rejected earlier this year. Thus his appearance in Cairo and the entire spectacle of the donor conference added another layer of window dressing on the brutal status quo.
Wednesday, September 3, 2014 (2 comments)

The Hannibal Directive: How Israel Killed Its Own Troops and Massacred Palestinians to Prevent Soldier's Capture Black Friday was only the opening salvo in a sustained Israeli assault on Rafah. Having obliterated entire neighborhoods across the city on August 1, the Israeli military opened up an aerial bombardment on August 21, killing over a dozen civilians in order to assassinate three veteran Hamas commanders
Monday, August 18, 2014

Gruesome Tales Surface of Israeli Massacres Against Families in Gaza Neighborhood The attack on Shujaiya began at 11pm on July 19, with a combined Israeli bombardment from F-16s, tanks and mortar launchers. It was a night of hell which more than 100 did not survive and that none have recovered from. Inside the ruins of what used to be homes, returning locals related stories of survival and selflessness, detailing a harrowing night of death and destruction.
Sunday, August 3, 2014 (4 comments)

Who broke the ceasefire? Obama blames Hamas against the evidence Since violence escalated in mid-July, the Obama administration has demonstrated a disturbing pattern of legitimizing suspect Israeli claims about Hamas's malevolence and bad faith. In each case, the administration provided political cover for disproportionate Israeli violence, deepening the damage to civilian life in the West Bank and Gaza.
Saturday, July 19, 2014 (4 comments)

Israeli police ransack Tariq Abu Khdeir family home and arrest relatives in apparent revenge raid Just hours after 15-year-old Tariq Abu Khdeir left for Ben Gurion International Airport to return home to Tampa, Florida, Israeli police raided and ransacked the home of his family in the Shufat neighborhood of occupied East Jerusalem. The police arrested Abu Khdeir's uncle and cousins without charges.
Sunday, April 6, 2014 (1 comments)

"A Painful Price": The escalating war on Palestine solidarity at U of Michigan and beyond As divestment resolutions are introduced at new campuses each month, pro-Israel partisans appear determined to introduce more counter-measures. In a recent editorial for the Jerusalem Post, former advisor to Prime Minister Benjamin Netanyahu Caroline Glick demanded that universities that allow Palestine solidarity activism on campus "pay a painful price."
Tuesday, February 25, 2014 (17 comments)

Is the U.S. Backing Neo-Nazis in Ukraine? As the Euromaidan protests in the Ukrainian capitol of Kiev culminated this week, displays of fascism and neo-Nazi extremism became too glaring to ignore. Since demonstrators filled the downtown square to battle Ukrainian riot police and demand the ouster of the corruption-stained, pro-Russian President Viktor Yanukovich, it has been filled with far-right streetfighting men pledging to defend their country's ethnic purity.
Saturday, November 2, 2013

A Response to J.J. Goldberg of the Forward I hoped to engage Goldberg in a discussion about his critiques of my book and about the future of Israel-Palestine. Unfortunately, that debate will apparently not take place. When Atlantic editor Robert Wright invited Goldberg to engage with me on the online political debating forum Bloggingheads, Goldberg declined, as Alterman did before him.

Saturday, September 7, 2013

Shady PR operatives, pro-Israel ties, anti-Castro money: Inside the Syrian opposition's DC spin machine In a call with the White House, SETF urged much broader action in Syria than the "limited strikes" Obama has asked Congress to authorize. The group is dedicated to regime change, and is pressing for any and all military measures to accomplish the mission -- even, apparently, boots on the ground.
Monday, September 2, 2013 (9 comments)

Dubious Intelligence and Iran Blackmail: How Israel is driving the US to war in Syria Though Congress will be under unrelenting pressure from powerful forces to authorize force, the vote provides an unprecedented opportunity for opponents of US military intervention in the Middle East to mobilize. Anti-war forces may not be able to match the financial muscle or public relations power of pro-war elements, but they have opinion firmly on their side.

Friday, August 2, 2013 (1 comments)

Martin Indyk Says He "Made Aliyah To Washington" To Save Israel Speaking before J Street, Indyk placed the blame for the bloodshed of the Second Intifada squarely on Yasser Arafat's shoulders. He derided the late PA chairman as having "that big sh*t-eating grin of his." Indyk is back at the center of heavily ballyhooed negotiations that seem doomed from the start. Is he preparing to blame the Palestinians again?
Saturday, July 27, 2013 (5 comments)

Shocking "Extermination" Fantasies By the People Running America's Empire on Full Display at Aspen Summit a parade of American securitocrats from administrations both past and present appeared on stage to defend endless global warfare and total information awareness while uniting in a single voice of condemnation against a single whistleblower bunkered inside the waiting room of Moscow International Airport: Edward Snowden.
Friday, July 19, 2013 (2 comments)

People, power, or propaganda? Unraveling the Egyptian opposition The opposition may have made an impressive showing on June 30 and in the days that followed, but the stunning crowd counts it spread across the world do not seem to hold up against critical scrutiny. And as the mirage of a 30-million-person march evaporates, an unsavory military coup stands exposed.
Saturday, June 29, 2013 (2 comments)

Exposing the Dark Forces Behind the Snowden Smears Since Glenn Greenwald revealed the existence of the NSA domestic surveillance program, he and whistleblower Edward Snowden have come in for a series of ugly attacks.
Monday, June 17, 2013 (7 comments)

Obama and His Allies Say the Govt Doesn't Listen to Your Phone Calls -- But the FBI Begs to Differ Given open FBI acknowledgment that it monitors American phone calls on a massive scale, and that it almost certainly relies on the NSA to do so, it is hard to understand the denials by the White House and its allies. Perhaps, like Groucho Marx, they hope we will believe them instead of our own two lying eyes.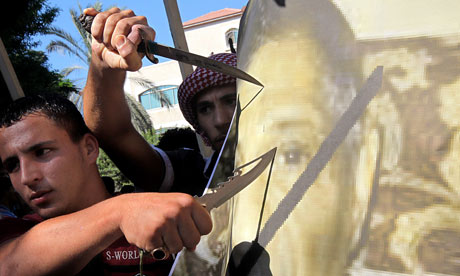 Sunday, September 16, 2012

Inside The Strange Hollywood Scam That Spread Chaos Across The Middle East Obama wasted no time in authorizing a round of drone strikes on targets across Libya, which are likely to deepen regional hostility to the US. A group of fringe extremists had proven that with a little bit of money and an unbelievably cynical scam, they could shape history to fit their apocalyptic vision. But in the end, they were not immune to the violence they incited.
Saturday, May 19, 2012 (1 comments)

Giulio Meotti: Serial Plagiarist or Common Hasbarist? Meotti is so bereft of originality that he even plagiarizes himself: He pasted a long section from a February 24, 2012 column about how "music can be a platform for anti-Semitism" into a piece he published two months later about anti-Semites in Hollywood working to destroy Israel. It takes little more than cutting and pasting press releases from Israel advocacy groups to succeed in the world of neoconservatism.
Monday, March 12, 2012 (4 comments)

Israel's bogus case for bombing Gaza obscures political motives Netanyahu was forced to mute his demand for Obama to agree to "red lines" on Iran's nuclear program that would trigger a US attack, descending instead into an incoherent, demagogic rant about a "nuclear duck" and the Holocaust. If Bibi accomplished anything during his visit to Washington, it was keeping the Palestinians off the discussion table.

Monday, February 27, 2012 (6 comments)

Progressive Democratic hero Elizabeth Warren enlists to serve AIPAC's pro-war agenda While progressives celebrate Warren for her fight against the big banks and the financial industry's lobbying arm, they have kept silent over the fact that she has enlisted with another powerful lobby that is willing to sabotage America's economic recovery in order to advance its narrow interests. It is AIPAC, the key arm of the Israel lobby.

Saturday, February 4, 2012

Mitt Romney's Man on Iran As tensions between Israel and Iran rise to unprecedented levels, and Israel's leadership beseeches the US to join a military strike on Iran, Eliot Cohen's visions of regime change seem closer to realization than ever before. For him and the neoconservative policy elite, a Romney victory in November might deliver the next "big prize."