Articles Listed By Date List By Popularity
Page 1 of 2 First Back Next 2 View All
Sunday, March 12, 2017 (1 comments)

On Nuclear War and Targeting China and Russia John Pilger in a public Q&A in Sydney Australia on the dangers of nuclear war and of continuing to provoke Russia and China.
Monday, January 16, 2017 (19 comments)

The issue is not Trump. It is us. The obsession with Trump is a cover for many of those calling themselves "left/liberal," as if to claim political decency. They are not "left," neither are they especially "liberal." when will a genuine movement of opposition arise? Angry, eloquent, all-for-one-and-one-for all. Until real politics return to people's lives, the enemy is not Trump, it is ourselves.
Saturday, December 3, 2016 (5 comments)

The Coming War on China Nuclear war is no longer a shadow, but a contingency. The greatest build-up of American-led military forces since the Second World War is well underway. They are in the northern hemisphere, on the western borders of Russia, and in Asia and the Pacific, confronting China.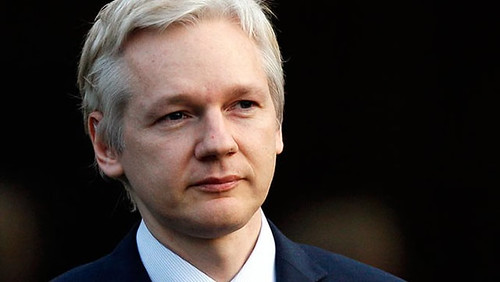 Saturday, November 5, 2016 (9 comments)

Secrets Of The US Election -- Julian Assange talks to John Pilger WikiLeaks does not publish from the jurisdiction of Ecuador, from this embassy or in the territory of Ecuador; we publish from France, we publish from, from Germany, we publish from The Netherlands and from a number of other countries, so that the attempted squeeze on WikiLeaks is through my refugee status; and this is, this is really intolerable.
Thursday, October 27, 2016 (5 comments)

Inside The Invisible Government: War, Propaganda, Clinton & Trump On November 8th. If the winner is Clinton, a Greek chorus of witless commentators will celebrate her coronation as a great step forward for women. None will mention Clinton's victims: the women of Syria, the women of Iraq, the women of Libya. None will mention the civil defense drills being conducted in Russia. None will recall Edward Bernays' "torches of freedom."
Tuesday, August 23, 2016 (5 comments)

Provoking nuclear war by media The stirring of people of all ages around the spectacular rise of Jeremy Corbyn counters this to some extent. His life has been spent illuminating the horror of war. The problem for Corbyn and his supporters is the Labour Party. In America, the problem for the thousands of followers of Bernie Sanders was the Democratic Party, not to mention their ultimate betrayal by their great white hope.
Saturday, June 25, 2016 (4 comments)

Why the British said no to Europe On 23 June, the British said no more. The most effective propagandists of the "European ideal" have not been the far right, but an insufferably patrician class for whom metropolitan London is the United Kingdom. Its leading members see themselves as liberal, enlightened, cultivated tribunes of the 21st century zeitgeist, even "cool."
Friday, May 27, 2016 (12 comments)

Silencing America as It Prepares for War One of the more violent presidents, Obama gave full reign to the Pentagon war-making apparatus of his discredited predecessor. He prosecuted more whistleblowers -- truth-tellers -- than any president. He pronounced Chelsea Manning guilty before she was tried. Today, Obama runs an unprecedented worldwide campaign of terrorism and murder by drone.
Monday, April 18, 2016 (4 comments)

A World War Has Begun. Break the Silence. In 1947, a series of National Security Council directives described the paramount aim of American foreign policy as "a world substantially made over in [America's] own image." The ideology was messianic Americanism. We were all Americans. Or else. Heretics would be converted, subverted, bribed, smeared or crushed.
Saturday, April 9, 2016 (1 comments)

The dirty secret of Utopia The enduring existence of a people who have survived and resisted more than two colonial centuries of massacre and theft remains a spectre on white Australia: a reminder of whose land this really is. Indigenous people go to prison, are beaten up in custody and die in custody as a matter of routine. In despairing communities, children as young as 10 take their own lives.
Tuesday, March 29, 2016 (12 comments)

Trump and Clinton: Censoring the unpalatable Hillary Clinton is being ordained both as the "women's candidate" and the champion of American liberalism in its heroic struggle with the Evil One. This is drivel, of course; Hillary Clinton leaves a trail of blood and suffering around the world and a clear record of exploitation and greed in her own country.
Tuesday, March 22, 2016 (10 comments)

A world war has begun. Break the silence What has happened to the great tradition of popular direct action, unfettered to parties? Where is the courage, imagination and commitment required to begin the long journey to a better, just and peaceful world? Where are the dissidents in art, film, the theatre, literature? Where are those who will shatter the silence? Or do we wait until the first nuclear missile is fired?
Thursday, February 25, 2016 (3 comments)

The Rape of East Timor: "Sounds Like Fun" In the 17 years since East Timor won its independence, the Australian government has taken nearly $5 billion in oil and gas revenue -- money that belongs to its impoverished neighbor. Australia has been called America's "deputy sheriff" in the South Pacific.
Thursday, February 4, 2016 (4 comments)

Freeing Julian Assange: the last chapter. The decent world owes much to Julian Assange. He told us how indecent power behaves in secret, how it lies and manipulates and engages in great acts of violence, sustaining wars that kill and maim and turn millions into the refugees now in the news. Telling us this truth alone earns Assange his freedom, whereas justice is his right.
Thursday, January 21, 2016 (3 comments)

Australia's day for secrets, flags and cowards On this Australia Day, the "pride of the services" will be on display. This pride extends to the Australian Immigration Department, which commits people to its Gulag for "offshore processing," often arbitrarily, leaving them to grieve and despair and rot. Last week it was announced that Immigration officials had spent $400,000 on medals which they will award their heroic selves. Put out more flags.
Monday, November 16, 2015 (4 comments)

From Pol Pot to ISIS: The Blood Never Dried There is a vapid, almost sociopathic verboseness from Cameron, Hollande, Obama and their "coalition of the willing" as they prescribe more violence delivered from 30,000 feet on places where the blood of previous adventures never dried. They seem to relish their own violence and stupidity so much they want it to overthrow their one potentially valuable ally, the government in Syria.
Wednesday, September 30, 2015 (2 comments)

The revolutionary act of telling the truth an insidious modern fascism is now an accelerating danger. As in the 1930s, big lies are delivered with the regularity of a metronome. Muslims are bad. Saudi bigots are good. ISIS bigots are bad. Russia is always bad. China is getting bad. Bombing Syria is good. Corrupt banks are good. Corrupt debt is good. Poverty is good. War is normal.
Friday, July 31, 2015 (1 comments)

Assange: The Untold Story Of An Epic Struggle For Justice Julian Assange has been confined to a small room under Ecuador's protection, without sunlight or space to exercise, surrounded by police under orders to arrest him on sight. The changes in the UK law in 2014 mean that Assange would have won his case and he would not have been forced to take refuge. Yet he does not benefit.
Monday, July 13, 2015 (10 comments)

The Problem of Greece Is Not Only a Tragedy. It Is a Lie For a small country such as Greece, the euro is a colonial currency: a tether to a capitalist ideology so extreme that even the Pope pronounces it "intolerable" and "the dung of the devil." The euro is to Greece what the US dollar is to remote territories in the Pacific, whose poverty and servility is guaranteed by their dependency.
Thursday, June 18, 2015 (5 comments)

After Three Years, The Injustice Handed Out To Julian Assange Must End Julian Assange is a refugee under international law and he should be given right of passage by the British government out of the UK, to Ecuador. The nonsense about him "jumping bail" is just that -- nonsense. If his extradition case went through the British courts today, the European Arrest Warrant would be thrown out and he would be a free man.
Sunday, May 17, 2015 (1 comments)

Time to celebrate real heroes, like the one just lost If you want to meet the best Australians, meet Indigenous men and women who understand this extraordinary country and have fought for the rights of the world's oldest culture. Theirs is a struggle more selfless, heroic and enduring than any historical adventure non-Indigenous Australians are required incessantly to celebrate.
Tuesday, April 28, 2015 (2 comments)

The message of Anzac: Put out more flags, or shut up Politicians and journalists have turned this melancholy ANZAC event into a death cult that puzzles foreigners. Australia, a nation without enemies, is now spending $28 billion a year on the military and war and armaments in order to fulfill a tragic, entirely colonial and obsequious role, now as Washington's "deputy sheriff" in the Asia-Pacific.
Wednesday, April 22, 2015 (6 comments)

The secret country again wages war on its own people Extraordinary demonstrations of Indigenous women protesting the removal of their children and grandchildren by the state, some of them at gunpoint, are ignored by journalists and patronized by politicians. More Indigenous children are being wrenched from their homes and communities today than during the worst years of the Stolen Generation.
Thursday, February 26, 2015 (50 comments)

Why the rise of fascism is again the issue We must identify and expose the reckless lies of warmongers and never to collude with them. It is to re-awaken the great popular movements that brought a fragile civilization to modern imperial states. Most important, it is to prevent the conquest of ourselves: our minds, our humanity, our self respect. If we remain silent, victory over us is assured, and a holocaust beckons.
Monday, February 16, 2015 (6 comments)

Venezuela's Struggle Against "A Common Enemy" Washington is ruled by true extremists, once known inside the Beltway as "the crazies." This has been true since before 9/11. A few are outright fascists. Asserting US dominance is their undisguised game and, as the events in Ukraine demonstrate, they are prepared to risk a nuclear war with Russia.
Friday, December 5, 2014 (7 comments)

War by media and the triumph of propaganda The times we live in are so dangerous and so distorted in public perception that propaganda is no longer, as Edward Bernays called it, an "invisible government." It is the government. It rules directly without fear of contradiction and its principal aim is the conquest of us: our sense of the world, our ability to separate truth from lies.
Sunday, November 16, 2014 (5 comments)

The siege of Julian Assange is a farce The persecution of Julian Assange must end. Even the British government clearly believes it must end. On 28 October, the deputy foreign minister, Hugo Swire, told Parliament he would "actively welcome" the Swedish prosecutor in London and "we would do absolutely everything to facilitate that." The Swedish prosecutor, Marianne Ny, has refused to come to London.
Wednesday, October 22, 2014 (17 comments)

The Forgotten Coup -- How America and Britain Crushed the Government of Their "Ally," Australia On 11 November -- the day Whitlam was to inform Parliament about the secret CIA presence in Australia -- he was summoned by Kerr. Invoking archaic vice-regal "reserve powers," Kerr sacked the democratically elected prime minister. The "Whitlam problem" was solved, and Australian politics never recovered, nor the nation its true independence.
Wednesday, October 8, 2014 (5 comments)

From Pol Pot to ISIS: "Anything that flies on everything that moves" ISIS is the progeny of those in Washington and London who, in destroying Iraq as both a state and a society, conspired to commit an epic crime against humanity. Like Pol Pot and the Khmer Rouge, ISIS are the mutations of a western state terror dispensed by a venal imperial elite undeterred by the consequences of actions taken at great remove in distance and culture.
Friday, September 19, 2014 (2 comments)

War, Circus and Injustice Down Under That Australia has a prime minister who described this country as "unsettled" until the British came indicates the urgency of true reform -- the end of paternalism and the enactment of a treaty negotiated between equals. For until we, who came later, give back to the first Australians their nationhood, we can never claim our own.
Thursday, September 11, 2014 (1 comments)

Breaking the last taboo -- Gaza and the threat of world war Hamas has repeatedly offered a 10-year truce with Israel and has long settled for a two-state solution. When Medea Benjamin, the fearless Jewish American activist, was in Gaza, she carried a letter from Hamas leaders to President Obama that made clear the government of Gaza wanted peace with Israel. It was ignored.

Thursday, August 7, 2014 (2 comments)

Year Zero: The Silent Death of Cambodia We must not forget. 1979. The shocking state of Cambodia after Pol Pot's murderous regime.

Tuesday, July 29, 2014 (1 comments)

Palestine, War and the Lethal Role of Journalists Stateless and humiliated for so long, Palestinians have risen up against Israel's huge military regime, although they themselves have no army, no tanks, no American planes, gunships or missiles. he over-riding, routine terror, day after day, has been the ruthless control of almost every aspect of their lives, as if they live in an open prison.
Friday, July 11, 2014 (3 comments)

The return of George Orwell and Big Brother's war on Palestine, Ukraine and the truth In politics as in journalism and the arts, it seems that dissent once tolerated in the "mainstream" has regressed to a dissidence: a metaphoric underground. Today's grand illusion is of an information age when, in truth, we live in a media age in which incessant corporate propaganda is insidious, contagious, effective and liberal.
Tuesday, May 13, 2014 (6 comments)

In Ukraine, the US is dragging us towards war with Russia For the first time since the Reagan years, the US is threatening to take the world to war. With eastern Europe and the Balkans now military outposts of Nato, the last "buffer state" bordering Russia -- Ukraine -- is being torn apart by fascist forces unleashed by the US and the EU. We in the west are now backing neo-Nazis in a country where Ukrainian Nazis backed Hitler.
Thursday, April 17, 2014 (14 comments)

NATO's action plan in Ukraine is right out of Dr Strangelove The US air force general who runs NATO forces in Europe -- General Philip Breedlove -- claimed to have pictures of 40,000 Russian troops "massing" on the border with Ukraine. So did Colin Powell claim to have pictures proving there were weapons of mass destruction in Iraq. What is certain is that Barack Obama's rapacious, reckless coup in Ukraine has ignited a civil war and Vladimir Putin is being lured into a trap.
Saturday, April 12, 2014 (3 comments)

South Africa: Twenty Years of Apartheid by Another Name Liberation governments can point to real and enduring achievements since 1994. But the most basic freedom, to survive and to survive decently, has been withheld from the majority of South Africans, who are aware that had the ANC invested in them and in their "informal economy," it could have actually transformed the lives of millions.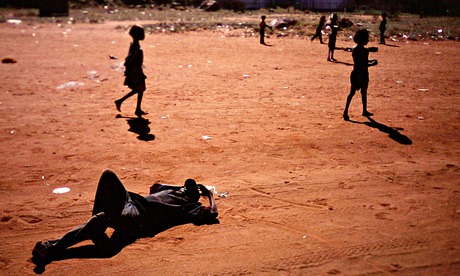 Friday, March 21, 2014 (3 comments)

Another stolen generation: how Australia still wrecks Aboriginal families It is happening across Australia in a scandalous and largely unrecognized abuse of human rights that evokes the infamous stolen generation of the last century. Up to the 1970s, thousands of mixed-race children were stolen from their mothers by welfare officials. The children were given to institutions as cheap or slave labor; many were abused.
Sunday, March 16, 2014 (20 comments)

The forgotten coup -- and how the godfather rules from Canberra to Kiev The great game of dominance offers no immunity for even the most loyal US "ally." This is demonstrated by perhaps the least known of Washington's coups -- in Australia. The story of this forgotten coup is a salutary lesson for those governments that believe a "Ukraine" or a "Chile" could never happen to them.
Wednesday, February 12, 2014

"Good" And "Bad" War -- And The Struggle Of Memory Against Forgetting George Orwell wrote: "Who controls the past controls the future. Who controls the present controls the past." The people of Korea understand this well. The slaughter on their peninsula following the second world war is known as the "forgotten war," whose significance for all humanity has long been suppressed in military histories of cold war good versus evil.
Friday, February 7, 2014 (3 comments)

The Accessories To War Crimes Are Those Paid To Keep The Record Straight There is no question that the epic crime committed in Iraq has burrowed into public consciousness. Many recall that Shock and Awe was the extension of a murderous blockade imposed for 12 years by Britain and the US and suppressed by much of the "mainstream" media, including the BBC. Half a million Iraqi infants died as a result, according to Unicef. I watched children dying in hospitals denied basic pain-killers.
Wednesday, January 29, 2014 (1 comments)

It's the Other Oscars -- and yet again the winner slips away Assange had written Cumberbatch a personal letter, pointing out that the "true story" on which the film claimed to be based was from two books discredited as hatchet jobs. "Most of the events depicted never happened, or the people shown were not involved in them," WikiLeaks posted. In his letter, Assange asked Cumberbatch to note that actors had moral responsibilities, too.
Sunday, January 5, 2014 (6 comments)

Is The Media Now Just Another Word For "Control"? Today liberal democracy is being replaced by a system in which people are accountable to a corporate state and not the other way around as it should be. This denial of real democracy is an historic shift. It's why the courage of Edward Snowden, Chelsea Manning and Julian Assange is such a threat to the powerful and unaccountable.
Friday, January 3, 2014 (6 comments)

In India, A Spectre For Us All, And A Resistance Coming The great popular resistance that gave India its independence is stirring. The gang rape of a Delhi student in 2012 has brought vast numbers into the streets, reflecting disillusionment with the political elite and anger at its acceptance of injustice and a modernised feudalism.
Wednesday, December 18, 2013 (3 comments)

Mandela is gone, but apartheid is alive and well in Australia A resistance is growing, yet again, in the Aboriginal heartland, especially among the young. Unlike the US, Canada and New Zealand, which have made treaties with their first people, Australia has offered gestures often wrapped in the law. However, in the 21st century the outside world is starting to pay attention. The specter of Mandela's South Africa is a warning.
Sunday, December 15, 2013 (1 comments)

The prison that is Bangladesh It is fair to say that Bangladesh's short life has been blighted by almost perpetual conflict between feudalists and democrats and, more recently, fundamentalists. National elections have been called for 5 January. The poet Hasna Jasimuddin Moudud, once told me: "The country is a prison, and the world must know." Bangladesh deserves better.
Thursday, December 12, 2013 (6 comments)

Mandela leaves behind a troubling legacy Mandela fostered crony relationships with wealthy whites from the corporate world, including those who had profited from apartheid. He saw this as part of "reconciliation." Perhaps he and his beloved ANC had been in struggle and exile for so long they were willing to accept and collude with the forces that had been the people's enemy.
Wednesday, November 27, 2013 (5 comments)

Discovering The Power Of People's History -- And Why It Is Feared Today England is two countries. One is dominated by London, the other remains in its shadow. When I first arrived from Australia, it seemed no one went north of Watford and those who had emigrated from the north worked hard to change their accents and obscure their origins and learn the mannerisms and codes of the southern comfortable classes.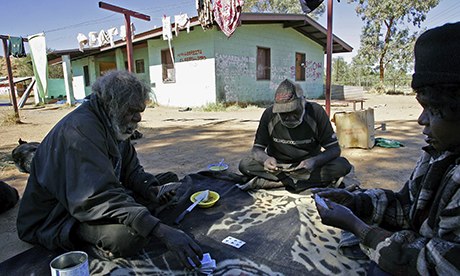 Tuesday, November 5, 2013 (1 comments)

In The Lucky Country Of Australia Apartheid Is Alive And Kicking An entire people became prisoners of war in their own country, with settlers calling for their extinction. The cattle industry prospered using indigenous men virtually as slave labor. The mining industry today makes profits of a billion dollars a week on indigenous land.
Thursday, October 17, 2013 (2 comments)

Why Bad Movies Keep Coming Out And What To Do About It The hype of public relations -- Edward Bernays' euphemism for propaganda -- is now regarded as truth. The medium has become the message. Films from Europe and the rest of the world account for a tiny fraction. Ironically, in the US, quality film-making has absconded to television.
Thursday, October 10, 2013

Old Game, New Obsession, New Enemy. Now It's China. NATO's bombing of Libya drove out 30,000 Chinese oil industry workers. More than jihadism or Iran, China is now Washington's obsession in Africa and beyond. This is a "policy" known as the "pivot to Asia," whose threat of world war may be as great as any in the modern era.
Saturday, September 21, 2013 (1 comments)

Conversations on Palestine: the role and failure of journalism As part of an ongoing series of interviews for the radio show "Le Mur a Des Oreilles; conversations for Palestine," Frank Barat talks to John Pilger, one of the most influencial journalist of the last few decades, about the war in Syria, the colonization of Palestine, the relationship between the corporate media and government propaganda and the actions of a few very brave men, Snowden, Assange and Manning.
Wednesday, September 18, 2013 (5 comments)

In An Age Of "Realists" And Vigilantes, There Is Cause For Optimism Understanding Kissinger's criminality is vital when trying to fathom what the US calls its "foreign policy." Kissinger remains an influential voice in Washington, admired and consulted by Barack Obama. When Israel, Saudi Arabia, Egypt and Bahrain commit crimes with US collusion and weapons, their impunity and Obama's hypocrisy are pure Kissinger.
Tuesday, September 10, 2013 (8 comments)

From Hiroshima to Syria, the enemy whose name we dare not speak Russia's peace deal over chemical weapons will, in time, be treated with the contempt that all militarists reserve for diplomacy. With Al-Qaida now among its allies, and US-armed coupmasters secure in Cairo, the US intends to crush the last independent states in the Middle East: Syria first, then Iran.
Wednesday, August 7, 2013 (5 comments)

The Courage Of Bradley Manning Will Inspire Others To Seize Their Moment Of Truth The inspiration of future truth-tellers belongs to Bradley Manning, Julian Assange, Edward Snowden and the remarkable young people of WikiLeaks, whose achievements are unparalleled. Snowden's rescue is largely a WikiLeaks triumph: a thriller too good for Hollywood because its heroes are real.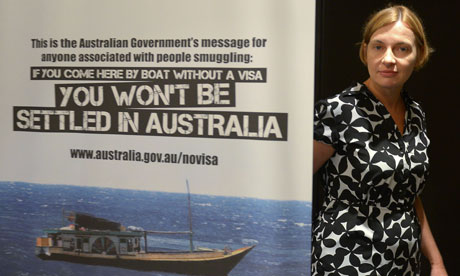 Monday, July 29, 2013 (7 comments)

Australia's "stop the boats" policy is cynical and lawless Australia is a signatory to the 1951 refugee convention. Rudd's cowboy actions are not only lawless but weaken international refugee law and the human rights movements that buttress it. Governments have waged a propaganda war on refugees, in alliance with a media dominated by Rupert Murdoch. Vast, sparsely populated Australia demands "protection" from refugees and asylum seekers.
Thursday, July 25, 2013 (2 comments)

How We Are Gentrified, Impoverished And Silenced -- And What To Do About It The Edward Snowden revelations show the infrastructure of a police state emerging in Europe, especially Britain. Yet people are more aware than ever before; and governments fear popular resistance -- which is why truth-tellers are isolated, smeared and pursued. There is no other way now. Direct action. Civil disobedience. Unerring.
Wednesday, July 10, 2013 (2 comments)

Mandela's Greatness May Be Assured -- But Not His Legacy Mandela fostered crony relationships with wealthy whites from the corporate world, including those who had profited from apartheid. He saw this as part of "reconciliation." Perhaps he and his beloved ANC had been in struggle and exile for so long they were willing to accept and collude with the forces that had been the people's enemy.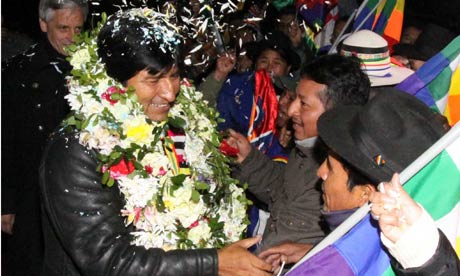 Friday, July 5, 2013 (23 comments)

Forcing Down Evo Morales' Plane Was An Act Of Air Piracy The forcing down of Bolivian President Evo Morales's plane -- denied airspace by France, Spain and Portugal, followed by his 14-hour confinement while Austrian officials demanded to "inspect" his aircraft for the "fugitive" Edward Snowden -- was an act of air piracy and state terrorism. It was a metaphor for the gangsterism that now rules the world and the cowardice and hypocrisy of bystanders who dare not speak its name.
Wednesday, June 19, 2013 (3 comments)

Understanding The Latest Leaks Is Understanding the Rise Of A New Fascism Control and dominance are the two words that make sense of what is going on today. These are exercised by political, economic and military designs, of which mass surveillance is an essential part, but also by insinuating propaganda in the public consciousness.