Articles Listed By Date List By Popularity
Page 1 of 2 First Back Next 2 View All
Thursday, July 12, 2018 (17 comments)

10 Actions We Must All Take to Stop Trump's Detestable Move We must demand that no one who is nominated for Supreme Court by a President under investigation and possible indictment for treason or other crimes can be considered for the Supreme Court. This process to fill the vacancy must wait until Trump is either cleared or removed.
Thursday, November 16, 2017 (10 comments)

Impeach! The most colossal mistake in our history is sitting right now in the Oval Office. And there is only one way to rectify it: Trump Must Be Impeached! We can NOT wait until November of 2020 for that to happen. We simply won't make it til then. The country we know as the United States of America will not be the same after three more years of Trump. Turning the TV off and trying to avoid the daily insanity won't make him go away.
Wednesday, June 7, 2017 (11 comments)

Why I'm Launching TrumpiLeaks...A Letter From Michael Moore From the time you opened this letter to the time you get to the bottom of it, there's a decent chance that our President will have violated the constitution, obstructed justice, lied to the American people, encouraged or supported acts of violence, or committed some horrible mistake that would've ended any other politician's career. And just like all the times he's done so in the past, he will get away with it.
Wednesday, February 22, 2017 (91 comments)

The Michael Moore Easy-to-Follow 10-Point Plan to Stop Trump Michael Moore lays out a 10-point plan to stop Trump through dedicated activism.
Wednesday, November 9, 2016 (17 comments)

Michael Moore: Morning-After To-Do List Roll up your sleeves, people--there are fascists to defeat.
Tuesday, November 8, 2016 (2 comments)

Dear Millennials: You've Got the Adults Scared S***less Today! They know that if you vote, the majority of you prefer Hillary. But what they don't know is if in fact you are going to vote at all! The millennial vote it seems is not between Hillary or Trump but between Hillary and those who simply won't vote today (or vote 3rd party).
Tuesday, October 11, 2016 (10 comments)

Trump Is Not the Only Grabber Who Must Go Republicans -- you think by disowning Trump now that we, the people, are going be grateful to you. But we know that Trump is only the natural result of a Republican culture that has viciously fought the women's agenda for years. Trump hasn't destroyed your party; he's your end game, the grim reaper from the seeds you have sown, showing up now to preside over your demise.
Tuesday, August 16, 2016 (18 comments)

Trump Is Self-Sabotaging His Campaign Because He Never Really Wanted the Job in the First Place Trump will have to bow out or blame "others" for forcing him out. Many now are sensing the end game here because they know Trump seriously doesn't want to do the actual job -- and most importantly, he cannot and WILL NOT suffer through being officially and legally declared a loser -- LOSER! -- on the night of November 8.
Friday, August 12, 2016 (8 comments)

An Open Letter to Ivanka Trump From Michael Moore: "Your Dad Is Not Well" Every day he continues his spiral downward -- and after his call for gun owners to commit acts of violence against Mrs. Clinton, it is clear he needs help, serious help. His comments and behavior have become more and more bizarre and detached from reality. He is in need of an intervention.

Wednesday, August 10, 2016 (7 comments)

Five Ways To Make Sure Trump Loses Trump can actually lose Florida, Virginia, Colorado and New Mexico -- and STILL WIN! All he has to do is carry the rust belt "Brexit States" of Ohio, Pennsylvania, Michigan and Wisconsin. Hillary lost three of these four in the primaries. Nothing can be taken for granted. Once more: This is all about who shows up November 8th -- not who's ahead in the popularity polls right now.
Sunday, July 24, 2016 (10 comments)

Five Reasons Why Trump Will Win I gave it to you straight last summer when I told you that Donald Trump would be the Republican nominee for president. And now I have even more awful, depressing news for you: Donald Trump is going to win in November. This wretched, ignorant, dangerous part-time clown and full time sociopath is going to be our next president. Never in my life have I wanted to be proven wrong more than I do right now.
Thursday, April 28, 2016 (11 comments)

Dear President Obama -- Too Little Too Late Unless you're bringing the U.S. Army with you to save 100,000 of your fellow Americans, and unless you're going to arrest the governor of Michigan who has now killed more Americans than ISIS, you might as well stay home. The riots here, I'm certain, will begin sometime soon. That's what you or I would do if someone was poisoning OUR kids and the government refused to stop it, right?
Monday, February 1, 2016 (2 comments)

My Endorsement Of Bernie Sanders My Endorsement Of Bernie Sanders. I first endorsed Bernie Sanders for public office in 1990 when he, as mayor of Burlington, VT, asked me to come up there and hold a rally for him in his run to become Vermont's congressman. I guess not many were willing to go stump for an avowed democratic socialist at the time. Probably someone is his hippie-filled campaign office said, "I'll bet Michael Moore will do it!" They were right.
Saturday, January 30, 2016 (12 comments)

10 Things They Won't Tell You About the Flint Water Tragedy. But I Will. When the governor's office discovered just how toxic the water was, they decided to keep quiet about it and covered up the extent of the damage being done to Flint's residents, most notably the lead affecting the children, causing irreversible and permanent brain damage. Citizen activists uncovered these actions, and the governor now faces growing cries to resign or be arrested.
Wednesday, January 27, 2016 (4 comments)

How can you help Flint? Do not send us bottles of water. Instead, join us in a revolt Micheal Moore delineates what may be the largest mass American crime in the young century. Squarely the result of Republican austerity safety-be-damned policies, he calls for the Governor's arrest for involuntary manslaughter. Separately, the ACLU has filed a lawsuit on behalf of Flint's damaged citizens.
Monday, January 18, 2016 (3 comments)

President Obama, Please Come to Flint President Obama -- the people of Flint are crying out to you for help. Our Congressman, Dan Kildee, has called the federal government for assistance. But he's been told that it's a "State issue" and that "the State of Michigan has to be the one asking the feds for the help." NO! The STATE is the one who CAUSED THIS!
Friday, March 27, 2015 (41 comments)

Michael Moore for President As Americans, we will seek to be kind--to each other, to the world, and to ourselves. As the president, I will be the first to set that example. I will place education and enlightenment at the top of every agenda, and the elimination of ignorance as my worthy goal. The road to its end begins with my election.
Tuesday, November 11, 2014 (17 comments)

In Defense of My Friend Bill Maher's Statements on Islam Liberals don't want to hear another word about an "Islamic threat" or some non-existent Iranian nukes or...whatever! We know we're being set up to get behind another war effort, another arms race, another diversion intended to make the point-one-percenters even filthier rich -- and the rest of us distracted with false fears and hatreds.
Thursday, January 23, 2014

One of Ezra Klein's Last Wonkblog Posts Made an Unwonky Mistake About My Obamacare Op-Ed It's not quite true that NO countries let for-profit companies provide basic health insurance. One does: the Dutch. They decided they wanted to be like us, so in 2006, they changed their healthcare system. And now, all of a sudden, just four big corporations control almost everything.
Wednesday, January 1, 2014 (9 comments)

The Obamacare We Deserve Now that Obamacare has finally arrived, liberals can stop defending its flaws and argue instead for universal health care.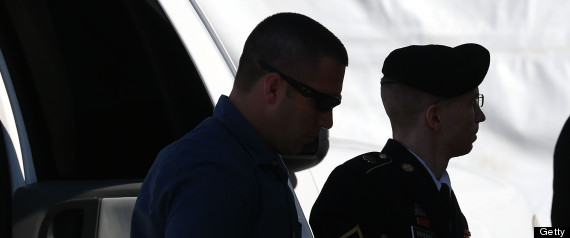 Wednesday, July 31, 2013 (1 comments)

What Bradley Manning's Sentence Will Tell Us About Our Military Justice System | Michael Moore Today Bradley Manning was convicted on 20 of 22 counts, including violating the Espionage Act, releasing classified information and disobeying orders. That's the bad news. The good news is he was found not guilty on the charge of "aiding the enemy." That's 'cause who he was aiding was us, the American people. And we're not the enemy. Right?
Saturday, March 16, 2013 (12 comments)

Join Me to Kick Off a Mass Movement Against Gun Violence From Your Living Room on Saturday, March 23rd The response to my Newtown letter this week has been overwhelming. It is so very clear to everyone that the majority of Americans have had it with how we as a country have recklessly allowed the NRA and the gun manufacturers to get away, literally, with murder. That, right now, is going to come to an end. The "tipping point" against the gun madness has taken place because of the tragic slaughter of 20 little children in Ct.
Wednesday, March 13, 2013 (10 comments)

America, You Must Not Look Away (How to Finish Off the NRA) I have a prediction. I believe someone in Newtown, Ct-a grieving parent, an upset law enforcement officer, a citizen who has seen enough of this carnage in our country-somebody, someday soon, is going to leak the crime scene photos of the Sandy Hook Elementary School massacre. And when the American people see what bullets from an assault rifle fired at close range do to a little child's body, that's the day the debate will end

Saturday, January 5, 2013 (2 comments)

Those Who Say 'I Support the Troops' Really Don't If you REALLY want to help the troops, do everything possible to stop companies like General Electric's war profiteering.
Friday, January 4, 2013 (9 comments)

Those Who Say "I Support the Troops" Should Just Stop, Out of Respect for the Troops I don't support the troops, America, and neither do you. I am tired of the ruse we are playing on these brave citizens in our armed forces. And guess what -- a lot of these soldiers and sailors and airmen and Marines see right through the bull**** of those words, "I support the troops!," spoken by Americans with such false sincerity -- false because our actions don't match our words.

Wednesday, January 2, 2013 (2 comments)

My New Year's Resolutions Off the wall New Year's resolutions that should work for just about anyone, especially if you didn't get around to making any.
Monday, December 24, 2012 (33 comments)

Celebrating the Prince of Peace in the Land of Guns After watching the deranged, delusional National Rifle Association press conference on Friday, it was clear that the Mayan prophecy had come true. Except the only world that was ending was the NRA's. Their bullying power to set gun policy in this country is over. The nation is repulsed by the massacre in Connecticut, and the signs are everywhere...
Monday, December 17, 2012 (9 comments)

Following up on the lastest mass shooting I am truly beside myself this time. I tried to ring a warning bell about this a decade ago. The disease has only gotten worse. But...you feel something different in the air across America tonight, don't you? People have had it and the outrage is loud and visible. I'm convinced the majority of Americans will now back strong gun control laws.
Tuesday, November 20, 2012 (40 comments)

An Open Letter to President Obama "from Michael Moore This was truly another historic election and I would like to take a few minutes of your time to respectfully ask that your second term not resemble your first term. there are some very huge issues that have been left unresolved and, dammit, we need you to get some fight in you. Wall Street and the uber-rich have been conducting a bloody class war for over 30 years and it's about time they were stopped.

Thursday, November 8, 2012 (1 comments)

Morning in America This country has truly changed, and I believe there will be no going back. Hate lost yesterday. That is amazing in and of itself. And all the women who were elected Tuesday night! A total rebuke of Neanderthal attitudes.
Tuesday, November 6, 2012 (7 comments)

Tomorrow ...a letter from Michael Moore Tomorrow, the bankers and corporate chiefs are planning an historic victory party. With the election of Mitt Romney, their takeover of American democracy would be complete. They thought they had accomplished that four years ago when they backed Barack Obama (he received more money from Wall Street than McCain; Goldman Sachs was his #1 private contributor).
Wednesday, October 31, 2012 (5 comments)

90 Million Are Planning Not to Vote -- Your Mission: Take Just One of Them to the Polls Friends, I have a personal favor I'd like to ask each of you. We all know the election next Tuesday is going to be very close. But I've got an idea that could help put President Obama over the top. I want you -- yes, YOU, the person reading this right now -- to get ONE of your fellow Americans who would not otherwise vote to show up at the polls and support Obama.
Friday, September 7, 2012 (16 comments)

President Romney" -- How to Prevent Those Two Words From Ever Being Spoken In two months we Americans will go to the polls once again to decide who the president will be for the next four years. We will not be allowed to vote on those who wield the true power in this country. On November 6th we will not vote for the chairman of ExxonMobil or JPMorgan Chase or Citibank or the Premier of China. That day will come, but not this year.
Tuesday, August 21, 2012 (15 comments)

WikiLeaks and Free Speech If Assange is extradited to the United States, the consequences will reverberate for years around the world. Assange is not an American citizen, and none of his actions have taken place on American soil. If the United States can prosecute a journalist in these circumstances, the governments of Russia or China could, by the same logic, demand that foreign reporters anywhere on earth be extradited for violating their laws.
Wednesday, July 25, 2012 (10 comments)

It's the Guns -- But We All Know, It's Not Really the Guns... a note from Michael Moore In modern times, nearly every nation has had a psychopath or two commit a mass murder, regardless of how strict their gun laws are -- And now the Aurora shooter last Friday. There have always been insane people, and there always will be. But here's the difference between the rest of the world and us: We have TWO Auroras that take place every single day of every single year!
Tuesday, July 3, 2012 (22 comments)

Michael Moore Talks About SCOTUS, Occupy, Weasel Democrats and Obama Michael Moore gave a talk at a fundraiser for health-care Now, a single payer advocacy organization, on Saturday, June 30th. He covered the Supreme Court decision on Obamacare, Weasel Democrats, Occupy, the Obama Election...
Sunday, December 18, 2011 (8 comments)

A Man in Tunisia, a Movement on Wall Street, and the Soldier Who Ignited the Fuse The Pentagon and the national security apparatus are hell-bent on setting an example with Bradley Manning. But we as Americans have a right to know what is being done in our name and with our tax dollars. If the government tries to cover up its malfeasance, then it is the duty of each and every one of us, should the situation arise, to drag the truth, kicking and screaming if necessary, into the light of day.
Wednesday, December 7, 2011 (12 comments)

The Winter of Our Occupation ...a proposal from Michael Moore And now it is winter. Wall Street rejoices, hoping that the change of seasons will mean a change in our spirit, our commitment to stop them. We are not even 12 weeks old, yet Occupy Wall Street has grown so fast, so big, none of us can keep up with the hundreds of towns who have joined the movement, or the thousands of actions -- some of them just simple ones in neighborhoods, schools and organizations -- that have happened.
Wednesday, November 23, 2011 (37 comments)

Where Does Occupy Wall Street Go From Here? ...a proposal from Michael Moore This past weekend I participated in a four-hour meeting of Occupy Wall Street activists whose job it is to come up with the vision and goals of the movement. It was attended by 40+ people and the discussion was both inspiring and invigorating. Here is what we ended up proposing as the movement's "vision statement" to the General Assembly of Occupy Wall Street...

Tuesday, November 22, 2011 (3 comments)

Where Does Occupy Wall Street Go From Here? Occupy Wall Street enjoys the support of millions. It is a movement that cannot be stopped. Make some noise. You don't have to pitch a tent in lower Manhattan to be an Occupier. You are one just by saying you are. This is the real deal. This is it.
Thursday, October 27, 2011 (14 comments)

Life Among The 1% ...a Letter From Michael Moore Twenty-two years ago this coming Tuesday , I stood with a group of factory workers, students and the unemployed in the middle of the downtown of my birthplace, Flint, Michigan , to announce that the Hollywood studio, Warner Bros., had purchased the world rights to distribute my first movie, 'Roger & Me.' A reporter asked me, "How much did you sell it for?"

Monday, September 5, 2011 (3 comments)

30 Years Ago Today: The Day the Middle Class Died It all began on this day, 30 years ago. One of the darkest days in American history. And we let it happen to us. Yes, they had the money, and the media and the cops. But we had 200 million of us. Ever wonder what it would look like if 200 million got truly upset and wanted their country, their life, their job, their weekend, their time with their kids back?
Saturday, August 6, 2011 (12 comments)

30 Years Ago Today: The Day the Middle Class Died ...a letter from Michael Moore From time to time, someone under 30 will ask me, "When did this all begin, America's downward slide?" They say they've heard of a time when working people could raise a family and send the kids to college on just one parent's income (and that college in states like California and New York was almost free). That anyone who wanted a decent paying job could get one. And when they ask, "When did this all end?"
Thursday, May 12, 2011 (27 comments)

Some Final Thoughts on the Death of Osama bin Laden "The Nazis killed tens of MILLIONS. They got a trial. Why? Because we're not like them. We're Americans. We roll different." -- Michael Moore in an interview last week
Saturday, April 16, 2011 (5 comments)

This Tax Day, Make THEM Pay ...a letter about April 18th from Michael Moore Do you wonder (like I do) what the tax accountants and executives are doing over at GE this weekend? Frantically rushing to fill out their IRS returns like the rest of us? Hardly. They're taking the weekend off to throw themselves a big party and have a hearty laugh at all of us. It must really crack them up to see us like suckers scurrying around to make sure we report everything to Uncle Sam -- and even send him a check...

Tuesday, April 5, 2011 (2 comments)

They Only Have 400 Votes America is not broke! It's just that the wealthy have absconded with the money! They've removed it from circulation and left us begging for school supplies and fire trucks and libraries. Even the Wall Street Journal admits that the uber-rich are currently just sitting on almost $2 trillion of cash.

Tuesday, March 15, 2011 (8 comments)

Letter to My Fellow Michiganders The call has gone out and I'm asking everyone who can to take Wednesday off and head to the State Capitol in Lansing to protest the cruel and downright frightening legislation currently being jammed down our throats.

Tuesday, March 8, 2011 (5 comments)

How I Got to Madison, Wisconsin I can't express enough the level of admiration I have for the people of Wisconsin who, for three weeks, have braved the brutal winter cold and taken over their state Capitol. All told, literally hundreds of thousands of people have made their way to Madison to make their voices heard.

Sunday, March 6, 2011 (4 comments)

VIDEO: America Is NOT Broke The nation is not broke, my friends. Wisconsin is not broke. It's part of the Big Lie. It's one of the three biggest lies of the decade: America/Wisconsin is broke, Iraq has WMD, the Packers can't win the Super Bowl without Brett Favre.

Monday, February 28, 2011 (1 comments)

We Face a Global War on the Middle Class Regular people across the world are standing up right now and saying "No!" to the future they have planned for us. We won in Egypt. We're waking up and fighting back across the US. Let's all stand with Thompson and make it the place where we turn the tide in this awful war.

Wednesday, December 22, 2010 (8 comments)

Another WikiLeaks Cable from the Bush Administration About My Movies Twice within four days, my name has popped up in the Bush-era secret cables uncovered by WikiLeaks. Lucky me. Though nowhere near as earth-shattering as the uncovering of American misdeeds in Iraq and Afghanistan, these classified cables provide a stunning and bizarre peek into the paranoid minds of the Bush White House when it came to the subject of one Michael Francis Moore

Tuesday, December 14, 2010 (4 comments)

Why I'm Posting Bail Money for Julian Assange (A statement from Michael Moore) Yesterday, in the Westminster Magistrates Court in London, the lawyers for WikiLeaks co-founder Julian Assange presented to the judge a document from me stating that I have put up $20,000 of my own money to help bail Mr. Assange out of jail. Furthermore, I am publicly offering the assistance of my website, my servers, my domain names and anything else I can do to keep WikiLeaks alive and thriving...

Tuesday, December 14, 2010 (1 comments)

Why I'm Posting Bail Money for Julian Assange No one can hide from the truth now. No one can plot the next Big Lie if they know that they might be exposed. And that is the best thing that WikiLeaks has done. WikiLeaks, God bless them, will save lives as a result of their actions.

Wednesday, December 1, 2010 (1 comments)

Recipe for Riots: Take Cruel Republicans and Wall Street Democrats, Add the Worst Economy in Eighty Years, and Stir I'm amazed my fellow Americans have taken everything as well as they have so far, but every country has their breaking point. And we're getting close.

Wednesday, December 1, 2010

Five Questions the Mainstream Media Won't Ask About the Wikileaks Release 251,287 secret State Department cables, released into the public domain by Wikileaks! You'd think this amazing treasure trove of inside dope would prompt the media to ask some real questions. But so far, the likes of the New York Times and CNN have shown no interest in delving into obvious subjects.

Tuesday, November 16, 2010 (19 comments)

Let's Pass Some Laws Before the Republicans Head Into Town (after all, that's what they'd do) Dear Congressional Democrats: change the filibuster rules NOW and vote on many of the 420 house bills already passed. Fail to do it and you will lay the groundwork for an even bigger ass-kicking two years from now.

Friday, October 29, 2010 (12 comments)

A Boot to the Head ...from Michael Moore Michael Moore warns us that the Republicans are about to give us a "boot to the head."
Friday, October 8, 2010 (13 comments)

A Senseless War Begins Its 10th Year ...Michael Moore Channels President Obama Michael Moore channels the president...as only he (Yes, we) can, on the 10th(!) anniversary of the Afghanistan war. Are we safe yet? From whom?

Thursday, October 7, 2010 (2 comments)

Dems Come Alive! Just four weeks to go and I'm feeling that maybe, just maybe, we may prevent the All Souls Day Massacre. The pundits, who are essentially tools for the Corporate States of America, may have to eat a lot of crow. And if the Dems escape death's door, they had better not let this nonsense happen again.
Wednesday, October 6, 2010 (9 comments)

Dems Come Alive! ...a follow-up from Michael Moore Ok! We're halfway through the week and we're off to a great start. Last week I gave the spineless Dems five friendly suggestions for things they could do on the off chance they were interested in winning the midterm elections on November 2nd.