Articles Listed By Date
List By Popularity
(1 comments)
Thursday, June 13, 2019
How Wealthy Have Our Super Wealthy Become?
We have a great deal of statistical data, in America today, about the economic circumstances of Americans who live in poverty. We know far less, by contrast, about Americans who live amid great wealth. And much of what we do know, suggests a revealing new study, turns out to be wrong.
(1 comments)
Friday, March 22, 2019
Moneyball in a Deeply Unequal Age
Corporate CEOs and those who sing their praises love to see big paydays for big-time athletes. Every million a ballplayer makes seems to give top execs and their cheerleaders still another justification, another excuse, for stratospheric CEO pay.
(5 comments)
Wednesday, December 12, 2018
If Democrats Fracture, This Will Be the Fault Line
"We must develop an international movement that takes on the greed and ideology of the billionaire class and leads us to a world of economic, social and environmental justice," Senator Sanders noted earlier this year. "Will this be an easy struggle? Certainly not. But it is a fight that we cannot avoid."
(6 comments)
Monday, July 2, 2018
Minimum wage? It's time to talk about a maximum wage
It's time to confront the giant corporations that dominate our economy -- and especially the executives who lead them. About two-thirds of America's top 1% households, the Economic Policy Institute calculates, owe their fortunes to corporate executive pay.
(1 comments)
Sunday, July 1, 2018
New York, New York, What a Less than Wonderful Town
Between 2014 and 2017, rents for vacant apartments in New York rose 30 percent, about three times faster than the typical incomes of renting families. What happens when arithmetic like this happens? Homelessness happens. New York's Department of Homeless Services now on average shelters 60,000 people per night.
(1 comments)
Monday, June 11, 2018
Wage Theft: To Fight the Crime, Attack the Motive
These corporate pillars are committing their thievery on many fronts. They're not paying employees for work performed "off the clock." They're stiffing workers on overtime and violating minimum wage laws. They're requiring employees to buy particular work clothes and not compensating them for their outlays.
Friday, April 20, 2018
Why Should We Tax the Rich?
The orthodoxy that dominates today's Republican Party -- and the ranks of "business-friendly" Democrats -- rests on a simple approach to economic policy. Let's be nice, this orthodoxy holds, to rich people. Let's be particularly nice at tax time. Let's keep taxes on rich people, conservatives advise us, as low as possible. High taxes on high incomes, they argue, discourage entrepreneurship.
Monday, April 2, 2018
A Bigger Welcome Mat for America's Tax Evaders
The most recent IRS study on taxpayer income that's going unreported covers the years 2008 through 2010. That study put the "overall voluntary compliance rate" of American taxpayers at 81.7 percent. Or, to put the matter more starkly, over 18 percent of income nearly a decade ago was evading taxes. That figure will now likely get significantly worse, and so will inequality, unless we undo what this past winter has wrought.
(1 comments)
Saturday, March 31, 2018
Getting Granular on America's Income Distribution
The freshly crunched numbers explore the income distribution story in 2014, the most recent year with complete statistics available, and then trace that story back 35 years to 1979, the year before Ronald Reagan won the White House. Average Americans have a right to be upset. Wealthy Americans like Donald Trump have no right to exploit their anger.
(8 comments)
Friday, March 23, 2018
Billionaires Won't Save the World, Just Look at Elon Musk
Musk owes his billions, as commentator Kate Aronoff points out, to the billions in direct taxpayer subsidies his companies have received over the years -- and the billions more in taxpayer-funded research into rocket technology and other high-tech fields of knowledge.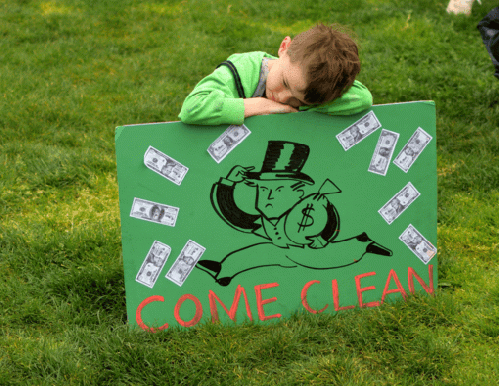 (1 comments)
Thursday, November 30, 2017
How to Stop a Tax Plan Rigged for the Rich
The 1932 tax fight did mark a turning point. The rich and their political enablers had reached for the brass ring, a national sales tax. The American people had slapped them down. The New Deal had begun. Could a defeat of the GOP tax plans of 2017 signal a similar new egalitarian upsurge? Maybe. But first we have to deliver that defeat.
(1 comments)
Thursday, October 26, 2017
Trump's "Reform" Tilts Tax Code to Favor the Rich
If this Trump tax plan passes, Americans making $60,000 will still be paying over four times more of their income in payroll taxes than Americans who make $1 million. And America's millionaire-packed top 1 percent will also be enjoying, the Tax Policy Center calculates, 80 percent of the new tax cuts the Trump tax plan puts in place by 2027. The White House calls that "reform." It's an outrage.