Articles Listed By Date List By Popularity

Friday, March 24, 2017 (3 comments)

Attorney for "Frozen Trucker": Neil Gorsuch May Have Been Most Hostile Judge I've Ever Encountered As confirmation hearings for Supreme Court nominee Neil Gorsuch wrap up and Senate Democrats vow to filibuster his nomination, we look at Gorsuch's ruling in a case known as the "frozen trucker."

Monday, March 13, 2017

Mustafa Ali: Meet the Top EPA Environmental Justice Official Who Quit to Protest Pruitt & Trump A top official at the Environmental Protection Agency has resigned in protest of a Trump administration proposal to scale back severely the size and work of the agency. Mustafa Ali helped launch the EPA's Office of Environmental Justice in 1992 and served under both Republican and Democratic administrations.
Monday, January 9, 2017 (4 comments)

Glenn Greenwald: U.S. Intel Chiefs Alleging Russian Threat Have History of Deceiving the Public We have things like the Constitution that are supposed to impose limits on what even a deranged leader can do. You have courts that are supposed to check that and Congress that is supposed to check that and the media that is supposed to check that -- all of which have failed. The only truly effective check against true abuse of power is popular revolt, popular protest.

Monday, December 26, 2016 (5 comments)

Bernie Sanders: The Democracy Now! Interview In a Democracy Now! special, Vermont Senator Bernie Sanders sat down with Amy Goodman at the Free Library of Philadelphia in late November in his most extensive broadcast interview since Donald Trump defeated Hillary Clinton just weeks earlier.
Wednesday, December 14, 2016

Greg Palast: By Rejecting Recount, Is Michigan Covering Up 75,000 Ballots Never Counted? Trump won Michigan by fewer than 11,000 votes out of nearly 4.8 million votes cast. Green Party presidential contender Dr. Jill Stein attempted to force Michigan to hold a recount, but a federal judge ordered Michigan's Board of Elections to stop the state's electoral recount. One big question remains: Why did 75,335 ballots go uncounted?

Friday, November 18, 2016 (11 comments)

Bernie Sanders Calls for Trump to Ax Bannon; Urges New Admin to Reject Racism, Sexism & Homophobia On Wednesday, he was named to a leadership post in the Senate -- chair of outreach -- and was reappointed ranking member of the Senate Budget Committee. During his speech, Sanders said he hopes to work with the president-elect on a number of issues, and called on Trump to rescind his decision to make Steve Bannon his chief strategist. Bannon is the former head of Breitbart News.
Saturday, October 22, 2016 (5 comments)

Bruce Springsteen's Trump Warning: Nominee's Narcissism Threatens Democracy In an interview with Channel 4 in Britain, Bruce Springsteen shared his thoughts on the race. "Donald Trump's going to lose, and he knows that. He knows he's going to lose. And he's such a flagrant, toxic narcissist that he wants to take down the entire democratic system with him if he goes," Springsteen said. "And the words that he's been using over the past several weeks really are an attack on the entire democratic proces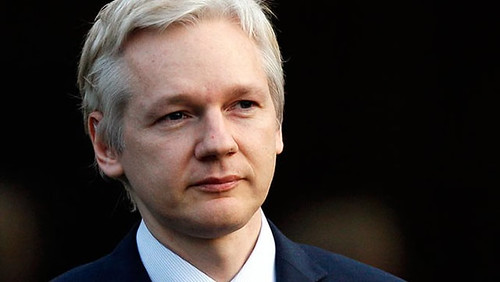 Monday, August 8, 2016 (3 comments)

Julian Assange: Leaked DNC Emails Shows Democrats Waged "Propaganda" Campaign Against Sanders There's a galloping epidemic of abuse of national security law under this Democratic administration, which Hillary Clinton was part of. She and Obama were involved in placing one of my alleged sources, Chelsea Manning, into prison for 35 years, only for communicating truthful information to the public.
Wednesday, July 27, 2016 (15 comments)

Who Should Bernie Voters Support Now? Robert Reich vs. Chris Hedges on Tackling the Neoliberal Order The day after Senator Bernie Sanders spoke at the Democratic National Convention and urged his supporters to work to ensure his former rival wins the presidential race, we host a debate between Clinton supporter Robert Reich, who served as labor secretary under President Clinton, and Chris Hedges, a Pulitzer Prize-winning journalist who backs Sanders.
Friday, June 10, 2016 (6 comments)

Jill Stein to Bernie Sanders: Run on the Green Party Ticket & Continue Your Political Revolution In many ways, the Democratic Party creates campaigns that fake left while it moves right and becomes more corporatist, more militarist, more imperialist. This is why we say it's hard to have a revolutionary campaign inside of a counterrevolutionary party. That's why we're here as the Green Party to build a place where a revolutionary movement can truly grow with a political voice.
Sunday, May 15, 2016

With Rousseff Out, Brazil's Interim President Installs Conservative All-White, All-Male Cabinet Rousseff called the move a coup. Temer is a member of the opposition PMDB party and has been implicated in Brazil's massive corruption scandal involving state-owned oil company Petrobras. He was sworn in Thursday along with a new Cabinet that is all white and all men, making this the first time since 1979 that no women have been in the Cabinet.
Tuesday, May 10, 2016 (5 comments)

Ralph Nader: Sanders Should Stay in Democratic Race, Is Only Losing Due to Anti-Democratic System Eight years ago, Hillary Clinton won West Virginia in a landslide, beating Barack Obama by 40 percentage points. But many polls project Sanders will win today. Clinton has faced widespread criticism in West Virginia after she recently said, quote, "We're going to put a lot of coal miners and coal companies out of business."
Thursday, May 5, 2016

"The Assassination Complex": Jeremy Scahill & Glenn Greenwald Probe Secret US Drone Wars in New Book The documents undermine government claims that drone strikes have been precise. Part of the book looks at a program called Operation Haymaker in northeastern Afghanistan. During one five-month period, nearly 90 percent of the people killed in airstrikes were not the intended targets. The book is based on articles published by The Intercept last year.
Saturday, April 30, 2016 (1 comments)

Noam Chomsky: Bernie Sanders is Not a Radical, He Has Mass Support for Positions on Healthcare & Taxes During an event Tuesday night, Noam Chomsky was asked about Democratic presidential candidate Bernie Sanders and said he considered him more of a "New Deal Democrat" than a radical extremist, as some have portrayed him. Chomsky said Sanders' positions on taxes and healthcare are supported by a majority of the American public, and have been for a long time.
Tuesday, April 26, 2016 (6 comments)

Seymour Hersh Weighs In on Sanders vs. Clinton: "Something Amazing Is Happening in This Country" Hersh: Something that's amazing is happening in this country, and for the first time, I do think it's going to be very hard for a lot of the people who support Sanders to support Hillary Clinton. ... There's a whole group of young people in America, across the board, all races, etc., etc., who have just had it with our system."
Wednesday, April 20, 2016

New York Primary: Chaos at Polling Sites, Broken Scanners & Whole Blocks Purged from Voter Rolls Tuesday's voting in the New York primary was marked by chaos, particularly in Brooklyn, as tens of thousands of voters found their names had been removed from the polling rolls or that they were unable to vote at their polling station. The New York City Elections Board has confirmed that more than 125,000 Brooklyn voters had been removed from the voter rolls since November 2015.
Tuesday, March 29, 2016 (1 comments)

Greenwald: FBI-Apple Fight Tied to U.S. Effort to Access the Communications of Everyone Everywhere There is now a serious wedge between the U.S. government, on the one hand, and Silicon Valley, on the other -- not because these companies suddenly care about privacy. They don't care about privacy at all. It's because they perceive it as being within their self-interest to demonstrate a commitment to privacy.
Wednesday, February 24, 2016 (6 comments)

Could the 2016 Election Be Stolen with Help from Electronic Voting Machines? At midnight or whenever it is on election night, those two guys can go in there with an IT person and flip the outcome of an electronically counted vote within about 60 seconds. So all this millions and millions of dollars, people out campaigning and so on, can be negated by an electronic vote flip late at night on election night, and there is no way to verify what's happened.

Friday, October 16, 2015 (4 comments)

A New Snowden? Whistleblower Leaks Trove of Documents on Drones & Obama's Assassination Program In "The Drone Papers," The Intercept reveals drone strikes have resulted from unreliable intelligence, stemming in large part from electronic communications data, or "signals intelligence," that officials acknowledge is insufficient. The documents were leaked to The Intercept by an unnamed U.S. intelligence source.
Saturday, September 12, 2015

"Victory for People's Uprising": Bill McKibben on U. of California Divesting from Coal and Tar Sands 2015 is on track to be the hottest year in recorded history. Scientists at the National Oceanic and Atmospheric Administration recently released a report showing that July was the single warmest month on planet Earth in history. Nine of the 10 hottest months since record keeping began in 1880 have occurred since 2005. Bill McKibben says time is running out.
Tuesday, August 4, 2015 (3 comments)

Naomi Klein: Obama Is Beginning to Sound Like a Climate Leader, When Will He Act Like One? Under new Environmental Protection Agency regulations, U.S. power plants will be required to cut emissions by 32 percent from the 2005 levels by 2030. In addition, new power plants will be required to be far cleaner, which could effectively prevent any new coal plants from opening. President Obama defended the regulations, which are expected to be challenged in court.

Friday, July 31, 2015

Police Remove Greenpeace Activists from Portland Bridge After They Forced Shell Ship Back to Port Even the Department of the Interior's own scientists have said that if an oil company drills in this region where Shell wants to drill, that there is a 75 percent chance of a major oil spill. And I thought, my gosh, would you get on an airplane with a 75 percent chance of crashing? I mean, it is just crazy for this project to go forward.
Tuesday, June 2, 2015

WikiLeaks Launches Campaign to Offer $100,000 "Bounty" for Leaked Drafts of Secret TPP Chapters Despite the Senate vote approving a measure to give President Obama fast-track authority to negotiate the secretive Trans-Pacific Partnership deal, opposition to the deal continues to mount ahead of this month's House vote. Critics, including a number of Democratic lawmakers, oppose the TPP, saying it will fuel inequality, kill jobs, and undermine health, environmental and financial regulations.
Sunday, May 31, 2015 (1 comments)

Julian Assange on the Trans-Pacific Partnership: Secretive Deal Isn't About Trade, But Corporate Control The TPP would cover 40 percent of the global economy, but details have been concealed from the public. A recently disclosed "Investment Chapter" highlights the intent of U.S.-led negotiators to create a tribunal where corporations can sue governments if their laws interfere with a company's claimed future profits.
Wednesday, May 13, 2015 (15 comments)

Seymour Hersh Details Explosive Story on Bin Laden Killing & Responds to White House, Media Backlash Four years after U.S. forces assassinated Osama bin Laden, Pulitzer Prize-winning investigative reporter Seymour Hersh has published an explosive piece claiming much of what the Obama administration said about the attack was wrong. The White House claims the piece is "riddled with inaccuracies."
Saturday, May 9, 2015 (1 comments)

Robert Jay Lifton, Author of "The Nazi Doctors": Psychologists Who Aided Torture Should Be Charged the order for torture being acceptable and advised, comes from above, comes from the highest sources in the administration. That has to be uncovered by an investigation, and there has to be a legal context. At a minimum, there must be confrontation and revelation of what was done, who did it, what the consequences were and how to prevent it in the future.

Tuesday, March 17, 2015

As U.N. Backs Fossil Fuel Divestment, Bill McKibben on Vanuatu, Oxford Vote, California Water Crisis In the Northeast of the United States, we've seen over the last 50 years a 71 percent increase in the number of severe precipitation events, as the scientists put it--way more big rainstorms and way more big snowfalls. When it happens in the winter, as it is in Boston this time, we get snowbanks five stories high. This provides yet more impetus as we continue this climate fight.

Thursday, February 12, 2015

Freed CIA Whistleblower John Kiriakou Says "I Would Do It All Again" to Expose Torture In a wide-ranging interview, Kiriakou says, "I would do it all over again," after seeing the outlawing of torture after he came forward. Kiriakou also responds to the details of the partially released Senate Committee Report on the CIA's use of torture; argues NSA whistleblower Edward Snowden did a "great national service," but will not get a fair trial if he returns to the United States.

Thursday, January 15, 2015 (3 comments)

"Circus of Hypocrisy": Jeremy Scahill on How World Leaders at Paris March Oppose Press Freedom Jeremy Scahill said, "While horrifying and reprehensible, these incidents represent a relatively minor threat to Western society. In terms of the actual threats facing our society, this doesn't even rank in the top five. And so, to have this kind of a reaction is not only a waste of a tremendous amount of money, but it is going to encourage, I think, future acts of terrorism."
Tuesday, December 23, 2014 (7 comments)

Ex-Bush Official: U.S. Tortured Prisoners to Produce False Intel that Built Case for Iraq War Since the release of Senate findings earlier this month, the assumption that the CIA's torture program's sole motive was post-9/11 self-defense has gone virtually unchallenged. There has been almost no recognition that the George W. Bush administration also tortured prisoners for a very different goal: to extract information that could tie al-Qaeda to Saddam Hussein and justify the invasion of Iraq.
Thursday, December 18, 2014

Press Freedom Fight: Reporter James Risen Faces Subpoena in CIA Whistleblower Case Risen has vowed not to testify at the trial next month of Jeffrey Sterling, who is accused of giving him classified information that revealed a botched CIA plot to disrupt Iran's nuclear program. If he refuses, Risen could face jail time.

Saturday, November 15, 2014 (2 comments)

Russell Brand on Revolution, Fighting Inequality, Addiction, Militarized Policing & Noam Chomsky For years Russell Brand has been one of Britain's most popular comedians, but over the past 12 months he has also emerged as a leading voice of Britain's political left. He has taken part in anti-austerity protests, spoken at Occupy Wall Street protests and marched with the hacker collective Anonymous.
Thursday, October 23, 2014

Noam Chomsky at United Nations: It Would Be Nice if the United States Lived up to International Law Amy Goodman interviewed the world-renowned linguist and dissident before an audience of 800 people. Chomsky spoke at an event sponsored by the United Nations Committee on the Exercise of the Inalienable Rights of the Palestinian People.

Wednesday, October 15, 2014

James Risen Prepared to "Pay Any Price" to Report on War on Terror Amid Crackdown on Whistleblowers Risen now faces years in prison if he refuses to testify at the trial of a former CIA officer, Jeffrey Sterling, who is accused of giving him classified information about the agency's role in disrupting Iran's nuclear program, which he argues effectively gave Iran a blueprint for designing a bomb.

Saturday, October 4, 2014 (2 comments)

Jeremy Scahill on Obama's Orwellian War in Iraq: We Created the Very Threat We Claim to be Fighting The United States, through its policies, created the very threat that it claims to be fighting now, and in continuing this policy, what President Obama is doing is embracing the very lies that made the Cheney-Bush Iraq War possible. This is sort of an epic formula for blowback.

Friday, March 7, 2014

Who Is Provoking the Unrest in Ukraine? A Debate on Role of Russia, United States in Regional Crisis In the old days, we used to get the stakeholders around the table. And it's got to be Putin, and it's got to be Obama, and it's got to be the head of Ukraine, past and present, and the stakeholders in the immediate vicinity. We should be able to work this kind of thing out. That seems to have been just kind of washed away from the considerations of politicians.

Tuesday, February 25, 2014 (1 comments)

"The Paragraph Began to Self-Delete": Did NSA Hack Computer of Snowden Biographer & Edit Book Draft? Is the National Security Agency breaking into computers and tampering with unpublished manuscripts? Award-winning Guardian journalist Luke Harding says paragraphs of his writing mysteriously disappeared when he was working on his latest book, "The Snowden Files: The Inside Story of the World's Most Wanted Man."
Tuesday, December 31, 2013 (1 comments)

Glenn Greenwald: The NSA Can "Literally Watch Every Keystroke You Make" After the last seven months reporting, everybody should know by now that the goal of the NSA really is the elimination of privacy worldwide -- not hyperbole, not metaphor, that's literally their goal, is to make sure that all human communications that take place electronically are collected and then stored by the NSA and susceptible to being monitored and analyzed.

Tuesday, December 10, 2013 (6 comments)

Seymour Hersh: Obama "Cherry-Picked" Intelligence on Syrian Chemical Attack to Justify U.S. Strike Hersh argues that the Obama administration "cherry-picked intelligence to justify a strike against Assad." The administration failed to disclose it knew Syrian rebels in the al-Nusra Front had the ability to produce chemical weapons. Evidence obtained in the days after the attack was also allegedly distorted to make it appear it was gathered in real time.

Thursday, June 13, 2013 (2 comments)

Is Edward Snowden a Hero? A Debate with Journalist Chris Hedges & Law Scholar Geoffrey Stone Edward Snowden's decision to leak a trove of secret documents outlining the NSA's surveillance program has elicited a range of reactions. Among his detractors, he's been called "a grandiose narcissist who deserves to be in prison. To supporters, Snowden is a hero for showing that "our very humanity [is] being compromised by the blind implementation of machines in the name of making us safe.
Tuesday, May 28, 2013

Chicago to Shutter 50 Public Schools: Is Historic Mass Closure an Experiment in Privatization? this is not about children. It's not about education. Rahm Emanuel actually does not have an educational plan; he has an economic development plan. And this is where the schools fit in, which is to close public schools and to open more and more privately managed charters.

Wednesday, May 15, 2013 (1 comments)

Chris Hedges: Monitoring of AP Phones a "Terrifying" Step in State Assault on Press Freedom Highlighting the Obama administration's targeting of government whistleblowers, Hedges says: "Talk to any investigative journalist who must investigate the government, and they will tell you that there is a deep freeze. People are terrified of speaking, because they're terrified of going to jail."
Tuesday, March 5, 2013 (7 comments)

Glenn Greenwald: Why the Obama Administration's Persecution of Bradley Manning Should Terrify Us All Military prosecutors have decided to bring the maximum charges against Manning after he admitted during a pretrial hearing last week to the largest leak of state secrets in U.S. history. They announced Friday they will seek to imprison Manning for life without parole on charges that include aiding the enemy.
Thursday, November 29, 2012 (6 comments)

Julian Assange on WikiLeaks, Bradley Manning, Cypherpunks, Surveillance State, from DemocracyNow In his most extended interview in months, Julian Assange speaks from inside the Ecuadorean embassy in London, where he has been holed up for nearly six months.