Articles Listed By Date List By Popularity
Page 1 of 2 First Back Next 2 View All
Thursday, September 14, 2017 (5 comments)

The Democrats Should Bet on Sanders, Not Trump Sanders wants change; the Democrats fear it. Like it or not, change is coming. Sanders will challenge the Democratic Party, but he will also surely lift the party and set it on a course to majority representation. The Democrats must seize the day.
Sunday, August 13, 2017 (5 comments)

Nuking North Korea Is Going to Be Tricky Sandwiched between two superpowers, China and Russia, and little more than 500 miles from the coast of Japan, North Korea's space on Earth is intricately woven into the fabric of one of the most influential regions in the world. So then, how many nuclear warheads is it intelligent for the US to drop on what is effectively China's doorstep? On Japan's doorstep? On Russia's?
Sunday, July 30, 2017 (4 comments)

A Jury in Minneapolis Has Blood on Its Hands When juries ignore evidence because the defendant is a police officer, the killing accelerates. As that happens, communities become far more dangerous for residents and law enforcement personnel alike. It's time for American juries to stop being extensions of the police.
Sunday, July 16, 2017 (1 comments)

No Country for Old Republicans Putin's Godfatherly embrace of Trump, his family, and his wide circle of supporters constitutes a right-here, right-now, live, active national security threat to the United States. This is a smash and grab of our republic underway in full view.
Wednesday, June 28, 2017

Did Mitch McConnell Just Jump the Shark? As bad as this healthcare bill now before the nation is, we really shouldn't be surprised. It's a vivid expression of who Republican members of Congress really are at their core, collectively. It is as revolting as it is revealing. So bad, in fact, that some of the Republican soldiers ordered to facilitate the killing, literally, of millions of low-income Americans are refusing to carry out those orders.
Friday, June 23, 2017 (2 comments)

The Future Without John Birch When Gephardt handed Gingrich the gavel, major media political pundits called it a "Republican revolution" and a backlash against First Lady Hillary Clinton's attempts at healthcare reform. In reality it was the embodiment of Richard Nixon's Southern Strategy. White southern segregationist voters were shifting their allegiance away from the Democratic Party and toward the Republican Party.
Wednesday, June 14, 2017 (2 comments)

What's to Be Done About Trump? The threshold for evidence that would lead to indictment and/or impeachment has long since been exceeded. The remaining hurdles are political, not legal. We're there, and really have been for months. The irrefutable evidence in the public domain alone is overwhelming.

Monday, June 5, 2017

Terrorism and Authoritarianism Ash writes: If aspiring right-wing authoritarians have nothing else to offer citizens of the countries they hope to lead, they always have fear of terror.
Saturday, March 25, 2017 (5 comments)

The Vindication of President Barack Obama The Republican retreat on the repeal of Obamacare was a vote of no-confidence on the party's leader. Trump's rise to power has given the GOP the power of its fondest dreams, and the baggage of its worst nightmares. What turned back the Republican plot to overthrow the Affordable Care Act was white voters in red districts coming out in historic numbers to say, "Do not take my Obamacare coverage away."
Wednesday, March 22, 2017 (5 comments)

Uncharted Territory Don't make the mistake of believing that yesterday was just another day in Washington. It was anything but. You may think you know who James Comey is or Mike Rogers is, or what the Democrats or Republicans will ultimately do, but it cannot be known at this stage. Normal is off the rails, big time.
Monday, March 6, 2017

Trump Punks the Media Again The Obama wiretapping story is a pure ruse intended solely to divert the public's attention away from the Russian influence story and bait the media into disseminating the message. The U.S. media must return its attention to the far bigger stories of Russian influence and mass deportation, and the American people must demand it.

Tuesday, February 28, 2017 (1 comments)

Tom Perez: A Good Man in a Bad Situation Perez's assignment is to unify and energize the base without offending the deep-pocketed campaign financiers. While naming Ellison as Deputy Chair was a nice gesture, it does little to loosen the grip on power by the established wing of the party, or to prioritize policy over fundraising.
Wednesday, February 15, 2017 (4 comments)

Is the Country in Danger? Donald Trump has spent his entire life being very, very sure that he is in total control of events around him and impervious to failure. But that's not what his CV says. A closer look at Trump's less than exemplary past includes an alarming history of train wrecks that he walks away from, but others do not.
Friday, February 10, 2017 (5 comments)

Of Cold Wars and Energy Procurement The actual business Donald Trump and Vladimir Putin are discussing: how to control the resources from point of origin all the way to market. Enter the hands-on expert, Exxon's Rex Tillerson. Not only has Tillerson spent his career in the control and transfer of oil globally, his specialty has been working with the very receptive Putin regime.
Monday, January 30, 2017 (8 comments)

Behold the Real Putin and the Real Danger Why would veteran high-ranking Russian intelligence officials risk their lives to reveal to American and western investigators the role of Russian operatives in the hacking of the U.S. presidential election? The answer may be that opposition factions in Russia are as opposed to the Putin-Trump alliance as American opposition factions are to the Trump-Putin alliance.
Monday, January 9, 2017 (15 comments)

The Reports of Russian Election Interference Are Absolutely Serious The Democrats are not blaming the Russians or anyone else. The Democrats are hiding beneath their beds and saying nothing. The Democrats are not challenging anything. If the Russians intervened to help Donald Trump, then the Russians and Donald Trump are to blame for that. Not the Democratic Party.
Thursday, December 29, 2016 (8 comments)

Will Obama Surrender the Supreme Court to Trump? On January 3, 2017, a very important window will open. All constitutional experts agree that President Obama has the power to appoint a justice of his choosing and fill the vacancy on the Supreme Court, without a Senate confirmation hearing. On that day, and that day alone. It is the American people whose best interests Obama is sworn to act upon.
Saturday, December 17, 2016 (2 comments)

Can the Electoral College Accept Foreign Influence? Should Donald Trump be denied an Electoral College victory, he is not disqualified from becoming president, it simply remands the matter to the House of Representatives. House members certainly have both public and classified avenues to discovery of the facts. Something the electors do not have.
Tuesday, December 13, 2016 (8 comments)

A Constitutional Crisis Is Brewing Many in Washington are very uneasy with Donald Trump's irreverent and unorthodox style. Nothing Trump has done in assembling his cabinet has eased those concerns. Trump's picks are the most deeply conflicted ever considered for positions within an administration. That, coupled with unprecedented opposition to Trump by leaders of his own party, has set the stage for a confrontation that appears to be taking shape.
Tuesday, December 6, 2016 (2 comments)

They'll Be Back The local "well-regulated-militias" are only too happy to "enforce the law" that facilitates construction even while ignoring the laws that protect the rights of local residents impacted by the project. So celebrate a important victory. Learn from the failures and successes that defined this great battle and prepare for the next assault. It is surely coming.
Tuesday, November 15, 2016

Does Trump Have a Mandate? There is no question that Donald Trump assumes the presidency without majority consent. No legitimate argument for a mandate can stem from that. He can only achieve a mandate through unifying action. What will it be: unification and success, or division and failure? The choice is yours, Mr. Trump.
Wednesday, October 26, 2016 (34 comments)

Jill Stein? Sanders, a well noted Socialist running within the Democratic Party structure and vowing not to go rogue with an independent campaign should he fail to gain the Democratic nomination, garnered more progressive Democratic support than all Green Party presidential candidates combined. He did it and is still doing it without demonizing anyone.

Monday, October 10, 2016 (1 comments)

The US Corporate Media Owns Donald Trump Trump with his antics parks sheep in front of televisions in herds. That means enormous advertising revenues. It also means that a pathetically self-indulgent, socially abusive, mentally unstable fraud has moved to the brink of becoming President of the United States.
Saturday, September 24, 2016 (1 comments)

It's Actually Much Worse Than Kaepernick Says It Is Don't be convinced for a moment that the young athletes now "standing up by kneeling down" are making too much of this. It's not as bad as they say it is, it's much worse. The next time you watch a major sporting event, remember to cheer for the players with renewed respect. They've earned it.
Tuesday, September 20, 2016 (1 comments)

Say a Prayer for Jeffrey Sterling Nothing is more sacred or essential to a democracy than transparency. It is not enough to protect society, if that society must sacrifice its values and freedom for those protections. Jeffrey Sterling is in prison because he tried to shed light on questionable government practices.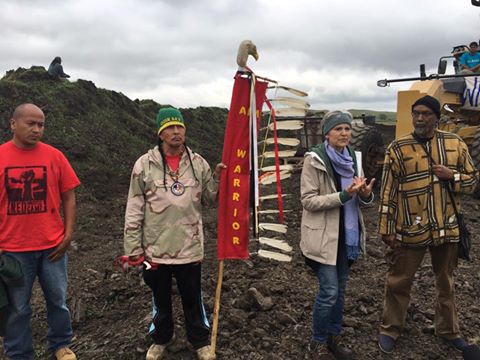 Monday, September 5, 2016

Unarmed Dakota Pipeline Protesters Withstand Dogs and Mace, Drive Back Enbridge Security Forces This most recent confrontation and the violence surrounding it are likely to strengthen the resolve of those standing in defiance of the Dakota Access Pipeline. If the fate of the Keystone XL and Sandpiper pipelines is any indicator, local resistance may yet again prevail.
Monday, August 15, 2016 (7 comments)

Who's Afraid of Hillary Clinton? Step one to commandeering Hillary Clinton's presidency will be to drive a wedge between her and not just the overlords of Wall Street but the entire ideology of Wall Street. She has to think and act independently of Wall Street. Hillary Clinton is not just going to wake up on the morning of January 21st and decide that progressive policies are really the best after all. But she can be made to act.
Monday, August 8, 2016 (8 comments)

Bernie Sanders, US Opposition Leader The same groups that met to support Bernie for president are a perfect vehicle to organize formal opposition on Capitol Hill. The infrastructure is in place. If the anger is focused and directed it can be a powerful force for good. Make the message clear to the elected officials in your state and in your district: "We need a formal opposition in Washington and Bernie Sanders is the man to lead it."
Friday, July 29, 2016 (9 comments)

Can Clinton Ignore the Base and Defeat Trump? Right now Hillary Clinton's message is, "I'm a woman and you need to fear Trump." There is absolutely no indication whatsoever that it's inspiring Democratic and Progressive voters to any noteworthy degree. When Bernie Sanders took the stage, he said what every American wanted to hear: "Enough is enough, we need to clean this mess up."
Friday, July 15, 2016 (6 comments)

No Bernie's Not Going to Be President, Stop Crying There was a surge of energy that carried Bernie and the cause he championed to national prominence. You who supported him were that energy. You have started a revolution. This movement continues to grow despite everything thrown at it. Conduct yourselves with integrity always. Maintain Pete Seeger's "chain of hand on hand." It cannot be broken.
Monday, July 11, 2016 (3 comments)

I Blame the Police It's important to read between the lines, trying to understand why U.S. police are the only police in the world who have to resort to killing so often. The key question in each case is, "Was this the only way?" The answer in the vast majority of cases is no, another way could have been found. Even if it meant temporarily backing off. Something U.S. police are rarely trained to do. It's the training that leads to the killing.
Saturday, July 9, 2016 (1 comments)

Americans Are Troubled, Mr. President, but Attorney General Lynch Still Does Nothing Attorney General Lynch is the best-positioned person in the nation to confront excessive police violence. As the head of the Department of Justice she has more powerful tools at her disposal than any other law enforcement officer in the nation. But she will not use the power that she has.
Monday, May 23, 2016 (13 comments)

I Will Vote For the Democratic Nominee From day one, Bernie Sanders has made it absolutely clear that his decision to run as a Democrat was intended to strengthen and unify the Democratic Party, not divide it and destroy it. Sanders, Clinton, and O'Malley, while he was still in the race, explicitly pledged to unify against whoever the Republican candidate might be.
Thursday, May 12, 2016 (4 comments)

Bernie Sanders Has Already Won Apathy is where corruption grows. Apathy is so valuable to the corrupt that they manufacture it and control the production of it. This is where infotainment and mass broadcasting play such an important role. The trick is to keep the population huddled beneath their security blankets, rather than pounding on doors and demanding justice.
Monday, April 11, 2016 (1 comments)

Our "Anti-Clinton" Bias (Explained) If you care about progressive issues and meaningful social progress there is no comparison between the two candidates. We do not have an "anti-Clinton bias." We have a commitment to social justice, and progress. It's not about a favorite candidate, it's about a better world. Is that what you believe?
Wednesday, March 16, 2016 (2 comments)

Merrick Garland, What's the Point? To those who would argue that Obama had to do this to get a nominee, any nominee, approved: That's absurd. It's not about getting "any nominee" approved. We don't "fight" for approval. We fight for a better, more just nation. Something no one in the nation's capitol has any apparent concern for.
Monday, March 14, 2016

Encryption: The Precedent Is the Voting Rights Act Apple's defenses seem to be coalescing around the First Amendment, and their counter argument is that being asked to author a digital operating system tailored to federal law enforcement's current objectives creates an unreasonable burden.
Friday, February 19, 2016

Can Black Voters Disobey the Democratic Party? Voters, black and white alike, are faced with a stark choice -- the same choice, incidentally, they were faced with in 2008. Does our country urgently need change? In 2008 the voters, black and white alike, said yes. So far in 2016, the tide for change seems even stronger. The Democratic Party bosses, however, are sending a clear signal who they want to be nominated for president in 2016, and it's not the candidate of change.
Sunday, February 14, 2016 (8 comments)

Now Comes the True Test of Obama's Presidency and Legacy Without any doubt Senate Republicans will seek to thwart Obama's efforts to appoint a third Supreme Court Justice during his tenure. In essence, Republican leaders have said to Obama, almost unanimously, "Don't go there." Obama replied without hesitation, "I am going there." The stage is set for the biggest, most significant showdown between a U.S. president and an opposition party in decades.
Sunday, February 7, 2016 (4 comments)

The Very Dishonest Viability Argument This is it: this is the moment when the candidates' viability must be put to the crucial and essential test. If one of these two candidates is more viable than the other, let them prove that now. The nominating process is designed, at its core, to be a forum for testing and proving the viability of the candidates and the veracity of their ideas.
Thursday, February 4, 2016 (20 comments)

Dear Hillary, Do You Really Believe You Are "a Progressive?" You can't take millions upon millions of dollars in campaign financing and personal speaking fees from Wall Street institutions and ever hope to seriously challenge the corruption killing the nation. Preventing that sort of conduct by public officials is the very point of progressive politics. You may believe that there is no quid pro quo, but your investors absolutely do, and they fully intend to hold you to your obligations.
Thursday, January 28, 2016 (13 comments)

The Oligarch Awakens: Act I Ash writes: "Act One: Michael Bloomberg seated in a large costly-looking chair. Hillary Clinton sitting before him in a slightly smaller and lower but still expensive-looking chair. Michael Bloomberg speaks as the play begins."
Thursday, January 21, 2016 (7 comments)

The Real Argument for Single-Payer Obamacare does nothing to break the death-grip of the for-profit American health care industry on the life-blood of American health care. As long as the point of medicine is profit, it's bad medicine, and the human suffering continues. In fact, rather than challenge the validity of corporate ownership of American health care, the ACA actually codifies it.
Sunday, January 10, 2016 (7 comments)

A Very Bad Idea in Oregon The Obama administration's decision in March 2014 to withdraw federal personnel from the Bundy Ranch in Clark County, Nevada, laid the groundwork for the storming of Malheur National Wildlife Refuge in Burns, Oregon, that now unfolds. The folly of that decision was obvious then and the result is all too clear now. The current situation is the direct consequence of inaction at the Bundy Ranch.
Tuesday, January 5, 2016

Mr. President, Madame Attorney General, You Must Act The killing of 12-year-old Tamir Rice by Cleveland police officer Timothy Loehmann was a stark example of the human cost, the suffering caused by police officers empowered to use lethal force with virtual immunity from prosecution. Clearly there was a threat to public safety at the Cudell Recreation Center on November 22nd, 2014, but it was Police Officer Timothy Loehmann, not Tamir Rice. Tamir just paid the price.
Sunday, December 20, 2015 (3 comments)

Eight More Years of Plutocracy Hillary shows all the classic characteristics of a plutocratic enabler. She's a dedicated corporatist and a devout global imperialist. She really believes that we can lead the world by achieving military victory in the Iraqi-Syrian Frontier despite all evidence to the contrary. The Wizard of Oz was on TNT at the same time as the ABC debate. It was by comparison "reality TV."
Thursday, December 10, 2015 (1 comments)

Jihadi Ted What makes Jihadi John and Jihadi Ted so similar in their methods is their willingness to use human suffering to implement military and social agendas. Ted Cruz is spewing this invective with a purpose that Machiavelli would be proud of. In short, this is all an attempt on the part of Cruz to best his Republican/Tea Party rivals in their race for the GOP nomination. Consequences mean nothing; power, everything.
Monday, December 7, 2015 (1 comments)

ISIS and the GOP, Natural Allies Sorry to disappoint those crying for a war against Islam, but the vast majority of those who kill with a gun in the U.S. are angry white men. Like Ted Cruz, Donald Trump, and Marco Rubio. "White terrorism" in America is a bigger problem by orders of magnitude than ISIS-inspired terrorism. "War" with individuals who cannot even be identified does not, cannot make anyone in the U.S. safer.
Thursday, November 19, 2015

Bush's Mission May Yet Be Accomplished ISIS, like U.S. neocon war planners, understands that polarization can lead to broader conflict. If Islamic nations and factions join the West in the fight against ISIS, they are doomed. But if the West can be baited into a conflict against Islam itself, then full polarization is achieved and ISIS has a chance to unite Islam against what it defines as "the infidels."
Saturday, November 14, 2015 (2 comments)

Global Domination Not Going Well ISIS will fail. Brutality cannot defeat injustice. ISIS will paint this as a great victory. In fact, gunning down unarmed civilians is only a sign of impotence and desperation. For decades the U.S. has waged the most inept and corrupt wars of domination and greed imaginable to the extent that they would not have been imaginable had the atrocities not actually been committed.
Wednesday, September 23, 2015 (17 comments)

Socialism? Let's Cut to the Chase What makes Sanders' ideas radical is that he wants all Americans to enjoy the benefits of Socialism, not just the top 1%. So he will be labeled a "radical," and the average American who would benefit most from his policies will be pressed to fear him. The most fertile breeding ground for that fear will be ignorance, ignorance of course being the anvil of oppression.
Sunday, August 2, 2015 (3 comments)

Lay Cecil the Lion to Rest on the White House Lawn Poor environmental policy is a massive economic burden on the American taxpayer. In terms of contamination cleanup, health-care costs, impact on local economies, you name it, America pays dearly for poor environmental policy. So why does it continue? The wealthy campaign donors and their lobbyists run the game in the nation's capitol, and we live with the consequences.
Saturday, July 25, 2015

Loretta Lynch Plays It Safe in Charleston The Obama presidential era has been marked by a number of very significant, high-profile police killings. Most, but not all, killings of African Americans. In many of the cases, there has been no lack of evidence of wrongdoing on the part of the police officers involved. What has been lacking is a will to prosecute by the Department of Justice.
Sunday, June 21, 2015 (4 comments)

TPP: Back to the Ramparts The real purpose of TAA is to provide political cover to Democrats who sell out their voters and workers in their home districts. It gives them something they can hold aloft as proof that they got a concession for American workers. In fact, it's a fig leaf to make selling out somewhat safer. It's also something the commercial press can use in selling the package to the American public.
Monday, June 1, 2015 (3 comments)

TPP: The Case for Treason The TPP seeks to directly subjugate and invalidate American law, granting to multinational investors and to the agreement itself and its dispute resolution process ultimate authority, literally, over American home rule. All while American service members fight and die to protect the interests of whoever the investors are.
Thursday, May 7, 2015 (5 comments)

Loretta Lynch Has an Immediate Conflict of Interest in Baltimore Attorney General Loretta Lynch reportedly wants greater cooperation between the Department of Justice and American police departments and plans meetings with a number of agencies this summer to enhance cooperation and foster good will. If Baltimore is to be the first test of her strategy, it highlights the conflicts that can arise when an attorney general mixes political objectives with law enforcement.
Tuesday, April 28, 2015 (6 comments)

Baltimore Explained There is an epidemic of lethal police violence in America today. The states and local authorities are either unable or unwilling to stop the killing. Traditionally federal authority, the Department of Justice for the most part, has stepped in to defend civil rights. But now repression is easier and more politically convenient than reform. But reform is the only thing that can bring peace and justice.

Sunday, April 19, 2015

Dear Hillary - Part I: Was Netanyahu Lying Before or After the Election? Twice in the past eight years the Israeli military, under Netanyahu's leadership, has used sophisticated U.S.-supplied warplanes and bombs to level large swaths of densely populated Gaza. The civilian death and destruction that followed were catastrophic. There was no military rationale. The bombing campaigns were collective punishment for Hamas's continued resistance to Israeli abuses.
Monday, April 13, 2015 (1 comments)

What We Learned From Michael Slager The time has come for a major national push for body cameras -- on all police personnel. With routine public access to the recordings. This will have many beneficial effects in terms of safety for suspects, and police officers. It will also provide an opportunity for the public to understand how police encounters take place.
Wednesday, April 8, 2015 (1 comments)

Bullwhips Crackin' in Northern California The tradition of violent racists infiltrating American police agencies has a rich history. While 20th century southern law enforcement agencies attracted the most attention for harboring racist elements, racist and homophobic individuals are deeply embedded in law enforcement throughout the U.S. to this day.