Articles Listed By Date List By Popularity
Page 1 of 17 First Back Next 2 3 4 5 6 7 8 9 10 View All
Tuesday, April 16, 2019
Sanders Releases 10 Years of Tax Returns Nine Months Before Caucuses, Primaries Begin
Bernie Sanders released 10 years of tax returns including his 2018 return. The release, nine months before the first votes are cast, recognizes the changing expectations that all candidates, not just nominees, should release their taxes. The tax returns are straightforward and uncomplicated with few additional forms or deductions, and are in addition to the financial disclosures that Sanders has released every year since 1991.
Friday, August 10, 2018
Freedom Flotilla Demands Immediate Release Of Humanitarian Cargo
The Freedom Flotilla Coalition demands the immediate release of the 116 boxes of medical supplies for the health services of Gaza that were carried on the Al Awda and Freedom boats of the 2018 Freedom Flotilla to Gaza, recently seized by Israeli forces. As Swedish Foreign Affairs Minister Margot Wallström has stated, the ship's cargo must be released, according to international law.
(3 comments)
Sunday, July 29, 2018
FreedomFlotilla boat carrying medical supplies for #Gaza hijacked by Israeli forces
Al Awda is sailing under a Norwegian flag, carrying 22 people and a cargo of medical supplies, including #Gauze4Gaza. There are people from 16 nations on board, including human rights supporters, journalists and crew, along with 13,000 worth of medical supplies. The boat itself, a former fishing vessel from Norway, is a gift to Palestinian fishers in Gaza.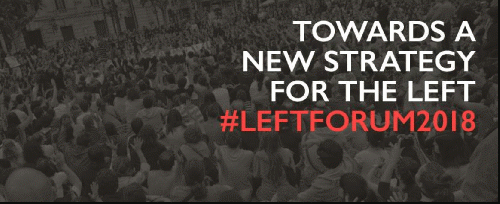 Wednesday, May 30, 2018
Left Forum 2018 Is Almost Here
Jane Sanders, Juan Gonzalez, Silvia Federici, Cathy Dang, Ajamu Baraka and more to discuss strategies to galvanize the left in the Trump era
(1 comments)
Saturday, December 16, 2017
Warren, Brown, Colleagues Call on EEOC to Address Rampant Sexual Harassment of Tipped Workers
Senators Elizabeth Warren (D-Mass.), Sherrod Brown (D-Ohio), and 17 of their colleagues sent a letter to Acting Chair of the U.S. Equal Employment Opportunity Commission (EEOC) Victoria Lipnic requesting information on the commission's efforts to address sexual harassment in the food and hospitality industries, which have high numbers of tipped workers.
(1 comments)
Wednesday, November 29, 2017
Sanders, Colleagues Unveil Legislation to Rebuild Puerto Rico and Virgin Islands
More than two months after Hurricane Maria, much of Puerto Rico and the Virgin Islands remain devastated. More than half of Puerto Rico is still without power. In both territories, clean drinking water is difficult if not impossible to find in many areas and thousands of people are still living in temporary shelters.
Monday, August 7, 2017
Progressive Democratic Party Veterans Win New Caucus Election
"This is a true victory not just for progressive veterans in California but for all progressive Democrats. The Party listened to us and responded appropriately. Now, our mission is to elect a new slate of officers for the Executive Board and carry our progressive platform forward throughout the Veterans community in California," said Robert Leahy, president of the Los Angeles County Veterans Democratic Club.
(2 comments)
Tuesday, March 7, 2017
Vault 7: CIA Hacking Tools Revealed
Today, Tuesday 7 March 2017, WikiLeaks begins its new series of leaks on the U.S. Central Intelligence Agency. Code-named "Vault 7" by WikiLeaks, it is the largest ever publication of confidential documents on the agency.
(4 comments)
Thursday, February 9, 2017
From the Jill Stein Campaign: Finally! The epic court battle we've been waiting for
Our landmark PA lawsuit is an opportunity not only to fix one state's seriously marred system, but to score a major victory that will raise the bar for voting justice in every state. Finally, we can tell all in the epic court battle we've been waiting for. Moving forward with the PA lawsuit honors our commitment to use recount dollars for litigation at the heart of the recount battle, which could lead to lasting reforms.
Series:
recount
(4 Articles, 5824 views),
Jill Stein
(10 Articles, 21002 views),
Election Integrity
(61 Articles, 129957 views) (
View All Series
)
Monday, December 26, 2016
"No War - Save Article 9" Sign Waving For President Obama And Japanese Prime Minister Abe's Meeting
For the meeting of President Obama and Japan's Prime Minister Abe at the Arizona Memorial on December 27, members of Veterans for Peace, Hawaii Peace and Justice, Revolution Books, World Can't Wait and other concerned organizations will gather to remind both heads of government of the need to preserve Article 9, the NO WAR article of the Japanese Constitution to prevent Japan from joining the U.S. wars of choice.
(4 comments)
Saturday, December 3, 2016
Tribes Ask International Human Rights Commission to Stop Violence Against Water Protectors at Standing Rock
The Standing Rock Sioux Tribe, the Cheyenne River Sioux Tribe and the Yankton Sioux Tribe (the "Tribes") announced today that they have requested the Inter-American Commission on Human Rights call on the United States to adopt precautionary measures to prevent irreparable harm to the Tribes, their members, and others resulting from the ongoing and imminent construction of the Dakota Access Pipeline.
Tuesday, September 13, 2016
Barcelona Hosts Women's Boat to Gaza (WBG) for their inaugural journey
The boats will depart on Sept 14 to Ajaccio, France and travel through another port before reaching the shores of Gaza in early Oct. For the Barcelona-Ajaccio leg, the passenger lists include Malin Bjork, Member of European Parliament from Sweden; Zohar Chamberlain Regev, Israeli who currently lives in Spain and Ann Wright, retired US Army Colonel and former US diplomat who resigned in 2003 in opposition to the Iraq invasion.
Monday, May 30, 2016
Women's Boat to Gaza Press Conference
The Women's Boat to Gaza, a campaign of the Freedom Flotilla Coalition, will hold a press conference on May 31 at the European Parliament in Brussels, Belgium with the attendance of MEP Soraya Post (S&D, Sweden) to provide updates on our work to set sail towards Gaza in mid September with all women delegates and crew.
(1 comments)
Friday, May 6, 2016
Sanders to DNC: Don't Stack the Deck at Philly Convention
U.S. Sen. Bernie Sanders on Friday urged Democratic Party Chairwoman Debbie Wasserman Schultz not to stack the committees that will draft the rules and lay out the party platform at this summer's Democratic National Convention. In a letter to the party chairwoman, Sanders said the makeup of the standing committees should reflect the relative level of support that he and Hillary Clinton received in primaries and caucuses.
(2 comments)
Wednesday, April 27, 2016
Sanders: I'm In It to Win It
"If you want the candidate who will be the strongest nominee, you're looking at that candidate right now," Sanders told 2,267 cheering supporters at the rally in a student center. "The reason I am the strongest candidate is that our campaign is appealing not just to Democrats but to independents all over this country and even some Republicans."
(2 comments)
Monday, April 4, 2016
25 Activists Arrested in Two days of Nonviolent Blockades at Gates to Creech AFB
Anti-drone protesters executed waves of multiple non-violent peaceful actions at Creech Air Force Base throughout the morning Friday, April 1, with the intent of interrupting the drone killing activities that take place there. Creech AFB, in southern Nevada, is the primary Command Center for the CIA's and President Obama's Drone Assassination program.