Articles Listed By Date List By Popularity
Page 1 of 2 First Back Next 2 View All
Tuesday, July 11, 2017 (8 comments)

Donald Trump Jr.'s Emails Sound Like the Steele Dossier Trump Jr., the Times disclosed, had set up a meeting with a Russian attorney in the hopes of receiving derogatory information on Hillary Clinton straight from Putin's regime. As the Times was publishing this story, Trump Jr. tweeted out those same emails.
Saturday, July 1, 2017

Hey GOP, Trump's Misogyny and Obsession With Revenge Are Nothing New Trump has a long history of touting his love of revenge, and for years in speeches and public talks he has declared that a key to success is vengeance: "Get even with people. If they screw you, screw them back 10 times as hard. I really believe it."
Saturday, June 10, 2017 (1 comments)

James Comey's Big Message: Donald Trump Can't Be Trusted In his prepared testimony, Comey recounted in just-the-facts manner a series of private communications with Trump, during which the president asked Comey to pledge him loyalty, to go easy on Flynn, to "lift the cloud" created by the Russia investigation, and to publicly state that Trump was not personally under investigation.

Friday, March 24, 2017 (1 comments)

Nunes (Kind of) Confesses He Went Off Half-Cocked Asked repeatedly about the information that was the basis for his charge that Trump and his associates were inappropriately "unmasked" in classified intelligence reports based on legally authorized top-secret surveillance of foreign targets, Nunes said he did not have that material in hand. He says he ran to the mics and the White House before thoroughly reviewing all the documents.
Saturday, March 18, 2017

Trump: Don't Blame Me When I Quote Fox News At a short press conference with German leader Angela Merkel, Trump indicated that he believed there was nothing to apologize for. Asked by a German reporter about the wiretapping allegation, he made a reference to "fake news" without addressing the matter. When a second German reporter pressed Trump on the issue, Trump first made a joke that he had something in common with Merkel. (The NSA had listened in on her cellphone.)
Friday, February 10, 2017 (11 comments)

Bombshell Report Suggests Trump's National Security Adviser Is Dishonest and a Threat to US Policy On Thursday night, after a long and wild day of Trump news (Trump attacking Sen. John McCain, Kellyanne Conway seemingly breaking the law, an appeals court ruling against Trump's Muslim travel ban, and much more), the Washington Post dropped a bomb: a thoroughly reported article with the headline "National Security Adviser Flynn Discussed Sanctions With Russian Ambassador, Despite Denials, Officials Say."

Saturday, January 21, 2017 (1 comments)

GOP Senator Calls for Investigating What FBI Did About Russia-Trump Intelligence The night before Donald Trump was sworn in as president, the New York Times dropped a bombshell: intelligence and law enforcement agencies have been examining intercepted communications and financial transactions in an investigation of possible contacts between Trump associates and Russian officials.
Friday, January 20, 2017 (1 comments)

Investigators on the Trump-Russia Beat Should Talk to This Man With subpoena-wielding investigators on this beat, here's a suggestion: The gumshoes ought to talk to an American from Belarus named Sergei Millian, who has boasted of close ties to Trump and who has worked with an outfit the FBI suspected of being a Russian intelligence front.
Friday, January 13, 2017 (11 comments)

The Spy Who Wrote the Trump-Russia Memos: It Was "Hair-Raising" Stuff The memos noted that this spy's sources had provided him with information indicating that Russian intelligence had mounted a years-long operation to co-opt or cultivate Trump and had gathered secret compromising material on Trump. They also alleged that Trump and his inner circle had accepted a regular flow of intelligence from the Kremlin.

Saturday, December 10, 2016 (3 comments)

Obama Orders a Review of Russian Meddling in the US Election -- But How Much of It Will Be Public? President Barack Obama has added momentum to the call for an investigation of Russian meddling in the 2016 election. Obama's decision comes as members of Congress have upped the volume on demands that the Russian hacking of Democratic targets be probed.

Wednesday, November 9, 2016

Hate Trumps History: A Reality TV Star Wins the White House in a Broken America Pocketing a huge majority of non-college-educated white voters, Trump prevented Hillary Clinton from becoming the country's first woman president. Hate did trump. The Republicans' animus-driven effort yielded a decisive victory for the reality television celebrity and left the nation bitterly and fundamentally divided.

Thursday, November 3, 2016

Trump Once Called for Sending US Ground Troops to Fight ISIS and "Take That Oil" Throughout the campaign, Trump has insisted that the United States should "take the oil" from Iraq and areas controlled by ISIS--an idea widely derided by military, international law, and energy experts--without ever explaining how this could happen.
Tuesday, October 25, 2016

Here's Another Time a Trump Company Was Sued for Discriminating Against Black People Just as the Trumps' standoff with the Justice Department was winding down, their real estate business was hit by a group of similar lawsuits for again allegedly discriminating against black New Yorkers looking for apartments.
Friday, October 7, 2016 (2 comments)

Donald Trump's Anti-ISIS Plan Is the Same as...Obama's and Clinton's The bottom line is that there's not much disagreement about the basics of a counter-ISIS strategy. Trump harshly criticizes Obama and Clinton--absurdly claiming they were the "founders" of ISIS--but offers nothing new in terms of policy. Defeating ISIS is a complex challenge with no easy answers or quick fixes.
Monday, September 26, 2016 (2 comments)

The Many Times Donald Trump Has Lied About His Mob Connections If elected president, Trump would be in charge of federal law enforcement. So his attitude toward the mob could well be deemed a highly significant campaign issue -- as could his long record of not telling the truth about his ties to organized crime.
Tuesday, September 13, 2016

The Time Donald Trump Dismissed Half of America as Losers Despite Trump's purported outrage over the Clinton remark, the mogul has engaged in his own demonization of Americans that has echoed the "47 percent" comment that landed Mitt Romney in trouble during the 2012 campaign. More than once, the reality television celebrity has dismissed tens of millions of Americans -- up to half of all Americans -- as shiftless people with no desire to work.
Thursday, August 25, 2016 (4 comments)

The Question No One's Asking About the Clinton Foundation The AP article focused on a small issue and skipped a bigger subject: assessing what the Clinton Foundation has accomplished. And there may be a good reason why much of the coverage of the foundation has zeroed in on side matters, because it's darn hard to evaluate what the mega-nonprofit has done.

Friday, July 29, 2016 (6 comments)

You Go to War With the Hillary Clinton You Have There won't be a new Hillary in the weeks ahead. She is unlikely to become an inspirational candidate. She won't become a progressive hero. She won't become trusted by Republicans who have long eyed the Clintons with suspicion. She is, though, the only chance to stop Trump's takeover of America--and her job is to persuade voters that for now she is indeed the last best hope.
Saturday, July 23, 2016 (3 comments)

Donald Trump and the Dark Soul of the GOP The Robger Stone-Alex Jones vision is a dark one: Corrupt and tyrannical evildoers are in charge, and they must be removed -- by death, if necessary. The existence of the United States is threatened by enemies at home, and extreme measures are called for. And Trump has encouraged and exploited this fear and hatred.
Tuesday, July 5, 2016

The Hillary Clinton Email Case Will Never Be Over Unless the DOJ prosecutors disregard the FBI recommendation, Clinton is in the clear, legally speaking. All the talk of her facing an indictment--which was always uninformed speculation--goes poof. (This case is a reminder that not all bad government conduct is illegal.)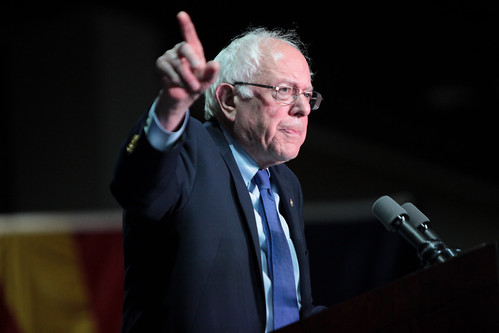 Friday, July 1, 2016 (3 comments)

Can Bernie Sanders Take Yes for an Answer? Sanders, the independent socialist senator from Vermont who has spent most of his political career running against Democrats, has achieved a tremendous ideological triumph. He has pushed -- or pulled -- Hillary Clinton, that other candidate, and the entire Democratic Party in a progressive direction, while proving that his anti-corporate, big-money-bashing populism of the left can inspire millions.
Friday, June 24, 2016 (1 comments)

Donald Trump's Really Big Brexit Flip-Flop in a Facebook post, Trump praised the UK voters for having "declared their independence from the European Union" and for voting "to reassert control over their own politics, borders and economy." He compared a vote for Brexit to a vote for Trump, asserting that American voters "will have the chance to reject today's rule by the global elite, and to embrace real change that delivers a government of, by and for the people."
Wednesday, June 8, 2016 (7 comments)

Bernie Sanders' Choice: What to Do When Winter Is Coming? Donald Trump. He's a narcissistic bigot who in power could be a profound danger. He seems to lack a basic understanding of the nuclear arsenal of which he would be in charge. He claims climate change is a hoax. He has vowed to play chicken with the debt ceiling. It is not hard to envision him triggering (or ignoring) crises that would threaten the survival of the United States or other parts of the globe.
Monday, May 16, 2016 (1 comments)

GOPers Probing Iran Deal Turn to Cheney Aide Who Was Involved With Bogus Iraq Intel After the New York Times' much-discussed profile of White House national security aide Ben Rhodes hit computer screens all across Washington recently, Republicans howled about the revelation that Rhodes boasted of having created an "echo chamber" of experts and journalists to support the Iran nuclear deal.
Thursday, May 12, 2016 (8 comments)

On Facebook, Trump's Longtime Butler Calls for Obama to Be Killed Senecal regularly posts screeds on his Facebook page from a far-right perspective in which he decries Obama and his wife--along with Hillary Clinton, other Democrats, and Republican leaders. He often refers to Obama as "zero," and several times he has called for the president's execution. He confirms that he has written all the posts on the page that have appeared under his name. "It's all me," he says.
Saturday, April 30, 2016

GOP Insider Trent Lott Tried to Broker a Kasich-Rubio Ticket to Thwart Donald Trump This was Lott's plan: Kasich and Rubio would agree to run as a ticket, with Rubio in the veep slot, and the pair would keep this quiet and not announce the deal until days before the Republican convention. This dramatic, headline-grabbing move, in Lott's thinking, would dominate the news, as GOPers gathered in Cleveland, and potentially rewrite the narrative of the Republican race.
Saturday, April 23, 2016 (7 comments)

The Myth of Sanders' November Advantage Sanders has yet to face a true negative ad campaign aimed at destroying his public image. Were he to be the Democratic nominee, he would be confronted with hundreds of millions of dollars in negative ads designed to rip him apart. And everyone knows what that pummeling would focus on: He's a self-proclaimed socialist.
Wednesday, April 13, 2016

The Time Ted Cruz Defended a Ban on Dildos In one chapter of his campaign book, A Time for Truth, Ted Cruz proudly chronicles his days as a Texas solicitor general, a post he held from 2003 to 2008. He notes cases he defended during his stint as the state's chief lawyer, in front of the Supreme Court and federal and state appellate courts. Yet one case he does not mention is the time he helped defend a law criminalizing the sale of dildos.
Friday, April 1, 2016

What Donald Trump and Ted Cruz Have in Common As Trump and Cruz slug it out for the Republican prize, each aims to distinguish himself from the other. Trump says he's a truth-teller and--BAM!--Cruz is "Lyin' Ted." Cruz claims he's a principled and courageous conservative and--KA-POW!--Trump is a "sniveling coward" and rank opportunist.
Sunday, February 14, 2016 (3 comments)

Hillary Clinton and Henry Kissinger: It's Personal. Very Personal. At Thursday night's Democratic presidential debate, one of the most heated exchanges concerned an unlikely topic: Henry Kissinger. During a stretch focused on foreign policy, Bernie Sanders, the senator from Vermont, jabbed at former Secretary of State Hillary Clinton for having cited Kissinger, who was Richard Nixon's secretary of state, as a fan of her stint at Foggy Bottom.
Friday, February 5, 2016

Why Have New Hampshire Democrats Gone Gaga for Bernie Sanders? why is Sanders, the democratic socialist senator from neighboring Vermont, who only months ago joined the Democratic Party after decades as an independent, clobbering the front-runner? Explanations for Bernie-mania don't make complete sense and are at odds with the voting history of the Granite State.
Friday, January 29, 2016

Here's What Ted Cruz Won't Tell You About His Days as a Corporate Lawyer In the memoir Ted Cruz released last year, A Time for Truth, the GOP presidential contender chronicles his rise from the son of a Cuban immigrant to a tea-party-beloved, Obama-obstructing senator. But a chapter in his life gets short shrift: Cruz's years as a highly paid private lawyer who often defended powerful corporations.
Friday, January 22, 2016

How the Kochtopus Went After a Reporter The covert smear campaign against Mayer did not succeed. But this is a cautionary tale for any reporter who digs too deep into the world of dark money. The super wealthy donors who want to influence politics with cash also have the money to target those who would cast light upon the actions they wish to keep secret.
Monday, January 11, 2016

How the Conservative Media Went Nuts When David Brooks and I Discussed Cruz's "Satanic" Tone I was besieged on Twitter by conservatives who hurled angry how-dare-you tweets at me. Some accused me of committing a hate crime (the victims: Christians). But this was yet another exercise of false right-wing outrage, and a demonstration of rather poor reading comprehension on the right.
Friday, January 8, 2016

Is Marco Rubio a Sleeper Agent for Netanyahu? Rubio's message seems to be that a strong and effective US leader would not spy on Israel, and that Rubio would not green-light espionage operations that keep an eye on that nation. No doubt, that would delight Israel and its spies, who have long targeted Washington with aggressive espionage operations.
Wednesday, January 6, 2016 (1 comments)

Why This Is the Most Unpredictable GOP Race in 50 Years For decades -- that is, for the entire modern political era -- anyone with a dash or two of sense could usually make a reasonable guess about who would win the Republican presidential nomination. It wasn't tough to pick the winner. The conventional choice -- the expected choice -- tended to triumph.
Friday, December 25, 2015 (11 comments)

Why Donald Trump Loves Vladimir Putin Though MSNBC's "Morning Joe" host Joe Scarborough pressed Trump, noting that several journalists critical of the Putin regime have been slain, the tycoon turned politician stuck with his admiration for Putin and replied, "He's running his country, and at least he's a leader, you know, unlike what we have in this country."
Friday, December 18, 2015

Pete Seeger's FBI File Reveals How the Folk Legend First Became a Target of the Feds According to documents in Seeger's extensive FBI file -- which runs to nearly 1,800 pages, the bureau's initial interest in Seeger was triggered in 1943 after Seeger, as an Army private, wrote a letter protesting a proposal to deport all Japanese American citizens and residents when World War II ended.
Tuesday, December 15, 2015 (2 comments)

Why Not to Worry About Donald Trump...Yet To all of you fretting that a fellow who calls for the imposition of official bigotry is a leading presidential contender, let's take a deep breath and look at some numbers. They show that Trump at this point is drawing support from a limited slice of the US public.
Friday, November 20, 2015

The Spooky and Scandalous Past of Ben Carson's Top National Security Adviser Duane Clarridge, a top adviser to Carson on terrorism and national security, told the Times, "Nobody has been able to sit down with him and have him get one iota of intelligent information about the Middle East." Ouch. Often portrayed as a veteran spymaster in the media, Clarridge has indeed had a long career in intelligence, but it has been a checkered one.
Saturday, November 7, 2015 (1 comments)

Ben Carson Says Honesty Is More Important Than Political Experience Ben Carson's improbable presidential campaign took a big hit on Friday when Politico reported that a key story Carson has long told -- that he was offered a "full scholarship" to the prestigious US Military Academy at West Point after meeting a prominent Army general -- was false. It turns out that Carson never sought admission to West Point.
Tuesday, October 27, 2015 (2 comments)

Does Ben Carson Believe Most Evangelical Voters Are Going to Hell? Religion and politics can make a volatile mix. In the case of Carson, this overlap is an essential part of his success. Yet it is odd that Carson has done so well with evangelicals when he is a high-profile and devoted member of a church that teaches that almost all evangelical Christians will soon join with Satan to oppose Jesus Christ.
Friday, October 23, 2015 (1 comments)

How Cat Stevens Made Bill Murray's New Film Happen Competing with big-budget films, Rock the Kasbah may have a tough time finding its audience. But the Cat Stevens-imbued film is an unconventional attempt to depict this Muslim society in non-Hollywood fashion--while prompting plenty of laughs. (Murray nails the part of the dodgy former LA player who's living in a derelict motel and incessantly dropping the names of the big-time rockers he supposedly used to run with.)
Friday, October 9, 2015

House Tea Partiers to the World: Burn, Baby, Burn Hours after McCarthy's announcement, there was no word of what comes next. Who might jump in? Would a caretaker candidate emerge? How long could Speaker John Boehner stay in the job? And, it seemed, the House tea partiers who had somewhat caused this crisis -- they had succeeded in driving Boehner from the job and had deemed McCarthy insufficiently conservative -- were yearning for more chaos.
Friday, October 2, 2015

Ben Carson and the Satanic Sabbath Persecution Conspiracy Carson, who has said present-day America "is very much like Nazi Germany," has forthrightly stated that he believes Satan has pushed the theory of evolution and embraced the notion that commies have secretly infested the schools, media, and government of the United States. If his dark vision of the world extends further, he probably ought to share it with the voters.
Wednesday, September 30, 2015 (2 comments)

Ben Carson's Love Affair With a "Nutjob" Conspiracy Theorist Ben Carson has provided one important clue as to his fundamental political worldview, by repeatedly endorsing a far-right conspiracy theorist named W. Cleon Skousen, who was characterized in 2007 by the conservative National Review as an "all-around nutjob."
Thursday, September 24, 2015 (1 comments)

Ben Carson: The World Was Created in 6 Days. Literally. Ben Carson, one of the top-tier contenders in the GOP presidential primary, has long been known as an ardent creationist. He has debated prominent scientists who defend evolution, and it's no secret that his advocacy of creationism springs from his deep faith in the Seventh-day Adventist Church, a Christian religion established in the mid-1800s.
Friday, September 18, 2015 (2 comments)

Trump's No. 1 Booster Goes Real Dirty to Attack the Clintons The book is something of a throwback to the 1990s' "vast right-wing conspiracy"--a term Hillary Clinton used during the Clinton impeachment scandal to dismiss her husband's foes and the assorted allegations hurled at the couple. Its cover features a blurb from conservative provocateur Ann Coulter, who in the Clinton years was part of a team of right-wing attorneys who privately schemed to destroy the Clinton administration.
Friday, September 4, 2015

The GOP's Problem Is Not Donald Trump Trump is tapping into a current that runs throughout the various strains of the GOP. It's a current of frustration, despair, anger, and yearning--a yearning for a time when the United States will not be confronted by difficult economic and national security challenges, and when you will not have to press 1 for English and 2 for Spanish.
Wednesday, September 2, 2015

Watch Donald Trump Completely Contradict Himself on US Troops in Iraq As he has soared to the top of the polls, Trump has deftly devised a way of discussing the Iraq War that includes Obama-bashing. The problem (well, it would be a problem for a conventional politician): Trump is contradicted by his own words.
Friday, August 28, 2015 (4 comments)

4 Reasons Why a Biden Run Would Help Sanders Some Clinton advocates may have mixed feelings about a Biden candidacy, but the Sanders crowd ought to be eager for Biden to join in. The more insiders in a contest, the better for the outsider. Just ask Donald Trump.
Saturday, August 22, 2015 (3 comments)

Trump's "Go-To" National Security Adviser Says He's Never Talked Policy With Trump There's just one problem with Trump citing Col. Jack Jacobs as a national security adviser: Jacobs says he has never talked to Trump about military policy.
Friday, August 14, 2015

Rand Paul Attacks Trump for Praising Dems, but He Once Said Carter Was Better Than Reagan Rand Paul once took a position similar to one of the Trump quotes in this new ad. His get-Trump spot excoriates the celebrity billionaire for having previously declared, "The economy does better under the Democrats than the Republicans." Yet Paul used to repeatedly insist that President Jimmy Carter was better on the federal budget than President Ronald Reagan.
Friday, July 24, 2015 (1 comments)

Donald Trump Is Channeling Richard Nixon Of course, there are profound differences between the two men. Nixon was an insecure introvert, and Trump is...well, not that. In a 1990 book, Trump observed, "I've seen some real killers in my line of work, but Richard Nixon makes them look like babies. The man is a rock, like him or not."
Friday, July 17, 2015 (1 comments)

Here's Why the Huffington Post Is Wrong About Donald Trump Trump has indeed turned an important event -- a major political party selecting its presidential nominee -- into a stretch Hummer-sized clown car. A Trump-dominated GOP contest does have the feel of a super-charged reality show, with political consumers (that is, the audience) on the edge of their seats, eagerly awaiting the next Trump tweet -- Trweet -- blasting another foe or critic.
Friday, July 10, 2015 (5 comments)

Jeb Bush, Americans Already Work Longer Hours. See These Charts. Americans who do work are hardly lazing about. According to a 2014 Gallup poll, Americans employed full-time worked an average of 47 hours a week. Almost half worked over 50 hours a week. In fact, American workers spend more hours on the job than those in other large, industrialized nations, according to the Organization for Economic Cooperation and Development.
Friday, July 3, 2015

Hillary Clinton's Emails Show She's Basically Julia Louis-Dreyfus in "Veep" this trove of emails -- the first of several to come -- depicts Clinton as an earnest public servant toiling away on important affairs of state (global food security, Afghanistan policy, climate change, and international women's rights) while often operating in a Veep-like world, as in the HBO comedy in which Julia Louis-Dreyfuss plays a vice president-turned-president.
Saturday, June 27, 2015 (7 comments)

This Is Bernie Sanders' Plan to Beat Hillary Clinton Tad Devine, the veteran political operative who leads this firm and a longtime adviser to Sanders, notes, mudslinging is not part of the campaign strategy that Sanders and his advisers have crafted. There won't even be one speck of dust directly tossed at Clinton. But, Devine tells me, implicit negative messages aimed at Clinton will certainly be "embedded" in Sanders' advertising and social media messaging.
Friday, June 12, 2015 (2 comments)

Ted Cruz Complains That Running for President Sucks While Cruz is putting up with a "pizza diet" to advance the conservative cause, right-wingers ought to at least kick in the money for his junk food and hotel rooms. If Cruz is now griping about the lack of sleep, imagine how much he'll complain if he does become president.
Wednesday, May 20, 2015 (6 comments)

George W. Bush's CIA Briefer: Bush and Cheney Falsely Presented WMD Intelligence to Public For a dozen years, the Bush-Cheney crowd have been trying to escape -- or cover up -- an essential fact of the W. years: President George Bush, Vice President Dick Cheney, and their lieutenants misled the American public about the WMD threat supposedly posed by Saddam Hussein in order to grease the way to the invasion of Iraq.