Articles Listed By Date List By Popularity
Page 1 of 3 First Back Next 2 3 View All
Wednesday, December 5, 2018

Seeing Yemen from Jeju Island Jeju, a visa-free port, has been an entry point for close to 500 Yemenis who have traveled nearly 5,000 miles in search of safety. Traumatized by consistent bombing, threats of imprisonment and torture, and the horrors of starvation, recent migrants to South Korea, including children, yearn for refuge.
Saturday, December 1, 2018 (1 comments)

The Long, Brutal U.S. War on Children in the Middle East How might we understand what it would mean in the United States for 14 million people in our country to starve? You would have to combine the populations of New York, Chicago, and Los Angeles, and imagine these cities empty of all but the painfully and slowly dying, to get a glimpse into the suffering in Yemen, where one of every two persons faces starvation.
Friday, August 10, 2018 (1 comments)

The U.S. Is Complicit in Child Slaughter in Yemen U.S. companies such as Raytheon, General Dynamics, Boeing, and Lockheed Martin have sold billions of dollars' worth of weapons to Saudi Arabia, the United Arab Emirates and other countries in the Saudi-Emirati-led coalition which is attacking Yemen. The U.S. military refuels Saudi and Emirati warplanes through midair exercises. And, the United States helps the Saudi coalition warmakers choose their targets.
Wednesday, July 25, 2018 (1 comments)

"God Only Knows": The Tortured, Killed, or Forcibly Disappeared People of Yemen The newly launched school describes an effort that truthfully involves restoring hope. The cynical designation of Saudi and UAE led war in Yemen as "Operation Restoring Hope" creates an ugly smokescreen that distracts from the crucial need to investigate war crimes committed in Yemen today.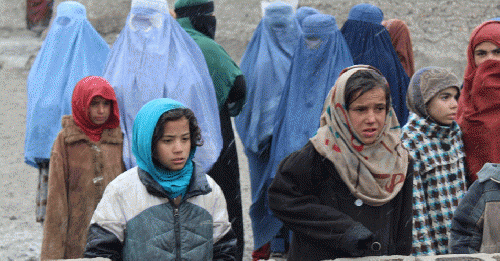 Tuesday, June 26, 2018 (1 comments)

On Purpose, In Kabul On average, during Trump's first year in office, the Pentagon dropped 121 bombs per day on Afghanistan. The total number of weapons -- missiles, bombs -- deployed in Afghanistan by manned and remotely piloted aircraft through May this year is estimated at 2,339.
Saturday, June 23, 2018 (5 comments)

Hungering for Nuclear Disarmament This week, five people have gathered for a fast and vigil, near the Naval Base, calling it "Hunger for Nuclear Disarmament." Our small community here longs to preserve all life, to end potential omnicide. Choosing to "go the extra mile," our friends who face trial bring to life the spirit of early abolitionists and the ancient call to choose life that you and your descendants might live.
Sunday, June 17, 2018 (2 comments)

A Mile in Their Shoes The U.S. continues to seek security through dominance and military might. It's a futile effort. The Helmand to Kabul peace walkers display a better means of securing peace: the path of fellowship with our neighbors on this planet, of living simply so that others might simply live, and of willingness to share, even partially, in the human hardship and precarity others face.
Tuesday, May 22, 2018

Scourging Yemen Earnest, honest and practical steps to stop the war are urgently needed. The Houthis must be given an option to lay down arms without landing in any of the clandestine prisons operated by the UAE in Yemen, reported to be little more than torture camps. Even more urgent, the violence and economic strangulation by foreign invaders must cease.
Friday, March 2, 2018 (2 comments)

Teen Solidarity Against the Merchants of Death I consider the idea that international teen solidarity could challenge both the U.S. military and the National Rifle Association to end assaults on human life. Reflect on these courageous, clear-eyed Afghan and U.S. youth working in both countries to sow seeds that bear needed fruit, hoping they can change the adults as well.
Wednesday, January 31, 2018 (1 comments)

A Treacherous Crossing Potential starvation of their children terrifies people who can't acquire food for their families. Those who can't obtain safe drinking water face nightmarish prospects of dehydration or disease. Persons fleeing bombers, snipers, and armed militias who might arbitrarily detain them shudder in fear as they try to devise escape routes.
Sunday, January 14, 2018

41 Hearts Beating in Guantanamo January 11, 2018, marked the 16th year that Guantanamo prison has exclusively imprisoned Muslim men, subjecting many of them to torture and arbitrary detention. In 2007, there were 430 prisoners in Guantanamo. Today, 41 men are imprisoned there, including 31 who have endured more than a decade of imprisonment without charge.
Sunday, December 31, 2017 (1 comments)

Remaining Peaceful Was Their Choice: Young Yemenis Sounded Alarms Before the Civil War Ta'iz was home to a vibrant, creative youth movement during the 2011 Arab Spring uprising. Young men and women organized massive demonstrations to protest the enrichment of entrenched elites as ordinary people struggled to survive. The young people were exposing the roots of one of the worst humanitarian crises in the world today.
Saturday, December 23, 2017 (1 comments)

Let Yemenis Live Observers say if the U.S. stopped its midair refueling of Saudi bomber planes, the war would end shortly thereafter. Yet, the U.S continues these military operations. The UK still supplies the Saudis with surveillance, and both countries work to maintain a comfortable relationship with the Saudi Ministry of Defense and Crown Prince Mohammed bin Salman.
Friday, November 24, 2017 (4 comments)

On the Quality of Mercy The comfortable nations often authorize the worst atrocities overseas through fear for their own safety, imagining themselves the victims to be protected from crime at all costs. Such attitudes entitle people in Iraq, Afghanistan and Yemen to look in our direction when they ask, "Who are the criminals?"
Wednesday, November 1, 2017

From the Ground Up... The Taliban and other armed groups have vowed to continue fighting as long as the U.S. continues to occupy Afghan land, to wage attacks on Afghans and supply weapons to the various fighting factions. The United States maintains nine major bases in Afghanistan and many smaller forward operating bases.
Sunday, October 15, 2017 (2 comments)

Wrongful Rhetoric and Trump's Strategy on Iran Mordechai Vanunu took extraordinary risks and endured incredible suffering to rescue the human species from the foolhardiness of building and maintaining nuclear arsenals. I wonder if people worldwide can rise to a level of courage and seriousness needed to simply recognize, and then, where possible, act in response to the world's real threats.
Monday, October 2, 2017

Violence Spreads the Famine, and the Famine Will Spread Violence Growing inequality, protected by menacing arsenals, paves a path to the graveyard: It is not a "way of life." We still could acquire a great hunger: a transforming hunger to share justice with our planetary neighbors. We could shed familiar privileges and search for communal tools to preserve us from indifferent wealth and voracious imperial power.
Monday, July 10, 2017

"Ain't No Such Thing as A Just War" -- Ben Salmon, WWI resister Laurie Hasbrook envisions building creative, peaceful connections between Chicago youngsters and their counterparts in Afghanistan, Yemen, Gaza, Iraq, and other lands. Ben Salmon guides our endeavors. We hope to again visit Salmon's gravesite on Armistice Day, November 11

Monday, July 3, 2017

What Does War Generate? War profiteers and self-marketing politicians have no interest in helping U.S. people understand that war itself is a tyrant, that the sound of nearby gunfire or a drone attack is as much of an order to flee one's home as any command from a Taliban warlord.
Friday, June 16, 2017 (1 comments)

Feed the Hungry, Treat the Sick: A Crucial Training We should, individually and collectively, do all that we can to prohibit U.S. supported Saudi-led coalition onslaughts against Yemeni civilians, encourage a silencing of all the guns, insist on lifting the blockade, and staunchly uphold humanitarian concerns.