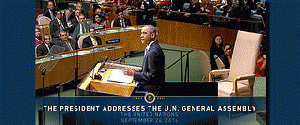 President Obama Addresses the United Nations General Assembly
(
Image
by
US Embassy New Zealand
)
Details
DMCA
President Obama stood tall at the United Nations recently as he called the world to arms against threats from terror, disease and Russian expansionism. He is doing admirable work pulling together an international coalition, including several Sunni Muslim nations, to actually take up arms against the murderous Sunni extremists of the Islamic State of Iraq and Syria (ISIS). He is taking necessary military action to stem the terrorist threat.
But as he sweeps onto the Syrian battlefield against ISIS, the President is running a naked bootleg, unprotected by a congressional authorization or a United Nations resolution. There is nobody running interference for President Obama as he commits our country to an air war in a foreign nation. He has no blocking out front, and his failure to build a supportive domestic team is a grave mistake.
The President needs public and congressional support now at the take-off of his military strategy against ISIS, so that the country and his critics will be with him at the landing, which could be a very hard landing indeed.
What happens if U.S. aircraft and pilots are lost over Syria? What happens if airpower proves inadequate to achieve Obama's pledge to "degrade and destroy" ISIS? What happens if Arab armies either will not or cannot defeat ISIS on the ground in Syria? What will we do then?
These questions need to be examined and, hopefully, answered now by Congress and the American people, while there is still time for thoughtful debate and considered judgment.
The President is wrong to rely on the 2001 congressional authorization to wage war on Al Qaeda that struck America on 9/11, or the 2002 resolution to disarm Saddam Hussein of weapons of mass destruction in Iraq. ISIS is not Al Qaeda, and they are fighting each other currently in Syria. Saddam Hussein is long gone and no weapons of mass destruction existed in Iraq when we invaded. I voted for both resolutions when I served in Congress. I know the first does not apply to ISIS today, and the second is out of date and was obtained under false pretenses. Neither congressional action adequately authorizes the fight against ISIS.
Under the Constitution, the President serves as Commander-in-Chief of American armed services, and surely has the authority under executive precedent and custom to unilaterally use our armed forces for brief periods to respond to imminent threats, retaliate against attacks, supply our allies, provide humanitarian relief, and share intelligence.
But the degradation and then destruction of ISIS pledged by President Obama will require major combat operations and will take years. That task is beyond the President's constitutional authority as Commander-in-Chief to act on his own.
(Note: You can view every article as one long page if you sign up as an Advocate Member, or higher).