Articles Listed By Date List By Popularity
Page 1 of 4 First Back Next 2 3 4 View All
Wednesday, January 17, 2018 (2 comments)

This CEO Wants a Key to Your House Would you give your house key to a complete stranger, letting that person (whose name you don't even know) walk right into your home when you're not there? One stranger who's brazenly asking you and millions of other people to do just that is the head honcho of Amazon, Jeff Bezos.
Thursday, January 11, 2018 (7 comments)

The Rise and Fall of America's Middle Class The devastation of the Great Depression created a grassroots rebellion of labor, farmers, and others against the careless moneyed class that caused the 1929 crash. These forces produced FDR and his New Deal of union rights, Social Security, and other tools that empowered ordinary Americans to begin rising up from poverty.
Wednesday, January 3, 2018 (3 comments)

Inequality is Feeding America Every decade or so, America's mass media are surprised to discover that migrant farmworkers are still being miserably paid and despicably treated by the industry that profits from their labor. Stories run, the public is outraged (again), assorted officials pledge action, then ... nothing, no change takes place.
Wednesday, December 27, 2017 (2 comments)

America's Farmworkers Face Poverty, Neglect, and Now Deportation While they backed Trump for president, many are now expressing shock that he may actually try to fulfill his campaign promise to cut off the flow of undocumented immigrants to their fields. They now admit that these immigrants make up as much as 70 percent of the industry's workforce, so they've rushed to Washington, demanding a special exemption from their president's planned lockout of Mexican laborers
Thursday, December 21, 2017 (1 comments)

The Real Spirit of Giving The establishment media pays little attention to grassroots generosity, focusing instead on the occasional showy donation by what it calls "philanthropists" -- big tycoons who give a little piece of their billions to some university or museum in exchange for getting a building named after them.
Thursday, December 14, 2017 (2 comments)

Is This the End of Free and Open Internet Access? It doesn't matter if you're a brand-name corporation or an unknown start-up, a billionaire or a poverty-wage laborer -- you're entitled to equal treatment in sending or getting information on the worldwide web. However, corporate executives never let virtue stand in the way of profit.
Thursday, November 23, 2017 (1 comments)

A Mass Murderer's Love Song to Trump Duterte had earlier demonstrated his love for Trump when he named Jose Antonio to be his trade representative to our country. Antonio, a Philippine real estate mogul, happens to be a partner with our president in the luxurious new Trump Tower, now under construction in Manila. Cozy, huh?
Wednesday, November 22, 2017 (20 comments)

Why won't Trump stand up to Putin? Trump has zero knowledge, experience, or skills in foreign policy, and he's in way over his head when dealing with someone like Putin. Why wouldn't our president at least challenge this dangerous foreign threat to our people's democracy? "Well, look," Trump meekly replied when asked this question, "I can't stand there and argue with him."
Saturday, November 18, 2017 (8 comments)

Donald Trump's Strange Bromances with Duterte and Putin Why wouldn't our president at least challenge this dangerous foreign threat to our people's democracy? "Well, look," Trump meekly replied when asked this question, "I can't stand there and argue with him." Really? Well, since you're not up to the job, please get out of the way so we can find a president who will stand there and argue with the Putins and Dutertes of the world.
Wednesday, November 15, 2017 (1 comments)

One Monstrosity Trump Won't Want His Name On He might not want his name on this one. It's Trump's towering re-do of America's tax law. And it's truly golden -- for the super-rich, that is. The plan reveals in hard numbers whom this presidency really serves: Not just the 1-percent, but the one-tenth of 1-percenters who are multimillionaires. People like Trump himself.
Friday, November 10, 2017 (1 comments)

No Corporate Welfare for Amazon Amazon.com, the $136-billion-a-year internet colossus, has initiated a sleazy, self-serving public bidding war over where it will locate its new corporate headquarters. The city and state that offer the most bribe money to this private enterprise will be "the winner."
Sunday, November 5, 2017 (2 comments)

Would you trust John Yoo? When it comes to war, can we learn to make moral choices? Remember that President George W. Bush chose to torture al Qaeda suspects (including innocent civilians) by waterboarding them. Where was the morality in that? It was, of course, immoral.
Wednesday, November 1, 2017

Who's Really in Charge of the Afghanistan War? Just as he evaded military service during the Vietnam War, "Commander Trump" is shirking these basic presidential duties today. He's letting non-elected generals decide to hurl another 4,000 of our men and women into the Afghanistan War, with no explanation of how adding these troops to a losing war effort will make any difference.
Friday, October 27, 2017 (11 comments)

Leading Democrats Are Way Behind the Public on Health Care When it comes to the fiery leadership that America's grassroots people want and need, the Democratic Party establishment is weaker than Canadian hot sauce. When you've got 60 percent of rank-and-file congressional members ready to go, and 60 percent of the public is also ready to go -- it's time to go!
Friday, October 20, 2017 (2 comments)

Robots Aren't Taking Our Jobs. Corporations Are. It's not robots that are taking our jobs, but corporate profiteers. They're creating a robot economy in order to displace you and me with inexpensive machines that don't demand higher wages or health care, don't take sick days or vacations, and don't organize unions, file lawsuits, or vote for pro-worker politicians.
Saturday, October 14, 2017 (8 comments)

The Next Wave of the Tech Revolution Will Wipe Out Millions of Jobs -- Maybe Even Yours The mass-scale deployment of robots has already ushered in a whole new world of work. It's a CEO's capitalist paradise, where the workforce doesn't call in sick or take vacations, can't file lawsuits, doesn't organize unions, and is cheap. As a result, robots are rapidly climbing the pay ladder into white-collar and professional positions that millions of college-educated, middle-class employees have wrongly considered safe.
Wednesday, October 4, 2017 (3 comments)

Trump Wants $1.6 Billion for the Border Wall. That Covers Just 74 Miles. Besides being wildly expensive, this Trumpian folly isn't needed and won't work. It stifles the border economy, tramples on property rights, destroys sensitive environments, and autocratically separates millions of families and communities. It's an insult not only to the people of Mexico, but also to our own people's democratic values.
Thursday, September 21, 2017 (4 comments)

If You Don't Have Good Health Care, Neither Should Your Rep Every year that the U.S. Congress fails to provide health coverage for every American family, the members should get their pay docked by a third. Pay them only when they deliver for the people. When Congress finally assures good health care for all of us, then its members would get the same coverage. But until they deliver for the whole public, the public owes them nothing.
Friday, September 15, 2017 (8 comments)

How to get a health care system for people, not just for corporate profit Believe it or not, we can get Congress to enact a new program providing good quality, lower-cost health care for your family and (what the hell, let's think big here) for every man, woman and (especially) every child in our society.
Thursday, September 7, 2017 (2 comments)

The gaping hole in Trump's border wall Donald Trump loves it when crowds at his raucous right-wing rallies stand and chant in red-faced fury: "Build that wall! Build that wall!" So, he keeps fanning their fire by repeatedly promising to wall off Mexico with a multibillion-dollar "big, beautiful" barrier on the border. "We must have THE WALL" he tweeted in late August, promising again that "Mexico will pay for it."
Wednesday, September 6, 2017 (1 comments)

The Next Subprime Loan Crisis Wasting America's much-needed investment capital on a scheme that intentionally puts people in cars they can't afford with loans they can't repay isn't only stupid, but immoral -- and it's killing our real economy. Why are we letting elite Wall Street loan sharks do this to us?
Thursday, August 31, 2017

Not Even Robert E. Lee Wanted Confederate Monuments Ironically, Robert E. Lee himself opposed erecting Confederate statues across the south: "I think it wiser not to keep open the sores of war," he said, but instead "to obliterate the marks of civil strife." We could use a leader with such wisdom today, when bigots feel newly empowered to incite civil strife across our nation.
Sunday, August 27, 2017 (5 comments)

Tweeter-in-Chief versus the wisdom of Robert E. Lee Our foam-at-the-mouth president still has one loyal friend by his side -- Ku Klux Klan poohbah David Duke. "Thank you," the Duke of Whiteness tweeted to Trump after his defense of the supremacists' murderous frenzy in Virginia. Perfect -- The Duke and The Donald deserve each other.
Thursday, August 24, 2017 (2 comments)

Trump's Running Out of Friends, and It's His Own Fault called for Republican Senate leader Mitch McConnell to commit political hara-kiri for failing to pass his abominable Trumpcare bill, which was meaner than mean. And he publicly shoots down his own top appointees, from Attorney General Jeff Sessions to his short-lived mouthpiece Anthony Scaramucci. Even White House chief Strategist Stephen Bannon has taken a hit and been sent packing.
Friday, August 18, 2017

What Happened to All Those Foreclosed Houses? We know that millions of American families lost their homes after Wall Street's 2007 financial crash. But where did all those houses go? The banksters crash the economy, you lose income and your home, they buy your house at auction, then they rent it to you at an ever-increasing price. The "new way" is the same old story: The rich robbing the rest of us.
Wednesday, August 2, 2017 (2 comments)

John Deere Is Against the Right to Repair Its Equipment Deere's licensing scheme is an artificial, corporate-imposed, private "law" that will squeeze independent shops out of business and allow Deere to dominate the U.S. tractor-repair market, siphoning money and skilled jobs out of rural communities and ultimately leaving farmers at the mercy of a monopolist.
Wednesday, July 26, 2017

Billionaire Donors Plot a "Renaissance of Freedom" -- for the Privileged This attitude of the Kochs' privileged cohorts explains why the public is shut out of these candid sessions. A staffer for the Koch confab hailed such no-tax, no-roads policies as a "renaissance of freedom." For the privileged, that is -- the freedom to prosper at the expense of everyone else.
Thursday, July 20, 2017 (1 comments)

Don't Trust Business with Education As Wall Street banksters, drug company gougers, airline fee fixers, and so many others have taught us over and over, most corporate executives are paid big bucks to take every shortcut to cheat and do whatever to squeeze out another dime in profits. Why would we entrust our school children to them?
Friday, July 14, 2017 (2 comments)

1984 at the Grocery Store mall organic farmers and food artisans are destined to be squeezed out of Whole Foods, displaced by deep-pocket, global food makers who are willing to cut corners on quality and the environment in order to get on Amazon's new grocery shelves. Next on the chopping block is Whole Foods' helpful and friendly work force.
Friday, July 7, 2017 (3 comments)

Free As You Can Afford to Be Right-wing ideologues have fabricated a negative notion of "freedoms" derived from their twisted concept of individual choice. You're "free" to be poor, politically powerless, or ill and uncared for, they say -- it's all a matter of decisions you freely make, and our government has no business interfering with your free will.
Friday, June 30, 2017 (14 comments)

trump enemy of truth and liberty Rather than being a commander-in-chief, Trump has washed his hands of that presidential responsibility, becoming a wimpy delegator-in-chief by handing off responsibility to the military brass. They're now shipping 4,000 more troops into a hellish war the American people do not support.
Saturday, June 24, 2017

If Trump Is So Great, Why Is His Approval Rating So Puny? The greatest, overriding failure of Trump and Congressional leaders is that they have no vision, no big ideas, no moxie and no understanding of grassroots people's democratic idealism. Saying "Make America Great" over and over again is easy. Any gasbag can say it. But doing it takes real leadership, and the people now in charge just can't measure up. Sad.
Thursday, June 15, 2017 (3 comments)

The GOP Will Free You From Having Health Care When you've got 60 percent of your party's rank-and-file congressional members ready to go on such a basic issue, and 60 percent of the public is also ready to go -- it's time to go! The national party's "leadership" must get going on health care for all, or the leadership itself must go.
Friday, June 9, 2017

Will You Enlist in Trump's War? In last year's presidential campaign, Trump declared with typical modesty that, "There's nobody bigger or better at the military than I am." Well, I'm certainly no expert on war, but if a president is going to pick a mess of foreign fights, wouldn't it be better, strategically speaking, to pick on actual enemies rather than on America's allies? After all, there might come a time when we need friends to stand with us.
Thursday, June 1, 2017

Making NAFTA Worse Trump promised to negotiate the widely loathed trade deal, which would be great -- except he's giving corporations even more power to offshore jobs.
Friday, May 26, 2017 (3 comments)

Using Lunch to Punish the Poor Nearly half of American school districts shame and stigmatize kids whose parents can't afford school lunches.
Thursday, May 18, 2017 (4 comments)

Billionaires Lay Siege to State Governments While we're mesmerized by Trump, shady groups are pushing corporate-friendly legislation in statehouses all over the country.
Saturday, May 13, 2017 (2 comments)

Donald Trump Is a Dictator in Training Far from making America feared, much less "great," Trump's foolish belligerence is making him a global laughingstock.
Friday, March 24, 2017 (1 comments)

Funny, There Are No Workers on the White House Jobs Panel Trump-the-candidate fulminated against such moneyed elites, calling them "responsible for the economic decisions that have robbed our working class." But now, in a spectacular flip-flop, he's brought these robbers directly inside his presidency, asking them to be architects of his economic strategy. Worse, he's doing this in the name of helping workers.

Tuesday, March 14, 2017 (2 comments)

Freaked out by Trump and his menagerie of mutants? Let's focus our anger -- and have a greater impact While some delightedly squeal at his wild moves, many more see Trump as not merely unpresidential, but bullgoose bonkers! And dangerous -- recklessly using the enormous power of the presidency as a personal cudgel to attack, stigmatize, and seriously harm individuals, entire religions and races, the Bill of Rights, and our nation's basic values of tolerance, fairness, and opportunity for all.
Friday, March 10, 2017 (15 comments)

What Should We Do About A Mentally Ill President? It's obvious that the guy is not well and is unable to handle the stressful demands of being president of our democratic republic. Indeed, his flaky behavior suggests he's on the brink of a personal breakdown, and his ever-more-frequent retreats to his posh Florida golf resort tells us he doesn't even want to do the job.
Thursday, March 2, 2017 (6 comments)

Scott Pruitt Will Set Back the Fight on Animal Welfare Scott Pruitt was confirmed as head of the EPA, which oversees animal testing for pesticides and chemicals and regulating greenhouse gas emissions and water pollution from factory farms. As attorney general in Oklahoma Pruitt tried (unsuccessfully) to give special rights to corporate and foreign-owned factory farms and joined a suit aimed at killing the California law for more humane egg production.
Wednesday, March 1, 2017 (8 comments)

Nobody Needs a Lecture on Morality from Paul Ryan During the recession, the typical median-income family has lost 40 percent of their wealth. Haven't they been punished enough? No, says House Speaker Paul Ryan. Along with other top Republican leaders of Congress, he intends to slash the Social Security money that middle-class and low-income workers depend on for their retirement, and he ultimately aims to kill it altogether.
Thursday, February 23, 2017 (1 comments)

Wall Street Sodbusters Farms are part of a massive Wall Street investment scheme called Farmland Partners Inc. It's run by a couple of slicks trained in mergers and acquisitions as executives at the investment powerhouse Merrill Lynch. the partners have attracted hundreds of millions of dollars from investors to buy up farms and ranches. They now own 295 farm properties covering 144,000 acres in 16 states.
Thursday, January 19, 2017 (4 comments)

We Can Beat Back the Reign of Trump Trump's entire career as a luxury property developer and brand-name marketer of himself has been built on broken promises to workers, routine scamming of suppliers and partners, blatant self-dealing, crony capitalism and lies. That con game alone tells us who our new president really is: an incorrigible swindler.

Saturday, December 24, 2016 (1 comments)

Forget "Draining" the Washington Swamp, Trump is Turning DC Into an Exclusive Jacuzzi for the Rich Trump declared in his campaign, "Nobody knows the system better than me, which is why I alone can fix it." Yeah -- and now we know the price for being in on "the fix." Far from "draining" the Washington swamp, Trump is turning it into an exclusive Jacuzzi for the rich.
Sunday, December 18, 2016

Trump Is Taking on Wall Street, Literally Donald Trump said -- by golly -- he was going to take on Wall Street and the corporate elites. The bitter irony for the working class is that they now see what he meant -- he's literally "taking on" the moneyed powers, by taking them on-board his administration. Already he's brought in Wall Street billionaires to fill the three top economic policy positions in his cabinet.
Wednesday, December 7, 2016

Augustus Trumpus Trump, who campaigned as populist champion of the working-class, promising that - by golly - he was going to take on Wall Street and the corporate elites. But the bitter irony for the working class is that they now see what he meant - he's literally "taking on" the moneyed powers by taking them on-board his administration. he's brought in Wall Street billionaires to fill the three top economic policy positions in his cabinet!
Wednesday, November 30, 2016 (2 comments)

The Kochs Are Going to Have a Huge Grip on the Oval Office Forget the Bill of Rights, Abbott is proposing a Bill of Sale, transferring the title of our national government from the People to the Plutocrats. The upshot of his "tweaks" would be outlawing government actions that restrain corporate abuse of workers and consumers, while also preventing future congresses from meeting crucial public needs such as health care, voter rights and restoration of our national infrastructure.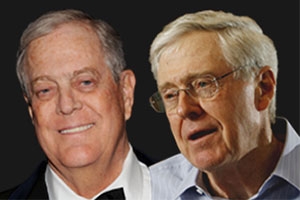 Sunday, November 27, 2016

Koch Kollege for right-wing social engineers Koch Kollege for right-wing social engineers is peddling a status quo agenda of corporate elitism and trickle-down ideology, which the vast majority of Americans are now openly rebelling against. It's like trying to sell chicken salad made out of chicken manure. There's not enough sugar in the world to make people swallow that.
Friday, November 25, 2016 (2 comments)

Bing Bing, Bong Bong, Bing Bing The worst of these gutless lawmakers are the top two GOP leaders, House Speaker Paul Ryan and Senate Majority Leader Mitch McConnell. Like clowns in a jack-in-the-box, they kept popping out to decry The Donald's latest attack on the people he hates. Then this pitiful duo meekly folded back into the box, reiterating that, well, they would still endorse him to be president of our U.S. of A!
Sunday, November 20, 2016 (1 comments)

This election wasn't about Trump Now that the people have spoken up for Donald Trump, were they saying that they embrace his xenophobic, nativist, far-right policies? Not necessarily. Most Trump voters say they went for him because they think he'll shake up America's elite establishment, not because he's a conservative. In fact, majorities of people all over the country voted for very progressive policies and candidates this year.
Friday, November 18, 2016

The Koch Connection You might think this is madness, but madness -- spurred by plutocratic greed -- is the new American political reality. Just being progressive won't stop it. We have to get aggressively progressive to confront and defeat the Kochheads in our states.
Friday, November 11, 2016

Takeaways from the election Trump was not elected on issues, but on anger -- a deep seething fury that the economic and political elite themselves have created by knocking down the working-class majority, then callously stepping over them as if they didn't exist. Also, his own voters disagree with much of his agenda (especially his grandiose wall across the Mexican border).

Thursday, October 27, 2016

The Cannon Ball Saga: An Epic Story From The American Heartland Standing Rock tribe's chair, Dave Archambault has made clear that the Native people are committed to the higher values of "our lands, people, water, and sacred sites." As they have been for millennia, the tribe's actions today must be based on the common good of their grandchildren and their grandchildren-generations into the future.
Sunday, October 23, 2016

Dakota pipeline showdown at Standing Rock If ETP's $3.8 billion line is completed, it would carry 570,000 barrels of oil a day through most of the four states' watersheds and wildlife habitats; it would transit hundreds of farms and ranches and make 200 river crossings. All the water and land in its path would be endangered, for one unpleasant fact about pipelines is that they regularly leak, sometimes rupture and can blow up.
Saturday, October 15, 2016 (4 comments)

The ethical rot of Wells Fargo, from the top down The sorry, still-evolving saga of Wells Fargo systematically stealing from its small depositors is a gag-inducing story of executive-suite greed. Start at the very top, with CEO John Stumpf, who claimed at a recent Senate hearing on the scandal to be shocked and "deeply sorry" that thousands of his employees had been opening bogus accounts in the names of non-English-speaking and elderly customers.
Wednesday, October 12, 2016 (6 comments)

Campaigns End On Election Day -- Revolutions Don't Not only will the revolution continue, but it's going to spread throughout the country, grow, and gain strength by bringing the populist issues, grassroots methods, and small-dollar funding of Sanders' presidential run to local and state politics. It will be an independent political network of 50 interconnected state networks. Each state group will recruit, train, and support candidates, and run state and local campaigns.
Saturday, October 1, 2016 (1 comments)

Scott Walker's Political Magic Despite a Wisconsin law specifically prohibiting corporations from funding political candidates, millions of those banned dollars were pumped into the Walker's campaign. Corporate checks were sent to supposedly independent political outfits that -- thanks to the Supreme Court's ridiculous Citizens United decree -- are allowed to take unlimited campaign funds from corporations without disclosing the names of the donors.
Wednesday, September 28, 2016

Laboratories of Democracy While state (and local) offices offer myriad opportunities to create progressive democratic change, those laboratories of democracy are equally available to Dr. Frankenstein right-wingers (funded by the Koch Brothers and their cartel) who seek to engineer regressive plutocratic changes. In recent years the forces of corporate rule have been building a national political structure that-brick by brick-locks in plutocratic power.