Articles Listed By Date List By Popularity
Page 1 of 4 First Back Next 2 3 4 View All
Saturday, June 24, 2017

If Trump Is So Great, Why Is His Approval Rating So Puny? The greatest, overriding failure of Trump and Congressional leaders is that they have no vision, no big ideas, no moxie and no understanding of grassroots people's democratic idealism. Saying "Make America Great" over and over again is easy. Any gasbag can say it. But doing it takes real leadership, and the people now in charge just can't measure up. Sad.
Thursday, June 15, 2017 (3 comments)

The GOP Will Free You From Having Health Care When you've got 60 percent of your party's rank-and-file congressional members ready to go on such a basic issue, and 60 percent of the public is also ready to go -- it's time to go! The national party's "leadership" must get going on health care for all, or the leadership itself must go.
Friday, June 9, 2017

Will You Enlist in Trump's War? In last year's presidential campaign, Trump declared with typical modesty that, "There's nobody bigger or better at the military than I am." Well, I'm certainly no expert on war, but if a president is going to pick a mess of foreign fights, wouldn't it be better, strategically speaking, to pick on actual enemies rather than on America's allies? After all, there might come a time when we need friends to stand with us.
Thursday, June 1, 2017

Making NAFTA Worse Trump promised to negotiate the widely loathed trade deal, which would be great -- except he's giving corporations even more power to offshore jobs.
Friday, May 26, 2017 (3 comments)

Using Lunch to Punish the Poor Nearly half of American school districts shame and stigmatize kids whose parents can't afford school lunches.
Thursday, May 18, 2017 (4 comments)

Billionaires Lay Siege to State Governments While we're mesmerized by Trump, shady groups are pushing corporate-friendly legislation in statehouses all over the country.
Saturday, May 13, 2017 (2 comments)

Donald Trump Is a Dictator in Training Far from making America feared, much less "great," Trump's foolish belligerence is making him a global laughingstock.
Friday, March 24, 2017 (1 comments)

Funny, There Are No Workers on the White House Jobs Panel Trump-the-candidate fulminated against such moneyed elites, calling them "responsible for the economic decisions that have robbed our working class." But now, in a spectacular flip-flop, he's brought these robbers directly inside his presidency, asking them to be architects of his economic strategy. Worse, he's doing this in the name of helping workers.

Tuesday, March 14, 2017 (2 comments)

Freaked out by Trump and his menagerie of mutants? Let's focus our anger -- and have a greater impact While some delightedly squeal at his wild moves, many more see Trump as not merely unpresidential, but bullgoose bonkers! And dangerous -- recklessly using the enormous power of the presidency as a personal cudgel to attack, stigmatize, and seriously harm individuals, entire religions and races, the Bill of Rights, and our nation's basic values of tolerance, fairness, and opportunity for all.
Friday, March 10, 2017 (15 comments)

What Should We Do About A Mentally Ill President? It's obvious that the guy is not well and is unable to handle the stressful demands of being president of our democratic republic. Indeed, his flaky behavior suggests he's on the brink of a personal breakdown, and his ever-more-frequent retreats to his posh Florida golf resort tells us he doesn't even want to do the job.
Thursday, March 2, 2017 (6 comments)

Scott Pruitt Will Set Back the Fight on Animal Welfare Scott Pruitt was confirmed as head of the EPA, which oversees animal testing for pesticides and chemicals and regulating greenhouse gas emissions and water pollution from factory farms. As attorney general in Oklahoma Pruitt tried (unsuccessfully) to give special rights to corporate and foreign-owned factory farms and joined a suit aimed at killing the California law for more humane egg production.
Wednesday, March 1, 2017 (8 comments)

Nobody Needs a Lecture on Morality from Paul Ryan During the recession, the typical median-income family has lost 40 percent of their wealth. Haven't they been punished enough? No, says House Speaker Paul Ryan. Along with other top Republican leaders of Congress, he intends to slash the Social Security money that middle-class and low-income workers depend on for their retirement, and he ultimately aims to kill it altogether.
Thursday, February 23, 2017 (1 comments)

Wall Street Sodbusters Farms are part of a massive Wall Street investment scheme called Farmland Partners Inc. It's run by a couple of slicks trained in mergers and acquisitions as executives at the investment powerhouse Merrill Lynch. the partners have attracted hundreds of millions of dollars from investors to buy up farms and ranches. They now own 295 farm properties covering 144,000 acres in 16 states.
Thursday, January 19, 2017 (4 comments)

We Can Beat Back the Reign of Trump Trump's entire career as a luxury property developer and brand-name marketer of himself has been built on broken promises to workers, routine scamming of suppliers and partners, blatant self-dealing, crony capitalism and lies. That con game alone tells us who our new president really is: an incorrigible swindler.

Saturday, December 24, 2016 (1 comments)

Forget "Draining" the Washington Swamp, Trump is Turning DC Into an Exclusive Jacuzzi for the Rich Trump declared in his campaign, "Nobody knows the system better than me, which is why I alone can fix it." Yeah -- and now we know the price for being in on "the fix." Far from "draining" the Washington swamp, Trump is turning it into an exclusive Jacuzzi for the rich.
Sunday, December 18, 2016

Trump Is Taking on Wall Street, Literally Donald Trump said -- by golly -- he was going to take on Wall Street and the corporate elites. The bitter irony for the working class is that they now see what he meant -- he's literally "taking on" the moneyed powers, by taking them on-board his administration. Already he's brought in Wall Street billionaires to fill the three top economic policy positions in his cabinet.
Wednesday, December 7, 2016

Augustus Trumpus Trump, who campaigned as populist champion of the working-class, promising that - by golly - he was going to take on Wall Street and the corporate elites. But the bitter irony for the working class is that they now see what he meant - he's literally "taking on" the moneyed powers by taking them on-board his administration. he's brought in Wall Street billionaires to fill the three top economic policy positions in his cabinet!
Wednesday, November 30, 2016 (2 comments)

The Kochs Are Going to Have a Huge Grip on the Oval Office Forget the Bill of Rights, Abbott is proposing a Bill of Sale, transferring the title of our national government from the People to the Plutocrats. The upshot of his "tweaks" would be outlawing government actions that restrain corporate abuse of workers and consumers, while also preventing future congresses from meeting crucial public needs such as health care, voter rights and restoration of our national infrastructure.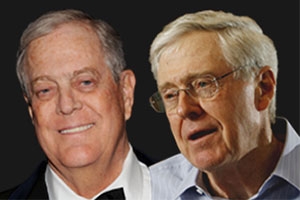 Sunday, November 27, 2016

Koch Kollege for right-wing social engineers Koch Kollege for right-wing social engineers is peddling a status quo agenda of corporate elitism and trickle-down ideology, which the vast majority of Americans are now openly rebelling against. It's like trying to sell chicken salad made out of chicken manure. There's not enough sugar in the world to make people swallow that.
Friday, November 25, 2016 (2 comments)

Bing Bing, Bong Bong, Bing Bing The worst of these gutless lawmakers are the top two GOP leaders, House Speaker Paul Ryan and Senate Majority Leader Mitch McConnell. Like clowns in a jack-in-the-box, they kept popping out to decry The Donald's latest attack on the people he hates. Then this pitiful duo meekly folded back into the box, reiterating that, well, they would still endorse him to be president of our U.S. of A!
Sunday, November 20, 2016 (1 comments)

This election wasn't about Trump Now that the people have spoken up for Donald Trump, were they saying that they embrace his xenophobic, nativist, far-right policies? Not necessarily. Most Trump voters say they went for him because they think he'll shake up America's elite establishment, not because he's a conservative. In fact, majorities of people all over the country voted for very progressive policies and candidates this year.
Friday, November 18, 2016

The Koch Connection You might think this is madness, but madness -- spurred by plutocratic greed -- is the new American political reality. Just being progressive won't stop it. We have to get aggressively progressive to confront and defeat the Kochheads in our states.
Friday, November 11, 2016

Takeaways from the election Trump was not elected on issues, but on anger -- a deep seething fury that the economic and political elite themselves have created by knocking down the working-class majority, then callously stepping over them as if they didn't exist. Also, his own voters disagree with much of his agenda (especially his grandiose wall across the Mexican border).

Thursday, October 27, 2016

The Cannon Ball Saga: An Epic Story From The American Heartland Standing Rock tribe's chair, Dave Archambault has made clear that the Native people are committed to the higher values of "our lands, people, water, and sacred sites." As they have been for millennia, the tribe's actions today must be based on the common good of their grandchildren and their grandchildren-generations into the future.
Sunday, October 23, 2016

Dakota pipeline showdown at Standing Rock If ETP's $3.8 billion line is completed, it would carry 570,000 barrels of oil a day through most of the four states' watersheds and wildlife habitats; it would transit hundreds of farms and ranches and make 200 river crossings. All the water and land in its path would be endangered, for one unpleasant fact about pipelines is that they regularly leak, sometimes rupture and can blow up.
Saturday, October 15, 2016 (4 comments)

The ethical rot of Wells Fargo, from the top down The sorry, still-evolving saga of Wells Fargo systematically stealing from its small depositors is a gag-inducing story of executive-suite greed. Start at the very top, with CEO John Stumpf, who claimed at a recent Senate hearing on the scandal to be shocked and "deeply sorry" that thousands of his employees had been opening bogus accounts in the names of non-English-speaking and elderly customers.
Wednesday, October 12, 2016 (6 comments)

Campaigns End On Election Day -- Revolutions Don't Not only will the revolution continue, but it's going to spread throughout the country, grow, and gain strength by bringing the populist issues, grassroots methods, and small-dollar funding of Sanders' presidential run to local and state politics. It will be an independent political network of 50 interconnected state networks. Each state group will recruit, train, and support candidates, and run state and local campaigns.
Saturday, October 1, 2016 (1 comments)

Scott Walker's Political Magic Despite a Wisconsin law specifically prohibiting corporations from funding political candidates, millions of those banned dollars were pumped into the Walker's campaign. Corporate checks were sent to supposedly independent political outfits that -- thanks to the Supreme Court's ridiculous Citizens United decree -- are allowed to take unlimited campaign funds from corporations without disclosing the names of the donors.

Wednesday, September 28, 2016

Laboratories of Democracy While state (and local) offices offer myriad opportunities to create progressive democratic change, those laboratories of democracy are equally available to Dr. Frankenstein right-wingers (funded by the Koch Brothers and their cartel) who seek to engineer regressive plutocratic changes. In recent years the forces of corporate rule have been building a national political structure that-brick by brick-locks in plutocratic power.
Wednesday, September 21, 2016 (6 comments)

Donnie is a Trumpist, not a Populist Donnie has enhanced his fortune by emulating his father's business ethics, including engaging in wage theft, outsourcing his clothing line and other brand-name products to such low-wage countries as China and Vietnam, and underpaying undocumented immigrants engaged in dangerous construction work on his luxury projects.
Sunday, September 11, 2016 (4 comments)

Hightower: Dear Media Elites, Here's How You Have Trump Completely Wrong Populism is not a style -- and this is important to note in this moment of "The Donald" -- nor is it a synonym for "popular outrage." Populism is a historically grounded political doctrine that supports ordinary folks in their ongoing democratic struggle for power over their lives. If Trump, that bilious billionaire blowhard is a populist, then I'm a contender in his Miss Universe contest.
Wednesday, September 7, 2016

Cleaning Up After Pundits Populism is not a style, nor (and this is important to note in this moment of The Donald) is it a synonym for "popular outrage." Populism is a historically grounded political doctrine that supports ordinary folks in their ongoing democratic struggle for power over their own lives.
Friday, September 2, 2016 (5 comments)

How Can a CEO Feel Good About Being Vile? Heather Bresch is chief executive of Mylan, a pharmaceutical profiteer that markets the EpiPen medical device, which literally is a lifesaver for people who suffer deadly anaphylaxis allergy attacks. only real contribution to the EpiPen has been to raise its price by more than 600 percent--a shameful act of profiteering that rips off hundreds of thousands of users and endangers the lives of those families who can't afford it.
Thursday, August 18, 2016 (1 comments)

Donnie's Little Lies are Huuuuuge Trump's idea of "working class" turns out to be millionaires and billionaires, for that's who would get the bulk of benefits from his agenda -- rewarding the very corporate chieftains he denounces in his blustery speeches for knocking down middle-income families and grabbing all of the new wealth our economy is creating. Corporations are given a huuuuuuuge windfall with over a 50 percent cut in their rate.
Friday, August 12, 2016 (3 comments)

Rampaging Debt Collectors are Committing Highway Robbery Why is the GOP so shamefully-soft on crime? Because it's not just small fry debt collectors involved in this outlandish shakedown of innocent borrowers, but such Wall Street powerhouses as JPMorgan Chase and Citibank -- which are also generous political donors to Republican candidates. Highway robbery is a crime... or not. Depends on who is robbing whom.

Friday, August 5, 2016 (15 comments)

The Populist Insurgency Is Ratcheting Up The Bernie movement created a hopeful, formidable and growing populist political channel that is both insistently democratic and independent of the Democratic Party. This state-based, national network of Berniecrats will keep building its connections, pushing its agenda; and backing populist candidates in the House, Senate and other races this fall.
Wednesday, July 27, 2016 (6 comments)

Campaigns End on Election Day. Revolutions Don't. You can view Hillary's adaptations as hopeful or hopelessly cynical, but the point is that Clinton recognizes that a new power is loose on the land. Understanding that the same old Bill and Barack moderate corporatism won't charge up the crowds she needs in November, she's scrambling to tap the electric populism of the Bernie Rebellion.
Friday, July 22, 2016 (16 comments)

What's Next for the Bernie Sanders Revolution? Bernie has urged his supporters to keep pushing for their democratic ideals. "Real change never takes place from the top down. It always occurs from the bottom on up -- when tens of millions of people say 'enough is enough' and become engaged in the fight for justice. That's what the political revolution we helped start is all about. That's why the political revolution must continue."
Friday, July 15, 2016 (1 comments)

How to Make a Political Platform Progressive Of course, party platforms are not actual laws and programs, but statements of principles and intent. They are important as blueprints for organizing grassroots support and as specific makers for holding elected officials accountable. Making it all happen is up to us, for progressive change always has to be pushed from the bottom up -- so let's get moving.
Wednesday, July 6, 2016 (1 comments)

Banks Don't Commit Crimes, Bankers Do these negotiated settlements between the feds and the big banks will effectively deter repeats of the 2008 Wall Street debacle, right? Actually, no. Notice that the $5 billion punishment is applied to Goldman Sachs, not to the "Goldman Sackers." The bank's shareholders have to cough up the penalty, rather than the executives who did the bad deeds.
Monday, June 27, 2016 (3 comments)

Carrier and Nabisco close US plants, hop to Mexico -- and stoke the anger of working-class America Corporate America is now openly flouting our laws, violating our ethics, and rampaging over our society's unifying sense of common decency ... because they can. Almost no one is telling them "no" -- not Congress, the White House, Republicans, Democrats, the courts, the clergy (with the exemplary exception of Pope Francis), the police, the educational system, or others with power (and responsibility) to stand up to thugs.
Thursday, June 23, 2016 (2 comments)

There's No More Denying It: Trump Is Openly Racist The GOP's racist and nativist flag bearer insists that an American with Mexican genes should be disqualified from overseeing the fraud suits against Trump University. The judge would inherently be biased, Trump claims, against the candidate who's promised to "build a wall" between the United States and Mexico.
Thursday, June 16, 2016 (1 comments)

Hillary Wants to Bring Back Bill. She Shouldn't. Hillary Clinton made a horrifying declaration that she'll bring back Bill. Specifically, she promised that her former-president husband will be put "in charge of revitalizing the economy." Good grief. Isn't he the big galoot who turned his economic policy over to Wall Street's Machiavellian, Robert Rubin?
Sunday, June 5, 2016 (3 comments)

Bringing Back Bill Wasn't it Bill who literally rammed NAFTA down our throats, creating that job-sucking sound that continues to devastate today's middle-class? Yep, he's the one. And didn't he also collude with laissez-faire ideologues and plutocratic Republicans to deregulate Wall Street so global speculators could wreck our economy by playing casino games with our bank deposits and home mortgages? Yes, him again.
Wednesday, June 1, 2016 (1 comments)

For Billionaire Donors, Academic Integrity Comes Cheap First came withering hoots of laughter when the honchos of George Mason University named their law school the Antonin Scalia School Of Law -- or ASSOL, for short. It was an honor Scalia might've merited, but very embarrassing for the university.
Thursday, May 26, 2016 (11 comments)

Pent Up Fury Beneath The Bernie And Donnie Phenomena has recklessly continued to fan the embers of hate, belittling Muslims, the disabled, Latino immigrants, women, Spanish-language reporters, and his catchall category of "losers" -- all the while reveling in the role of outlandish, boorish autocrat. Therefore, pundits and the GOP's big shots conclude, his appeal and his supporters are racism personified.
Wednesday, May 25, 2016 (2 comments)

Putting Free Speech Out to Pasture Hard experience teaches that biotech companies, chemical corporations, and other agribusiness giants have no sense of respect for Mother Nature. Now, Rick Friday has learned they have no sense of humor either. The publication's pusillanimous sacrifice of its longtime cartoonist is a shameful betrayal of both its farmer readership and journalism ethics.
Friday, May 13, 2016 (8 comments)

What does it Mean to "Gig" American Workers? The gig economy means you're on your own -- you're not an employee, but an "independent contractor," with no rights and no union. You might have lots of calls to work this week, but there'll be many weeks with no calls. Don't get sick, injured or wreck your car, for no health care or workers' comp are provided. A pension? Your retirement plan is called "adios chump."
Thursday, April 28, 2016 (3 comments)

Why Bernie Will, Should and Must Stay in the Race Sanders' supporters have found their way around the usual Wall of Big Money that the establishment always throws us to thwart populist campaigns. a counterforce of common folks has created a widely successful campaign fund of their own to support their Bernie rebellion. How successful? A whopping $182 million has been raised in millions of small donations that average $27 each. That's a revolution, right there!
Monday, April 18, 2016 (1 comments)

The Simple Secret to Making a Difference -- No Matter What Your Cause Is The first thing you can do to bring about change is show up. Think of showing up as a sort of civic action, where you get to choose something that fits your temperament, personal level of activism, available time and energy, etc. The point here is that every one of us can do something--and every bit helps. Simply being there matters.
Thursday, April 7, 2016 (7 comments)

Trump Has Collected the Disaffected Voters the GOP Establishment Abandoned Years Ago None of the elites saw Hurricane Donnie coming, and with the blow-hard now raging at full force, the GOP's upper-crusters still don't seem to know what hit them, much less what to do about it. What the aloof, affluent leaders of the Republican Party don't get is that the source of the storm presently wrecking them is not Trump, but infuriated, rank-and-file, working-class voters who feel betrayed by them.
Monday, April 4, 2016

Tea Party And The Right -- Conservative Republicans Channel Marx Brothers: "We're Against Everything" Republican message to Obama, via Groucho Marx in a 1932 comedy..."Your proposition may be good/ But let's have one thing understood/ Whatever it is, I'm against it!/ And even when you've changed it/ Or condensed it/ I'm against it!"

Sunday, March 27, 2016 (7 comments)

Mavericks and mad-as-hellers march to Washington for a pro-democracy rebellion. Because it's time. What if America had an election and governing system in which every voice is heard and every vote counts equally -- a democracy that works for all of us? We can! If we build it. That's the message and motivation behind this potentially game-changing coalition of more than 100 issue-based, progressive organizations.
Wednesday, March 9, 2016 (4 comments)

What Are We Paying Mitch McConnell For? Imagine if you tried drawing your paycheck after ignoring your workload. Yet we're paying this guy a salary of $174,000 a year, plus another $19,000 to serve as majority leader. It's insulting to taxpayers that he won't even go through the motions of doing his job. Shouldn't the corporations that he serves have to pay his salary, rather than sticking us with the cost?
Thursday, February 25, 2016 (19 comments)

Mitch McConnell Is a Supreme Hypocrite In a blatantly partisan ploy to prevent President Barack Obama from nominating a successor to Scalia, Senate Republican leader Mitch McConnell has cited a brand new historical precedent dictating that presidents in the last year of their term don't name new justices to the high court.
Monday, February 15, 2016

Moral obligations lost in a fog of rhetoric An ethos of "anything goes" now rules at nearly all major corporations, and those self-enriching princes of plutocracy are extending their unethical and hegemonic control over the rest of us. Greed has taken America's true ethics prisoner, and moneyed elites now call the devil "partner." That's the core immorality that we progressive populists must defeat.
Wednesday, February 10, 2016

How Corporate Bamboozlers Intend to Widen Inequality in America We don't need any institute to tell us who would benefit from TPP. All we need to know is that it was negotiated in strict secrecy with global corporate elites while we consumers and workers were locked out. Remember, if you're not at the table, you're on the menu.
Monday, February 8, 2016 (2 comments)

Political Poison Flint reveals that there is a much deeper contamination poisoning our country's political morals: Namely, an insidious right-wing belief that poor people (particularly poor people of color) are undeserving moochers whose misfortunes can be ignored -- even when their misfortunes stem directly from the discriminatory practices of slippery elites like Snyder, who are showing that they're not fit to hold public office.
Sunday, January 31, 2016 (2 comments)

Manna from Hell War is hell. Unless, of course, you happen to be a global corporate peddler of rockets, drones, bombs, and all the other hellish weaponry of military conflict. In that case, war is manna from hell. So bring it on.
Thursday, January 21, 2016

How Bernie Sanders' Unexpected Coalition Keeps Growing Grassroots people are taking charge--not leaving it to establishment office holders and party operatives to do the same old thing, From rallies of 10,000, 20,000, 30,000 people (as Donald Trump would say, these events are truly "Huuuuge!") to the local campaign committees that have sprung up across the country like hardy spring wildflowers, most of the faces are new, fresh, and excited.