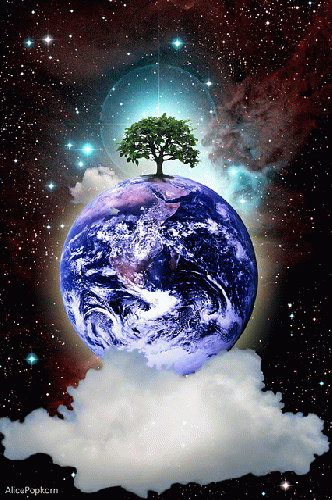 Earth Day ~ Mother Earth
(
Image
by
Cornelia Kopp
)
Details
DMCA
Would a Democratic World Government allow capitalism? Yes, of course, if that is what the majority of the world's citizens wants. Could a Democratic World Government disassemble itself and return to competitive nationalism? Yes, of course, if that is the will or preference of the majority of the world's voters. If the Democratic World Government does not allow those two choices, then it is not truly democratic. I believe the majority of world citizens would choose to have a democratic world government, and they would choose democratic, ecological, and egalitarian socialism over any conceived notions of compassionate capitalism.
First, we need to ask every voter of every nation, are you in favor of a Democratic World Government, yes or no? Do we want to be pawns in an Empire, or do we want to fully participate in a Democratic World Government? Do we want to live in a world that is controlled from the top-down, or do we want to live in a non-hierarchical, cooperative, from-the-bottom-up, participatory, consensus-seeking, community-building, grassroots, democratic world? Competitive nationalism always leads to empire. How could it be otherwise when there is a competitive race to the top to have more wealth and power over others--even if it is against the will of the majority! Why do people want that kind of power? What happened in their childhoods? As we look at how the world has turned out, we have to wonder why did it happen this way? What can we do about it?
Many individuals living in extreme poverty, who have never had a formal education, might not even understand the question--Do you believe there is a need to set up a Democratic World Government? That is why it is our responsibility to give everyone in the world the resources so they can answer that question when they are old enough to vote. We can help every person on the planet create a loving home with vegan food. We can teach every person how to read and write and become an intellectual. We can help every person find a deeper purpose and meaning in life. We will become truly self-actualized when we start helping the whole world become self-actualized too. You might be thinking that some people have had a lot of formal education, but, alas, they still believe in capitalism or socialism. Nevertheless, let us allow the whole world to decide what is better for the world--a Democratic World Government or competitive nationalism.
How can we have a democratic world order when there are 195 sovereign nations competing in a predominantly capitalist system? The United States, especially, has no respect for international law, the UN Charter, the Geneva Conventions, and the Nuremberg Principles. We can let the whole world vote together on the same issues.
Here is world history in one paragraph: During the Age of Imperialism, the wealthy Western nations were in a race to carve up the Americas, Africa, and Asia. They were far more industrialized and had more powerful weapons. In their thinking, they thought they were superior to other peoples of the world, whom they considered to be subhuman or barbarians. They essentially believed that "might makes right." The aristocratic elites exploited other nations as they exploited the workers in their own countries. Now we know who were the true barbarians. Now we understand much better why there is no peace on earth. As a result of slavery (imagine that) and exploitation on a massive scale, the wealthy Western countries, with their more powerful weapons, got a big advantage over the underdeveloped countries, and this type of unfairness has continued to the present day.
On the national level, we could ideally use proportional representation in the election of a unicameral federal legislature that includes the equal empowerment of the 7 largest national political parties. In this article, I explain how we could even use proportional representation from the 7 largest national political parties to create a Constitutional Convention for a new national constitution.
On the international level, we can create a democratic world federal government based on democratic world law and the equal empowerment of the 7 largest international political parties. The Earth Constitution is an excellent model for a democratic world government, but the supporters of the Earth Constitution may not endorse all of the ideas expressed in this article. In this interview, Noam Chomsky quotes Einstein who said that unless we can create a [democratic] world government, we are doomed.
To the degree there is a disparity between the rich and the poor within nations and among nations--there will be economic, political, social, and personal problems. Instead of the wealthiest individuals earning a thousand or a hundred times more than the lowest earning income, the gap can be lowered to a ratio of 10:1 on an international level. The lowest hourly wage for meaningful work could be $15 per hour, which is about $30,000 a year. Any citizen of the world over the age of 18 could be guaranteed an annual income of $12,000 a year. Any annual income above $120,000 throughout the world could be taxed at 100 percent.
We can ultimately strive for a ratio of 3:1, as we encourage voluntary simplicity and equal sharing of the earth to promote peace and harmony for all. If we attain a higher stage of collective development and spiritual growth in which there is heaven on earth for everyone, then there will be no need for money.
Reducing military spending by 90 percent would allow us to use federal revenue from taxes in a more constructive way. After other nations reciprocate, we can reduce it even more. Other nations would reciprocate. It is the United States that is promoting and accelerating the outrageous military spending race because the United States is an Empire that is trying to control and dominate every country and region of the world. We cannot have any nation get away with controlling, dominating, and exploiting other nations for its exclusive gain and greed. If currently the whole world is spending almost 2 trillion dollars a year on weapons and war (of which the United States is spending about 1 trillion) imagine what it would be like if those resources could be reallocated to building self-determined, self-sufficient, and interrelated, intentional communities in every village, town, and city.
If it currently would take 4 earths for everyone in the world to have the lifestyle of the average American, and half of the world, according to the World Bank, lives on less than $5.50 a day (which is almost $2,008 a year), the highest expression of love and fairness would be to support radical egalitarianism, veganism, and voluntary simplicity on an international level. Some progressives argue that we should rid the world of billionaires. We can do better than that. We can rid the world of millionaires, as we consider the needs of the whole world and the planet. Here is a Left Green perspective that says we can improve the Green New Deal by eliminating its massive growth and neoliberalism.
Marcin Jakubowski, whose organization Open Source Ecology, teaches how to build low cost tools and machines that can last a lifetime to create sustainable and independent local farms. I am also reminded of Muhammad Yunus who was awarded the Nobel Peace Prize for founding Grameen Bank which pioneered the concepts of microcredit and microfinance, in which loans are given to entrepreneurs too poor to qualify for traditional bank loans.

We need a Medicare-for-All system in every nation. Here is an article by Ralph Nader entitled 25 Ways the Canadian Health Care System is Better than Obamacare. We also need to bring the blessings of public banking to every community and nation.
The whole world is currently divided into elementary school districts. Let us empower the local and the global and prevent all nations from having a foreign policy. If given the choice with some financial incentives, every neighborhood elementary school district would choose to be completely self-determined or autonomous. We can encourage every neighborhood community to become united about the deepest issues of life. If the consensus of an elementary school district is to emphasize creationism, then that is their choice. M. Scott Peck, author of The Road Less Traveled and Community Making and Peace has identified four stages in building community. In today's world, people don't even know their neighbors and there is no sense of community. Face-to-face participatory consensus democracy can be encouraged in every home, in every community.
Let us become tribal with an ecological and international focus. We can build independent and interrelated, intentional communities if we learn nonviolent communication, assertiveness training, if we study psychology, depth psychology, transpersonal psychology, philosophy, history, geography, the sciences and arts, the world's major world religions, and higher states of consciousness through nondual awareness. It is very important that we strive to be open, honest, transparent, and vulnerable--the world would heal if we could have that, and we need it too for our own personal growth. Self-awareness is also important: we must constantly ask ourselves, what are my motives, what are my intentions, how do I feel right now?
We must create a world in which everyone is concerned about biodegradability, ecology, biodiversity, alternatives to fossil fuels, voluntary simplicity, permaculture, and drastically reducing trash and landfills. The wealthy class must start living simply so that others in the world can simply live.
Thich Naht Hanh said, "The next Buddha will not take the form of an individual. The next Buddha will take the form of a community; a community practicing understanding and loving-kindness, a community practicing mindful living. This may be the most important thing we can do for the survival of the Earth."
The 9 most egregious social sins that nations, mostly Western nations, have committed are 1) Imperialism 2) Racism 3) Transnational Corporate Capitalism 4) Nationalism 5) Materialism 6) Patriarchalism 7) Anti-Environmentalism 8) Speciesism (species-ism) and 9) the Discrimination against the LGBTQ community.
Not only does there need to be a political revolution that implements radical egalitarianism, we also need a spiritual revolution. Glen T. Martin, the President of the World Constitution and Parliament Association, which is the organization that drafted the Earth Constitution, stated in this article, "If true spirituality means universal love for humanity, the Earth, and the Divine Ground of Being, then spirituality needs to be institutionalized under an Earth Constitution that embodies that love. It is not only the spirituality of love, but also the moral values of peace, freedom, justice, and environmental sustainability that must be institutionalized."
Episcopol Bishop John Shelby Spong--author of the books Why Christianity Must Change or Die and Rescuing the Bible from Fundamentalism--speaks eloquently on the subject of "What is God?" in this 7-minute video clip. John Shelby Spong states that we have to get over the idea that we can ever define God. God cannot just be an extension of our prejudices. He states that if we cannot separate God from theism--which is the belief that God is separate from the universe he [not she] created--there is little possibility that modern people will believe in God. Religion must always be a free choice, but theism is a dying concept and that is good. If we want to be an ethical or spiritual person in today's world it is imperative that we work to create peace on earth with ecological wisdom. Our highest self expression is found in worship--when we worship and adore the expression of love, truth, and beauty. In Eastern philosophy and Abrahamic mysticism, the divine ground at the core of our being is a nondual Source of indescribable love, joy, and bliss.
Political orator Michael Parenti in an interview with Jason Miller in 2016 said, "The purveyors of free market global capitalism believe that they have a right to plunder the remaining natural resources of this planet as they choose. Anyone who challenges their agenda is to be subjected to whatever misrepresentation and calumny that serves the free market corporate agenda."
At AZquotes.com, my two favorite quotes of Social Ecologist Murray Bookchin are "Capitalism can no more be persuaded to limit growth than a human being can be persuaded to stop breathing. Attempts to "green" capitalism to make it ecological, are doomed by the very nature of the system of endless growth." Also "Capitalism is a social disease. It has always been a social cancer. It is the disease of society. It is the malignancy of society."
Regarding the impeachment of President Trump, one of the best articles is from Tikkun.org by Rabbi Arthur Waskow entitled Impeach: Judicial, Political, Moral, or Spiritual? We need a president who will always be open, honest, transparent, and vulnerable--before, during, and after--she serves her term. What have patriarchal male U.S. presidents accomplished in the world so far?
One of the best articles on the subject of finding the divine nature within us through meditation was published in the Life Arts section of OpEdNews on August 25, 2019.
To save this world and heal the planet, please consider the ethical, ecological, and health reasons for being a vegan. Here is another article: Green Party, Extinction Rebellion, and Others: Stop Ignoring the Vegan Solution. And another: Animals, why do we love one, but eat the other? A psychologist explains.
Here for 8 hours, after you give your first name and email, you can watch this free screening of the film "The Need to Grow," produced by Earth Conscious Films which emphasizes the importance of composted, locally grown food and how to feed the world without destroying the planet. But the solutions have to be implemented right away.
Voluntary simplicity of, by, and for everyone--harnessing the sun and wind for energy--and legalizing biodegradable hemp all over the planet--will play a big part in saving this world.
In this video, Amy Goodman interviews Iakowi:he'ne Oakes, the executive director of the American Indian Community House in New York: "We're still here": Indigenous Peoples' Day Celebration reflects ongoing resistance to colonization. Though our national sins be as scarlet, they can be washed white as snow, if we repent and ask those we have hurt and harmed for forgiveness. Then we can be reconciled with those individuals and nations.
Democratic World Government will allow the human species to evolve to a much higher level. If we create heaven on earth for everyone, it may help us spiritually evolve faster in the afterlife too.
(Article changed on October 17, 2019 at 12:02)