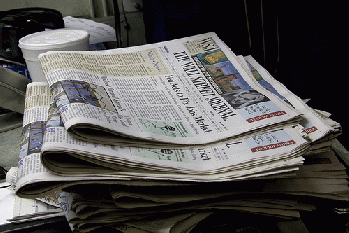 Wall Street Journal
(
Image
by
Neon Tommy
)
Details
DMCA
LAST WEEK, WE published documents that definitively debunked and disproved a claim that numerous media outlets had circulated and affirmed for years: that Edward Snowden lied about where he was during his first 11 days in Hong Kong. Contrary to the fable these outlets dispensed to their readers -- that Snowden did not check in to the Mira Hotel on May 21 as he claimed but only did so on June 1, 11 days later -- these new documents, obtained from the Mira, prove that Snowden arrived there exactly when he always said, rendering their published stories factually false. Many of these stories had even claimed that anonymous U.S. investigators were unable to find hotel or credit card records for Snowden during these 11 days -- exactly the records we just published.
The same day our story was published, the New York Times reporter Charlie Savage -- who had previously spent weeks documenting that this claim about Snowden never had any journalistic basis to begin with -- confirmed the authenticity of the new documents. As Savage wrote: "The documents show [Snowden] stayed in both the Icon and then, starting on May 21st, the Mira, under his own name, using his own credit cards. So there is no mystery gap, and the credit card records obviously were readily available to American investigators all along."
The concocted discrepancy was significant because these media outlets -- and many commentators citing their false story -- used it to strongly suggest that Snowden, during these "Missing 11 Days," was doing something nefarious: such as meeting his Russian or Chinese handlers. Numerous outlets uncritically aired this false claim, including the Wall Street Journal, Yahoo News, Business Insider, Slate, Interpreter Magazine, and Folha de S.Paulo (Brazil's largest newspaper).
A WSJ op-ed writer, Edward Jay Epstein, released a book in February featuring this fraud as a linchpin in his innuendo that Snowden was a Russian spy, which he then aired on a Lawfare podcast with Benjamin Wittes. This fable was also adopted by several former intelligence community employees now embedded in the pundit class -- such as former CIA and NSA chief Michael Hayden and NSA employee John Schindler -- as well as cable personalities such as MSNBC's Joy Ann Reid. Both Yahoo News and Slate used this falsehood as part of their accusation that Oliver Stone's film about Snowden was misleading.