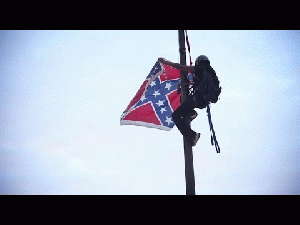 Men have spent years hemming and hawing about how to take the confederate flag down in Dixie. This morning, a courageous woman deflowered the phallic flagpole in a few minutes amidst the cheers of supporters.
Around 5:30 am on Saturday morning, civil disobedience activist Bree Newsome scaled the 30-foot flagpole in front of the Capitol building in Columbia, SC, and removed the confederate flag.
Newsome (30) was prepared for her ascent with tree-climbing equipment, and she was prepared to be arrested upon her descent.
Newsome and James Ian Dyson, who was allegedly assisting her, were arrested and charged with defacing a monument, according to a protective services news release. Newsome is black and Dyson is white.
In a press release, Newsome said:
"We removed the flag today because we can't wait any longer. It's time for a new chapter where we are sincere about dismantling white supremacy and building toward true racial justice and equality."
I'm in shock and awe. In the best possible way.
A group of activists consisting of North and South Carolina residents who called themselves "concerned citizens" supported Newsome's civil disobedience and distributed a news release to the media at about 6:30 am:
"Deciding to do what the SC Legislature has thus far neglected to do, the group took down the symbol of white supremacy that inspired the (Charleston Nine) massacre, continued to fly at full mast in defiance of South Carolina's grief, and flew in defiance of everyone working to actualize a more equitable Carolinian future."
"The American swastika," as supporter Juan Andrews called it, was allowed to fly over the Capitol grounds as the body of State Senator Clementa Pinckney, slain by alleged hate-crime murderer, Dylann Roof, lay in state at the Capitol on Wednesday.

An indigogo crowdfunding campaign was set up earlier today by the activist group Credo Action to raise Newsome's bail. It passed its $20,000 goal in three hours, raising over $60,000 in six hours. CREDO Action, part of CREDO Mobile, is a social change network of 3.7 million activists. Since 1985, it has generated more than $78 million in donations to progressive groups.
Bree Newsome
(
Image
by
CREDO Action, part of CREDO Mobile
)
Details
DMCA
(Note: You can view every article as one long page if you sign up as an Advocate Member, or higher).