Source: Mike Malloy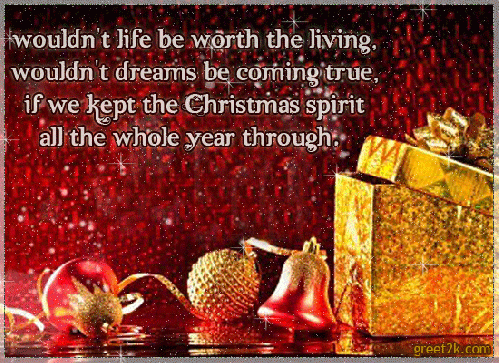 (
Image
by
Greet2K.com
)
Details
DMCA
The high holiday season is upon us, Truthseekers, and we can expect an uptick in both mall madness and agitated religious activities as the month wears on. But there are some exceptions. And bucking our usual Wednesday tradition of identifying the Rapture Right wingnuts who have corrupted the reason for the season, we're going to bring you a couple of inspiring stories from people of faith who are truly embodying the Christian Christmas spirit.
While many compassionate conservatives claim global climate change is either a) irrelevant junk science that flies in the face of their Bible-based creation theology, or b) proof positive that the end of days is approaching; there are some Sunday regulars who are actually concerned that human activity is destroying the environment. Imagine that!
Theologian Susan Brooks Thistlethwaite has taken the bold position that mankind's devastation of the environment is an affront to God:
"Christian theology distinguishes between 'natural evil,' that is, destruction and suffering that can be caused by natural phenomena like earthquakes or storms, and moral evil, the kind of evils that result from the interlocking effects of human sin. Is the destructiveness of Typhoon Haiyan a tragedy of 'natural evil,' the kind of horrible occurrence that occurs randomly in nature? Or, is it actually moral evil, traceable to human sin? There is no doubt this storm is a massive evil. Haiyan, with its sustained wind speeds of 150 to 170 mph, is among the strongest storms on record and it has produced mass suffering and death, as well as widespread destruction.
"The fact that we are having to invent new language to describe such massively destructive storms, like 'Super Typhoon Haiyan' or 'Superstorm Sandy' suggests we need to take a different look at such violent storms today and theologically assess the human responsibility for them. These 'superstorms' aren't an 'act of God,' but an act of willful disregard for God's creation, and the neglect of the human responsibility to care for the planet. There is moral evil to be seen in these 'superstorms,' I believe, on two levels. First, there is the moral evil of continuing to pump fossil fuels into the atmosphere, producing global warming. Second, however, is the moral evil of climate change denial, that is, those who would continue to deny, in the face of mounting evidence, that violent climate change is upon us and it is accelerating. A recent Pew poll shows political conservatives deeply divided over the validity of climate science.
"There is a theological prescription, in a classical sense, for what we must do: confession, repentance and change. In the case of what we are up against in terms of planetary destruction, those theological directives look like this: Admit human caused, violently destructive climate change is happening. The harm to God's creation is real, it is happening and human beings bear enormous responsibility for it. Repent for what we have already lost by inaction. Those who talk about 'reversing the effects of climate change' are also engaging in a form of denial. There is no reversing, but that does not mean the climate change is unstoppable at current levels. But action to stop what we have already done, and slow down future changes, is urgent."
Hyperbolic "evil storm" rhetoric aside, it is heartening to realize that some Christians embrace, rather than reject, rational science, and urge their fellow believers to be better stewards of the planet. That's an ideal we can all embrace.
And have you heard about @tipsforjesus? An anonymous, Christian benefactor has been leaving enormous tips at various restaurants over the last few weeks, and posting them on Instagram.
"An anonymous person or persons armed with an AMEX Centurion card, a love for college football and an Instagram account is setting out to 'do the Lord's work, one tip at a time,' leaving thousands of dollars in tips to unsuspecting servers.
"On Sept. 8, an @tipsforjesus Instagram account posted the first photo verifying its mission, capturing the image of a receipt for Bar Louie in Ann Arbor, Mich., where they left a $3,000 tip for an $87.98 tab. The account posted two more receipt photos the next day, one featuring a $5,000 tip, the other showing a receipt with a $7,000 tip held by a grinning man, confirmed to be the co-owner of Alley Bar in Ann Arbor. Both of the receipts were signed, '@tipsforjesus.'
"That same day, @tipsforjesus also posted a screenshot of an ABC 4 Utah article about a 'mysterious' tipper who left thousands of dollars in tips in Ogden, Utah, this August, with the photo description "#tipsforjesus." The account has remained active ever since, continuing to leave tips of over $1,000 in bars and restaurants in cities like San Francisco and Chicago. And although tipsforjesus has received numerous comments of praise, and some of skepticism, the account has continued to keep its user's identity a secret. The only clue that follows the generosity is the account's love of college football. The signed receipts consistently show up in college town establishments on game days and include sentiments such as "Fight On!" Restaurant employees who have received the tips in Ogden, Utah, and Ann Arbor, Mich., say the anonymous person uses an American Express Centurion Card, more commonly known as the Black Card.

- Advertisement -
"But while keeping their identity secret, the account is still verifying the large tips through signed customer copy receipts (now being marked with an '@tipsforjesus' stamp), and recently, they posted a photo of their online account activity to clear up a controversy concerning a Notre Dame University restaurant, where they left over $10,000 in tips in one night, that have still not been distributed to their servers.
"A Legends of Notre Dame server contacted them through Instagram, writing that she had waited on them on the day of a USC vs. Notre Dame game and never received their tip. Tipsforjesus wrote back, 'AMEX got paid, you should've got paid. Check with Legends management' sounds like the owners are trying to screw you. Tipsforjesus pays it's tabs!' They then posted the screenshot of their online statement, which confirmed the large amounts charged to the card, with the caption, 'Let's be clear, the Legends of Notre Dame tips were processed by AMEX and paid. tipsforjesus pays it's tabs. God bless! @notredame Your move.'
"Tipsforjesus has posted little in the way of written explanations for their generosity, focusing only on photos of their tipping habits and leaving comments from inquiring news outlets unanswered. But that hasn't stopped the account's commenters, a large number of them wait staff requesting visits to their own establishments, from speculating about their reasons. One Instagram user, @mrs_ewing_, who said their father works at Legends in Notre Dame and witnessed their large tipping wrote, 'That was an awesome thing! It gives me some kind of hope in humanity for people."
Contrast this person's benevolence and charity with those who refuse to tip a server because (they assume) the server is homosexual. Tell me -- which "Christian" do you think Jesus would embrace? The lover, or the hater?