Unify the Movements
Looking Back at Today's Uprising
POSTED ON BY RON RIDENOUR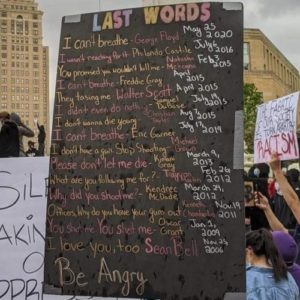 Last words of people killed by police.
(From Twitter, Washington DC, May 30, 2020)
Then
I enlisted in the United States Air Force to fight "commies", after my military career father and I heard that the Soviet Union had taken control of Hungary, in 1956. I was 17 years old.
In 1957, I was stationed at an Air Force radar site in Japan where we were forced to live in segregated barracks. Several whites walked about the base in uniform with KKK emblazed on their baseball caps.
White airmen forced segregation upon Japanese bars in the nearby town. When I defied the racist ritual and drank with black airmen in "their" Japanese bar, I was tortured upon returning to my barracks. Four southerners held me down naked, sprayed DDT on my groin and lit it afire burning my genital hairs and singeing my testicles. Later, they forced my head under snow. "I can't breathe"-I conked out briefly. A black airman who tried to visit me at my barracks afterwards was thrown off the steps before he could knock. Otherwise, no support.
Across the Pacific Ocean, the new civil rights movement faced torture, murder, including lynchings, imprisonment, openly condoned police brutality in the South. Rosa Parks, Fannie Lou Hamer, Martin Luther King, bus boycotts, sit-ins at segregated eating places"
In summer 1961, not long after I finally got out of the racist military and started college in Los Angeles, I joined local CORE (Congress of Racial Equality) and Non-Violent Action Committee protests against segregated housing.
My first action, though, took place a few months before. In April 1961, I picketed at the US Federal Building in support of the Cuban people and their new revolution as the CIA invaded Cuba at the Bay of Pigs. A key reason for my support was the revolutionary government's official eradication of racism. Even the president-dictator Fulgencio Batista, an ally of the US and the Mafia, had not been welcome in the Havana country club because his skin had the same color as Barack Obama.
To this day, I carry my card of membership to the Fair Play for Cuba Committee. FPCC folded following the assassination of President John F Kennedy, November 22, 1963. FPCC leaders feared becoming victims of the CIA ploy to blame Lee Harvey Oswald for murdering JFK as a supposed member of FPCC and agent of Communist Cuba. I am certain that it was the CIA which organized the assassination. There is a wealth of evidence. Oliver Stone's JFK film illustrates much of this, as do a number of well-documented books.
Julian Bond was a founder of the Students Non-Violent Coordinating Committee (SNCC), formed in 1960 during sit-ins at lunch counters in North Carolina and Tennessee. Bond was its communications director during the voting registration campaign for black people, the Mississippi Summer Project of 1964. Nearly one thousand of us, black and white volunteers from the South and the North, assisted black Mississippians to register to vote. Few were allowed to "pass" the special "Negro Registration Tests," such as: what does paragraph X in Y law say?
We also taught black youth subjects they were not taught in segregated schools. Another effort was building the Mississippi Freedom Democratic Party, with hopes it could unseat the official Mississippi Democratic Party which excluded African-Americans, who comprised 40% of the state population. The Democratic leadership under President Lyndon B. Johnson and Hubert Humphrey prevented this from happening.
Next Page 1 | 2 | 3 | 4 | 5 | 6
(Note: You can view every article as one long page if you sign up as an Advocate Member, or higher).