Reprinted from Media Matters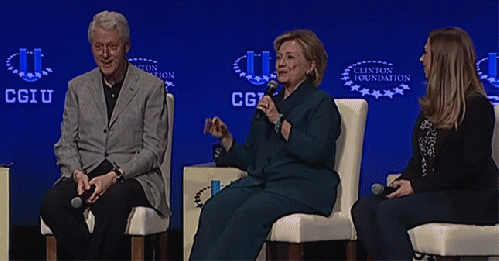 (
Image
by
Media Matters
)
Details
DMCA
Joining a long list of concerned media voices, The New York Times' editorial page this week linked up with the Beltway chorus to express alarm over the Clinton Foundation and the "question" it presents for Democratic presidential nominee Hillary Clinton's campaign.
Surveying the well-trampled ground of supposed conflicts of interest and insinuations that Clinton sold State Department access to donors, the Times announced a pressing "need for major changes at the foundation now, before the November election."
As part of its declaration, the newspaper dutifully noted, "'Pay-to-play' charges by Donald Trump have not been proved." But the Times, like so many other lecturing voices, was quite clear in claiming that the Clintons have to address concerns about optics even if that means shutting down their landmark global charity. That's how important it now is for the do-good foundation to be spotless and pure: Optics trump humanitarianism.
Or, there's no proof anybody did anything wrong, therefore drastic actions must be taken to fix the problem.
The meandering foundation story has become a case study for the Beltway media's double standard: holding Clinton to a higher mark that's based on optics, not on facts. Unable to prove misconduct or anything close to it (just ask the AP), the press relies on the comfy confines of "optics" and the "appearance" of conflict to allow them to attack Clinton and the foundation.
For Clinton, it's a can't-win proposition. If the press says the story looks bad, even if there's nothing to suggest it actually is bad, she gets tagged with an optics problem. And because journalists are the only ones handing out the grades, they get to decide how bad it looks.
But the journalism malpractice doesn't end there. It extends to the fact that the press doesn't apply the same visual test to Republican nominee Donald Trump, whose far-flung business dealings would represent an actual, even historic, conflict of interest were he to be elected president.