This piece was reprinted by OpEd News with permission or license. It may not be reproduced in any form without permission or license from the source.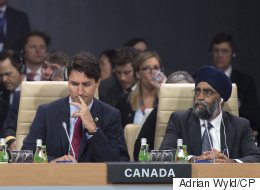 NATO Summit 2016: Trudeau Pledges Troops, Armoured Vehicles To Latvia
(
Image
by
huffingtonpost.ca
)
Details
DMCA
Recently, General Petr Pavel, Chairman of the NATO Military Committee, admitted that,
"It is not the aim of NATO to create a military barrier against broad-scale Russian aggression, because such aggression is not on the agenda and no intelligence assessment suggests such a thing."
Decoded, this means that intelligence reports indicate that Russia is not a threat to the West.
Since Russian aggression is not a threat, then increased NATO deployments to encircle Russia are a threat --- to Russia.
Decoded again: We are the bad guys; Russia is not.
But this hasn't stopped Canada's Prime Minister, Justin Trudeau, from confirming, according to CBC news, that
"Canada will send a battle group of soldiers to Latvia by early 2017 as part of a NATO plan to counter fears of Russian aggression in eastern Europe."
So, Canada's decision to provoke Russia is based on groundless fears.
Since reasonable foreign policy decisions are few and far between, Canadians might want to pay heed to a recent observation made by Paul Craig Roberts:
" ... only an absolute idiot could think that three or four thousand troops constitutes a defense against the Russian Army. In June 1941 Operation Barbarossa hit Russia with an invasion of four million troops, the majority German component of which were probably the most highly trained and disciplined troops in military history, excepting only the Spartans. By the time that the Americans and British got around to the Normandy invasion, the Russian Army had chewed up the Wehrmacht. There were only a few divisions at 40% strength to resist the Normandy invasion. By the time the Russian Army got to Berlin, the German resistance consisted of armed children."
Decoded? We're idiots.
Our now broad-based idiocy is based on the fact that we are being fed a constant diet of lies, and stories, and toxic myths.
The fake Russian threat is consistent with the fake terrorist threat. It is very well documented, with sustainable, Western-based evidence, for example, that NATO and its allies support terrorism. The terrorists currently invading Syria are Western proxies/"strategic assets", employed to effect illegal regime change.
(Note: You can view every article as one long page if you sign up as an Advocate Member, or higher).