Are America's communities being enfeebled by Religious Fundamentalism marching under the banner of a fast food chain. At least the Crusades had much better graphic imagery -- talking cows?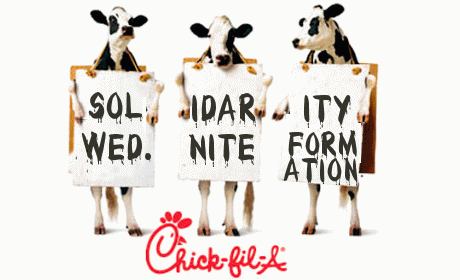 Two Wrongs and Rights: Chik-Fil-A
(
Image
by
Capitalism Magazine
)
Details
DMCA
What Chick-Fil-A is engaged in is the destruction of community.
This is a war of Biblical proportions. It was estimated that 500,000 "Christian" soldiers led by Fox News' bass playing, blood lusting, in-house pastor, Mike Huckabee, yesterday rallied to the cause and proudly ate fried chicken and waffle fries -- the population of Israel in Jesus' time is estimated to have been 500,000 -- 600,00. These folks were all in biblical solidarity with a fast food chain's disdain of homosexuals.
Jesus would be so very proud that sentiments attributed to him are codified and disseminated over deep fryers -- not. Some say, if you look real hard at paintings of the last Supper you can make out, what appears to be, waffle fries next to the bitter herbs. When a communities members become unmoored from rational, healthy, neighborly behavior, behavior that is integral to successful living; it may be time for certain folks to move.
The absurdity and irrationality of standing in solidarity with a "fast food chain" against living, breathing, productive, innocuous, good members of a community is very unsettling. I will even go out on a limb and posit that the community members that took time out of their busy days yesterday to make a collective homophobic gesture -- are idiots. So, how many of us are living in Idiot Communities? Is the United States of America increasingly becoming a Community of Idiots? Does Religious Fundamentalism breed dangerous simpletons and imbeciles? Oh, I don't know...how about the dudes that drove some planes into some buildings in New York awhile back?
A few examples of where we are headed: Creationism (men and dinosaurs in the same diorama), the Christian cleansing of school text books, the popularity of Sara Palin, Glenn Beck, Fox News etc., the ability of Ralph Reed to make a living over a lifetime as a Lobbyist for Jesus and the Congressional horror that is Michelle Bachman:
BACHMANN WARNED "THE LION KING' WAS GAY PROPAGANDA: At the November 2004 EdWatch National Education Conference, Bachmann said the "normalization" of homosexuality would lead to "desensitization": "Very effective way to do this with a bunch of second graders, is take a picture of "The Lion King' for instance, and a teacher might say, "Do you know that the music for this movie was written by a gay man?' The message is: I'm better at what I do, because I'm gay." Think Progress
BACHMANN SUGGESTED GAY SINGER SHOULD REPENT AFTER GETTING CANCER: Bachmann saw Melissa Etheridge's cancer as a teachable moment: "Unfortunately she is now suffering from breast cancer, so keep her in your prayers," she said in November 2004. "This may be an opportunity for her now to be open to some spiritual things , now that she is suffering with that physical disease. She is a lesbian." Think Progress
She dissed Gore Vidal hours after his death (I would imagine because he was Gay), crediting him with changing her from a Democrat to a Republican: "I set the book down on my lap, I looked out the window of a train I was riding in and I thought to myself, "I don't think I'm a Democrat. I think I really am a Republican, because the Founding Fathers were not the characters that I saw Gore Vidal portraying in his novel and that snotty, mocking attitude to me didn't in any way reflect who we are as a nation." OPPOSINGVIEWS
(Note: You can view every article as one long page if you sign up as an Advocate Member, or higher).