Figure 8 shows the continued progression of the demolition down the building with the activation of the propellant between floors "D" and "E". Floor "B" near the core is unsupported and begins to fall towards Floor "C".
With connections at 'A,' 'B,' 'C,' and 'D' separating due to the momentum impact of the propellant and accelerated office contents against the perimeter wall, the separation at connection 'E' begins.
(
Image
by
Wayne Coste, PE
)
Details
DMCA
Figure 9 shows the same conditions as Figure 8 but also includes the opposite side of the tower to illustrate the reactionary forces. The orange arrows represent the reactive forces, which are a necessary result of the propellant force. As shown in the top group of orange arrows, the propellant traversing across the core will not be constrained between upper and lower floors and will be directed upward as the stream continues outside the tower on the opposite side. This upward direction of the reactionary propellant would provide an observable feature during the destruction in the form of "rooster-tails".
Newtonian reactionary forces (orange arrows) travel in the opposite direction across the core into, and above, the collapsing structure to create the observed 'Rooster Tails.'
(
Image
by
Wayne Coste, PE
)
Details
DMCA
As shown in Figure 10, the directionality of the propulsive forces and "rooster-tail" hypothesized in this scenario match the observations captured in aerial photos of the destruction of the North Tower.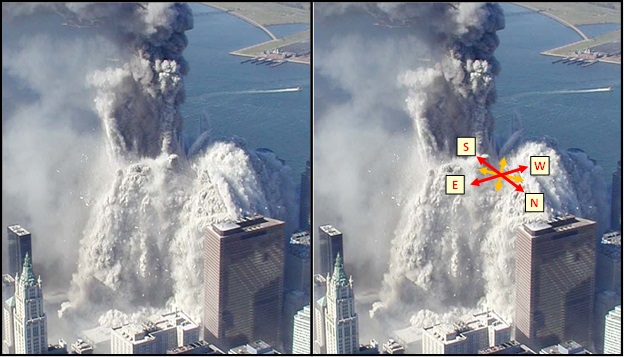 The majority of the propulsive forces in the cardinal directions creating 'rooster tails' with significantly less propulsion in the ordinal directions.
(
Image
by Detective Greg Semendinger, N.Y.P.D.)
Details
DMCA
The paper covers this mechanism in more detail. It also describes the mechanics behind a number of other aspects of the destruction of the Twin Towers.