Articles Listed By Date List By Popularity

Friday, June 30, 2017 (1 comments)

Trep-i-twee'-tion: Tweeting yourself into trouble Trump's tweetstorms are brewing some serious clouds on the horizon.
Wednesday, May 31, 2017 (33 comments)

Our Apologies to Europeans We Americans messed up. We are sorry. We will replace this administration as soon as we can. It was a mistake. We can fix it. We WILL fix it.

Wednesday, November 9, 2016 (9 comments)

Who Did This? Who are these Trump voters and what were they thinking?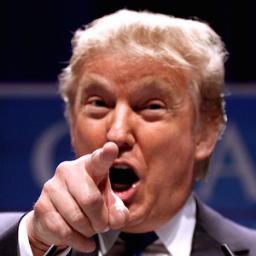 Saturday, July 30, 2016 (2 comments)

Donald Trump is Long on Dollars but Short on Sense Trump is the ultimate dangerous choice for President. Please vote.
Saturday, May 21, 2016 (11 comments)

Trumpification Is America becoming Trumpified as the result of the dumbing down process?
Thursday, May 19, 2016 (12 comments)

To Trump Voters: Please Think; Voters: Your 2017 America -- a country defined by hatred Nothing good comes from fomenting hatred, and one of the things that sometimes follows, is genocide. Hatred is something nobody needs. Trump actively promotes it. In Trump's America, genocide is a very real possibility.

Wednesday, February 17, 2016 (1 comments)

The GOP in 2016 The GOP is in a tail spin, with crazy candidates and the leading one threatening to abandon the plane with the only parachute.
Thursday, December 10, 2015 (4 comments)

Trumpet Trump the Puppet Trump's rise and continued dominance are linked with media coverage, which he devotedly encourages with further celebratory antagonism, bigotry, and hate speech. But as a media clown he is still just a puppet of the GOP plan.
Saturday, September 26, 2015 (11 comments)

Boehner's Resignation and What it Means for the Country John Boehner's resignation will have long and deep effects on both parties and on the future of this nation.
Tuesday, August 25, 2015 (1 comments)

GOP: The Party of Economic Constipation The Grand Old Party is no longer grand, and has become the party of economic constipation instead of the party of economic conservatism.
Thursday, April 23, 2015 (5 comments)

Republican logic and party platform planks, 2016 The Republican agenda for your country after 2016
Saturday, December 13, 2014 (4 comments)

The "Poor" Terrorists were Tortured? The right's misunderstanding of what the left thinks about "this little torture problem."
Monday, November 3, 2014 (3 comments)

Wisconsin Governor Scott Walker's politics: An Objective Review An election-week analysis of what you get with Scott Walker and other ALEC clones.

Sunday, October 19, 2014 (1 comments)

Budget Cuts and Ebola Research: Right Wing Fact and Fiction Refutation of conservatives' assertion that their budget cuts shouldn't be blamed for a lack of Ebola vaccine.
Tuesday, July 15, 2014 (24 comments)

Centrist Politics and Selecting Electable Candidates: Are the Arguments Still Valid? With Republicans abandoning the middle as toxic, how will this effect the electability of GOP candidates?
Sunday, June 15, 2014 (10 comments)

Obamacare, the Nightmare -- But Whose? Billing Obamacare as a nightmare is a Republican strategy that could backfire. The nightmare could be theirs, after all.

Monday, October 8, 2012 (2 comments)

President Romney and the New American Reality What would President Romney be like? This brief glimpse looks at his first two months in office.

Friday, July 1, 2011 (3 comments)

Florida Law: Drug Testing Constitutionality The constitutionality of a new Florida law is called into question, as it discriminates against public assistance recipients by submitting them to drug testing as a new qualification for their ongoing benefits.