Would you like to know how many people have visited this page? Or how reputable the author is? Simply
sign up for a Advocate premium membership
and you'll automatically see this data on every article. Plus a lot more, too.


futurewavefilms@gmail.com Arthur Kanegis 4635 Border Village Rd F2 San Diego, CA 92173 +1 801 R-Future
SHARE



Arthur Kanegis
At: /arthurkanegis


Become a Fan.
You'll get emails whenever I post articles on OpEdNews
Arthur Kanegis is a film director, podcast host and writer published in The Nation; The New Republic; The Washington Monthly and more. Kanegis directed "The World Is My Country." https://theworldismycountry.com -- playing on PBS affiliates coast-to-coast. Martin Sheen has promoted the broadcasts on MSNBC, Extra TV, Thom Hartmann and more (https://theworldismycountry.com/talks) Sheen introduces the movie as "a roadmap to a better future" Kanegis also produced the award-winning short film on the same subject: "One! The Garry Davis Story". Kanegis has been involved in producing documentaries for decades, including producing "War Without Winners (1978)" narrated by Paul Newman and filmed by Haskell Wexler - a compelling TV documentary on nuclear war. He did the nuclear war research for the 1983 ABC TV special "The Day After. " 100 million Americans & 200 million Soviets tuned in. Reagan credits it for convincing him that nuclear war is unwinnable - so he engaged in arms reduction treaties.
OpEdNews Member for 7 week(s) and 3 day(s)
3 Articles, 0 Quick Links, 3 Comments, 0 Diaries, 0 Polls
Articles Listed By Date
List By Popularity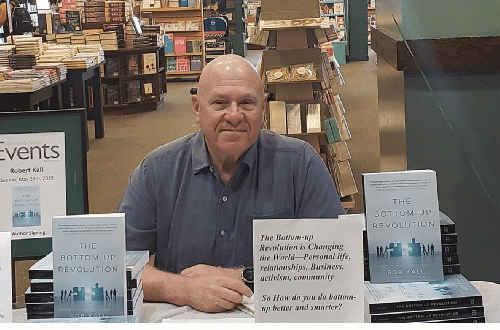 (4 comments) SHARE

Wednesday, September 22, 2021
NOW--Hear Rob Kall interviewed on the People-Powered Planet Podcast
Rob Kall, Founder of OpEd News is on NOW - via Zoom or on YouTube Live, on the People-Powered Planet Podcast! Learn how you can be the bottom-up Hero who saves the World!
(5 comments) SHARE

Saturday, September 11, 2021
9/11 to Afghanistan - If we learn the right lesson we can save our world!
Pundits are missing the most important lesson of 9/11 and Afghanistan -- just as we failed to learn the right lesson after Vietnam. If we can get it right this time we can truely save our world!
(1 comments) SHARE

Monday, August 30, 2021
Afghanistan Proves Military POWER... Isn't! So what is Powerful?
WAR IS OVER! Afghanistan once again demonstrates that military POWER... Isn't! It isn't powerful, it has no power to accomplish its goals of protecting rights and freedoms. What does have that power? The combined will of the world's people embodied in a system of enforceable World Law. .