From No More Fake News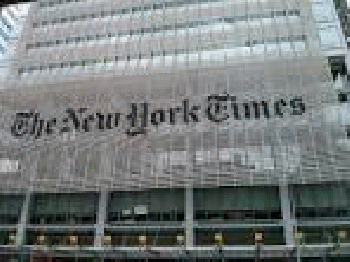 New York Times
(
Image
by
maxpixel.net
)
Details
DMCA
Major newspapers will, now and then, break big stories. But then they'll walk away from them. The follow-up leads are obvious. But no. Those leads would result in some SERIOUS revelations about IMPORTANT PEOPLE. So forget it. It's one and done --
We're in the middle of an escalating information-war.
Trump and Sulzberger, the NY Times publisher, meet, talk, and then launch charges at each other. Sulzberger claims Trump's attacks on MSM could result in violence against journalists.
Like him or hate him, Trump is threatening the media monopoly as no other modern president has.
Social media are shadow-banning and censoring voices perceived as pro-Trump.
I thought I'd boil a few things down and simplify them for AG Sulzberger, the 37-year-old publisher of the Times.
He and his paper are fake for several reasons--one is, they don't follow up on their own best stories. It's called continuing investigation -- and they don't do it. It's their duty, and they are grossly derelict.
Two examples, both from the spring of 2015. On April 23, the Times ran a story under the headline: "Cash Flowed to Clinton Foundation Amid Russian Uranium Deal." The piece made an excellent circumstantial case for Hillary and Bill as key players in a criminal scheme to sell 20% of US uranium to Putin.
But"no serious follow up. No deeper investigation. No pressure on the players. Just one and done.
Ditto for a 3/15/15 Times story, "Protection Without a Vaccine." The article details a revolutionary candidate for next-generation vaccines -- injecting synthesized genes into the body to "protect against disease" -- and thereby permanently altering the vaccine recipient's DNA.
The story is nothing less than a revelation about a plan -- right out in the open -- to do genetic engineering on billions of humans who get vaccinated. No speculation necessary.
And again, no follow up. No deeper digging. No pressure on the vaccine researchers and their funders.
Here is the same pattern, from the Times' chief competitor, the Washington Post (9/4/13, "When the US looked the other way on chemical weapons"): "...The administrations of Ronald Reagan and George H.W. Bush authorized the sale to Iraq of numerous items...including poisonous chemicals and deadly biological viruses, such as anthrax and bubonic plague..."
Mind-boggling. The US government, using a non-profit called the American Type Culture Collection and the US Centers for Disease Control (!), shipped dozens of biowarfare materials to Iraq in the 1980s.
(Note: You can view every article as one long page if you sign up as an Advocate Member, or higher).