In March of this year, Trump was interviewed by Kelly Riddell of the Washington Post. He revealed his plan to seduce the suckers who would vote for him, as tho they were moronic consumers and he a "product," a term he frequently uses to refer to himself.
KR: Are you really going to make America great again? What does that even look like?
DT: I play to people's fantasies. People may not always think big themselves, but they can still get very excited by those who do. That's why a little hyperbole never hurts. People want to believe that something is the biggest and greatest and the most spectacular."
In other words, he is selling a fantasy while playing at the end of his rallies (without permission) the Stones "You can't always get what you want (ie the fantasy...but you might just get what you need (an authoritarian bully)."
This is the essence of his bait and switch strategy.
Fantasy #1: "I am the King of Debt....I am beholden to no one."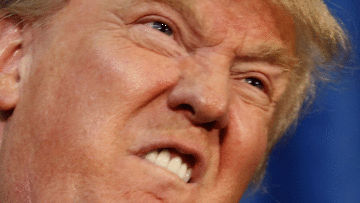 "....an office building on Avenue of the Americas in Manhattan, of which Mr. Trump is part owner, carries a $950 million loan. Among the lenders: the Bank of China, one of the largest banks in a country that Mr. Trump has railed against as an economic foe of the United States, and Goldman Sachs, a financial institution he has said controls Hillary Clinton, the Democratic nominee, after it paid her $675,000 in speaking fees."
"I am beholden to no one. Only I can fix it."
Before he was running, he revealed his true nature:
Next Page 1 | 2 | 3 | 4 | 5 | 6 | 7 | 8
(Note: You can view every article as one long page if you sign up as an Advocate Member, or higher).