Tired of Facebook's censorship? "Sick of their slavish, thoughtless and running dog cooperation with the US "Security" Surveillance police state?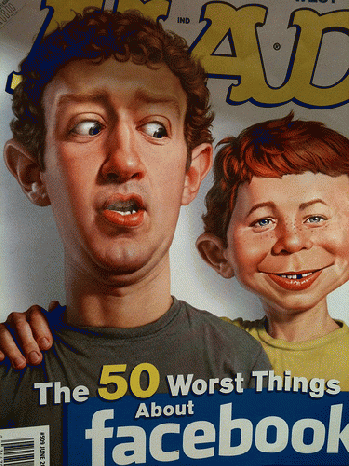 Facebook
(
Image
by
israelavila
)
Details
DMCA
Like the Google and other giants, they will pretend that they care about our privacy, so long as the state doesn't indiscriminately scarf their whole world, hoping the state will act more discreetly with regard to their cooperation insofar as the parties agree that they will be respected by the state as being in first position with proprietary and intellectual property rights of the information we blithely scream and purvey to anyone in listening "range". This is after all the fountain head of malware and open backdoors for the despots to rummage around in our drawers. What a mess.
What can we do? How about,
STOP USING THE FACEBOOK. We don't need no stinking facebook!
What are we doing on facebook that is so critically important to life that we should be willing to allow them to shutdown our communications as they recently did in North Carolina, http://www.truth-out.org/news/item/37708-this-is-a-rebellion-a-protester-speaks-from-the-frontlines-in-charlotte , because the police state ask them to?
Unsubscribe and think for a moment about how you would like to be treated with respect. Then think again, the Facebook has no intention to ever do that.
The Titan tyrants of internet tools, facebook, the google and all the other developers of "free" apps want our data so that they can enrich themselves and if in the process the state demands a pound or two, they will accommodate the state that is both a virtual and physically carnivorous predator that tracks us like prey, intimidating and blackmailing their own, like Hillary for example, especially once their hands hand become unclean, and covering the rest of us with the shadows of the power they have to eat us almost unopposed without any regards for checks or balance against their will...except our own.
We can give them an ultimatum: Protect our privacy, provide true opt out and payment for those who remain exposed in the algorithm because they have "nothing to hide." We can demand that they stop sharing our data with the state security apparatus and corporatists, and instead, give us true privacy tools that are independently vetted to make sure they are shutout themselves or at the very least let us decide how we are going to be used.
Are humans becoming subsumed in data for which privacy is meaningless while ultimate reality of our existence may be how the human mind gains access to total information which would make us the creators of ourselves?
Never mind. They are never going to allow that"let's just stop using them altogether and try not to devolve any further.
Any other acts of non cooperation we can do?