In a parallel universe, there are no elites.
In this universe on planet Earth, the ruling elites do not fear the people.
Instead we have been socialized to fear them.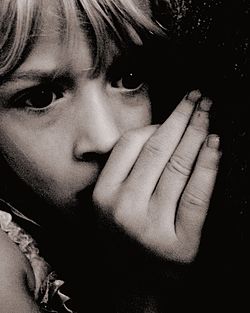 Are generations doomed to fear the rulers?
(
Image
by
cogwriter.com
)
Details
DMCA
You know in the deepest part of your being that this is true. Instead of the ruling elites being introspective and examining the horrifying scope of their actions that daily deprive the human species of the opportunity to prosper and reach its potential to love, they have intensified their efforts to divide and conquer and deprive us of our lives through maintaining our petty fears of against each other.
Instead of us taking on the bastard surveillance state and grabbing every supporting critter that is wreaking havoc and pummeling our human rights into submission, we are frustrated but still listening to them tell us how they are going to fu*k us. We are still complain about how poorly we are being mistreated, how the neocons are back, how it is difficult to figure out exactly what the president elect is going to do, what is going to be done about the environment, who will stop the 500 year old violence being perpetrated by DAPL, reduce the military and change its name to department of war, so that everyone know exactly what it is up to, hold our own trials for war criminals living out their lives while other families are visiting the graves that their loved ones were suckered and lied into by the tools of the ruling elites.
Well if complaining is all we can do, including writing false narratives about how the government's lackeys are making pronouncements about coming to our rescue with aid, we should just shoot ourselves in the foot. Why the foot? That would perhaps give us a brief respite, before the lackysters show up to shoot us in the head. After all, the Thought Police will know what we are thinking. It will be too late for lessons or teachable moments by then.
How to start?
We start by issuing a declaration of independence from a federal government that has been taken over by the ruling elites, and that has broken its oath to We the People as codified in the US Constitution.
We carry this out all the way down to the village level, which is in fact where most of us should start.
We don't need any other stinking reason to overthrow this federal government. But here are just a few reasons for the unbelievers:
(Note: You can view every article as one long page if you sign up as an Advocate Member, or higher).