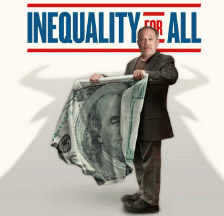 film art

(

Image

by

'Inequality for All' website

)

Details DMCA

film art by "Inequality for All" website

My guest today is economist,Chancellor's Professor of Public Policy at the University of California at Berkeley and former Secretary of Labor, Robert Reich.
JB: Welcome back to OpEdNews, Bob. Over the years you've written 13 books. Now, with Inequality for All, you've ventured onto the Big Screen. What was appealing about this change of medium?
RR: Well, I've tried everything else. I mean, I've written lots of books, and done quite a bit of television. And the situation keeps getting worse -- with more and more of the nation's wealth and income in the hands of a smaller and smaller number of people. So when Jake Kornbluth, the director of "Inequality for All," approached me with his proposal, I accepted right away. (Of course, I had no idea how hard it would be to create a movie!)
JB: You're definitely the star of the film [or should I say, you and your mini Cooper?]. Did you also have a lot of input regarding what went into the film?
RR: A lot of input into the substantive part of the film -- the argument about what's happened to American wealth and incomes, why it's happened, and why it's a problem for the economy and our democracy. The arguments track those I made in my book Aftershock: The Next Economy and America's Future . But I didn't have much input into the parts of the film that are more biographical. In fact, I wasn't particularly comfortable with Jake (the film's director) using as much personal material as he wanted to use, and we had an ongoing negotiation about it. He argued that the biographical stuff was important, in terms of viewers relating emotionally to the film. I argued back that it was only tangentially related to the issue of widening inequality. In any event, we reached a compromise, as you can see in the film.
JB: If you're talking about how you were bullied as a child and that made you adamant about wanting to protect the vulnerable, I'm with Jake! It did help personalize the issue. What exactly did you hope to accomplish that you haven't been able to with your books, appearances on television and public radio, college lectures? As you point out, you've been at it for 30 years and economic inequality has only gotten worse.
RR: There's something about the experience of watching a movie or video that enables viewers to connect emotionally with an issue -- and therefore open their minds to it -- more readily than they often can through reading a book or an article. At least that's what I've been lead to conclude, somewhat reluctantly, given that I spend most of my time writing!
JB: I wholeheartedly agree with that. My own activism for election integrity stems directly from watching the documentary Invisible Ballots, [about the dangers of computerized voting] back in the summer of 2005. It's early days yet, the movie was just released last week. But do you have any sense of how it's being received so far ?
(Note: You can view every article as one long page if you sign up as an Advocate Member, or higher).