Reprinted from Consortium News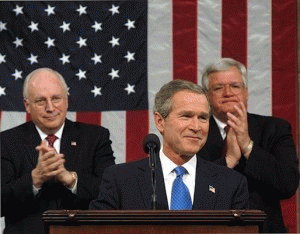 President George W. Bush pauses for applause during his State of the Union Address on Jan. 28, 2003. Seated behind him are Vice President Dick Cheney and House Speaker Dennis Hastert.
(
Image
by
(White House photo)
)
Details
DMCA
>
After Sept. 11, 2001, President George W. Bush declared the Philippines a second front in the war on terror ("Operation Enduring Freedom-Philippines"). The Philippine government used this as an opportunity to escalate its war against Muslim separatists and other individuals and organizations opposing the policies of the government. The egregious human rights violations committed by the Philippine military and paramilitary forces are some of the most under-reported atrocities in the media today.
The International Peoples' Tribunal on Crimes Against the Filipino People, held July 16-18 in Washington, D.C., drew upward of 300 people. An international panel of seven jurors heard two days of testimony from 32 witnesses, many of whom had been tortured, arbitrarily detained and forcibly evicted from their land.
Some testified to being present when their loved ones, including children, were gunned down by the Philippine military or paramilitary. I testified as an expert witness on international human rights violations in the Philippines, many of which were aided and abetted by the U.S. government.

Thirty-one-year-old Melissa Roxas was a community health adviser who went to the Philippines in 2009 to conduct health surveys in central Luzon, where people were dying from cholera and diarrhea. In May of that year, 15 men in civilian clothes with high-powered rifles and wearing bonnets and ski masks forced her into a van and handcuffed and blindfolded her. They beat her, suffocated her and used other forms of torture on her until releasing her six days later. Roxas was continually interrogated and even threatened with death during her horrific torture. She was likely released because she is a U.S. citizen (she has dual citizenship).
But WikiLeaks revealed that although the U.S. Embassy was aware of Roxas's torture and abduction, it did nothing to secure her release. Roxas convinced the Philippines Court of Appeals to grant her petition for writ of amparo, which confirmed she had been abducted and tortured. Nevertheless, the Philippine government refuses to mount an investigation into her ordeal. And although she lives in the United States, Roxas remains under surveillance.
"Whenever you work with communities," Roxas testified, "[the Philippine government] vilifies you as a member of the New Peoples Army [NPA]." Ironically, the Philippine military claimed it was the NPA, the armed wing of the Philippine Communist Party, that abducted Roxas. Her physical and emotional scars remain. But, Roxas told the tribunal, "I have the privilege of being in the United States," unlike many other Filipino victims of human rights violations.
People and groups have been labeled "terrorists" by the Philippine government, the U.S. government and other countries at the behest of the U.S. government. The Philippine government engages in "red tagging" -- political vilification. Targets are frequently human rights activists and advocates, political opponents, community organizers or groups struggling for national liberation. Those targeted for assassination are placed on the "order of battle" list.
The tribunal documented 262 cases of extrajudicial killings, 27 cases of forced disappearances, 125 cases of torture, 1,016 cases of illegal arrest, and 60,155 incidents of forced evacuation -- many to make way for extraction by mining companies -- from July 2010 to June 30 of this year by Philippine police, military, paramilitary or other state agents operating within the chain of command.
As part of the U.S. "war on terror," in 2002 the Gloria Macapagal-Arroyo government created the Oplan Bantay Laya, a counterinsurgency program modeled on U.S. strategies, ostensibly to fight communist guerrillas. After 9/11, the Bush administration gave Arroyo $100 million to fund the campaign in the Philippines.
The government of Benigno Aquino III continued the program in 2011 under the name Oplan Bayanihan. It does not distinguish between civilians and combatants, which is considered a war crime under the Rome Statute and the Geneva Conventions.
Oplan Bayanihan has led to tremendous repression, including large numbers of extrajudicial killings, forced disappearances, torture and cruel treatment. Many civilians, including children, have been killed. Hundreds of members of progressive organizations were murdered by Philippine military and paramilitary death squads. Communities and leaders opposed to large-scale and invasive mining have been targeted. Even ordinary people with no political affiliation have not escaped the government's campaign of terror.
One witness testified that although the counterinsurgency program was presented in the guise of "peace and development," it was really an "operational guide to crush any resistance by those who work for social justice and support the poor and oppressed."
Philippine military and paramilitary forces apparently rationalize their harsh treatment as necessary to maintain national security against people and organizations that seek to challenge, or even overthrow, the government.
However, the Convention Against Torture and Other Cruel, Inhuman or Degrading Treatment or Punishment (CAT) says, "No exceptional circumstances whatsoever, whether a state of war or a threat of war, internal political instability or any other public emergency, may be invoked as justification for torture." Both the Philippines and the United States are parties to the convention on torture.
A 14-year-old boy testified that as he was walking with family members to harvest their crops, "We were fired upon" by soldiers. "We said, 'We are children, sir.' " But the soldiers killed his 8-year-old brother. "I embraced him. The soldier said we were enemies. He was bleeding, the bullet exited in the back. He was dead when my mother saw him. We made an affidavit against the soldiers but it was dismissed by the prosecutor."
Raymond Manalo was an eyewitness to kidnapping, torture, rape and forced disappearances. He testified that he saw civilians burned alive by soldiers and paramilitary forces. Two women were hit with wooden sticks and burned with a cigarette. Sticks were inserted into their genitals. The two women disappeared and have not been seen since. Although a case was filed, there has been no resolution.
(Note: You can view every article as one long page if you sign up as an Advocate Member, or higher).