From Our Future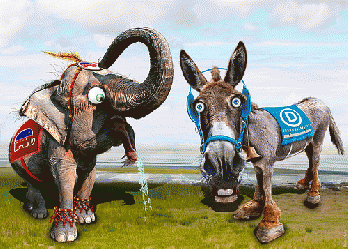 Both parties are hobbled by infighting and incompetence. Only one keeps winning elections.
(
Image
by
DonkeyHotey
)
Details
DMCA
As Donald Trump's demented presidency grows ever more isolated, calls for unified opposition grow louder. Political publications and Twitter are flooded with warnings about the Democratic Party's supposed massive circular firing squad, also known as the "Left's War of Mutually Assured Destruction."
Senator Bernie Sanders, according to some, is "sabotaging the Democratic Party," and has started a "foolish family feud."
Apostles of Convention
Two apostles of convention, Dana Milbank and Mike Tomasky, have recently issued dire warnings about Democratic division. Milbank, known for bringing snark to the Washington Post political coverage, argues Democrats could fare well in 2018, unless Sanders supporters come "to the Republican's rescue" by "sowing division" and attempting to "enact a purge of the politically unpure."
Somehow in Milbank's overheated imagination, suggestions of primary challenges for candidates who don't support Medicare for All become "not just taking a stand but excommunicating all who disagree." This Milbank thunders is what Republican zealots did with guns and taxes, helping to make the Republican Party the "ungovernable mess it is today." Yeah, look where Republicans ended up after their bitter and passionate political struggles: in control of the White House, both houses of Congress, with full control in 26 states, having captured over 1,000 state legislative seats.
Tomasky gallantly comes to the defense of Senator Kamala Harris, newest star of the party's establishment, who was criticized for her decision as California Attorney General to let Steve Mnuchin, the "foreclosure king" who is now Trump's Treasury Secretary, walk, despite the recommendations of her staff and clear evidence of massive fraud.
Tomasky concedes that scrutiny is justified, and accepts that the issue is serious, but wrings his hands at a Democratic "purity Olympics." All serious candidates, he warns, are compromised by money, so we can't expect the purity Bernie Sanders enjoys, coming from Vermont. Democrats shouldn't have "litmus tests" like a $15 minimum wage that stifle debate.
Say what? Democrats are having a big debate about what the party stands for. Defining issues -- Medicare for All, $15 minimum wage, curbing Wall Street, money and politics, balanced trade etc. -- are central to that debate. Harris clearly wants to position herself has a potential presidential candidate. Where she stands and what her record reveals aren't going to get a pass just because she comes from a big state.
All this garment rending and hand wringing is excessive. Democrats need a major debate about values and policy. A bit of common sense is in order.
Unified in Resistance
For all the fretting about division, activists from all wings of the party and from movements outside the party have joined in propelling the popular mobilization against Trump's horrors. Whether it is more left-wing groups like MoveOn, Democracy for America, People's Action, OurRevolution, or groups led by ex-Clinton and Obama activists like Indivisible, NARAL, Planned Parenthood, and others, all have been focused and engaged on countering Trump.
Single-payer supporters joined to help fend off the attack on Obamacare. Sanders sparked that effort with mass rallies in various Trump states, even choosing to postpone introduction of his bill to create universal Medicare. That mobilization helped forge the remarkable unity of Democratic legislators in the House and Senate against the effort to repeal Obamacare, against the Republican budget, and more.
That mobilization also contributes directly to Trump's continued decline in the polls, which now show record lows. Trump's demented behavior helps, of course, but it is remarkable that with unemployment at 4.3 percent, the stock market setting records, and the president's uncanny ability to dominate the news, he's losing ground even among his core voters.
Brain Dead?
Democrats would be brain dead and without a pulse if they didn't have a major debate about the way forward now.
Trump's stunning victory was, as Andrew Bacevich writes, invoking Thomas Jefferson, a "fire bell in the night." As he puts it, "It is a consequence, not the cause," of the "collapse of the post -- Cold War consensus." The core establishment consensus -- on corporate defined globalization, on policing the world, on neoliberal economic policies -- has failed most Americans.
In this century, we've had two "recoveries" under two presidents -- one Republican and one Democratic -- that haven't reached most Americans. Inequality is at obscene extremes.
(Note: You can view every article as one long page if you sign up as an Advocate Member, or higher).