A 5-year-old child and a man were injured in a two-car crash on the outskirts of Vilnius at about 8 am, August 21. The police reported that a double-vehicle collision left them with minor injuries.
According to the Lrytas YouTube Channel, it is NATO soldiers from Hungary who are held responsible for the accident. Turning at the crossroads of the Moletskoe Highway and Skersines Street the military vehicle driven by a Hungarian soldier hit a Volkswagen Passat.
There was a scared five-year-old girl in the civilian car.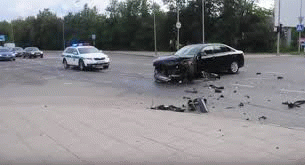 Car accident caused by NATO soldier
(
Image
by
Jonas Dringelis
)
Details
DMCA
It should be noted that this is not the first road accident involving NATO soldiers in the Baltic countries and Poland.
22 Jan, 2017
A US military truck overturned on a road in western Poland, spilling shells for M-1 Abrams battle tanks; two American soldiers were injured. The driver lost control of his vehicle and went off the road. The incident took place on National Road 27 near the village of Piaski in western Lubuskie province.
30 Jan, 2017
The US military once again struck a road incident heading to NATO drills in western Poland. A truck crashed into a road barrier, causing a fuel leak. A soldier at the scene complained that Polish roads are "too narrow" for US vehicles. The incident took place near the city of Gorzow Wielkopolski in western Lubuskie province.
20 May, 2017
In Estonia, NATO armored personnel carrier ran off the road and into a ditch, leaving two soldiers injured. This was the third traffic accident involving NATO troops in just two days. Only hours earlier, a military jeep crashed into a civilian car as it traveled in reverse along a dirt road, also in Ida-Viru County. No one was injured in the incident, but the civilian vehicle, an old Volkswagen Golf, was totaled.
20 June, 2017
The incident occurred in the Lithuanian city of Marijampole according to the Lrytas. A NATO Hummer SUV carrying US servicemen rammed into a civilian car. Military car was apparently driving at a speed of about 50 km/h when it rammed into a passing Volkswagen Passat occupied by four young women at one of the city intersections. Three of the Volkswagen's passengers were hospitalized.
7 June, 2018
13 U.S. soldiers suffered minor injuries in a road accident as four Stryker armored vehicles collided during a military exercise in Lithuania. The injured soldiers were rushed to a hospital for examinations. No civilians were involved but a road at the site remained closed.
People took to social media to mock poor roads and the poor handling of US vehicles. Some suggested that Americans didn't know the difference between miles and kilometers, others said that they "drank too much with the inhabitants of the Baltic countries and Poland."
(Note: You can view every article as one long page if you sign up as an Advocate Member, or higher).