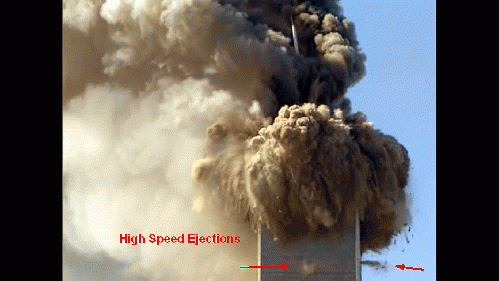 World Trade Center 1 at 10:28 on September 11, 2001
(
Image
by YouTube, Craig Braden (Fox News))
Details
DMCA
A federal grand jury should investigate the collapses of the World Trade Center Twin Towers during the 9/11 attacks, as well as WTC 7, according to a petition that an expert lawyers group plans to file on April 10 in New York City's federal court.
The 54-page petition and its 57 exhibits detail the evidence that explosives were used to destroy the WTC buildings during the attack on Sept. 11, 2001. The non-profit Lawyers' Committee for 9/11 Inquiry demands that the U.S. attorney's office for the Southern District of New York convene and submit the evidence in the petition to a grand jury.
The petition's executive summary and full text are posted on the Lawyers' Committee website, as of April 9.
"The failure of our government to diligently investigate this disturbing evidence that has emerged over the past sixteen years regarding what occurred at the World Trade Center on 9/11," commented Executive Director Mick Harrison, "has contributed to the erosion of trust in our institutions."
The WTC Tower at the top of this column illustrates "ejections" or "squibs" marked by arrows that, according to the petition-filers, provide evidence of explosion. So does molten steel, they say, which most logically could come from thermite or thermate, not from airplane fuel. The photo below shows examples of molten steel.
Molten Substance, World Trade Center 2, just prior to collapse on September 11, 2001

(

Image

by

YouTube, Ben Reisman

)

Details DMCA



The lawyers, whose petition is supported by numerous 9/11 family members of victims and first responders, detailed evidence (see below) that they say requires a criminal investigation by prosecutors in the office led by Interim U.S. Attorney Geoffrey S. Berman.
President Trump and Attorney Gen. Jeff Sessions in January named Berman to be the interim U.S. attorney for the Southern District of New York. Berman's experience includes extensive work as a federal attorney, as well as two years as a law partner of former New York City Mayor Rudolph Giuliani.
Giuliani became nationally famous, including selection as Time Magazine's "Man of the Year," for his visible role after 9/11. But he is known also for having authorized the removal and disposal of WTC steel debris in heavily guarded shipments to China.
Petitioners have scheduled a press conference for 1 p.m. Tuesday on the steps of New York's City Hall in Manhattan. Those who want to add their names to the petition can sign up online here. New names will be displayed on the next filing, which will supplement the one filed this week.
Next Page 1 | 2 | 3 | 4 | 5 | 6
(Note: You can view every article as one long page if you sign up as an Advocate Member, or higher).