Interview with Carlos Miller, Photographer/Journalist, founder/publisher of Photography Is Not A Crime blog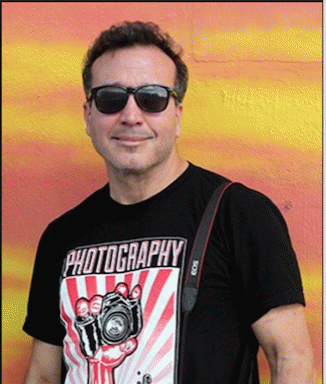 Carlos Miller
(
Image
by
concurringopinions.com
)
Details
DMCA
My guest today is journalist Carlos Miller whose blog is Photography is Not a Crime.
Joan Brunwasser: Welcome to OpEdNews, Carlos. Please tell us what precipitated the creation of your blog.
Carlos Miller: It was 2007 and I working on an article about gentrification along a street in Miami called Biscayne Blvd, which has long been notorious for its crime, prostitution and drugs. At the time, restaurants and bars and coffee shops were springing up along the street, creating an interesting mix of characters.
I spotted a group of five Miami police officers making an arrest and decided to take some photos and keep walking, but when they spotted me taking photos, they told me this was a "private matter," and told me to leave.

I reminded them this was a "public street," which prompted them to come after me, leaving the other guy alone. I ended up getting pounced on and beat up, my head bashed into the sidewalk several times, before they locked me up on nine misdemeanors, the main accusation that I was standing in the street blocking traffic.
They were claiming I refused orders to step out of the street. They were saying traffic was backed up because of me.

The photo shows that was not the case because the street was behind them, meaning I was on the sidewalk.
Next Page 1 | 2 | 3 | 4 | 5 | 6 | 7 | 8 | 9 | 10
(Note: You can view every article as one long page if you sign up as an Advocate Member, or higher).