Cross-posted from Mike Malloy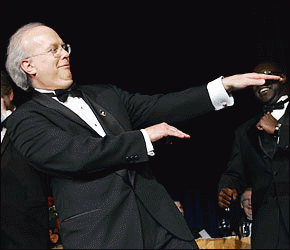 Karl Rove
(
Image
by
vicepresidents.com
)
Details
DMCA
MC Rove ... what was that about brain damage? Is this a seizure?
The lunatic in in my head ...
Pink Floyd could've been writing Karl Rove's theme song.
The architect put on his dress-up doctor's costume and diagnosed Hillary Clinton with brain damage. Clearly, the GOP has no viable presidential candidate to field so they are doing the next best thing -- unleashing their attack dogs to bite at the ankles of the leading Democratic contender. Problem is, this particular accusation is riddled with errors and reeks of desperation.
Dr. Rove is basing his determination on Clinton's three-day hospital stay in late 2012 for a blood clot in her brain, following a concussion. Dr. Rove must've missed math class the day they studied time and calendars, because he declared that Hillary was inpatient for 30 days.
Pesky facts, always ruining the good Neocon propaganda. One wonders, was Rove as concerned when Raisin Brain forgot how to chew his food and passed out after choking on a pretzel while "serving" as president? Did he declare Dim Son unfit for office following his blackout? Huffington Post has more:
"According to the New York Post's Page Six, Republican strategist Karl Rove suggested last week that former Secretary of State Hillary Clinton may have sustained brain damage after suffering a blood clot in her skull. 'Thirty days in the hospital? And when she reappears, she's wearing glasses that are only for people who have traumatic brain injury? We need to know what's up with that.' Rove has been accused of using smear tactics in past campaigns. A 1994 Alabama judicial campaign under Rove's stewardship was reportedly behind a whisper campaign claiming that the rival candidate was a pedophile. And ahead of the 2000 South Carolina presidential primary, Rove used a push poll to suggest Bush rival John McCain had fathered 'an illegitimate black child.'"
Poor Karl, looks like the Benghazi story won't stick, so he's running short on straws to grasp. But there is craftiness to Karl's seeming buffoonery. He successfully introduced the question of Hillary's health into the political discussion.
Each time his off-the-wall misdiagnosis was mentioned by the media, another handful of people were implanted with the uncertainty of her physical health -- a matter that had never been previously debated. Regardless of the inanity of the accusation, anytime somebody enters "Hillary" as an Internet search term, the brain damage story pops up front and center.
Maybe that was the grand scheme after all?