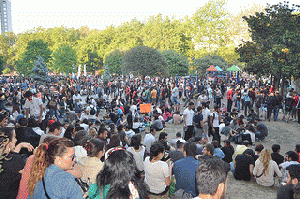 Protest
(
Image
by
boellstiftung
)
Details
DMCA
Awakened any sleepwalkers lately? We're living in times when too many people are somnolent-- walking in their sleep, ignoring the signs of impending disaster-- and those signs are pretty bad. They're sleep-walking because the predators doing the damage and causing the disaster want them to be sleeping.
Voting for candidates selected by corporate leaders in the House and senate won't help. The ONLY way to make the needed big changes happen is to wake people up and make them realized they need to be pissed off, outraged and active-- showing up, defying the powers that be, scaring the dominators who have taken their passivity for granted.
Demonstrations don't cut it anymore. Getting a permit to demonstrate in some out of the way place on a day and time that is convenient to the dominators is not the way to show those in power that we are standing up to them. It is acceptance of their control.
If you're going to demonstrate, it is essential to refuse to cooperate with the system. The system is the enemy. The system uses "democracy" to sabotage movements aiming for real change.
So, go. Organize a demonstration. But plan it without cooperating with authorities. Plan it so it is seen by many people who need to be awakened. Plan it so that the protesters don't just talk to each other. Develop plans that have every protester reaching out to people who are not part of the choir. Spend five or ten minutes before you go to the protest sharing on social media why you are investing your time and travel expenses in the protest. State why you believe your "friends" and "followers" should join you, why it is in their interest.
Imagine that you live in London during the time of the Nazi "blitz" when bombs can rain down on you at any time. Plutocrats and their minions are waging war against the ninetynine percent. Millions of us have lost jobs, millions of us still don't have health care or have lousy health care that does not afford us the ability to get appropriate diagnosis, testing or treatment. They have bought all three branches of government and they are systematically strip-mining the middle class, not caring about the casualties.
These people-- the billionaires, the big corporations and their bought politician whores are your mortal enemy. They are destroying the future for the children of the 99%, gutting the hopes for retirement of the 99%. Yet a huge percentage of the victims of this war are clueless. Wake them up. Don't let people stay complacent and ignorant or misinformed. Make the intention to do something every single day. Plan a week or two ahead, or months ahead. Get training in community organization. Stretch to reach out to people you know and strangers you encounter. Break out of the mold, go outside your usual envelope. Take risks. You will find that the more you do it the easier it gets.
Tell the people who send out the same old petitions and who organize the same old disconnected demonstrations that you demand more from them. Don't depend on them. Take the initiative and create your own projects. You have the power and when you creatively express it, that expression will attract others who will join with you and support you. Give it a try for a week. Talk to one new person and one person you know a day and discuss the issues you care about that you don't think they know about.
In the comments below, list some of the topics you choose so others can try them too.
I talk about:
-new tools for making change happen-- the bottom-up revolution-- how there are so many more new ways that people are now empowered and able to connect and reach out to cooperate to make change happen.
-predators in corporations and congress- psychopaths and how many people they hurt, how much destruction they cause.
-income inequality-- the dangers of too much wealth and power held by billionaires and corporations.
What do you talk about?