This is a man who lives in his own little "Trump World" much like Alice in Wonderland's journey into an insane world where nothing is true, all is false, and the realities inside this place - filled with nasty horrid creatures - are built on sundry types of insanity and mistruths. And danger, well there's plenty of it!
Even while he was still on the campaign trail as President-Elect Donald Trump, three psychiatrists penned a letter to then President Barack Obama. In an article that appeared just before Christmas last year in The Huffington Post titled "Is Donald Trump Mentally Ill? 3 Professors of Psychiatry Ask President Obama To Conduct A Full Medical And Neuropsychiatric Evaluation", writer Richard Greene summed up his account by opening the article, "Virtually every mental health professional I interviewed told me that they believed, with 100% certainty, that Mr. Trump satisfied the DSM criteria of this incurable illness and that, as a result, he is a serious danger to the country and the world."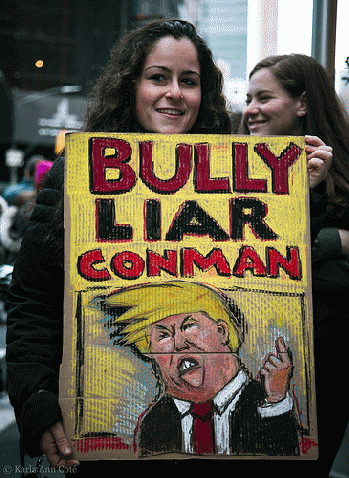 The Women's March in New York City showed the world that at least American women love democracy and are not giving it up without a hard fight.
(
Image
by
KarlaAnnCote
)
Details
DMCA
The letter the three psychiatrists sent to President Obama, on Nov. 29, 2016, is short, succinct, and very transparent. Its entirety is as follows:
Dear President Obama,
We are writing to express our grave concern regarding the mental stability of our President-Elect. Professional standards do not permit us to venture a diagnosis for a public figure whom we have not evaluated personally. Nevertheless, his widely reported symptoms of mental instability -- including grandiosity, impulsivity, hypersensitivity to slights or criticism, and an apparent inability to distinguish between fantasy and reality -- lead us to question his fitness for the immense responsibilities of the office. We strongly recommend that, in preparation for assuming these responsibilities, he receive a full medical and neuropsychiatric evaluation by an impartial team of investigators.
Sincerely,
Judith Herman, M.D.
Professor of Psychiatry
Harvard Medical School
Nanette Gartrell, M.D.
Associate Clinical Professor of Psychiatry
University of California, San Francisco (1988-2011)
Assistant Professor of Psychiatry, Harvard Medical School (1983-87)
Dee Mosbacher, M.D., Ph.D.
Assistant Clinical Professor
Department of Community Health Systems
University of California, San Francisco (2005-2013)
Both Republican and Democratic legislators must really start putting a muzzle on this angry rabid dog. The courts have stood up to him, as evidenced by the brave federal judges who shot holes through the constitutionality of Trump's immigration ban of seven mostly Muslim nations. The American public is standing up to Trump, and yes, you Republican and Democratic House of Representatives leaders and Senators, there will be a mass of us at any and all of your upcoming "town hall" meetings. The kindling in the fire has just started this big bonfire of controversy and fury. A growing multitude of the American public will not stand for Donald Trump, nor the eccentric, filthy-rich, out-of-touch Kakistocracy that he has surrounded himself with in this insane game he's been playing, and it's only in its first month.
Donald Trump, as Hillary Clinton said on the campaign trail so many times, is unfit to be President. Own it. It's true. We don't need our own version of Dr. Stangelove with such unbridled powers to start nuclear winter across the globe, not to mention decimating virtually all life as we know it.
(Article changed on February 17, 2017 at 21:38)