Charles Dickens, author of the beloved, A Christmas Carol, is considered the greatest writer of the Victorian era, and was "only too familiar with the shameless piling up of wealth, the poor struggling to survive, the penny pinching of welfare, and the lofty contempt of our rulers."

The middle 1800's were a period of "turbulent capitalist transformation of the great cities, of enormous social conflict between different social forces, and of fierce ideological turmoil." Dickens was passionate about the obligation of society to humanely provide for the poor and unfortunate, and he was equally passionate about exposing the evils of profound economic inequalities.

Sound familiar? The issues addressed in Dickens' messages are still hot topics a century-and-a-half later in our current presidential primaries. Vermont Senator and Presidential candidate Bernie Sanders is especially Dickensian in his condemnation of the huge economic inequality in our society. And like Dickens, Sanders is passionate about helping the disadvantaged.
Dickens had planned a standard political pamphlet-writing campaign to help educate the public in order to sway opinions in favor of assisting the unfortunate. That changed in October 1843. As a result of participating as a lecturer in a landmark event focused on fundraising for the poor, he was deeply touched by the plights of the destitute people he interacted with during the three-day event.
So Dickens abandoned his proselytizing plan, and instead, started working on a novella designed to speak directly to the heart. In a timeline that would make a modern day cyber author proud, he finished A Christmas Carol in just six weeks, and saw it published in time for Christmas. It was an instant success, and just a few weeks later three adaptations for the stage had already opened.
Ryan Bradshaw (Tiny Tim) and Chris Van Cleave (Scrooge) in VMT production of A Christmas Carol: A Musical, 2015
(
Image
by
Virginia Musical Theatre
)
Details
DMCA
Veteran actor-singer Chris Van Cleave has portrayed both Jacob Marley and Ebenezer Scrooge in multiple productions of A Christmas Carol. His full and diverse background includes other major roles in U.S.A. and U.K. national tours, as Jesus in Jesus Christ Superstar and as Claude in Hair, as well as playing leading roles in London West End productions of Les Miserables and Chess.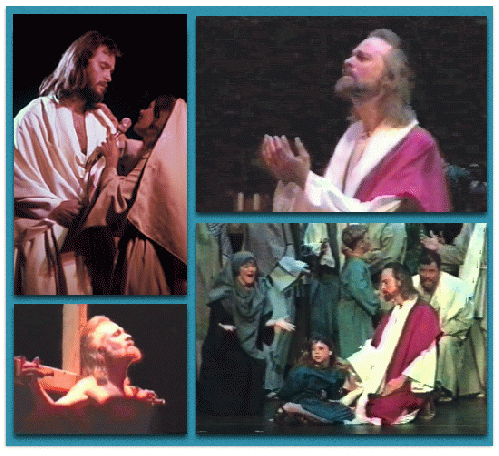 Van Cleave in the title role in Jesus Christ, Superstar, various productions, including the Broadway tour, top left.
(
Image
by
Photos courtesy Chris Van Cleave.
)
Details
DMCA
Van Cleave has been Loretta Swit's (M.A.S.H.) leading man in stage productions of both The Best Little Whorehouse in Texas and Mame at the Forestburgh Playhouse, the oldest continuously operating professional summer theatre in New York State.
(Note: You can view every article as one long page if you sign up as an Advocate Member, or higher).