Articles Listed By Date List By Popularity
Page 1 of 3 First Back Next 2 3 View All
Sunday, December 10, 2017 (4 comments)

What Trump Has Done: The Entire US-Middle East Political Framework Just Collapsed "I have determined that it is time to officially recognize Jerusalem as the capital of Israel," Trump said in Washington on Wednesday. The embattled president has done what many had asked him not to do. But the truth is, US foreign policy has been bankrupt for years. It was never fair, nor did it ever intend to be so.
Wednesday, December 6, 2017

"Say the Word": What the Rohingya Struggle is Really About Since August, over 650,000 members of the Rohingya community have been driven out of their homeland in Burma by a joint and systematic operation involving the military, the police and various Buddhist nationalist groups. They call it "Clearance Operations." Thousands of Rohingya have been killed in this grave act of genocide, some in most abhorrent and inhumane ways imaginable.
Tuesday, November 21, 2017

70 Years of Broken Promises, The Untold Story of Israel's Partition Plan A Palestinian Arab state had initially been proposed as a political tactic by the British, to provide a legal cover for the establishment of a Jewish state. It continues to be used as a political tactic, though never with the aim of finding a "just solution" to the conflict, as is often propagated.
Thursday, November 16, 2017 (1 comments)

The Trials of Benjamin Netanyahu: Corruption in Israel is Not Just an Israeli Issue Corruption in Israeli society has become particularly endemic after the occupation of East Jerusalem, the West Bank and Gaza in 1967. The idea that ordinary Israelis can move into a Palestinian house, evict the family, claim the house as their own, with the full support of the military, the government and the court, exemplifies moral corruption to the highest degree.
Thursday, November 9, 2017

"Creeping Annexation": Why Israel Shelved the "Greater Jerusalem Law" While paying lip service to peace, Netanyahu has no intentions of allowing a Palestinian state to ever take shape, and is tactically working to ensure a complete physical partition between East Jerusalem and the West Bank, while, simultaneously linking major settlement blocs to Jerusalem.
Thursday, November 2, 2017

Walls and Militarized Police: How Israel Is Exporting Its Occupation to the United States Criticizing Israel is still a taboo in the US, where the Congress is beholden to lobby pressures and kickbacks, and where the media's script on the illegal Israeli military occupation of Palestine is even less critical than Israel's own media.
Wednesday, October 25, 2017 (1 comments)

Hamas and Fatah Must Transform to Speak on behalf of Palestinians For the Hamas-Fatah unity to become a true national unity, priorities would have to change entirely, where the interest of the Palestinian people -- all of them, everywhere -- would, once more, become paramount, above the interests of a faction or two, seeking limited legitimacy, fake sovereignty and American handouts.
Tuesday, October 17, 2017 (2 comments)

The Real Reason behind Trump's Angry Diplomacy in North Korea It is ironic that, while the US threatens to "totally destroy North Korea," it is the Chinese government that is using sensible language, calling for de-escalation and citing international law. Not only did fortunes change, but roles as well. China, which for many years was depicted as a rogue state, now seems like the cornerstone of stability in Asia.
Wednesday, October 11, 2017

The Balfour Declaration Destroyed Palestine, Not the Palestinian People The Balfour Declaration was equivalent to a decree calling for the annihilation of the Palestinian people. Not one Palestinian, anywhere, remained completely immune from the harm invited by Balfour and his government.
Thursday, October 5, 2017

The Fight Ahead: 13 Questions about the Origins, Objectives and War on BDS Several wars have been waged against Palestinians, especially in Gaza, killing thousands and maiming thousands more. With no serious pressure on Israel, thanks to US backing of Israel at the UN, not a single Israeli was ever held accountable for what was repeatedly recognized by UN investigators as war crimes against Palestinians.
Thursday, September 28, 2017 (1 comments)

Spot the Difference: Trump and Obama, in Their Own Words Despite the vastly different style -- Trump's confrontational approach compared with Obama's composed attitude -- their words promise "more of the same." The nature of the rhetoric in Donald Trump's first speech at the United Nations General Assembly was largely predictable. Even his bizarre threat to "totally destroy North Korea" was consistent with his overall style and previous warnings.
Thursday, September 21, 2017

Courting the Global South: Will Israel Become a UN Security Council Member? Israel's strategy of elevating its status at the UN can be seen as an admission of failure of Tel Aviv's antagonistic behavior. However, if Israel wins that seat, it is likely to use the new position to strengthen its occupation of Palestine, as opposed to adhering to international law.
Thursday, September 7, 2017

Three Years after the War: Gaza Youth Speak Out The war left Gaza in ruins, as over 17,000 homes were completely destroyed, and thousands of other structures, including hospitals, schools and factories destroyed or severely damaged. The war fully shattered whatever semblance of economy the Strip had had. Today, 80 percent of all Palestinians in Gaza live below the poverty line, the majority of whom are dependent on humanitarian aid.
Wednesday, August 30, 2017 (1 comments)

The Terror Next Time: The Daesh Story Is Not Ending Daesh is finally being routed, in most violent and decisive methods. Without understanding and confronting the reasons behind the rise of Daesh, one is certain that the fall of Daesh will spawn yet another group with an equally nefarious, despairing and violent vision.
Wednesday, August 23, 2017 (3 comments)

Nuclear Apocalypse: Trump and Kim Should Not Hold the World Hostage Both Trump and Kim are dubious figures, driven by fragile egos and unsound judgement. Yet, they are both in a position that, if not reigned in soon, could threaten global security and the lives of millions. The problem is far greater than two unhinged leaders. There are seven other countries that possess nuclear weapons. They are Russia, India, Pakistan, Israel, China and France.
Thursday, August 17, 2017 (1 comments)

Al-Araqeeb Village: Palestinian Bedouins Refuse to Surrender 116 Times The epicenter of the ongoing fight is the village of Al-Araqeeb. Not only has Israel destroyed Al-Araqeeb numerous times in violation of international law, it actually delivers a bill to the homeless residents expecting them to cover the cost of the very ruins wrought by the Israeli state.
Saturday, August 12, 2017 (4 comments)

"The Palestine Exception": War on BDS is now a War on American Democracy Washington is now leading the fight, thus legitimizing the anti-democratic behavior of individual states. If the efforts of the US government are successful, an already struggling US democracy will take yet another step back, and many good people could potentially be punished for behaving in accordance with their political and moral values.
Thursday, August 3, 2017

Power to the People: Why Palestinian Victory in Jerusalem is a Pivotal Moment For 50 years, Jerusalem has endured daily battles. The Israelis fought to expand their influence in the city, increase the number of illegal Jewish settlers and cut off Jerusalem from the rest of the Palestinian Territories; while Palestinians, Muslim and Christians alike, fought back.Al-Aqsa compound -- also known as Haram Al-Sharif or the Noble Sanctuary -- is the most symbolic element in the fight.
Sunday, July 30, 2017

Gaza: The curse of Mohammed Dahlan Dahlan, who had once been praised by George W Bush and was chosen by neoconservatives to lead a coup against the elected Hamas government in Gaza in 2007, seems to have finally managed to sneak his way back to Palestinian politics. Outrageously, however, Dahlan's ominous return is facilitated by no other group than his archenemy, Hamas.
Wednesday, July 26, 2017 (1 comments)

Fear and Trepidation in Tel Aviv: Is Israel Losing the Syria War? The Israeli government has made it clear to the US that it is displeased with the ceasefire agreement, and Israeli Prime Minister Benjamin Netanyahu, has been leading strong efforts to undermine the ceasefire. Netanyahu's worst fears are, perhaps, actualizing: a solution in Syria that would allow for a permanent Iranian and Hezbollah presence in the country.
Thursday, July 20, 2017 (1 comments)

The Story behind the Jerusalem Attack: How Trump and Netanyahu Pushed the Palestinians into a Corner In the absence of a strong leadership, Palestinians are growingly increasingly desperate and angry. The Palestinian Authority is largely busy in its own pitiful power struggles and appears to have no time for Palestinians, who are left with little hope for a political horizon and no clear sense of direction.
Thursday, July 13, 2017 (2 comments)

Fighting the Wrong Enemy: Why Americans Hate Muslims Anti-Arab and Muslim sentiments in the US have been around for generations, but it has risen sharply in the last two decades. Arabs and Muslims have become an easy scapegoat for all of America's failed wars and counter-violence. Blaming Muslims for the decline of the American empire is as ineffective as it is dishonest.
Thursday, July 6, 2017 (1 comments)

"The World is (Not) Flat": "Trumpism" is a Symptom of Decades-long Imperial Arrogance This chaos will continue to bode badly for the Arab world and Middle East region, in particular. Since Bush's disastrous war in Iraq, Obama's "pivot to Asia" and the onset of the current turmoil, the region has been in flames. Unable to offer a courageous diagnosis of the violence, the Trump administration is parroting the same old jingoism of defeating "Islamic terrorism."

Friday, June 30, 2017

Pushing Gaza to Suicide: The Politics of Humiliation Between Israel's dismissal of international calls to end the siege and Palestinians' pathetic power game, Gazans are left alone, unable to move freely or live even according to the lowest acceptable living standards. The suicide rate in the Strip is at an all-time high, and despair is believed to be the main factor behind the alarming phenomena.
Sunday, June 18, 2017 (1 comments)

Israel versus the UN -- the Nikki Haley doctrine When Haley speaks about Israel, her words are resolute, consistent and are matched by a clear plan of action. Along with Haley, the rightwing Israeli government of Benjamin Netanyahu is moving fast to cultivate the unique opportunity of dismissing the UN, and thus, any attempt at criticizing the Israeli occupation.
Thursday, June 15, 2017

Journalism, History and War: Sit, Type and Bleed When Israel and its allies say "Palestinians are not a people," they essentially say that Palestinians have no identity, no legitimate demands, thus deserve no voice. When the media silences the voice of the people, they relegate their rights, demands for freedom, change and democracy.
Wednesday, March 15, 2017 (1 comments)

US and Israeli Codependent Relationship is Not Just about Money Although recent polls have shown that younger Americans -- especially among Democratic party supporters and young Jewish Americans -- are losing their enthusiasm for Israel and its Zionist ideology -- the battle for the US to reclaim its foreign policy and a sense of morality regarding Palestine and the Middle East is likely to be long and arduous.
Thursday, March 9, 2017

Only the Israeli Dead Matter: Israel's Failure at Investigating Its Bloody Wars Any attempt at investigating Israeli conduct will be thwarted, for Israel is a "democracy" and, for some reason, self-proclaimed democracies cannot be investigated. Only their sham investigations matter; only their dead count.
Friday, March 3, 2017

American Muslims, No Apology Necessary Long before the Trump administration's "Muslim Ban" -- banning citizens of seven Muslim-majority countries from entering the US for 90 days -- Muslims in the US have always, to varied degrees, been embattled, collectively demonized, racially profiled by government agencies and targeted in numerous hate crimes by fellow Americans.
Wednesday, February 22, 2017

The Trump-Netanyahu Circus: Now, No One Can Save Israel from Itself Donald Trump is not just a raving man, but a dangerous one as well. His unpredictability must worry Israel, which expects from its American benefactors complete clarity and consistency in terms of its political support. At the age of 70, Trump is incapable of being the stalwart, pro-Zionist ideologue in a way that suits Israeli interests well.
Thursday, February 16, 2017 (2 comments)

Israel's Vision for the Future is Terrifying Since Donald Trump was sworn in as president of America, Israel has felt liberated from its obligation to doublespeak. For decades, Israeli officials spoke passionately about peace, and did everything in their power to hinder its attainment. Now, they simply do not care. Period.
Thursday, February 9, 2017 (2 comments)

The Uncomfortable Truth: Are We Hating Donald Trump for the Wrong Reasons? Obama redefined and expanded war, advanced the nuclear arms race and destabilized more countries. Trump is also a brand, an unpromising one. The product -- whether military aggressions, racism, islamophobia, anti-immigration policies, economic inequality, etc. -- remains unchanged.
Saturday, February 4, 2017 (1 comments)

Clamoring for Israeli Approval: Trump's Election Promises Will Haunt Him Over the course of just a few days following Trump's inauguration, the Israeli government has ordered the construction of thousands of new housing units in Occupied Jerusalem. Even traditional allies of the US and Israel are alarmed by the grim possibilities resulting from the nascent Trump-Israel alliance.
Friday, February 3, 2017 (2 comments)

Operation Chaos: Trump Will Ignite a Powder Keg in the Middle East Countries around the world, even those who are considered allies of Israel, including the United States reject Israeli sovereignty over Jerusalem, and refuse Israeli invitation to relocate their embassies from Tel Aviv to the illegally-occupied city.
Wednesday, January 25, 2017

Paris and the End to a Western-dominated Era in the Middle East Israel does not need to accommodate the rules of the game anymore, simply because the American "broker," himself, has lost interest. Trump understands that his country can no longer maintain policing a uni-polar world and has no interest in picking fights with regionally powerful Israel.
Thursday, January 19, 2017

The Balancing Act is Over: What Elor Azaria Taught Us about Israel Thousands of Palestinians were killed in the Gaza Strip alone, mostly in the Israeli wars of 2008-9, 2012 and 2014. Although thousands of children and civilians were killed and wounded in Gaza and the rest of the Occupied Territories and, despite international outcries against Israel's violations of international law, there is yet to be a single conviction in Israeli courts.
Wednesday, January 4, 2017 (1 comments)

A Blessing in Disguise? The Trump Presidency May be Better for Palestine The US blind support of Israel throughout the years has increased the latter's expectations to the point that it now anticipates US support to continue, even when Israel is ruled by extremists who are further destabilizing an already fragile and unstable region. According to Israeli logic, such expectations are quite rational.
Tuesday, December 27, 2016

Palestine 2017: Time to Bid Farewell to Washington and Embrace the Globe There are up to 196 illegal settlements on occupied Palestinian land, in addition to hundreds of settler outposts. These settlements host up to 600,000 Jewish settlers, who were moved there in violation of international law and, in particular, the Fourth Geneva Convention. It is time to move away from Washington and to embrace the rest of the world.
Thursday, December 22, 2016

For Palestinians, Zionism only Means One Thing As far as Israel is concerned, any criticism of the state and its political ideology is anti-Semitic as are any demands for accountability from Israel regarding its military conducts during war.
Wednesday, December 7, 2016

Hold your applause, Fatah, the Palestinian body politic is rotten to the core Palestinians are divided among factions, regions and clans; political favoritism, financial corruption and outright treason are eating the Palestinian body politic like an incurable cancer. Talk of "unity," "reconciliation" and "state building" is just that - talk - while Palestinians suffer their bitter existence behind checkpoints and under the boots of soldiers and the quiet - but maddening - humming of military drones.
Sunday, November 27, 2016 (1 comments)

What Should Palestinians Expect -- Can Trump Be Any Worse? History has taught us that, when it comes to US foreign policy towards Palestine and Israel, things are likely to get worse, not better. Despite the current chasm within American society, among the media and political elites, the American love affair with Israel will continue. The ongoing war on Palestinian rights and aspirations will also linger.
Thursday, November 17, 2016

Praying for Freedom: Why Is Israel Silencing the Call for Prayer in Jerusalem? Banning the call for prayer is merely a reminder of Israel's domination over the wounded Holy City, and a message that Israel's control exceeds that of tangible existence, into every other sphere. Israel's version of settler colonialism is almost unprecedented. It does not simply seek control, but complete supremacy.
Wednesday, October 19, 2016 (4 comments)

Why is the Truth on Syria Difficult to Decipher? The problem is not entirely that of media manipulation of facts, videos and images. The war in Syria has polarized the discourse like never before, and most of those who are invested in that conflict find themselves forced to take sides, thus, at times abandoning any reason or common sense. The truth on Syria is that, regardless of how the war ends, Syria has been destroyed and its future is bloody and bleak.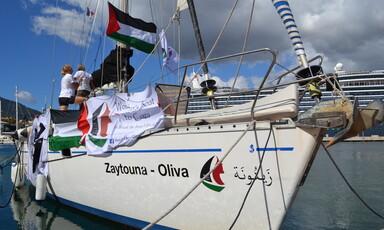 Wednesday, October 12, 2016 (1 comments)

The Convoluted Discourse: Was The Women's Boat to Gaza an Existential Threat? Needless to say, a group of women atop a small boat, carrying a symbolic amount of supplies to impoverished Gaza, were not about to take the Middle East's only nuclear power down. "The Israeli army then took over the boat. The women showed no resistance as they wanted to emphasize that their mission was peaceful. "Terrorists," indeed.
Friday, September 30, 2016

Ban Ki-moon's Legacy in Palestine: Failure in Words and Deeds When the UN chief is gone, he will be missed -- but certainly not by Palestinians in Gaza or refugees in Syria, or war victims in Afghanistan. But by the likes of Susan Rice, whose job was made very easy when all she needed to do was merely instruct the chief of the largest international organization on earth to do exactly as she wished and for him to gladly do so.
Wednesday, September 14, 2016 (2 comments)

The Native American, the Palestinian: A Spirited Fight for Justice Palestinians are losing their lives, land and olive trees as they stand up to Israeli tanks and bulldozers. Their reality is a replay of similar experiences faced -- and still being confronted -- by Native Americans. Well into the 21st century, the Native American-Palestinian struggle remains one and the same.
Thursday, September 8, 2016

Is Israel Pushing for a Palestinian Civil War? Those powers that have imposed themselves as "peace brokers" and guardians of international law must understand that Israel is well-qualified to start fires, but almost never capable of putting them out. And Lieberman, of all people -- the Russian club bouncer-turned politician-turned defense minister -- must not be given free rein to color-code Palestinian communities, reward and punish as he pleases.
Wednesday, August 24, 2016 (1 comments)

Punishing the Messenger: Israel's War on NGOs Takes a Worrying Turn Working hand in hand with various western governments, Israel's official perception of the non-violent BDS movement is reaching the point of treating the civil society movement as if a criminal organization. BDS merely demands moral and legal accountably from western governments and corporations that contribute in any way to Israel's violations of human rights and international law.
Thursday, August 4, 2016

My Response to Bill Clinton: On (My) Liberty and (Your) America Donald Trump wants to keep us out of the country altogether. But Bill Clinton, former president and husband of a Democratic presidential nominee, does not mind us staying, as long as we -- Muslims -- behave ourselves. Welcome to America where racial profiling is the country's most popular idea, and where citizenship is now conditioned on blind obedience.
Wednesday, July 20, 2016

From Nice to the Middle East: The Only Way to Challenge ISIS After the September 11, 2001 attacks, the US' misguided responses -- invading and destroying countries -- created the very haven that have espoused today's militancy and terror. It is hardly difficult to follow the thread of ISIS' formation, the deadliest of all such groups that mostly originated from "al-Qaeda" in Iraq, itself wrought by the US invasion.

Thursday, June 30, 2016

Will Brexit Help the Palestinian Cause in the EU? While pressure must continue to be applied on Westminster to end its unconditional backing of Israel, a possibly friendlier EU without the staunchly pro-Israel Britain, may emerge. The UK's support for Israel in the Union, and backing of American steps in the same direction, has seriously hampered the EU's chances of being anything but a rubberstamp to US-UK policies not only in Palestine but also throughout the Middle East.
Saturday, June 25, 2016

Palestine's "Prayer for Rain": How Israel Uses Water as a Weapon of War For nearly five decades, Israel has been employing the same policies against Palestinians without much censure or meaningful action from the international community. The problem is reaching catastrophic proportions. This time, the tragedy cannot be brushed aside, for the lives and well-being of entire communities are at stake.
Wednesday, June 15, 2016

Gaza: Resistance Through Poetry True, the wars have devastated Gaza and the siege is severely diminishing its ability to develop the massive and promising human capital it has. But it has not disfigured its essence, or lessened its humanity. Gaza remains a place of poets, artists, dabka dancers and untamable spirits of utterly resilient and refreshingly stubborn people.
Tuesday, May 31, 2016

The Reductionist View of an Intifada The nature of the current uprising in the West Bank and occupied East Jerusalem is testament to a pent-up anger of an entire generation that grew up behind walls and checkpoints. They are fighting two separate enemies -- the occupation army and their own oppressive leadership.
Saturday, May 28, 2016

Time to End the "Hasbara": Palestinian Media and the Search for a Common Story After over two decades of the failure of the so-called "peace process," and the rapid increase in the colonization of the Occupied Territories in addition to the extreme violence used to achieve these ends, many Palestinians are waking up to the painful facts. There can be no freedom for the Palestinian people without unity and without resistance.
Wednesday, May 18, 2016 (1 comments)

Roots of the Conflict: Palestine's Nakba in the Larger Arab "Catastrophe" When Palestine -- which was promised by Britain as a national home for the Jews as early as November 1917 -- became Israel, hosting mostly Europeans settlers, the fate of the Arab region east of the Mediterranean was sealed as the ground for perpetual conflict and antagonism.
Saturday, May 14, 2016 (2 comments)

A Palestinian Perspective on Britain's "Anti-Semitic" Controversy By completely shutting the door on any form of criticism of Israel, Zionism, and the censure of its military behavior in the region coupled with the daily violence meted out against occupied Palestinians, Israel has expanded the definition of anti-Semitism to include whole countries, governments, international institutions and millions of independently thinking individuals the world over.
Friday, May 6, 2016

The Spirit of Nelson Mandela in Palestine: Is His Real Legacy Being Upheld? When Nelson Mandela said, "We know all too well that our freedom is incomplete without the freedom of the Palestinians," he was not trying to be cordial or diplomatic. He meant every word. Someday, we hope that a statue of Mandela, one that represents the spirit of Resistance in Palestine, will stand tall amid the people who championed his cause and loved him most.
Friday, April 22, 2016 (1 comments)

At 80, Failed Abbas is Probed, Derided and Scapegoated Israel's propensity to maintain its violent occupation cannot be blamed on Abbas. It is Israeli Prime Minister, Benjamin Netanyahu, and his right wing coalition that should be blamed squarely for the Occupation, the mistreatment and humiliation of Palestinians on a daily basis. However, such truth should not detract from Abbas' terrible legacy and ongoing misconduct.
Thursday, April 14, 2016

The Logic of Murder in Israel: A Culture of Impunity in Full View of the Entire World Dehumanizing Palestinians -- describing them as "beasts," "cockroaches," or treating them as dispensable inferiors -- has historically been a common denominator in Israeli society, uniting Jews from various political, ideological and religious backgrounds.