Articles Listed By Date List By Popularity
Page 1 of 2 First Back Next 2 View All
Friday, April 28, 2017

Reality TV Trump There's never a shortage of topics these days, eh Truthseekers?
Monday, February 15, 2016 (2 comments)

On The Departure of Antonin "Fat Tony" Scalia Using their degenerate belief system, could it be that Fat Tony was plucked from his afternoon nap and sent to the cornfield because the spook decided he wanted outcomes on pending Court decisions that FT would not deliver? Is this true, Prosperity Pimps? (It would most certainly be their conclusion if it had been the liberal Justice Ginsburg who was dispatched, right?
Thursday, February 11, 2016 (1 comments)

Blow Your Head A word not often used in politics is: inevitable. However some Republican voters are now using it to describe a Trump victory in the primaries as well as in the general election this November. And, these are not -- emphatically not -- Trump supporters. They could be described as conservative, Republican, evangelical, or any combination of those terms.
Friday, September 11, 2015 (4 comments)

14 Years Could this horror have been managed differently if the 9-11 attacks were handled by the Justice Department rather than the Dept. of War Defense? As a police, rather than military, action? Or if the Supremes hadn't appointed Dubya as Commandant in Chief?
Wednesday, August 12, 2015 (4 comments)

More -- We Want More! Today's United States Air Force is shockingly riddled with calculated, deliberate and willful ignorance as to what its actual mission is...the constant, strident attempts by airmen to 'free range' proselytize the exclusivist dominance of the evangelical Christian fundamentalist faith.

Thursday, June 18, 2015 (5 comments)

The Next One Could Be Yours Eventually, your city, town, church, school, shopping mall or neighborhood (and possibly one of your family members; maybe you) will be added to the gun killings list. Count on it. Bet on it. Why? Because we worship our guns; we are a country of extreme violence.
Wednesday, April 22, 2015 (1 comments)

Earth Day Redux Here we are, 45 years later and a cynic -- like me -- might ask, "And, what have we accomplished since then?" It's a question an idealist -- like me -- should avoid asking because of the absolute and total co-option of Earth Day by the same corporations now involved in destroying everything. Everything. Completely.
Tuesday, April 21, 2015 (4 comments)

D is for Dow...D is for Death n keeping with its mission of death, destruction, and corporate profits Dow has endorsed the fast-track authority bill (TPA) now being readied in Congress for the President's rubber stamp. Dow -- as well as other predatory capitalist enterprises -- are beside themselves with gleeful anticipation.
Wednesday, April 1, 2015 (5 comments)

Help! My Rights are Being Attacked! The one group always found at the top of any pyramid of power in the U.S. -- it is them: White, male and Christian. And, if you listen to and watch these poor wretched souls as they whine and screech and pass laws protecting them from their tormentors, you begin to realize how far over the edge into religious madness these charlatans have taken themselves.
Friday, January 30, 2015 (2 comments)

Death To The Peacemakers!! McCain, himself a war criminal by the definitions decided and accepted at the Nuremberg War Crimes trials after World War II, could not abide the presence of Code Pink, the anti-war group attending the hearing to object to war criminals offering advice to the Senate on legislation that will -- if enacted -- open the door to more war, death, destruction and suffering.
Wednesday, December 10, 2014 (1 comments)

Torture The Conservatives insist they were defending America, protecting us from the terrorists who are lurking everywhere, everywhere, everywhere. The conventional wisdom says the torture report will be forgotten or become irrelevant by Election Day 2016. The conventional wisdom is probably correct.
Monday, December 8, 2014

Flawed by Design The percentage of non-whites that now account for the largest proportion of those in jail or prison -- a prison system that has the greatest number of its citizens locked down compared to any other country on earth? What is failing? Perhaps nothing is failing. Maybe this is how the American justice system was designed to operate.
Tuesday, October 21, 2014 (2 comments)

No Accounts The soon-to-be-released Senate report on the torture, kidnapping, illegal detention, and interrogation of Afghan citizens and others swept up and delivered to the CIA during the initial stages of Bush's "war on terror" does not even mention the responsibility of the Bush Administration in organizing, ordering, and carrying out these criminal activities.
Friday, August 8, 2014 (2 comments)

Israel: One of the "most oppressive and brutal regimes in the world?" The US Congress -- both House and Senate -- have learned their lessons, too. No sooner does an incident arise that -- if committed by a country other than Israel -- would clearly be identified as at best a human rights violation, and at worst a war crime does the House and Senate suddenly find a cohesion that otherwise simply does not exist.
Wednesday, July 16, 2014 (12 comments)

Welcome to America US citizens have no idea why there is--and continues to be--an unrelenting surge of refugees at our southern border. Tired, frightened, desperate Central American mothers and their small children are now met with gun-wielding, shouting Americans draped in US flags and flecked with their own spittle--a welcoming committee that should shame every person who lives in this country.
Monday, July 14, 2014 (10 comments)

Thank You Texas Teabag Representative Louie Gohmert How does one respond to such disfiguring logic such as that of Louie Gohmert? One can't, really. One can only scratch one's head and marvel at whatever substance is in Texas' drinking water (fracking fluid?) that produces such a bumper crop of half-wits who populate the state's political system.
Tuesday, July 8, 2014 (5 comments)

The BBC vs. FOX, NBC, ABC, et al The BBC strongly recommends its science reporters attend seminars organized by the world's leading scientists, researchers, and science writers. The point in attending is to be able to separate fact-based reporting from the sort of garbage swung hither and yon by US media outlets, especially television.
Thursday, July 3, 2014

Freedom! Freedom! There is not a nation on the earth guilty of practices more shocking and bloody than are the people of the United States, at this very hour. America is false to the past, false to the present, and solemnly binds herself to be false to the future.
Monday, June 30, 2014 (1 comments)

Corporations Are People, My Friend The Supreme Court today opened the door to an absolute tornado of coming petitions to block a woman's right to obtain contraception and other female health applications under the Affordable Care Act. This decision to a certain subset of corporations is worse than a joke. This is precedent that will -- is being -- celebrated by Christian Fundamentalists as one more victory on the way to legal female subjugation.
Wednesday, June 11, 2014 (1 comments)

Washington Post By God In a published screed that reads as though it came from a character in a Margaret Atwood novel, Will insists that campus rape is an "alleged" act (he doesn't even mention the associated violence) -- and that these crimes against young women confer so much "status" that women seek the title "victim."
Thursday, May 29, 2014 (3 comments)

1984, Redux -- Redux Are our private conversations not Orwellian examples of Thought Crime if they are critical of the ruling class or if they question the actions of those in power and are discovered in massive sweeps of phone calls and emails?
Wednesday, June 26, 2013

Victory...? Those two decisions today seemed to restore just a bit of sanity to a Court that is owned and operated by the same insanity that determined corporations are "people" with the same rights (and none of the obligations) enjoyed by real people -- citizens; people; warm-blooded mammals who walk upright.
Monday, December 17, 2012 (2 comments)

Burial The tragedy spread like a dark bloodstain from the first-grade classroom of dead children to families to the keepers of law and order to the state authorities to the politicians to the president. Shock. Horror. Words. Endless words. Endless. This was not the first, nor the last slaughter of innocents. It was only the next.
Monday, November 5, 2012 (1 comments)

The Day After One assumes there will be no poisonous radiation to deal with the day after tomorrow's election. But, it is safe to expect the poisonous political atmosphere that begins with a Romney victory will engulf the country in a tsunami of rapacious greed and possible ultra-violence.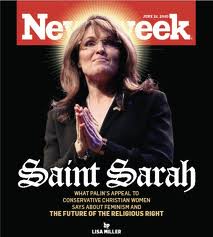 Wednesday, January 12, 2011 (9 comments)

Move Over, Mother Teresa According to Sarah, we should feel more sympathy for her than for Rep. Giffords, or little nine-year-old Christine Green, or the any of the six dead and 20 wounded in the tragedy. Not since the Jews of Biblical times has a figure been as victimized as our Sarah, the only truly injured party in this sad turn of events. Because it's all about her. Really, it is.

Monday, November 1, 2010 (2 comments)

Last Call Unemployment benefits will never be extended again, job-creation programs will be defunded, homeowner-protection programs will be closed. Expect a tidal wave of middle-class homeless to set up tent-villages and take up residence in their cars.

Wednesday, February 3, 2010

Rhymes With Rogue There's not enough drama in DC politics already. We need Sarah to whip up her fans into a foaming tea-spewing frenzy and pepper her Facebook page with demands that Rahm be fired for (allegedly) saying Senate liberals are "f'ing retarded," because that is somehow a direct reference/insult to her special needs son, Trigger.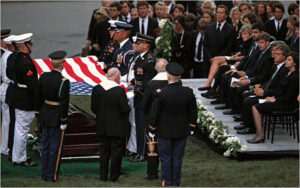 Monday, August 31, 2009 (1 comments)

Death. As a ceremony. Ted Kennedy's life was extraordinary -- filled with both flaws and strengths. His death closes yet another door that might have led to what the Framers saw as a possibility and what the newly emerging Fascists see as an obstacle: the hope of life, liberty, and the pursuit of happiness.
Wednesday, August 26, 2009 (9 comments)

Senator Ted Kennedy Why the tears? I don't know. Perhaps the announcement was simply another reminder of the scope of the tragedy that has been the Kennedy Family -- a monumental Shakespearean tragedy, far beyond what any family should be fated to endure.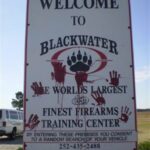 Wednesday, August 5, 2009 (7 comments)

Christian Reconstruction Prince -- while significant in the Dominionist Movement -- is simply a small cog in the wheel of U.S. Fascism, a wheel that seems to be unstoppable as it slowly and inexorably turns this country into an asylum managed by right wing Republican sociopaths, Christian killers and corporate thugs who, in a different time, a different place (France mid-1790s) would be summarily executed for their attempts to destroy this Republic.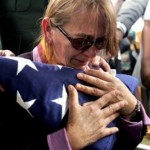 Monday, July 20, 2009 (2 comments)

Vortex Dreams? For mothers, dreams die when the son (and now daughters, too) die. Or they crumble into dust when the child returns from a horrific time in combat with arms blown off, heads caved in, souls eaten away, minds completely blown.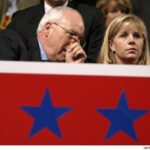 Monday, July 13, 2009 (12 comments)

Spawn But, like her dad, Liz, in addition to being severely detached from reality, is a not-so-crypto-totalitarian. Liz seeks rigid discipline; order; screams; strict rules enforced by ugly stuff perpetrated in dark cells wherein harsh punishments and ancient tortures are delivered with no mercy.

Tuesday, July 7, 2009 (1 comments)

Wrong. Terribly Wrong... McNamara's true legacy is to be found in American men now in their 60s who still carry the with them the memories of the war crimes perpetrated against yet another innocent country the United States decided to invade and destroy.

Monday, June 29, 2009 (2 comments)

Gosh, It's Good To Be Back It's not that I leave the planet when I take a week off; it just seems that way. No newspapers or TV, unless, of course, we hear through the beach grapevine that, once again, a Republican "family values" freak has got caught with his wee-wee pinched in the zipper of a dress not belonging to his wife. Metaphorically speaking, of course.

Monday, June 15, 2009 (2 comments)

Freedom! After six years in prison (for what? convicted by whom? defended by whom? guaranteed what rights?)American officials concluded that the men should not be considered enemy combatants and an American court ordered their release. But, Cheney insisted! Cheney warned! Cheney demanded they be kept locked up! Forever!

Wednesday, June 10, 2009 (2 comments)

Look! It's Me! Look! Please! To a very large, extent the general public has become a fearful herd of mooing bovines, moved this way then that way by whatever barking Republican is handed a mic or is steered toward a camera. Is there any topic, any attitude, any idea, any anything that a right wing Republican can't saturate with fear and then use to turn the cowardly Mister or Missus Television-Watching America into a vibrating mass of onrushing panic?

Tuesday, June 9, 2009 (2 comments)

Hide Them! Graham insists, "We're not going to do any more business in the Senate. Nothing's going forward until we get this right." By "get this right" he means, of course, bury this evidence, hide it, eliminate it, tell no one we are guilty of these atrocities, if it's hidden no one will ever know, so quick, hide it! And, until it is safely hidden, the business of government will halt. Full stop. We must hide the evidence!

Monday, June 8, 2009 (3 comments)

Collateral Damage? According to Scotland's Sunday Herald yesterday, "Amid the media frenzy and speculation over the disappearance of Air France's ill-fated Flight 447, the loss of two of the world's most prominent figures in the war on the illegal arms trade and international drug trafficking has been virtually overlooked."

Thursday, June 4, 2009 (4 comments)

Tiananmen To the students, workers, and intellectuals who died that June night in Tiananmen Square, I swear I will never forget the honor, courage, and, yes, poetry you offered the whole world. Your actions might have been, could have been, the spark that ignited the goddess's torch, a spark that would have spread across the planet. But, the spark was just that -- a soft glow on a warm June night that died in a cascade of gunfire.

Wednesday, June 3, 2009 (6 comments)

Shame Lakhdar Boumediene, tells Dan Rather during an interview on the cable channel HDNet about his recent torture -- among other horrific procedures his being force-fed through a nasal tube for over two years while he was trying to maintain a hunger strike in protest of his treatment. Boumediene's story was the focus of a recent New York Times article in which he describes his seven years in the U.S. torture compound.

Tuesday, June 2, 2009 (9 comments)

Kill Them...Kill Them All It just goes on and on, doesn't it? The tales of absolute horror slowly leaking out; Dick Cheney continuing his "Goddamit, I'm Innocent Tour - 2009″; the Democratic Party leadership in the House, the Senate and the White House utterly refusing to order an inquiry, a hearing, an investigation. So, where do you suppose it'll all end?

Thursday, May 28, 2009

Perros Que Come Estiércol Is it possible that right-wing Republicans (meaning: all of them) can dive any deeper into the political gutter? Into the swirling sewer of their own stupidity and willful ignorance? The latest -- e pluribus unum -- is their disgusting attack on Federal Appeals Court Justice Sonia Sotomayor.

Wednesday, May 27, 2009 (1 comments)

Nukes and Missiles and Bombs, Oh My! No matter the man-made global horror--war, torture prisons, nuclear weapons proliferation, mega-death--the ruling elite will make trillions. The soldiers' lives ended, the blood spilled, the civilians blown into red mist, the psychological destruction carried home by combat-weary men and women, none of it matters to the business and government elite who are the benefactors of all this fear and death and destruction.

Tuesday, May 26, 2009 (1 comments)

14 Amendment: R.I.P. Same-sex couples who married several months ago did so legally, but couples seeking the same status today seek an illegal contract--illegal because of religious insanity. In other words, in the brief time after the first Supreme Court ruling on this issue in May 2008 until the religious crazies could get a ballot initiative before the voters last November--a total of six months--same-sex marriage was legal. Now it's not.

Thursday, May 21, 2009 (1 comments)

Dominus Vobiscum According to The New York Times the report states tens of thousands of Irish children were sexually, physically and emotionally abused by nuns, priests and others over 60 years in a network of church-run residential schools meant to care for the poor, the vulnerable and the unwanted.
Tuesday, May 19, 2009 (2 comments)

Teacher Today is the birth anniversary of Malcolm X. He was born Malcolm Little in Omaha, Nebraska, in 1925. Were he alive today he would be 84 years old. Among many items of truth, he said...If you don't stand for something you will fall for anything... and...I'm for truth, no matter who tells it. I'm for justice, no matter who it's for or against.
Thursday, May 14, 2009 (3 comments)

There's a Word For This: It's 'Evil' The authorized harsh interrogation in April and May of 2002 -- well before the Justice Department had rendered any legal opinion -- had as its principal priority an attempt to force the confession of a link between Iraq and al-Qa'ida. It was not an attempt to obtain intelligence that would uncover the plans for some sort of terror attack against the U.S.

Wednesday, May 13, 2009 (4 comments)

"Sadistic . . . Violent . . . Inhuman" They must be horrific. So violent, in fact, so obscene, so counter to even the basic tenets of human decency that President Barack Obama sought today to block the release of hundreds of photos showing prisoners in Iraq and Afghanistan being abused, violated, tortured.

Tuesday, May 12, 2009 (4 comments)

Indict Them; Prosecute Them The arrogance displayed by Bush Administration officials and their legal advisors where it concerns their contempt, both for the law and those now advocating to bring them to justice, is astonishing. The lack of Congressional interest in this collective criminality is especially alarming.

Monday, May 11, 2009 (12 comments)

'Soldiers work for corporations, not for the people' Cheney and the rest of the draft dodgers who operated the single worst administration in US history made a decision to force troops into repeated deployments to Iraq. This was the simplest method for keeping constant the number of American soldiers in that ravaged and bloodied country.

Thursday, May 7, 2009 (3 comments)

Poison the Office of Intelligence and Analysis at the Department of Homeland Security released a report--coordinated with the FBI--that examined the potential threats from right-wing extremist groups where it concerns domestic, homegrown terrorism. At some point normal Americans, regardless of their political alignment, must realize and end the madness and poison right-wing radio and television injects daily into this tired society.

Tuesday, May 5, 2009 (14 comments)

The Savage Weiner Weiner is simply one act from a whole institution of radio talk freaks here in the U.S. who are known for their hate speech, their vile comments where it concerns poor people, the ill, the homeless, and those incapable of defending themselves against the ravings of a violent thug like, well, Weiner. This guy even -- on occasion -- out-hates Limbaugh!

Monday, May 4, 2009 (6 comments)

Tea Bag THIS, Mo-Fo's The Obama administration expects these new laws to raise at least $210 billion over the next 10 years, "to cut taxes for American families, increase incentives for businesses to create jobs in America and reduce the deficit." Yeah. To "cut taxes" for American families, reduce the deficit, etc.; the stuff about which the right-wingers will scream and snort and wave their tea bags wildly in the air, and shriek no! no! no!

Thursday, April 30, 2009 (2 comments)

As a Man Soweth... The missing question in the Pew study was this one: "In addition to being a church-goer who believes in torture, what is your favorite 24-hour news channel?" If you just answered Fox, you win a front-row pew at the next Communion Service at the nearest 20-thousand member evangelical mega-church.

Wednesday, April 29, 2009 (1 comments)

How Many Fingers Am I Holding Up, Winston? But, it never happened the way the liars in the Liberal Media have declared. No. Never. Did we "waterboard" a bit? Sure. Did we do it more than once per detainee? Like, repeatedly? Like 183 times in one month to Khalid Sheikh Muhammad? No! Of course not!

Tuesday, April 28, 2009 (5 comments)

Goodbye! And thanks for all the fish! Around lunch time today in Washington the faint smell of urine could be detected wafting from Republican Party headquarters. The entire Party leadership had just peed its pants on hearing the news that Pennsylvania Sen. Arlen Specter had switched caucuses and joined the Democrats.

Monday, April 27, 2009 (1 comments)

Republicans = Death Therein lies the Republican resistance -- pandemic preparation (is) essential to any responsible plan for renewing the U.S. economy. Republicans do not want the economy renewed. Renewal would mean Obama has succeeded. Republicans would rather see disease, disaster, chaos, death, panic . . . anything, so long as Obama does not succeed.

Thursday, April 23, 2009 (8 comments)

Cheney Agonistes Hey, Dick...Pick up today's Times and read the whole piece. Do a google search using your name and the word "torture" and see what you get. Look, Dick, we all have our dark little secrets and perverse types of, um, entertainment. But, for most of us, those dark pleasures don't result in mega-death, war, and screaming human beings.
Thursday, April 16, 2009 (5 comments)

Dump. Flush. Repeat. In her televised apology for releasing a report that simply stated the truth, Napolitano noted that the Veterans of Foreign Wars, which bills itself as the nation's largest combat veterans group, defended the report. That reality was, of course, not reported by the slimy bastards who ranted and whined on talk radio about the unfairness of it all.

Wednesday, April 15, 2009 (1 comments)

Dispatches From The Asylum: They're Loose!!!! We want more tax breaks for the super-wealthy! We want less income for us! We want more home foreclosures! More bankruptcies! More cars repossessed! We don't want Obama interfering with the glories of Free Market Capitalism -- the pro-God, anti-gay, anti-abortion economic system that was given to us by the Almighty himself!