From Smirking Chimp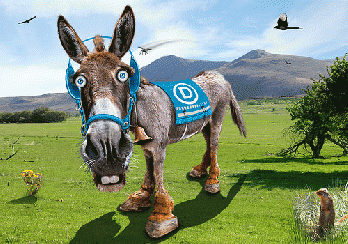 Democratic Donkey - Caricature
(
Image
by
DonkeyHotey
)
Details
DMCA
Trump is failing bigly. Why aren't Democrats taking advantage of this amazing opportunity to rebuild their party?
Barely four weeks in office and the president has his first scandal. Flynngate has everything a president doesn't want: a top national security official accused of treasonishness, messy investigations afoot, reinvigorated enemy journalists smelling blood.
At first glance, losing a Labor Secretary nominee might not seem to matter. All the other cabinet picks got through; Labor isn't State. Still, Andrew Puzder's withdrawal reveals staggering incompetence. Trump's #1 issue was illegal immigration. Puzder hired an illegal immigrant; dude was a billionaire too cheap to pay her taxes. Seriously?
Trump's first major policy move, the Muslim travel ban, ended in tears -- within hours. So-called judges and their stupid "Constitution"!
Political journalists have a technical term for a cluster--k like this at such an early date in an Administration: a s--tshow.
So where are the Democrats?
The only thing more baffling than the Great Republican Unraveling is the failure of the Democrats to rise to the occasion exploit the situation. Yeah, conventional wisdom says to stand aside when your opponent is making a fool of himself. Right now, however, the Democrats' failure to articulate an alternative vision -- becoming a "party of outrage" doesn't count -- seems less like jujitsu than political malpractice.
He's retired and deserves some rest after all those late-night droning sessions, but the Dems' colossal cluelessness is epitomized by that video of Recently Former President Barack Obama kitesurfing -- a sport most voters never heard of before -- with Virgin mogul Richard Branson.
Given his fanatic dedication to detachedness, Obama as exiled leader of the anti-Trump resistance is probably too much to ask. Still, as John Oliver observed, "Just tone it down with the kitesurfing pictures."
He continued: "America is on fire. I know that people accused him of being out of touch with the American people during his presidency. I'm not sure he's ever been more out of touch than he is right now...You're fiddling while Rome burns!"
Trumpism is collapsing with impressive rapidity. In a two-party system, citizens expect the party out of power to step up, say I-told-you-so, and explain how and why they can fix this s--tshow. So far? Nothing.
The cavalry isn't merely not coming. It's asleep.
It's easy to see why. The Democratic Party still suffers from the division that cost it the 2016 election. All the party's energy is with the progressive base who backed Bernie Sanders (henceforth, the Guy Who Would Have Won Had the DNC Not Cheated), now gathered around the awkward, oddly colorless Elizabeth Warren. But its leadership caste is still dominated by the Dems' fading corporatist DLC-Third Way hacks who installed Hillary as nominee. What was needed in 2016 to defeat Trump is still needed to defeat him in 2017: Sanders or someone like him. But the ruling Clintonistas won't give up centrism unless it's pulled out of their cold, ideologically dead hands.
The refusal of the Democrats to pogo-dance on Trump's grave is one of the biggest missed opportunities in recent political history. For example:
(Note: You can view every article as one long page if you sign up as an Advocate Member, or higher).