Articles Listed By Date List By Popularity
Page 1 of 2 First Back Next 2 View All
Tuesday, August 22, 2017 (1 comments)

Why Trump is Doomed (It's Not the Nazi Thing) Trump is too tacky, high-strung and unpredictable for the business class. America's ruling elites like their racism served up quietly in a well-tailored suit, under a tight helmet of elder-statesman hair, delivered calmly and slowly, so bland that no one pays attention. This is where Mike Pence comes in.
Tuesday, August 15, 2017 (6 comments)

After Charlottesville: If You Fire a Fascist, You Are a Fascist The upsides of free expression are intangible while the downside risks are terrifyingly brutal. A 2016 Harris poll found that 33% of U.S. employees are afraid to talk about politics at work. Increasingly workers have to worry about losing their jobs as the result of talking about politics outside of work too.
Tuesday, August 8, 2017 (2 comments)

Our Obsession with Trump Shows Authoritarianism Has Arrived There are indeed reasons to worry that civilian and constitutional rule are giving way to institutional post-democracy. Trump's cabinet and top White House staff contain enough military generals to give Pakistan a run for its money. Trump's party controls both the House and Senate yet the president prefers to dash off executive orders rather than making the necessary effort to shepherd legislation through Congress.
Tuesday, July 18, 2017 (11 comments)

How I Found Out That the Courts Are Off-Limits to the 99% Deep-pocketed defendants like the Times -- owned by a corporation with the weird name Tronc and a market capitalization in excess of $400 million -- are taking advantage of America's collapsing court system to turn justice on its head. In worn-out Trump-era America, the corruption and confusion that used to be associated with the developing world has been normalized.
Wednesday, June 21, 2017 (2 comments)

Democrats Want to Lose the 2020 Election espite leading the party to defeat, the centrist-Third-Way-DLC-Hillary Clinton wing of the party still runs the DNC and the state apparatuses. They've never made nice with Bernie Sanders or his leftist-progressives -- the party's base and its most committed ideologues -- after repeatedly insulting and marginalizing them during the campaign.
Wednesday, June 14, 2017 (4 comments)

Democrats' Obsession with Russian Election Hacking Makes Them Look Dumb As the Dems deRp around deep in the weeds of their confused and confusing Russia hacking narrative, they're neglecting the much tastier, low-hanging impeachment fruit they could easily use to hasten the day when D.C. Metro cops frogmarch The Donald out of 1600 Pennsylvania Avenue: straightforward corruption.
Friday, June 9, 2017 (1 comments)

Donald Trump's Other Lies: His Campaign Promises Trump has governed to the far right. In fact, on just about every issue you can think of, Donald Trump has governed as the most extreme far-right politician of our lifetimes, and possibly in the history of the Republican Party.
Thursday, June 1, 2017 (37 comments)

Military Spending is the Biggest Scam in American Politics Military spending is the biggest waste of federal tax dollars ever. Both political parties are equally complicit. The militarism scam is the best-kept secret in American politics. When you think about it -- but no one in the halls of Congress ever does -- it's hard to think of a country that has less to fear than the United States.

Tuesday, March 28, 2017 (5 comments)

Five Things the Democrats Could Do to Save Their Party (But Probably Won't) Democrats need to stop disappearing between elections. Campaigns are exhausting and it's natural to want to catch one's breath and conduct a postmortem to determine what went well and wrong. But it's gotten to the point that the only time left-of-center voters hear from the Democratic Party is the year of a major election, for the most part only a few months before November and then only to ask for money.
Wednesday, March 15, 2017 (5 comments)

The Splitting Up of the Democratic Party: Why It's Probably Coming Sooner Than You Think Given the escalating rage of the party's progressive base in the Age of Trump and the absolute refusal of the DNC leadership to grant them concessions, it's hard to imagine this restive crowd staying calm and keeping Democratic. The tsunami is coming. Lefties have a choice: get washed away, or grab a surfboard.
Wednesday, March 8, 2017

Why Trump Continues to Beat the Democrats Asking the media to throw shade on PhoneTapGate is insane. Interest in our wild and crazy president is Making the Media Great Again! Newspaper circulation is up for the first time in decades! So are broadcast ratings -- because TV cable news covers stuff like this. There's only one way to beat crazy: with more crazy.
Sunday, February 26, 2017 (7 comments)

Republicans May Impeach Trump Trump-haters want Democrats to push for impeachment. Setting aside the Dems' congenital cowardice and the arithmetic -- a minority party can't impeach anyone -- the real danger to Trump is his nominal Republican allies. The Donald struts the marbled corridors of the capital, his head held high like Caesar. Beneath their togas, the senators' sharp knives await.
Wednesday, February 22, 2017 (8 comments)

Sue the Bastards? It's Harder Than You Think Are you one of those Americans who say it's too easy to file a lawsuit? As I can tell you from personal experience, it's anything but. The canard that U.S. courts are jammed up by litigious jerks is based on anecdotes spread by corporate propaganda. We do need "tort reform" -- but we should make it easier to sue, not harder.
Sunday, February 19, 2017 (17 comments)

Why Won't Democrats Kick Trump While He's Down? Pushing for Trump's impeachment now would position Democrats as forward-looking thinkers who had it right before anyone else. Moral authority matters. Oh, and if you don't do it, the Republicans will steal the moral high ground by doing it themselves. Ryan 2020!
Friday, February 10, 2017 (33 comments)

How I'll Know It's Time To Flee Trump's America Trump's relentless beating up on the press makes me incredibly nervous. What will this guy do when the new Left gears up with big-ass protests later this year? Isolated from the rallies from whence he drew his strength, Boy Trump in the Beltway Bubble spells trouble. If you're not scared, you're not paying attention.
Wednesday, February 1, 2017 (8 comments)

The Case for Left Nationalism t's good for Americans, and for decency, when wages of workers in other nations increase -- there are fewer wars and more consumers. As things stand today, however, nation-states are here to stay. In fact, there are more of them than ever before. A left unable to appeal to nationalism has no future.
Sunday, January 15, 2017 (2 comments)

The 3 Rules of Resistance to Donald Trump We Americans may not be familiar with them, but there are standards. Everything does not go. There are clear rights and wrongs. Now, as we plunge into the moral abyss, it is important to learn, spread and enforce the Rules of Resistance for people who want to be able to hold their heads high when their children ask "what did you do during the war, daddy/mommy?"
Saturday, January 14, 2017 (3 comments)

Life Under Trump -- What Happens Now? At this point, probably the only thing that would save the system would be for the Republican-controlled Congress to impeach Trump. (This would also have the effect of saving the Republican Party.) This would have to happen in relatively short order, no longer than in a year or two.
Wednesday, January 4, 2017 (9 comments)

Why Useless Impotent Democrats Will Not Lift a Finger to Fight Trump Democratic impotence is nothing new; since the 1970s leaders have pushed the party's ideology to the right while abandoning every pretense of resistance to the expansion of the corporate gangster capitalism that grinds up working and middle-class people's hopes and aspirations. Screw the Dems. You are your only salvation.
Wednesday, December 28, 2016 (15 comments)

Please Stop the Fear and Loathing of 2017 Trump was born in Queens. But it helps to think of him as an invader. His mish-mash protofascism, ferocious gracelessness and aversion to linear thinking or consistency are foreign to American politics and culture. He doesn't belong here. He's un- and anti-American. He's got to go. We must stop staring down the barrel of 2017 with fear and loathing. It's time to start planning.

Friday, December 23, 2016 (7 comments)

Russian Hacking: Where's the Evidence? As if this "Russia hacked the election" episode wasn't enough to showcase the intellectual bankruptcy of America's state-controlled news media, the stenographers are ignoring a far more credible explanation for how WikiLeaks got the Podesta/DNC emails: they were leaked, not hacked. The moral midgets of American corporate media don't have the slightest interest in uncovering the truth.
Thursday, December 8, 2016 (4 comments)

Ameri-Splaining The United States has always been corrupt, savage and brutal. It has always been wildly dysfunctional and hypocritical. But now, thanks to a president-elect who is loudly ignorant and utterly devoid of impulse control, the mask is off. The horrible truth about the United States can no longer be denied. Trump epitomizes truth in advertising. We're a nasty, crappy country.
Wednesday, November 30, 2016 (2 comments)

Hillary Lost. Should We Care? Hillary fans can credibly argue that she would not have made things worse, or at least not as bad as they will be under Trump. By objective standards, however, it defies reason to claim that she would have presided over a halcyon era of progress. At best, President Clinton II would have held the line against Republican attacks. As we know, however, voters are not in the mood for more of the same.
Thursday, November 24, 2016 (54 comments)

Now, A Postmortem By Someone Who Actually Saw Trump's Win Coming Trump's "surprise" win wasn't shocking to people who were paying attention. Throughout the primary and general election, the DNC brushed off head-to-head tracking polls that showed that Hillary Clinton never enjoyed a commanding lead over, and sometimes fell behind, Donald Trump. Bernie Sanders, on the other hand, consistently held a double-digit lead, sometimes as high as 20 percent, over Trump.
Friday, November 18, 2016 (3 comments)

Trump's Fascism Picks Up Where Obama's Left Off From what we know of Trump's likely cabinet appointments, the next few years promise to devolve into a dystopian nightmare of authoritarian repression the likes of which few Americans ever imagined possible. Fascism under Trump will merely continue Obama's fascism with a smiley face -- a fascism that we let him get away with for far too long.
Friday, November 11, 2016

Here Comes the Rise of the Anti-Trump Left The devastating defeat of Hillary Clinton, the ultimate candidate of the neo-conservative Democratic center-right, has discredited her patrons, the pro-globalization elites. The election of Donald Trump sets the stage for a civil war within the party in which its liberal progressive wing is likely to emerge victorious, dominating electoral politics within the mainstream left for the foreseeable future.
Friday, November 4, 2016 (13 comments)

Win or Lose, Hillary is Finished Even if she wins next Tuesday, a second Clinton Administration will begin with zero mandate other than to be Not Trump. And there's a serious risk Republicans will begin impeachment proceedings within her first year. And she could easily lose -- which would put American democracy in grave peril. Heckuva job, Hillary!
Tuesday, October 18, 2016 (3 comments)

The 4 Things Hillary Could Do To Close the Deal Against Trump Hillary Clinton, probably like you and definitely like me, can't do anything about her personality. At 68, that stuff is baked in. Still, there's a lot she could do to close the deal against Donald Trump -- to widen her within-the-margin-of-statistical-error lead to a chasm, the insurmountable landslide that her institutional and other advantages would have guaranteed a better candidate.

Tuesday, October 11, 2016 (1 comments)

Trump's Guerilla Politics Are Here To Stay Hillary Clinton delivers a cut-and-paste stump speech at every appearance. Trump, meanwhile, performs jazz. He extemporizes. No one, including him, knows what he's going to say. So every rally gets covered live. How can she compete? No matter what happens in November, the guerilla politics pioneered by Trump are here to stay.
Tuesday, October 4, 2016 (11 comments)

Hey, Clintonoids, Stop Bullying Me About My Vote I'm not going to vote for Donald Trump. I agree with the mainstream liberal consensus that he should never hold political power, much less control over nuclear launch codes. He's dangerous and scary. But that doesn't mean I have to vote for Hillary Clinton. So I won't.
Wednesday, September 28, 2016 (2 comments)

The Thrilla at Hofstra: How Trump Won the Debate All things being equal, I would agree with the corporate media consensus that Hillary won. But that's the thing -- things are far from equal. Hillary Clinton is a pro. She should have wiped the floor with Trump. Instead, she delivered a performance on the line between a B+ and an A-. Trump gets closer to a C-. That's much closer than it ought to have been.
Thursday, September 22, 2016 (9 comments)

It's Political Malpractice, Stupid Democrats are wallowing in the Anger stage of the Kubler-Ross model of grief. How on earth, they howl on op-ed pages and cable-news talking-head shows, can this be? Why doesn't the electorate--that useless "basket of deplorables"--not see what is plain for all to see, that Hillary possesses more qualifications for the nation's highest political office in her tiniest pinkie toe than The Donald has in his whole 267-pound body.

Wednesday, September 7, 2016 (2 comments)

What Obama Doesn't Want You to Know About Uzbekistan It would be nice to hope that the flowers of democracy will sprout in the soil of the dictator's grave. But years of suppression have destroyed the opposition groups that might have been able to step into power as part of a post-Karimov transition. Acting Uzbek president Nigmatulla Yuldashev will no doubt call for another of the country's sham elections, which a hand-selected member of the ruling elite is predestined to win.

Friday, September 2, 2016 (2 comments)

At the Clinton Foundation, Access Equals Corruption Access should be, has to be in a democracy, determined solely by meritocratic criteria. Political leaders like Hillary Clinton need to be meeting with people who can offer them the best advice and who need the most help -- not those who bought their way in. Anyone who doesn't understand that access always equals corruption, even when access doesn't result in favors, doesn't deserve to hold political office.
Wednesday, August 24, 2016 (1 comments)

Trump vs. Clinton: It's All About the Debates Trump knows all the tricks: how to deploy comical facial expressions as well as Jim Carrey, how to dominate others using body language, a laser-like ability to identify an opponent's weaknesses and reduce them to rubble via ridicule ("Little Marco"). In an American presidential debate, 15-point white papers don't count for jack. The best entertainer always wins.
Tuesday, August 2, 2016 (3 comments)

Khizr Khan and The Triumph of Democratic Militarism Corporate media gatekeepers managed to transform the Democratic National Committee internal emails released by WikiLeaks from what it really was -- scandalous proof that Bernie Sanders and his supporters were right when they said the Democratic leadership was biased and had rigged the primaries against them, and that the system is corrupt.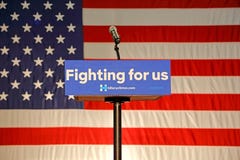 Monday, July 25, 2016 (12 comments)

Hillary's Strategy: Snub Liberal Democrats, Move Right to Nab Anti-Trump Republicans To those of us who have been paying attention, Clinton's post-primary migration toward conservatism comes as no surprise. There's a reason her campaign appealed to progressives primarily by referencing her work for the Children's Defense Fund in the 1970s, when David Bowie was an up-and-coming glam rocker. Team Clinton had to go that far back to find evidence of her supposed liberalism.
Tuesday, July 19, 2016 (9 comments)

How to Fix the Broken Relationship Between the People and the Police When the police are charged with wrongdoing against civilians, the odds are that they will get away with it. In fact, the odds are that they will never face an indictment. In 2015, 85% of police shootings were handled by DAs who work closely with the officer's own department.
Saturday, July 9, 2016 (1 comments)

Violent, Racist Cops Protect a Violent, Racist System One possible place to start is the reaction of many people to the Dallas sniper attack. Like 9/11, it was shocking. Like 9/11, it also wasn't surprising. You can't go on acting like a bully forever. The powers that be can't pressure their victims forever. Eventually the prey strike back. No, it isn't justified. Nor is it right. But it is chickens coming home to roost.
Monday, July 4, 2016 (13 comments)

Hillary Cheated To most people, "cheating" means breaking the rules of a contest. By this standard definition, there's no doubt that the Clinton campaign, its political allies and the Democratic National Committee cheated in favor of Clinton and against Sanders. They broke the law. They disenfranchised voters. If the rules had been followed, Bernie Sanders would be the nominee.

Wednesday, June 29, 2016 (1 comments)

Who's Really To Blame for Brexit (and Trump) Nativism and racism played a role in the Brexit vote. England is an island nation with an island mentality. Though only a few thousand Syrians entered the UK last year, with nary a passport check, images of refugees riding the roof of trains from France through the Chunnel felt like an invasion to some Britons.
Tuesday, June 21, 2016 (8 comments)

Mass Shootings Are The New Normal. Get Over It. This ship sailed back in 2004 when Congress allowed the federal ban on assault weapons to expire without being renewed. Congress's failure to act over the last 12 years has transformed the United States into a nation awash in military hardware. Mass shootings are the new normal. Get over it. Let's stop focusing on problems we can't do anything about and work on those we still can.

Thursday, June 16, 2016 (11 comments)

What Hillary Must Do to Win Over Bernie Voters Question of the month: how can the Hillary Clinton campaign convince progressive supporters of Bernie Sanders -- whose race was largely based on the assumption that Clinton is so far to the right that she might as well be a Republican -- to vote for her?
Friday, June 3, 2016 (8 comments)

Trump or Clinton, Screwed Either Way On Tuesday night, the news media should refrain from declaring Hillary the victor. She won't be. She can't be. It's not over until July, so that's what they should report. Between now and July, Democratic superdelegates should search their hearts, read the head-to-head matchups, and consider switching to Sanders who, for whatever flaws he has, is a real liberal -- he's not a Democrat, but he's more of a Democrat than she is.
Tuesday, May 24, 2016 (11 comments)

Why I Am #NeverHillary There is no way I'll vote for Hillary. I won't vote for her if she stops shaking down rich right-wing Republicans for donations. I won't vote for her if she adopts Bernie's platform. I won't vote for her if she names Bernie her vice president. I won't even vote for her if Bernie invites me to spend the summer with him and Jane in Vermont.
Saturday, May 21, 2016 (9 comments)

Trump Isn't Bluffing, He'll Deport 11 Million People Donald Trump isn't bluffing when he threatens to deport the estimated 11 million people living in the U.S. illegally. Do not take comfort in the fact that Trump flip-flops on all sorts of issues. But there's no way he'll back away from mass deportations. This promise to deport illegal immigrants, every single one of them, defined his campaign from the start. It's why he's here. It's why he won.
Saturday, May 14, 2016 (3 comments)

Donald Trump Can Easily Win in November The liberal base of the Democratic Party, which mostly supports Bernie Sanders, is not at all Ready for Hillary. If the Bernie or Bust movement convinces even a few percentage points worth of Dems to stay home, write in Bernie's name or vote for Jill Stein, that shortfall of support could be enough to throw the race The Donald's way.
Sunday, May 1, 2016 (2 comments)

Working for the U.S. Government Means Never Having to Say You're Sorry One telltale sign that the government is engaged in a cover-up is timing: when it releases a report just before the weekend news blackout, you know something nasty is afoot. Obama's latest whitewash, dumped online Friday, is the Administration's attempt to drown its responsibility for one of the most heinous acts of mass murder in years in 3,000 pages of spin, dissembling and circular logic.
Saturday, April 23, 2016 (6 comments)

What's Up with Black Voters? Sanders has consistently championed racial equality and fought poverty and income disparity, two economic scourges that hurt blacks worse than anyone else. As First Lady, Clinton pushed her husband's 1994 crime bill, which accelerated mass incarceration of blacks. Hillary is essentially a Republican. Since when do blacks vote Republican?
Tuesday, April 19, 2016 (1 comments)

Inside the Media Bubble, No One Can Hear Us Scream You may be tempted to join the media when they dismiss Trump as a whiner. In business, Trump is the consummate insider. But he's a political naïf. When someone as sleazy and unprincipled as Donald Trump is shocked by how dirty politics are, you have to take note. And if they can steal elections from someone as rich as Donald Trump, there is nothing left of American democracy.
Friday, April 8, 2016

It Happened Here Seeing opportunity amid the armies of the alienated and dispossessed, the perennial almost-candidate of the nationalist, nativist far-right began campaigning in earnest. Breaking all the rules of conventional campaigning, he drew huge crowds with a simple message: Believe me. Trust me, he assured his audiences, and I will make the country great again.
Friday, April 1, 2016

Everyone But the Media Saw Trumpism Coming There are scores -- maybe hundreds -- of opinion writers who do know what's going on in their own country. Who write well. Who get stories right. Pundits who saw the Donald Trump and Bernie Sanders populist phenomena coming. But you won't find any of them in the print pages of major newspapers like the Times, or even in the low-pay ghettos of their web-only content.
Thursday, March 24, 2016 (15 comments)

Trump is Positioned to Win the Presidency Trump, used to getting his way all the time, is a bully. A president convinces. An authoritarian orders you. Do what he says, or else. This November, nothing less than the American political system is at stake. So it's time to get real. The establishment types are still in denial. Wake up, idiots!
Saturday, March 19, 2016 (14 comments)

The First 100 Days: What Would Donald/Hillary/Bernie Do? Donald Trump, Hillary Clinton, and Bernie Sanders -- and what they would do in the first 100 days of their presidency...
Thursday, March 10, 2016 (2 comments)

Clinton Proves Best PR in the World Can't Sell a Terrible Product Hillary looks presidenty. She talks presidentish. A lot of voters don't know how badly she screwed them, especially by pushing NAFTA and free trade. So she is favored to win the Democratic nomination. But she's a terrible candidate. Tracking polls show that she has lower odds than Bernie of defeating Trump in November.
Saturday, February 27, 2016 (5 comments)

FBI v. Apple Is Really About Edward Snowden Apple, says the Obama Administration, is siding with "its business model and public brand marketing strategy" ahead of public safety. That's not it, says Apple CEO Tim Cook. He says his company is "a staunch advocate for our customers' privacy and personal safety."
Thursday, February 18, 2016 (2 comments)

For Bernie Sanders and Hillary Clinton, Politics is Personal Clinton and Sanders represent two worldviews: one for whom wealth and privilege have long been assumed as her due, the other whose sympathies lie with those who suffer and die simply because they had the bad luck to be born into the vast majority of Americans, who are broke.
Tuesday, February 9, 2016 (11 comments)

How Bernie Can Pay For His Ambitious Agenda? Slash the Military The Sanders campaign hasn't issued a detailed plan explaining how President Sanders would cover the costs of free college tuition and Medicare for All. Maybe they're worried about getting attacked as weak on national security by the hawkish Secretary Clinton and, in the general election, by the Republican nominee (probably Trump or Cruz).
Monday, February 8, 2016 (4 comments)

Hillary Clinton: the Good, the Bad and the Ugly When Hillary criticizes Bernie Sanders for advocating changes that would be hard to get through Congress and expensive to pay for -- free college tuition, Medicare for everybody -- she projects a radical pessimism that makes many ask, why not? Why can't the country that invades everyone, that sent a man to the moon, provide the same social benefits as most other nations?
Wednesday, January 20, 2016 (9 comments)

Bernie Sanders Could Win. America Could Become Socialist. Are We Witnessing the Failure of Propaganda? The ruling elite's old tricks are indeed failing them. But it's too early to declare propaganda dead and gone. Propaganda works. That's why those in power keep using it. Here's what I think is really going on: old institutions have been discredited. Sanders' growing support and Iowa's surprisingly socialist hordes reflect public contempt for everyone in charge.