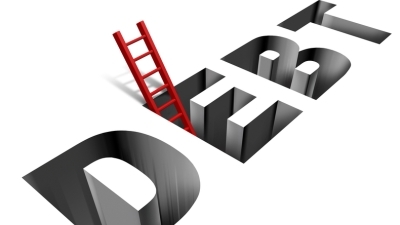 Historians, ]Scholars,journalists,and informed observers understand that new Presidents inherit the budget appropriations proposed and approved by the previous President.
A new President takes office in late January but he is bound by law to execute the budgethe inherits until his own budget takes effect 8 months later. Therefore,the only rational way to tally debt is by the budgets a President proposes and approves.

Bush inherited a large budget surplus and a national debt of over 5 trillion. On the date his first budget took effect,the debt was 5.8 trillion. On the last day of his 8th budget, the debt was 12.8 trillion, a rise of about 110%, exceeded only by Reagan, who had tripled the debt.

When the first Obama budget took effect, therefore,the debt was 12.8 trillion,and today it is about 20. trillion,a rise of about 60% The essential figure is not the size of the debt but its ratio to the GDP. A person who makes 20K a yr with a 20K debt is heavily burdened. A millionaire with a 20K debt feels nothing.

Some argue the last Bush budgets were controlled by the Democratic Congress, but this is not true. In 2008, Bush asked for 3.1 trillion to spend and he was granted exactly 3.1 trillion. His rosy predictions of government revenue and underestimation of the cost in both lost revenue and increased govt welfare overhead led to the largest deficit in US history.



Obama was able to get 200 billion, during the period of the last Bush budget, to jumpstart his stimulus program....so,to be fair, we can reduce the final Bush debt to 12.6 trillion,still well over 100% of where he started. And so Obama debt rises from 12.6 to 18.2 trillion,most likely 19 trillion by time his last budget expires....arise of about 50%.

In more than doubling the debt, Bush actually lost private sector jobs (Clinton has added 23 million); and in raising the debt 50%, Obama will have added about 12 million jobs. Very important is what you get for what you spend!


A clear way to understand the Bush and Obama performances is to compare debt to GDP ratios. It is a fact that since the end of WWII, all Republican Presidents have seen an increase in the debt burden, and all Democrats have seen a decrease. How about Bush and Obama?

A chart at Change in Debt as a Percentage of GDP by President(Page on politicsthatworks.com)
shows the change in debt by President since Eisenhower. It shows that under Bush,the ratio rose to 28%,while under Obama,it has fallen to just under 20%.
"Republican presidents after Eisenhower have increased the federal debt as a percentage of gross domestic product by a total of 60%. Democratic presidents have reduced the debt as a percentage of GDP by a total of 9%.
President Obama is the only Democratic President during whose time in office the debt has risen relative to GDP. The data extends to the end of FY2014 (September 2014). President Obama's bar will almost certainly drop by the end of his presidency, as GDP growth is relatively high and the deficit is relatively low. 2/5ths of the increase during President Obama's presidency occurred during the first year while the country was still in the midst of the Great Recession."

During Obama's first year,the negative GDP was all under the Bush budget,which lasted thru Sept. 2001. This increase,by all rights, is a result of the
Bush budget, and the first month of the first Obama budget,both GDP job growth turned positive.


The Dailysignal reports: "The Department of Treasury last week released the numbers for fiscal year 2015, announcing a $44-billion drop in the deficit from the year before. The deficit stands at $439 billion, which is 2.5 percent of gross domestic product." In 2016, the deficit rose to 587 billion.

Obama inherited a deficit of 1.4 trillion (of which .2 trillion was his contribution), which has been steadily reduced to the 2015 figure of 439 billion, then rising in 2016. The Bush ratio was a deficit of 1.2 trillion with a negative 5.4% decline in GDP in the first quarter of 2009. Since then, the deficit has declined by 2/3 with steady, if modest growth in GDP since late 2009, when the 1st Obama budget took effect. The last deficit is about 55% lower than the 8th Bush deficit.

Clearly, Bush,who started with inherited surpluses, increased the debt by over 40% more than Obama,while being the first President ever to lose private sector jobs.

Obama,who started with 800,000 job losses a month (reduced govt revenue and increased welfare costs), ends with the longest period of job growth in many decades.

Beware of those who attempt to blame Obama for the 8th Bush budget,which Bush proposed and approved before Obama had even declared his intention to run for office.
This is dishonest bookkeeping. It is how cheats cook the books. Don't be fooled again.

I am a critic of Obama, not a Democrat,but facts are facts,and dishonesty is dishonesty.
(Note: You can view every article as one long page if you sign up as an Advocate Member, or higher).