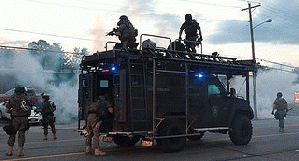 (

Image

by

thetortmaster

)

Details DMCA

!-- IMAGE http://www.opednews.com/populum/uploadphotos/s_300_farm6_static_flickr_com_87833_14883863768_543edf2b97_n_424.gif FOR SID 87833 -->


Should police officer Darren Wilson be held accountable for the shooting death of unarmed citizen Michael Brown in Ferguson, Missouri, on August 9, 2014?

Tasked with determining whether Wilson should stand trial for Brown's shooting, the grand jury ruled that the police officer will not face charges for the fatal shooting.

That the police officer was white and his victim black should make no difference. In a perfect world, it would not matter. In an imperfect world such as ours, however, racism is an effective propaganda tool used by the government and the media to distract us from the real issues.

As a result, the national dialogue about the dangers of militarized, weaponized police officers being trained to act like soldiers on the battlefield, shooting first and asking questions later, has shifted into a largely unspoken debate over race wars, class perceptions and longstanding, deep-seated notions of who deserves our unquestioning loyalty and who does not.

And the greater question--whether anything will really change to rein in militarized police, police shootings, lack of accountability and oversight, and a military industrial complex with a vested interest in turning America into a war zone--remains unanswered.

Ferguson matters because it provides us with a foretaste of what is to come. It is the shot across the bow, so to speak, a warning that this is how we will all be treated if we do not tread cautiously in challenging the police state, and it won't matter whether we're black or white, rich or poor, Republican or Democrat. In the eyes of the corporate state, we are all the enemy.

- Advertisement -

This is the lesson of Ferguson, that "we the people" are the enemy. As I point out in my book A Government of Wolves: The Emerging American Police State, since those first towers fell on 9/11, the American people have been treated like enemy combatants, to be spied on, tracked, scanned, frisked, searched, subjected to all manner of intrusions, intimidated, invaded, raided, manhandled, censored, silenced, shot at, locked up, and denied due process.

There was a moment of hope after Ferguson that perhaps things might change. Perhaps the balance would be restored between the citizenry and their supposed guardians, the police. Perhaps our elected officials would take our side for a change and oppose the militarization of the police. Perhaps warfare would take a backseat to more pressing national concerns.