My guest today is Maya Schenwar, Truthout's editor-in-chief, author of Locked Down, Locked Out: Why Prison Doesn't Work and How We Can Do Better , and co-editor of Who Do You Serve, Who Do you Protect? Police Violence and Resistance in the United States.
Joan Brunwasser: Welcome back to OpEdNews, Maya. We last spoke back in January, 2015. Now, I'd like to discuss your recent piece: Death Penalty for Heroin Dealers? More Proof the Drug War Is Not Over . Who thought the drug war was over in the first place and why?
Maya Schenwar: There has been a shift in mainstream politics toward condemning the drug war, and for good reason. It has done nothing to stem drug misuse, and meanwhile it has resulted in the criminalization and incarceration of millions of people, overwhelmingly Black and Brown people. With countless studies demonstrating its "failure" (I put this in quotes because I don't think the drug war was actually devised to help people in the first place), politicians who defend it end up looking pretty bad. So the current line is to say it's in the past, and that we have a new approach to drugs going forward. The Obama administration, many state governments, and even conservative politicians (including the "Right on Crime" crowd) have said that we need to leave behind the old war on drugs. In February, Eric Holder said the drug war is "over," and Obama increasingly talks about treating drug-related issues as "public health problems" instead of criminal problems.
JB: How does that change anything: the disproportionate numbers of minority members locked up for possession, more single moms incarcerated for the same, families split up and minors left with no parent at home? Are they, then, opening the prison gates and saying, "We were wrong. This was all a big mistake; it didn't work and we diverted and wasted billions of dollars that could have been used to good purpose. And we ruined your lives for nothing. Oops. Sorry."?
MS: No, no one is opening the prison gates, unfortunately! There are some limited steps being taken toward scaling back drug-war-related incarceration. For example, Obama has issued hundreds of commutations to people serving super-long drug sentences. Some states have taken steps to reduce some very low-level drug offenses to misdemeanors instead of felonies, which means people are a lot less likely to be incarcerated for them. (California's Proposition 47 is an example of this, although the emphasis on "low-level offenses" has actually entrenched the idea that people should be severely punished for "higher-level offenses.)
Obviously, in a number of states, marijuana is being decriminalized, and some are legalizing it. However, that doesn't mean there are no longer marijuana arrests -- in fact, an ACLU study released recently showed there were more marijuana possession arrests last year than arrests for all violent crimes. The study also showed that Black people are still disproportionately arrested in far greater numbers than white people, despite using marijuana at about the same rate as white people.
JB: How do we understand this, Maya? Beyond being convinced that the whole penal system is seriously screwed up, what's the point of increased marijuana arrests? Is this a last gasp effort or at least partly to fill up jail cells and local or private prison coffers?
MS: There wasn't an increase in marijuana arrests overall last year; there was a decrease. But obviously it was a small decrease, given that there was a larger number of possession arrests than all violent crime arrests.
I don't think it's about filling private prison coffers. Ultimately, prisons are expensive for states, and I don't actually see money as a primary motivator to incarcerate people. Until we challenge criminality itself -- and challenge the white supremacy that underlies the US's version of criminality -- we won't be done with large-scale incarceration. We have to understand incarceration by looking at how people are being labeled as disposable and as "dangerous," and how those things are racialized. Whether it's marijuana possession or something else, there will always be a convenient "crime" with which to charge Black and Brown people unless white supremacy itself is confronted. We also have to think about ableism, transmisogyny, patriarchy, economic injustice, capitalism -- really confronting the structures that make it possible for our society to lock millions of people in cages.
If we look at the drug war through this lens, we understand that's it's not some stand-alone entity; it's one tool deployed by a larger power structure that continually targets marginalized people in order to keep itself going.
JB: Good point. Does the fact that the penal dysfunction is part of a larger overarching dysfunction make it easier or harder to improve it? And what's ableism? I don't know that I'm familiar with that term.
MS: I think the fact that it's part of an overarching structural problem means that it can't really been improved, per se -- it really has to be uprooted. I wouldn't say that can happen extremely easily; it's more a goal to move toward while making incremental changes.
Ableism is the structural oppression against and devaluation of people with disabilities. One of the ways it plays out in relation to prison is the extremely high level of incarceration of people with psychiatric and intellectual disabilities.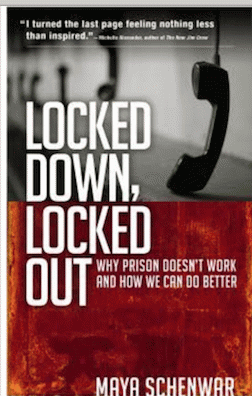 'Locked Down, Locked Out: Why Prison Doesn't Work and How We Can Do Better' by Maya Schenwar
(
Image
by Berrett-Koehler Publishers)
Details
DMCA
JB: Quite true. I believe much of that shift occurred when President Reagan "reallocated" resources, closing many state mental hospitals and dumping the patients onto the streets and the unprepared public. And we've been paying the price, one way or another, ever since. What haven't we talked about yet?
(Note: You can view every article as one long page if you sign up as an Advocate Member, or higher).